Hallway l Living Room l Bedroom l Bathroom l Accessories l Storage l 
New Items l Be Inspired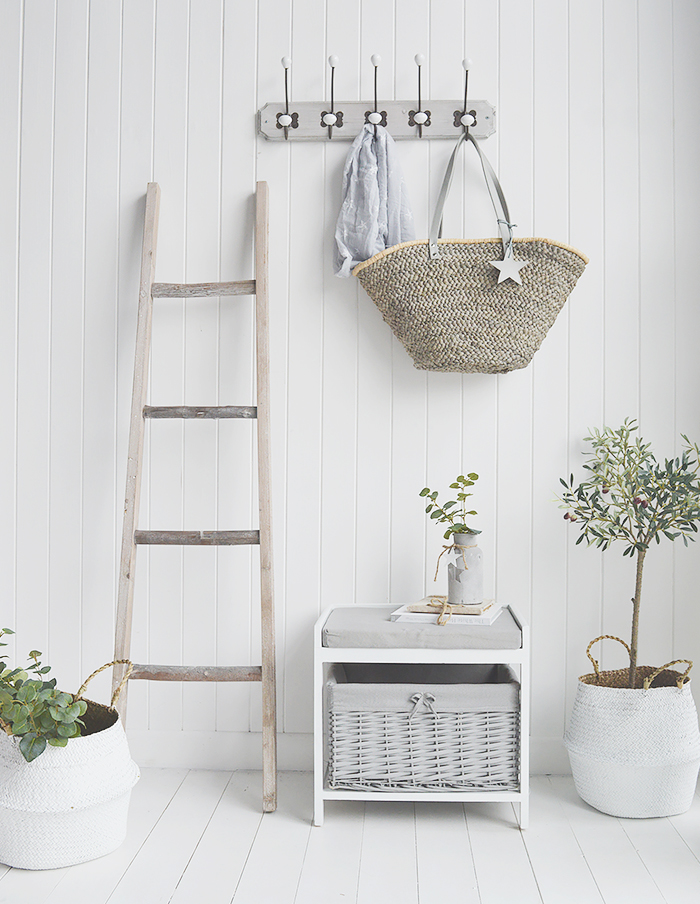 The Plymouth White and Grey Storage Seat with Cushion
The Plymouth storage seat with white surround, painted grey lined large basket and grey cushion with removable cover
The hand woven and painted baskets create excellent storage for every room in your home.
Affordable and stylish, The Plymouth is ideal in a hallway or porch for shoe storage, a living room, as a gorgeous window seat, as well as in the bedroom or bathroom
Specifications
Height : 44cm
Width: 46cm
Depth: 35cm
Basket Height : 22cm
Width: 42cm
Depth: 34cm
Cushion: 4cm deep
Delivered Fully Assembled
Sorry, out of stock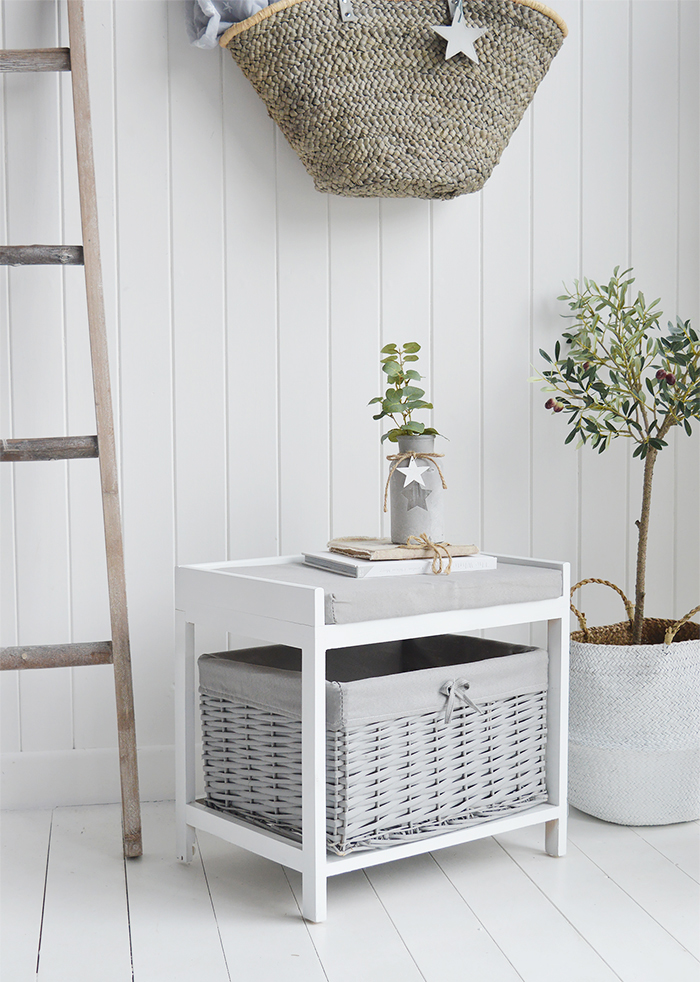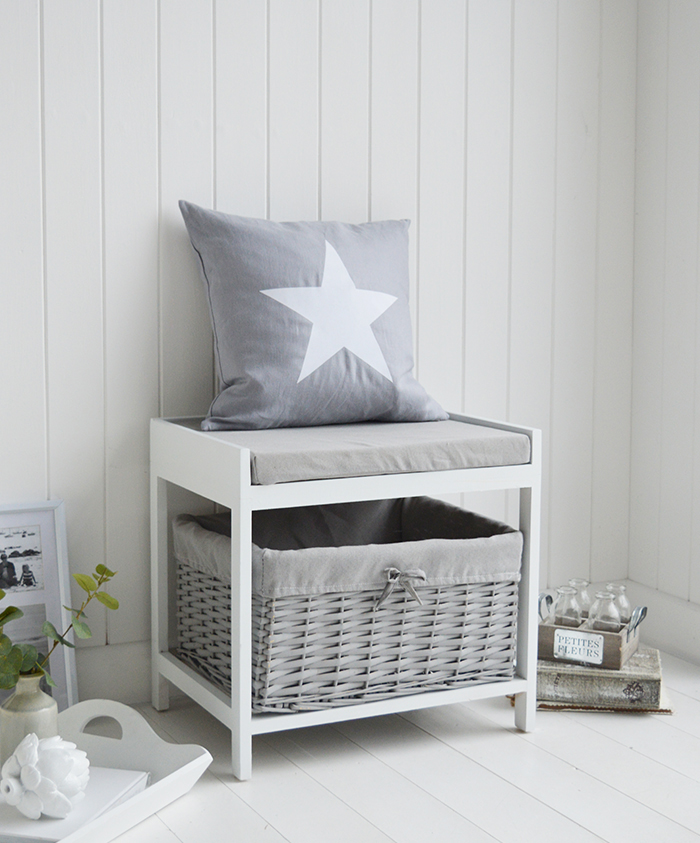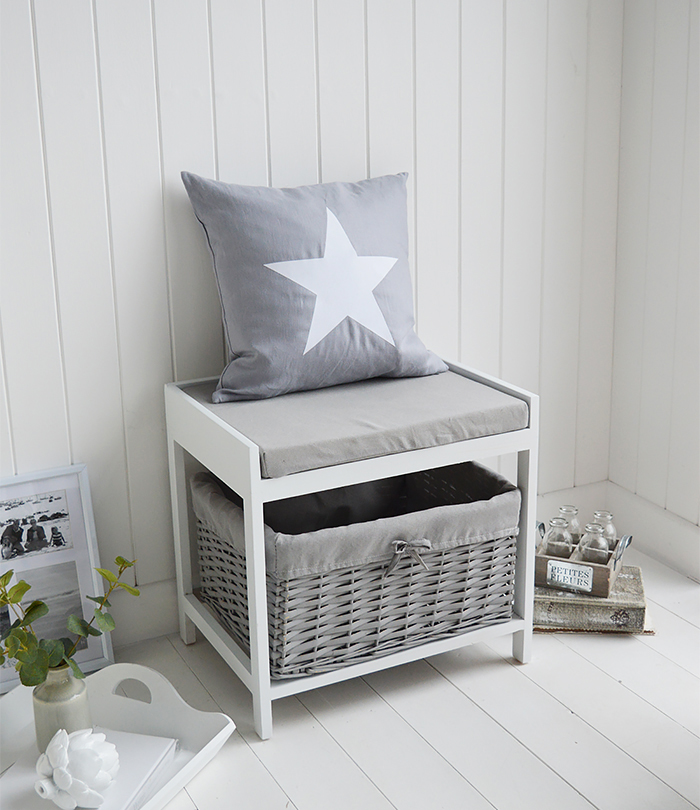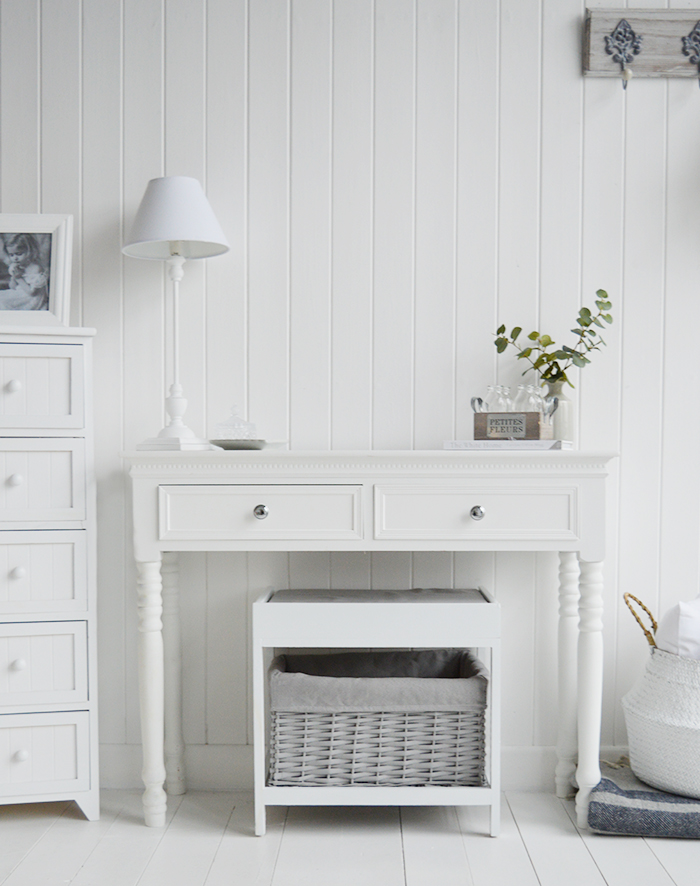 Rooms, Ideas and Tips
Hallway furniture: Use as a small hallway storage seat with a cushion in your hall or entrance way, the large basket allows for storage of a few pairs of shoes, hats, gloves or scarves
Tip: Add a coat rack above for a complete hallway solution.
Living Room Furniture: An ideal window seat with a cushion in the living room, the large basket is great for some extra toy, magazine or blanket storage. Add extra cushions for greater comfort
Bedroom Furniture: A dressing table stool seat with lots storage for hairdryers etc
Bathroom: A place to dry yourself and gives extra storage for towels or toiletries..
You are visiting The White Lighthouse as you are looking for the most stylish and affordable options for general everyday and shoe storage for your hallway space to remove clutter and give the feeling of greater space and light.
Our designers believe they have brought together an extensive and across the full range of prices and sizes in benches and seating with storage for hallway furniture, available mostly with free deliver to UK.
All our offerings include pieces to suit beautiful stylish homes in New England, Coastal, French, Scandi and Country interiors
______________________________
Plymouth Grey & White Seat £45

Newbury Cream  Storage Bench £165

Providence Bench
£78

Manhattan Bench
£220

Cape Cod Storage Hallway Bench £79

Vermont Small Trunk £89

Vermont Large Trunk £149

Panama Vintage Shoe Storage Trunk £88

Plymouth Storage Bench £110

 
______________________________________
The White Lighthouse
Online furniture & accessories shop for the home...
New England l Coastal l White l French l Scandi
Shop online for furniture with delivery to UK at our online store website: www.thewhitelighthousefurniture.co.uk
Hallway l Living Room l Bedroom l Bathroom l Accessories l Storage l 
New Items l Be Inspired