Hallway Furniture l Living Room l Bedroom Furniture l Bathroom l Accessories l Storage l New Items l  Be Inspired l Lifestyle
Please Note: The mobile website is no longer kept up to date with stock and new items. Please go to our full website at www.thewhitelighthousefurniture.co.uk for all items
New England Furniture
The White Lighthouse offers a range of New England furniture for the bedroom, living room bathroom and hall at affordable prices. Create the classic New England house style.
Browse the website to see all our New England and white furniture or go to our & Be Inspired section for some ideas for each room.
Canterbury Storage

SALE

£159

Pawtucket Display Shelf £59.50

Hampshire Checks and Stripes Cushion £15

| | |
| --- | --- |
| |   |
| Long Island Foot Stool £29.50 |   |

 

Grey Heart Cottage Cabinet £65

Plymouth Grey Half Moon Console Table £99

Newport French Grey Console Table £150

White Bedside Table £105

Connecticut White Tray Table £39

Plymouth Grey Narrow Console Table £99

Casco Bay Grey Stool / Table £55

Pawtucket Wall Shelf with Hooks £52.50

Boston Bohemian Wall Shelf £22

Newport Narrow Hall Table £79

White New England  Bedside Table £105

Peabody Small Stool £27

 

 

Large White Twig Heart £48

Newport French Grey Console Table £150

Grey Herringbone Throw  £17

White New Hamptons Cushion £28

White Dressing Table Ceramic Handles £169

New England White Bedside Table  £105

White Bedside Table £105

White Bedside Cabinet  £139

New England Chest of Drawers  £299

New England White Chest of Drawers  £299

Beige Stars Cushion £10

Portland Grey Table £32

Pink Portland Table £29.50

White Narrow Bedside Table £49

New Haven 3 Drawer £59

Boston Bohemian Slate Table £25

Boston Bohemian Book Shelf £55

White Tray Bedside Table £42

Driftwood Side Table £85

Colonial White Large Bedside Table £83

Rose White Three Drawer Cabinet £75

Cornwall Grey Tray Table £36

Large Grey Willow Heart £48

Tall Grey Willow Lantern 

 £35

Maine 5 Drawer £60

Maine 6 Drawer £70

Rose Bedside Cabinet £55

Plymouth Cabinet £59

 

Grey Lexington Floor Lamp £79

 


Casco Bay Umbrella Stand Basket £49
New England Furniture is instantly recognisable as a style of interior design......
Six of America's original 13 states make up New England: Connecticut, Maine, Massachusetts, New Hampshire, Rhode Island and Vermont. Tucked in the northeast corner of the USA, each is different in character, landscape and history. But they are united in offering a warm welcome, built on years of hospitality, best enjoyed in that New England institution: a country inn or bed-and-breakfast.
New England furniture varies from the traditional white clapboard farmhouse with a red barn aside, leaves falling in the autumn fall to the sleek minimalist styles of the beach front houses perched abreast the white sandy dunes, the white lighthouse in the distance looking out over the Atlantic. To create a beach style home go to beach furniture
​___________________
Types of New England Interior Design Styles
Bohemian Boston
Modern with a touch of an industrial look is perfect for Bohemian Boston. A metal trunk used as a storage seat to keep bags and shoes, a coat rack above for coast and scarves is all you need. Keep the furnishings minimal for a clean, uncluttered but comfortable finish.
Luxurious Hampton Mansion
Hamptons... instantly you think of white sandy beaches, large luxurious mansions decorated in a more formal way but in the colours of the beach - blue and white.
A white console table with symmetrical lamps on either end of the table make up this typical look. Add a comfy chair and a blue and white yacht to add to the mix of the coast.
Cape Cod Coastal
Memories of summer vacations, long days spent on the beach... Driftwood, shells and white sandy beaches make up this look in your hallway. A lamp on a table in driftwood effect would fit perfectly, decorated with grey table lamps and a few shells and driftwood you have collected scattered randomly. White walls would look great against the driftwood grey. Add a hall storage bench seat with  cushion to make a comfortable place to relax on your return
Rugged Maine
Keep it simple for this regged look, a lone bench wih room under for boots and storage baskets for shoes. A coat rack above with a shelf to allow you to quickly grab your coat during the cold Maine winters for simple hallway coat storage. Textured neutral furniture in the way of baskets is a great rugged look.
New Hampshire Farmhouse
Fabulous foilage and Roaring fires. Cosy traditional furniture in the hallmixed with painted modern pieces with old style wood accessories and a bucks head for authenticity. Greys and whites are the perfect colours for this livied in hallway. Typical pieces of furniture include coast stands, rustic benches and racks.
White Beach
Set the tone in your home of your white beach home. An all white room with subtle nautical decor. A bench for shoes and flip flops, natural baskets for storage. Plentiful white furniture
___________________
​Here we offer plenty of helpful advice and ideas on how to decorate in the New England style including lighting, ​home accessories, cushions, rugs and throws
___________________
Get the New England look...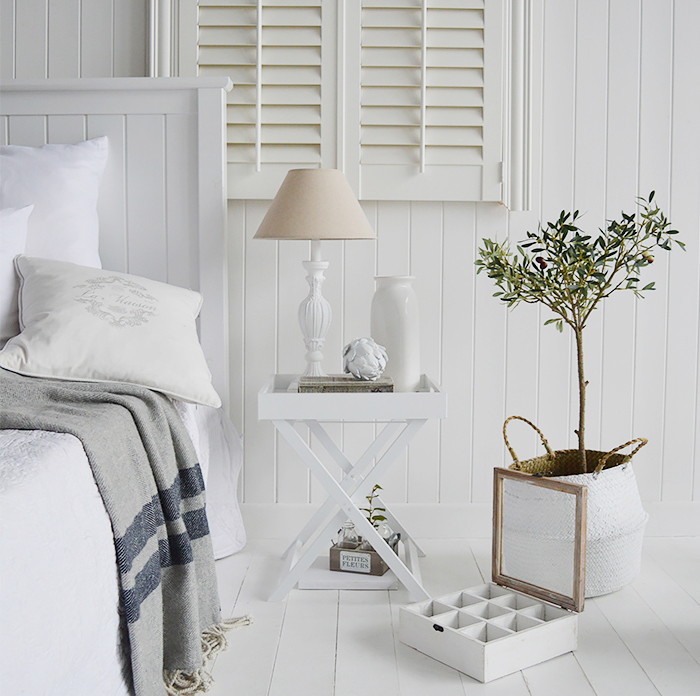 Classic New England style of furniture for the bedroom, adding texture warms the room, giving it a more cosy feel. A touch of greenery gives extra interest. The shutters and white cladding give the traditional look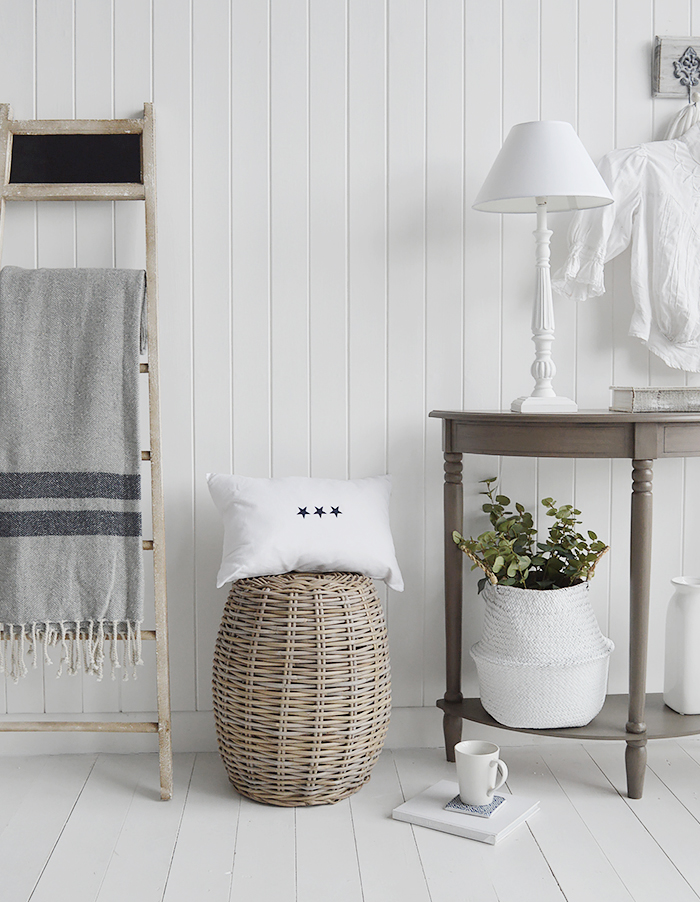 The natural finish of the Casco Bay stool offers an extra layer and is reminiscent of the driftwood collected on the rugged Maine coastline
New England decor in a living room full of character in a traditional stars and stripes american home interior. Furniture and accessories
Get the look... 
New England Console Table £169
Seaside coffee table £99
Casco Bay Basket £43
Americal Flag Throw £19
Tall Lantern £35
Hamptons Rug £26
Large Vase £42
Stars £45
____________________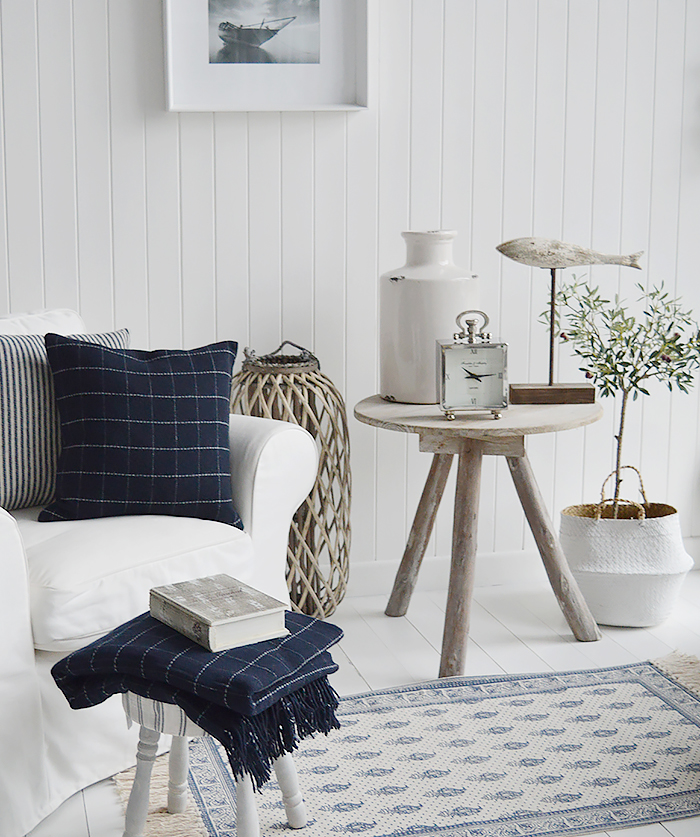 Driftwood grey coloured table £85 with coastal style home accessories including Hampshire navy checks and stripes cushions £18
A traditional New England living room in pales greys and white. Keep cosy blankets close at hand with a blanket ladder for those cold evenings. Driftwood coloured wood is a perfectly complements New England interior design. This tripod table is as wonderful in the bedrom as a bedside table as it is in the living room
Rustic weather beaten finishes make up a large part of the New England style of homes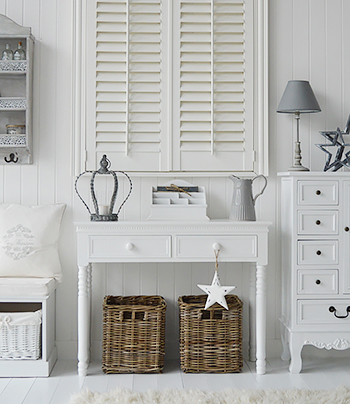 The New England range of white hallway furniture, white being the favourite colour of New England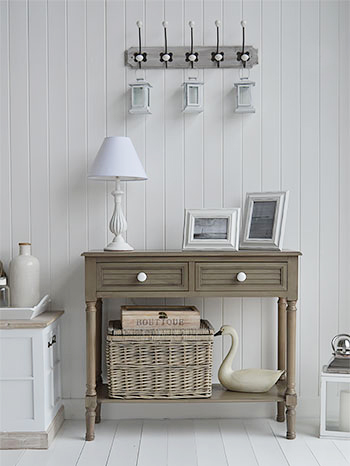 The Colonial style of clapboard boards in this furniture are prevalent in the New England states.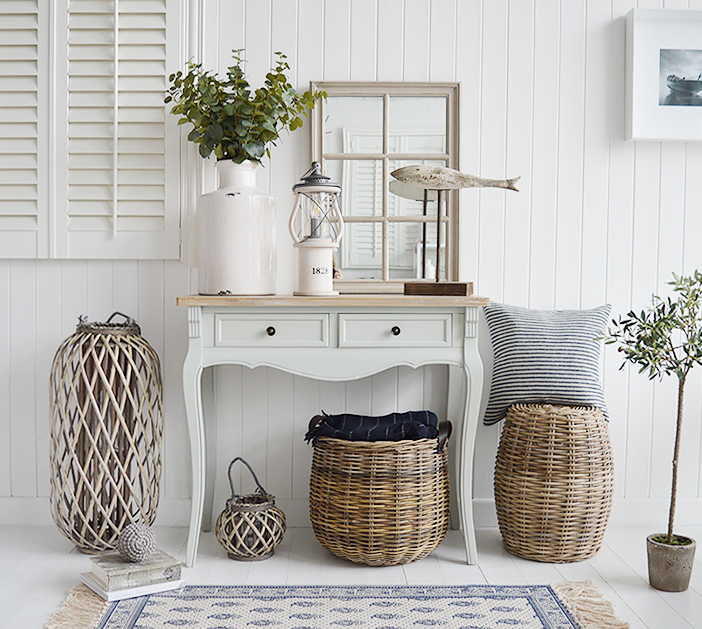 The Oxford grey console table in a typical New England styled hallway.
________________________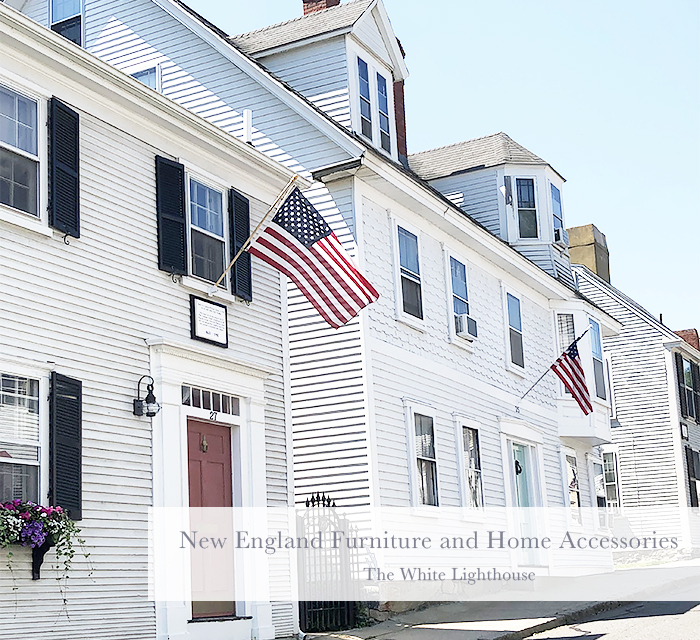 The White Lighthouse
Online furniture & accessories shop for the home...
New England l Coastal l White Furniture l
Shop online for furniture with delivery to UK at our online store website: www.thewhitelighthousefurniture.co.uk