Hallway l Living Room l Bedroom l Bathroom l Accessories l Storage l New Items l Be Inspired
Hallway Console Tables
The White Lighthouse offers a range of white console tables in our characterisitc mixes of coastal, Scandi, Danish, French and Shabby Chic style furniture... see the full range of hallway furniture
White Console Tables

New England White Console Table with White Round Handles £169

New England White Console Table with antique brass handles £169

New England White  Console Table with Silver  Handles 

£169

New England White Sideboard  £299

Maine White Sideboard with Large Cupboard £98

Colonial White Console Table with Drawers  £165

Colonial White Half Moon Table £79

Colonial White Console Table £100

New England White Sideboard £299

 

Grey Console Tables

New Hampshire Grey Console Table £155

Rhode Island Grey Table / Desk £69

Plymouth Grey Console Table £99

Newport French Grey Console Table £149

Newport French Grey Console Table £149

Driftwood Rustic Tripod Table £79

Newport Narrow Hall Table £79
Console Tables
Console tables, most often found as hall furniture pieces, provide style and functionality, they add storage and extra surface for lamps and flowers giving you a warm welcome as you enter your home.
The White Lighthouse offers a range of white console tables in our characterisitc mixes of coastal, Scandi, Danish, French and Shabby Chic style furniture... see the full range of hallway furniture
A main deciding reason for choosing a console table is the size of your hallway, you should select as large as is feasible. For small hallways you may be best considering a small console table such as a lamp table, but whatever your choice make sure the table offers some additional storage such as drawers for everyday bits and pieces including coins, pens, keys that create general disorder. Position a basket under the console for storage of shoes or bags. A white console table will reflect light and invade the whole space giving the impression of a larger area. A console table will also provide display space for lamps, photos and your favourite home decor pieces. For greater organisation on your table we love our keys and coins boxes as well as our letter racks.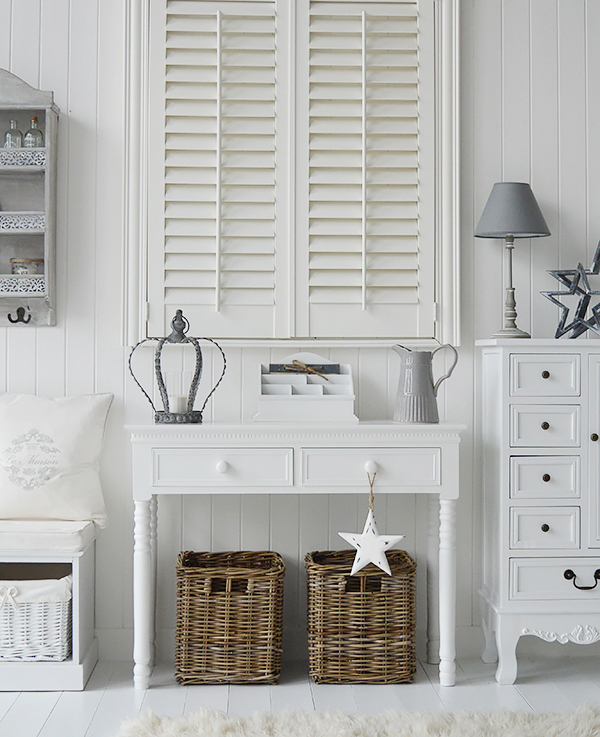 Our New England white console table with two drawers and white handles
An all white hallway, an ideal style when designing a coastal interior. Clean, bright and fresh for a fabulous hall or living room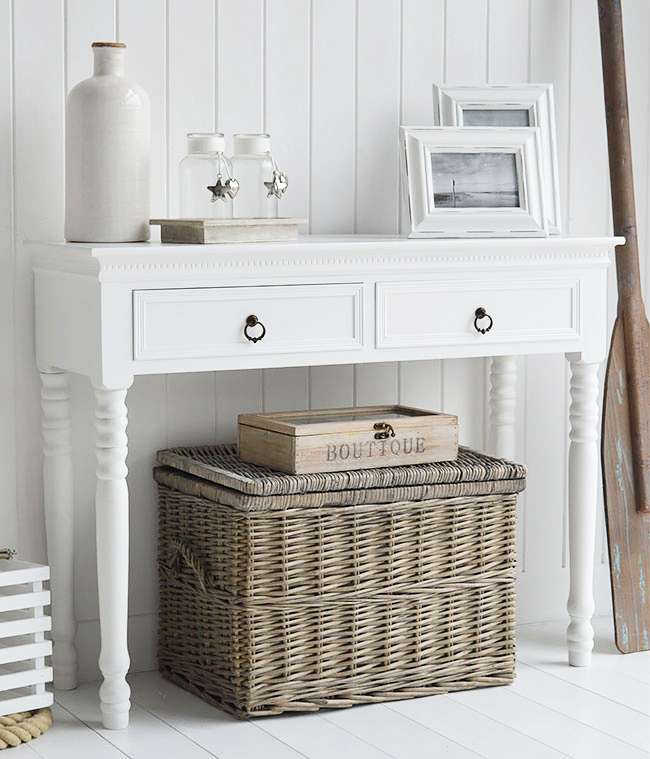 The New England white console table with extra basket storage underneath
The New England hallway table for a country style home. Adding a lot of home decor accessories gives it a more cosy feel making it ideal for those cottage homes.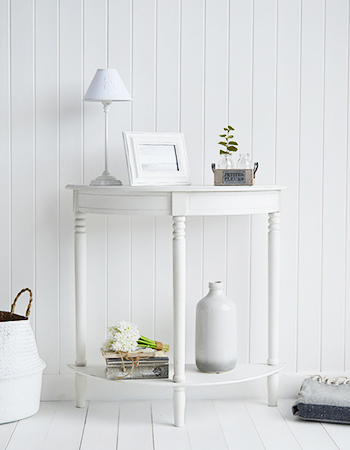 The half moon white Colonial half moon table for smaller halls
A console table in the shape of a half moon is a great idea when space is at a premium in your hallway or living room. The shape of table does not protrude into the space of the room as much as a more regular rectangle table making it a very popular choice.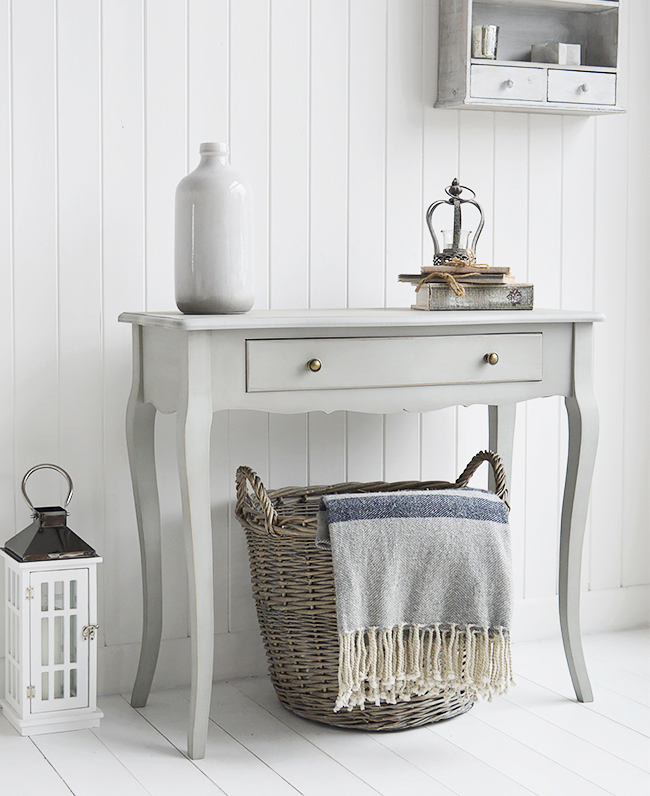 Our New Hampshire grey console table with a large drawer
A pretty grey table with a large drawer. We love the the colour and the large drawer for storage. The curved legs with the frontage design make this such an elegant table suitable for all hallway interiors.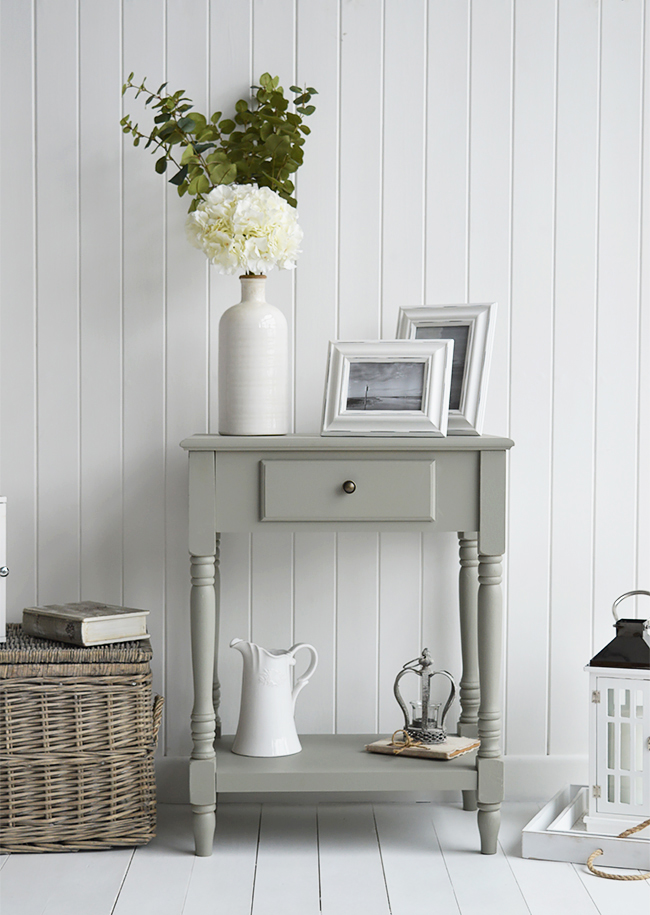 Our Charleston grey console table is great for smaller hallways
The Charleston Grey, a deeper colour of grey, reminiscent of the french style of colours. Looks as fabulous against a contrasting white wall as it does blending in with the tonal darker colours of walls.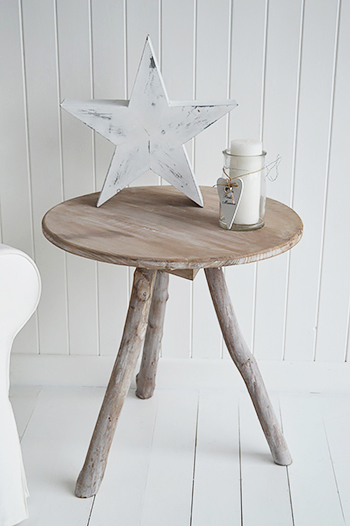 The Driftwood grey round console table is a gorgeous addition to a coastal themed home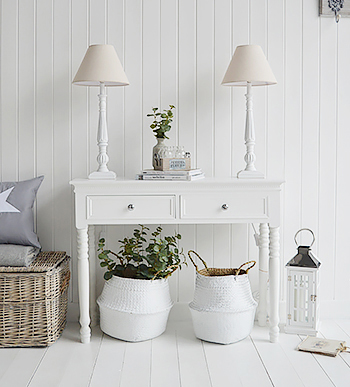 The New England white console table, styled with symmetrical tall white lamps to create a centre piece for a dramtic look in your hallway. 
______________________
For some help on decorating your hall see our articles on Hallways
Coastal and Beach Hallway Furniture
Ideas for decorating hallways in Coastal and Beach Homes..
White Half Moon Console Tables
Don't take as much room but just as beautiful
Small Hallway Spaces...
Ideas on decorating your hall with small hallway
London Hallway Calling 
How to furnish a hallway in London when space is at a premium...
Hall Table ......
Add elegance to your hall
New England Hallway Furniture
Ideas on decorating your hall in typical New England style
Style Your Console Table 
Ideas on how to style your console table
Lamp Tables....
A petit console table
Do I Need a Console Table?
The answer is definitely yes, find out why..................
Create a Great First Impression
Hallway furniture is so important..............
Advice on White Hall Tables
Some advise on choosing a hall table.......
_____________________
If you have any questions about our console tables products, please do not hesitiate to ask at info@thewhitelighthousefurniture.co.uk
______________________
Hall Furniture 
Console Tables l Storage Seats and Benches l Coat Storage l Lamp Tables l Hallway Storage

________________________
The White Lighthouse
Furniture & accessories for the home...
Hallway l Living Room l Bedroom l Bathroom l Accessories l Storage l 
New Items l Be Inspired