Grey, Scandinavian and White Dressing Table
A dressing table is not just a luxury, but a necessity. At the White Lighthouse we feel it is essential for a girl to take time to herself, to appreciate herself, to sit down and relax, releasing the burdern of her day. To ensure you find a dresser to suit you and your bedroom we offer a range in varying sizes so you are sure to find one just for you.
The White Lighthouse Dressing Table
Dressing tables do not have to take up much room, the New England table offers functionality, providing storage space for make up and toiletries. Our Scandinavian dressing table only takes up a little room and offers plenty of scandi chic to your bedroom.
We believe it is essental for you to have as much storage as possible for all your make up and everyday essentials, this means we ensure all our dressing tables have drawers.
Mirrors, stools, chairs and accessories are also avaialble to give you a beautiful relaxing space you can call your own.
All our dressing tables are suitable for children and adults.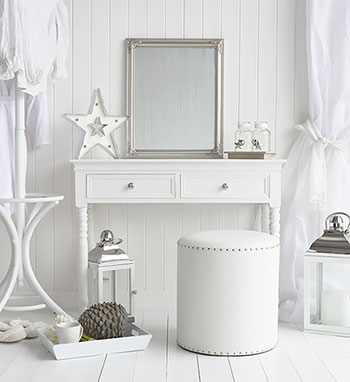 Why not visit our "Be Inspired" bedroom section for some ideas in how dressers can give your bedroom a touch of luxury and style.  Other pieces of white bedroom furniture to complement are avaialble from the bedroom section of the website.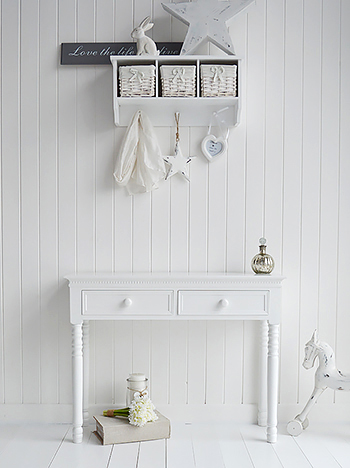 _____________________
Help and Advice on Dressing Tables
Scandinavian Look..
Create the popular scandinavian look in your bedroom.
How to Create a New England Style Bedroom
Some advice on how to create your very own beach style bedroom.
For your bedroom or dressing room
consider adding a dressing table to your room... 
White Children's Bedroom Furniture
Why white furniture is perfect for the children's bedroom.......
The Luxury of a Dressing Table
Sit down and relax at a dressing table...............
How to Style Your Dressing Table 
Some ideas and tips on how to dress and style your dressing table....
White Bedroom Furniture > Dressing Tables