Hallway Furniture l Living Room l Bedroom Furniture l Bathroom l Accessories l Storage l New Items l  Be Inspired l Lifestyle
Hallway Console Tables
The White Lighthouse offers a range of hallway console tables in white, grey, wood, all in our characteristic New England style of Hallway Furniture for coastal, country and city homes. Affordable and stylish hall tables to suit narrow, small and large hallways from The White Lighthouse delivery in UK and Ireland... see the full range of hallway furniture

Colonial White Half Moon Table £79


Colonial White Console Table with Drawers  £125


Colonial White Console Table £100

Plymouth Grey Console Table £99

 

 

Plymouth Grey Half Moon Console Table £99

Driftwood Rustic Tripod Table £85


New England White Console Table with White Round Handles £169


New England White Console Table with antique brass handles £169


New England White  Console Table with Silver  Handles £169

Brittany Grey Console Table £189

Newport French Grey Console Table £149

Newport French Grey Console Table £149

Newport Narrow Hall Table £79

Winchester Grey Round Table £90

Oxford Grey Console Table £139

New England White  Console Table £169
Hallway Console Tables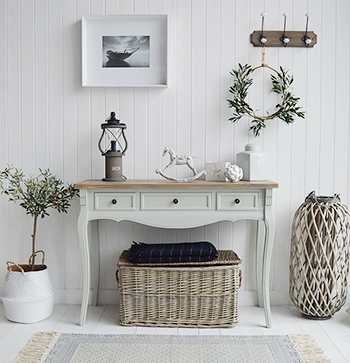 Oxford Grey console table with two drawera nad a natural wooden top £119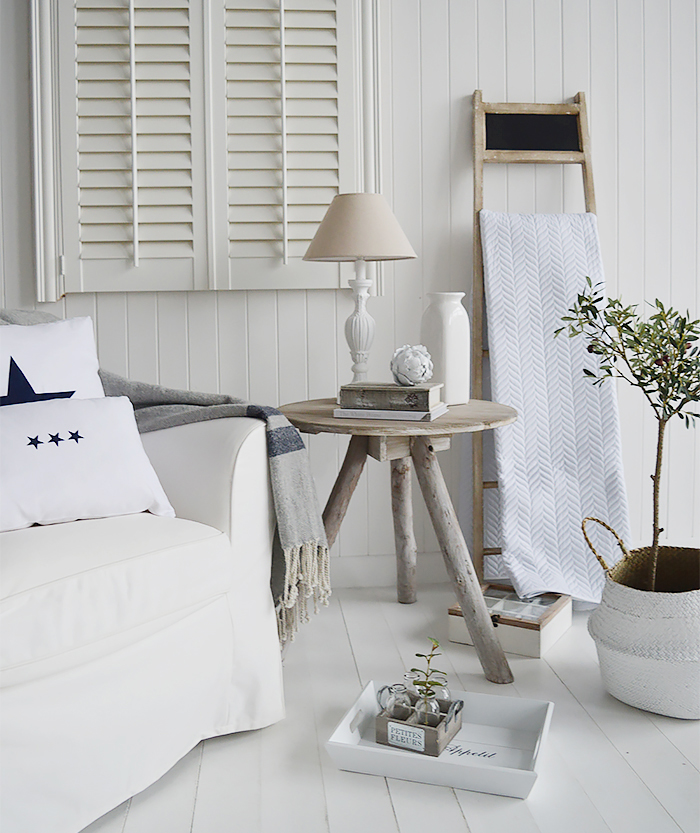 The Driftwood grey round console table is a gorgeous addition to a coastal themed home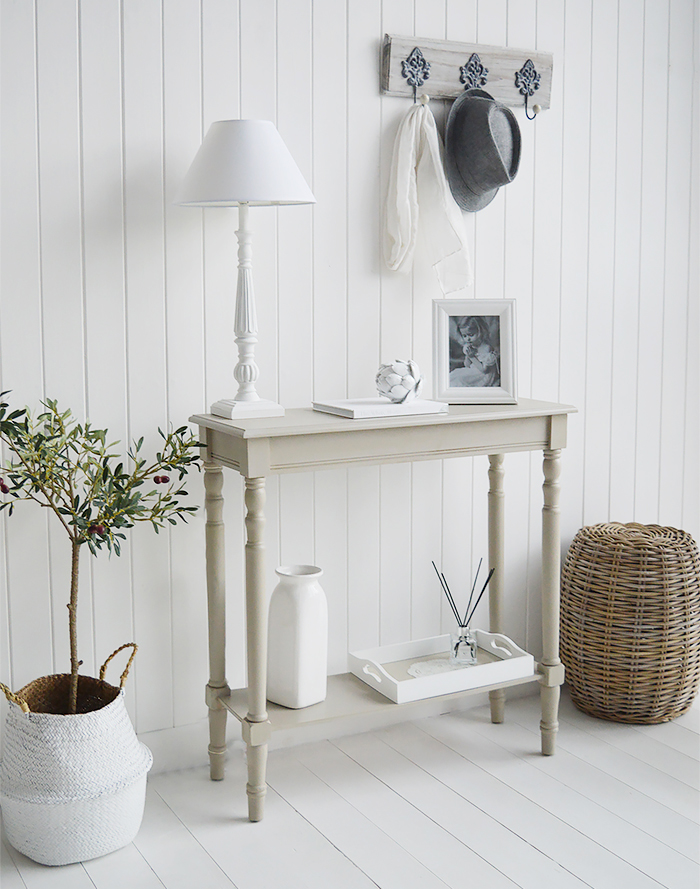 The narrow light grey Plymouth console table with a shelf for a lighthand airy hallway £99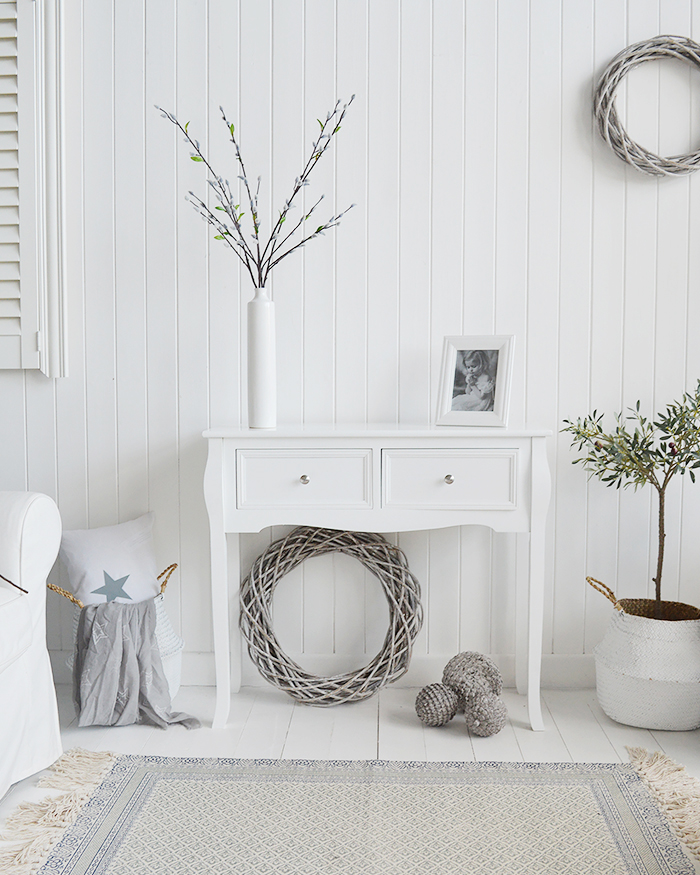 Our Falmouth white console table with two drawers £115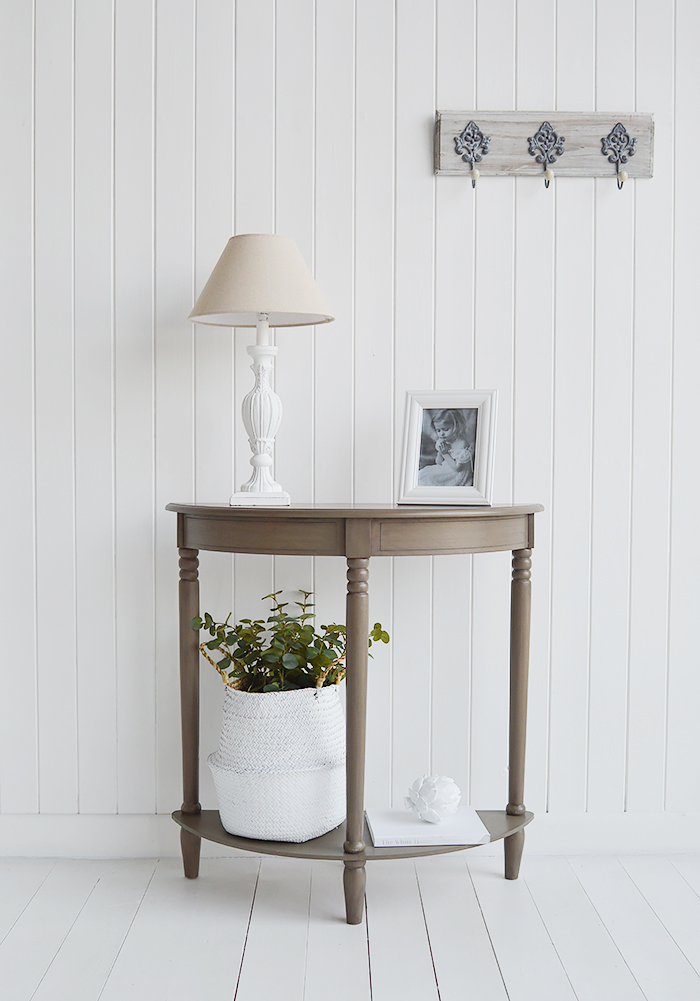 Ideal for smaller hallways... the Newport half moon narrow console with a shelf in french grey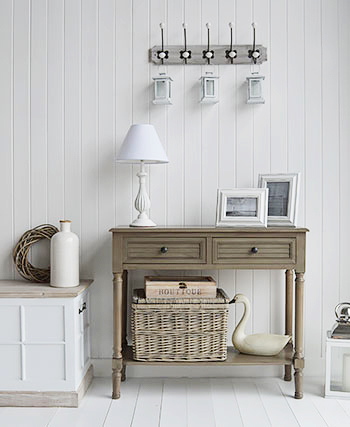 The Newport is a charming french grey console table with a shelf and two drawers, each with traditional louvre drawer fronts to complement all styles of interior design in your home. A charming table for country cottage interiors. Complete the look with cottage style interiors, or a basket on the shelf to provide extra storage £149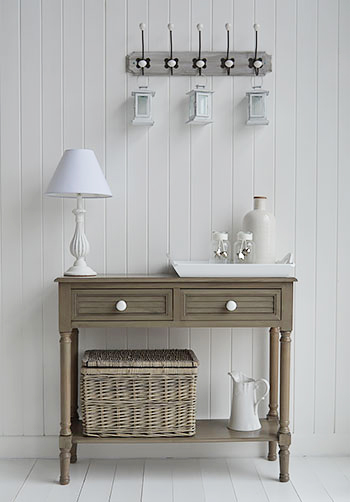 The louvre detail on the drawers fronts is synonymous with beach style living. The white handles further add to the New England coastal style of home interiors. Complete the look with white and nautical home decor accessories or a grey driftwood coloured basket for extra storage. £149
______________________
All Hallway Furniture
White Console Table Range
All Hallway Console Tables
Hallway Coat Storage
Hallway Storage Benches / Seats
Hallway Inspiration
______________________
For some help on decorating your hall see our articles on Hallways
Coastal and Beach Hallway Furniture
Ideas for decorating hallways in Coastal and Beach Homes..
White Half Moon Console Tables
Don't take as much room but just as beautiful
Small Hallway Spaces...
Ideas on decorating your hall with small hallway
London Hallway Calling 
How to furnish a hallway in London when space is at a premium...
Hall Table ......
Add elegance to your hall
New England Hallway Furniture
Ideas on decorating your hall in typical New England style
Style Your Console Table 
Ideas on how to style your console table
Do I Need a Console Table?
The answer is definitely yes, find out why..................
Create a Great First Impression
Hallway furniture is so important..............
_____________________
If you have any questions about our console tables products, please do not hesitiate to ask at info@thewhitelighthousefurniture.co.uk
______________________
Hall Furniture 
Console Tables l Storage Seats and Benches l Coat Storage l Lamp Tables l Hallway Storage

________________________
The White Lighthouse
Online furniture & accessories shop for the home...
New England l Coastal l White Furniture