Be Inspired... To Decorate Your Living Room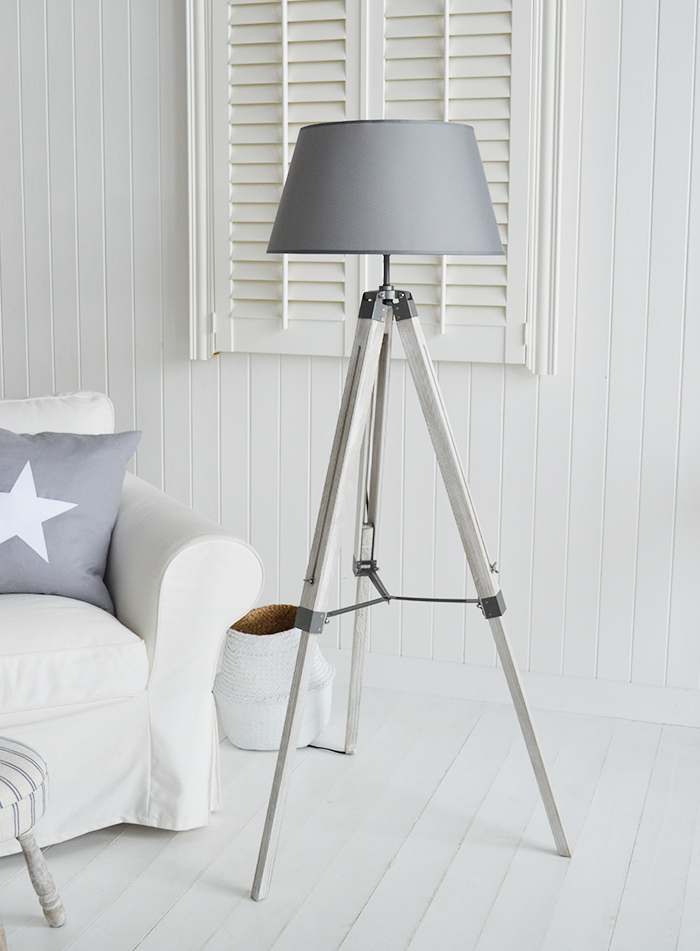 Our grey Lexington lamp is a stunning centre piece in the living room
Get the look...
Lexington Grey Lamp £79
Driftwood Ladder £55
Herringbone throw £17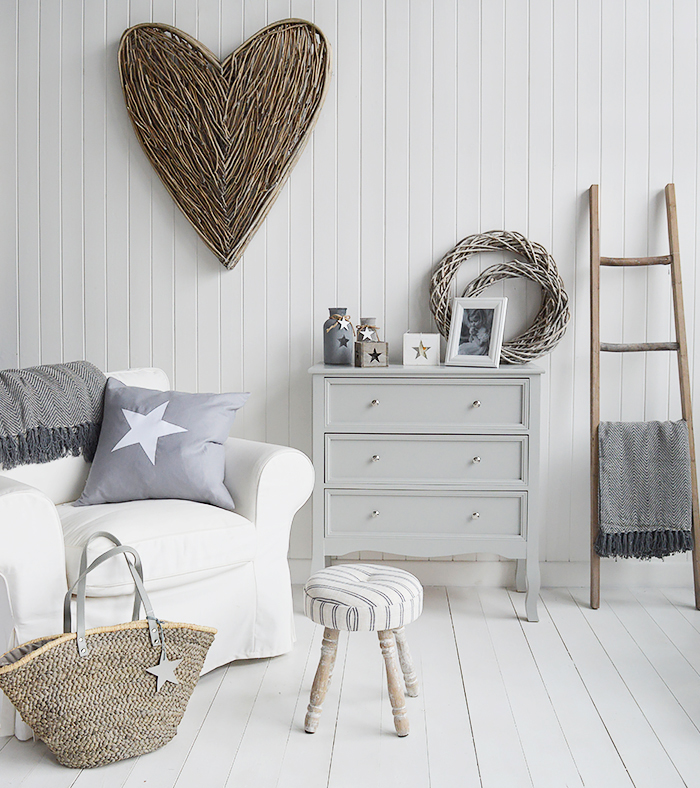 Our Camden grey chest of drawers £125 ... 
Get the look
Long Island Stool £27 
Driftwood Blanket Ladder £55 
Vases, Jars, Photo Frames and Accessories from £4
__________________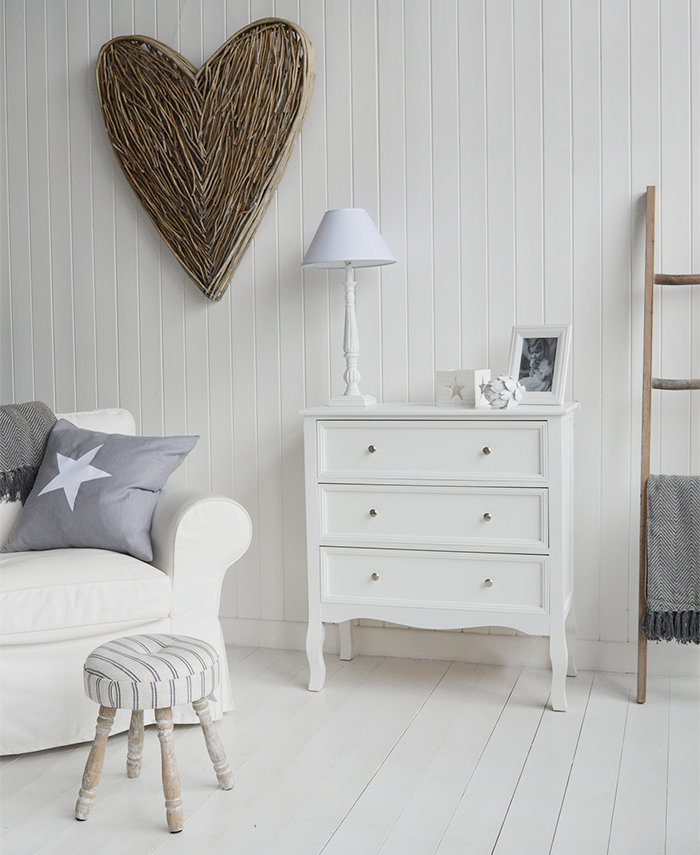 Our Camden white chest of drawers £125 ... 
Get the look
Large Grey Willow Heart £48
Long Island Stool £27 
Driftwood Blanket Ladder £55 
Vases, Jars, Photo Frames and Accessories from £4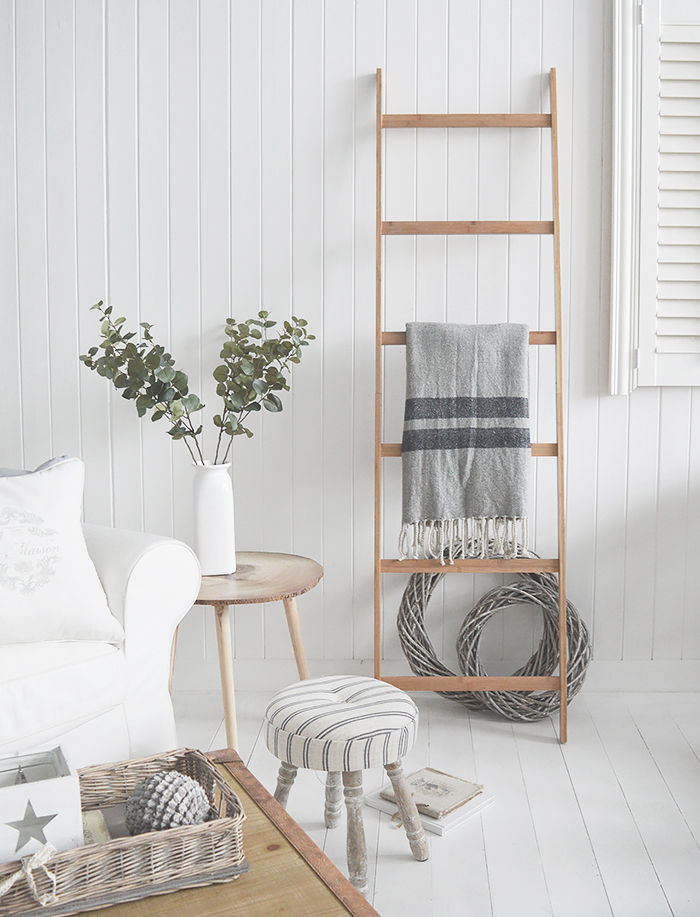 The natural Bamboo ladder is ideal as a blanket stand in your living room, £38,
Pictured here along with the Harvard Coffee Table £129,
___________________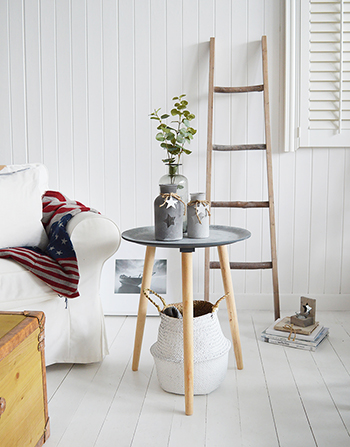 The Boston Bohemian side table £25 with a touch of the New England colours.
Pictured with our home accessores, Lifestyle and  Driftwood Blanket Laddder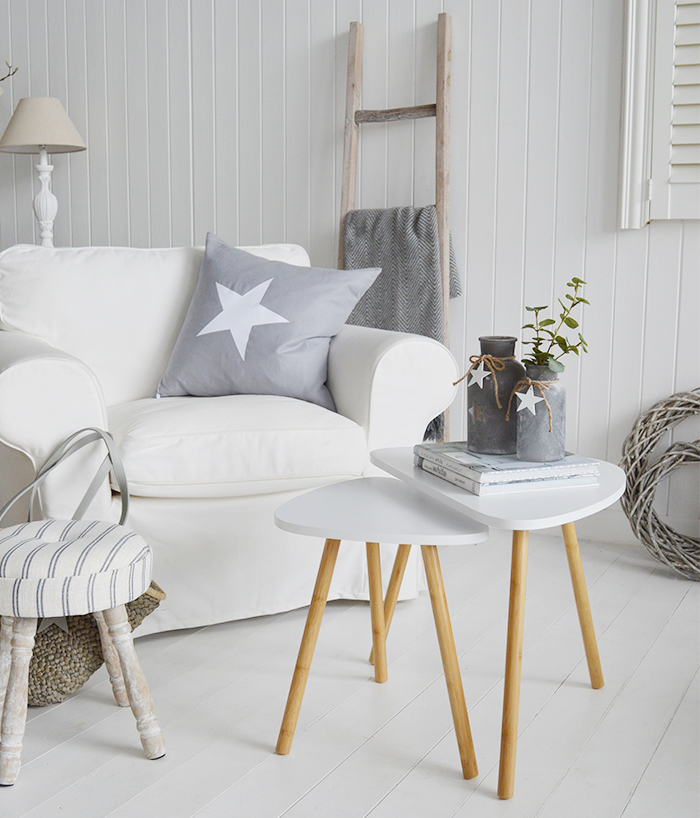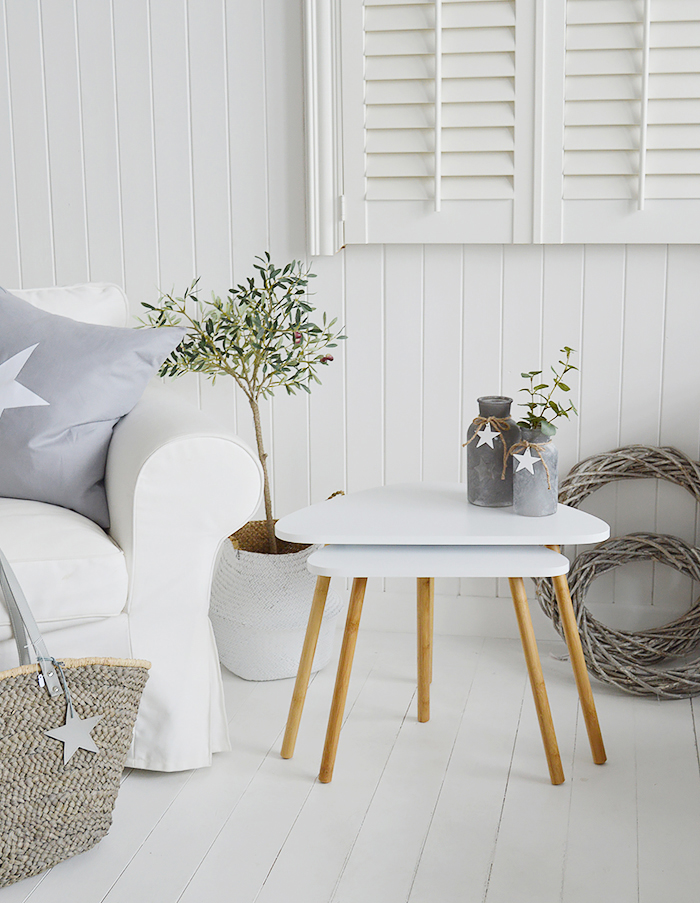 Our Bethel Cove set of two tables £39... use as a side table or coffee table with the two together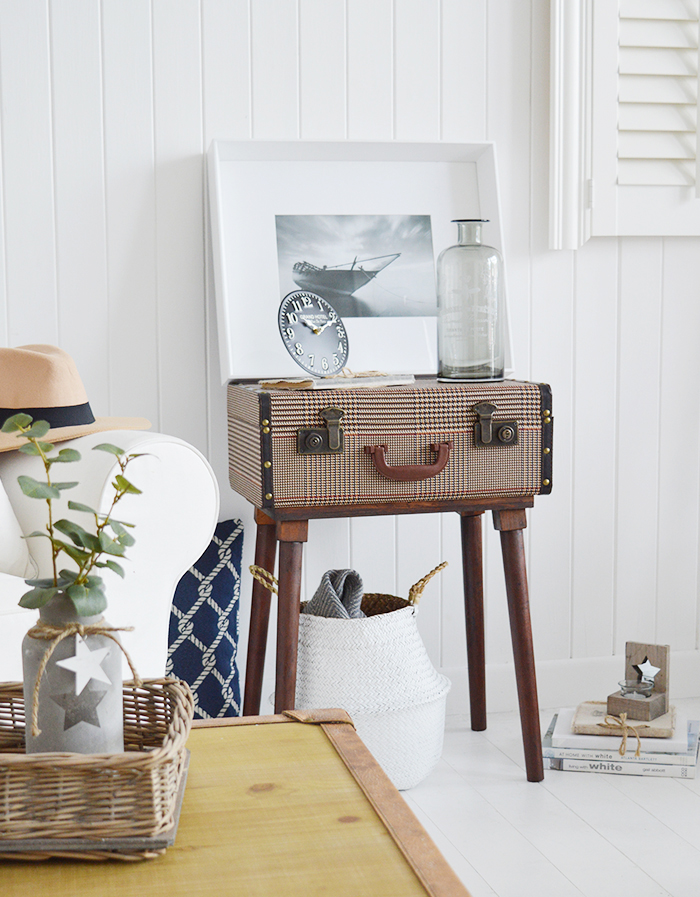 The Woodstock vintage suitcase table in a tweed effect finish and complementing simple legs. £69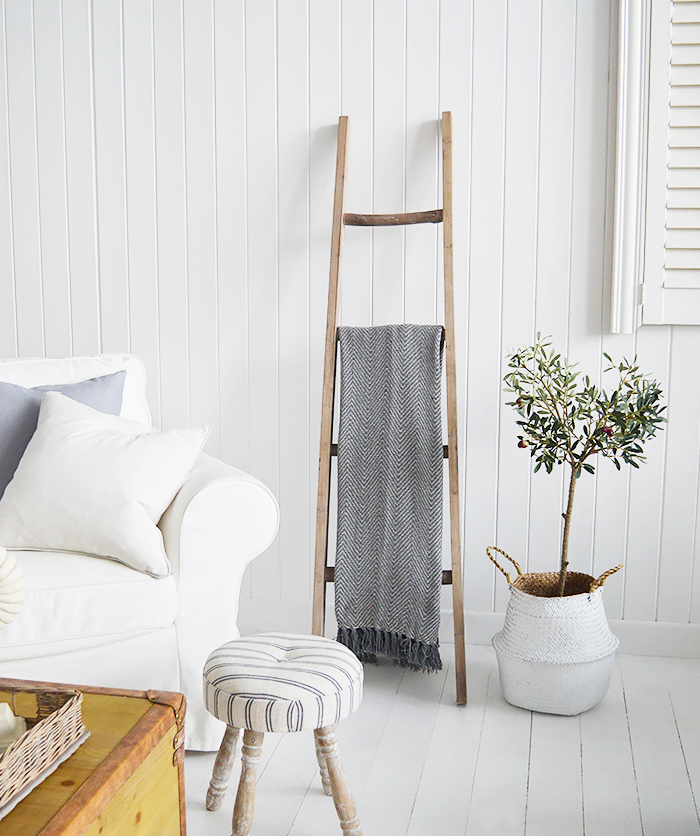 Our driftwood effect blanket ladder in a rustic greyed wood. A great idea to hang quilts, clothes, throws or blankets £58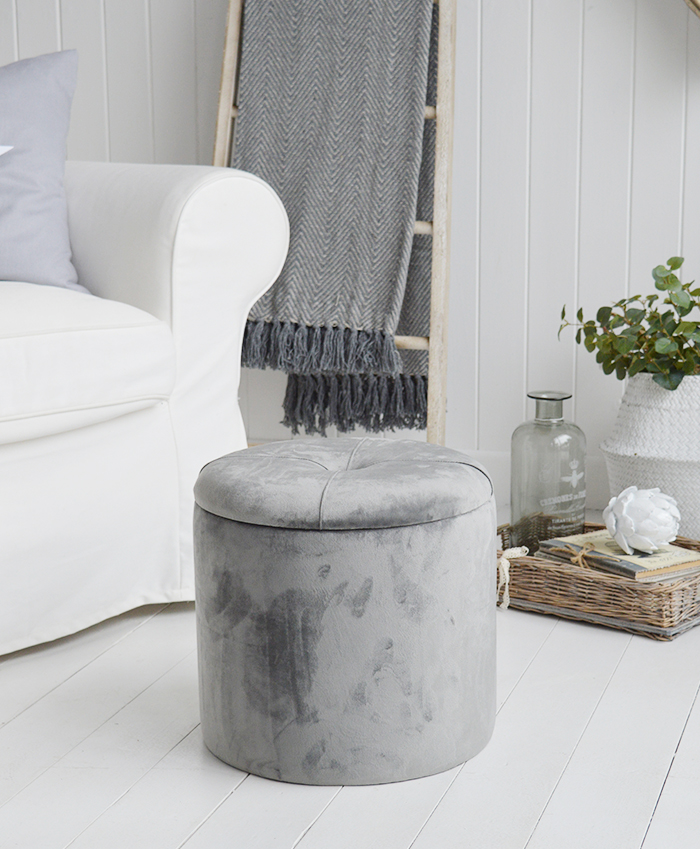 The Barrington grey storage foot stool with button padded seat.  Two great space saving uses in one, great quality, beautiful soft fabric and looks fabulous £59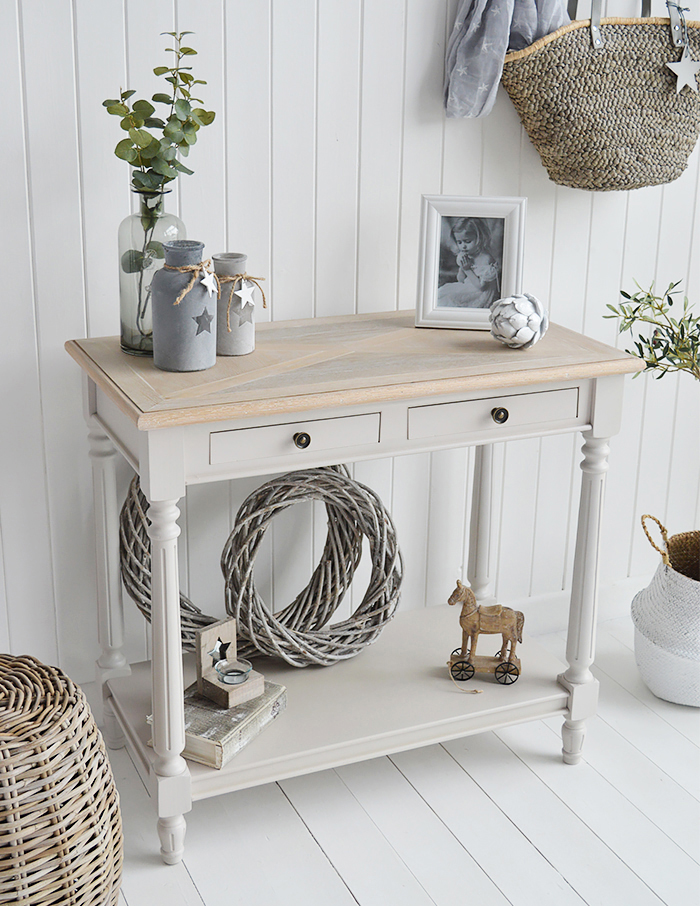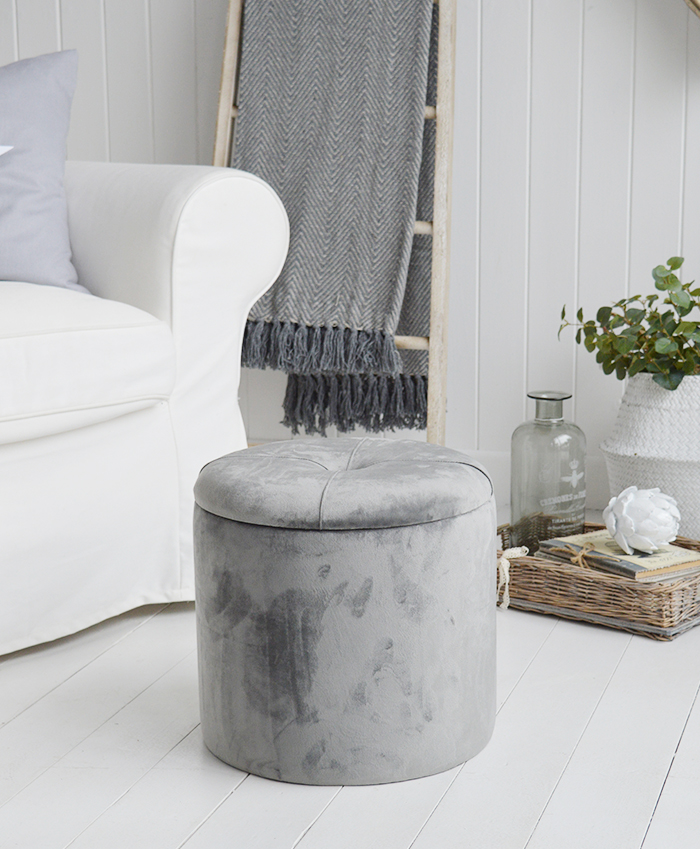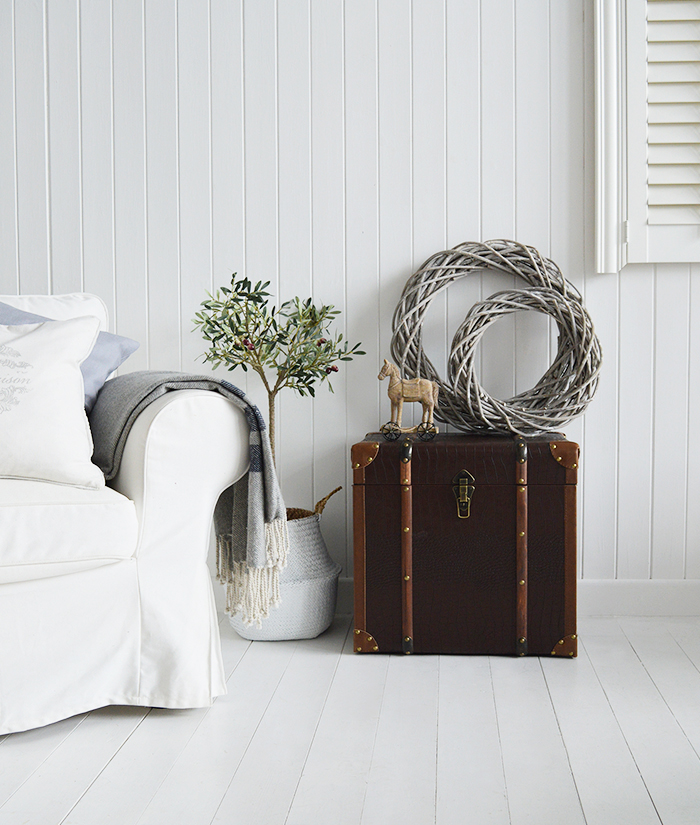 The Panama trunk £79 in a vintage style gives a really luxurious feel to your living room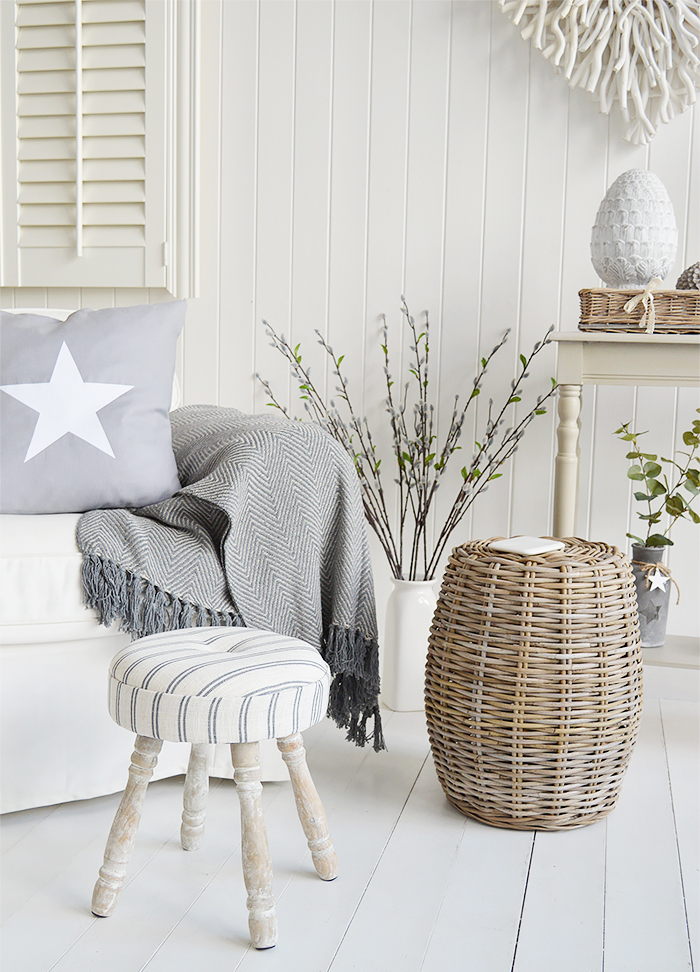 Footstools add extra comfort in your living room as well as the functionality of a side table. We love the texture of the the Casco Bay stool or side table and the striped fabric with the washed legs of The Long Island stool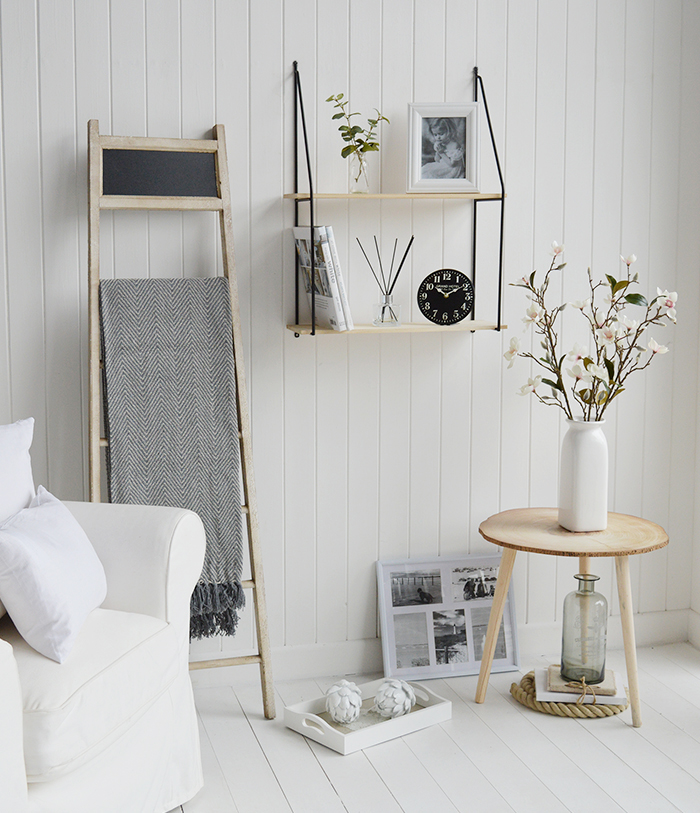 Our Bohemian Boston wall shelf £22 with the  Hartford Nordic tree trunk table £28, Dorchester blantket ladder £38 and home accessories (Click on each linked item to find out more)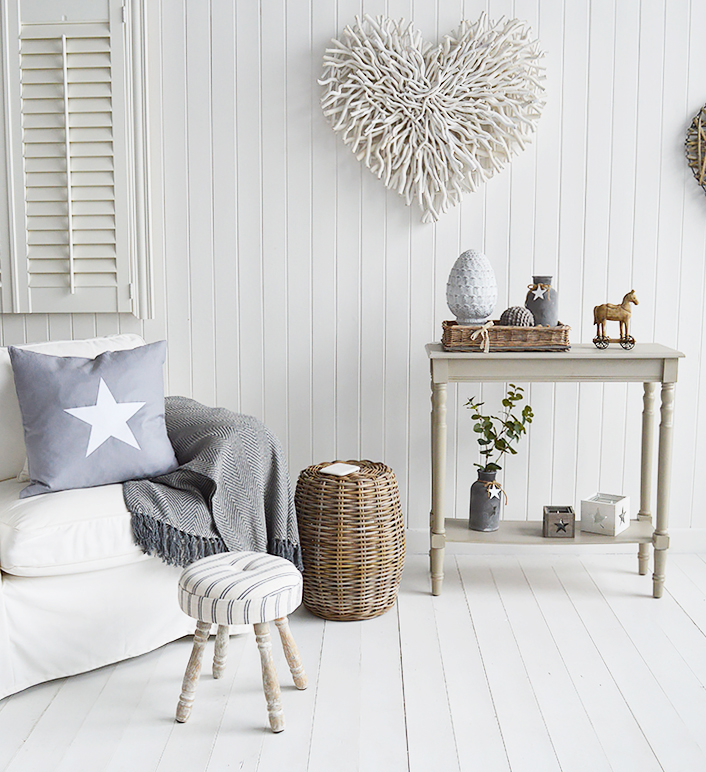 A typical New England styled living room with a comfy white sofa, plump cushions, our Plymouth grey console table with gorgeous home decor pieces and natural Casco Bay side table and Long Island stool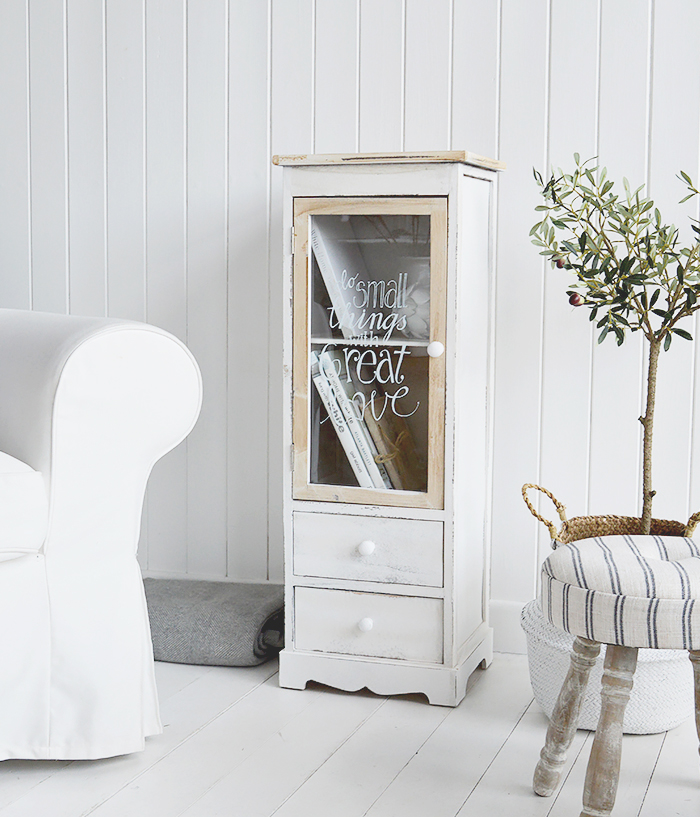 The Provincetown cabinet with a glazed shelved cupboard with the words 'do small things with great love" stencilled on the glass and two drawers for storage. £69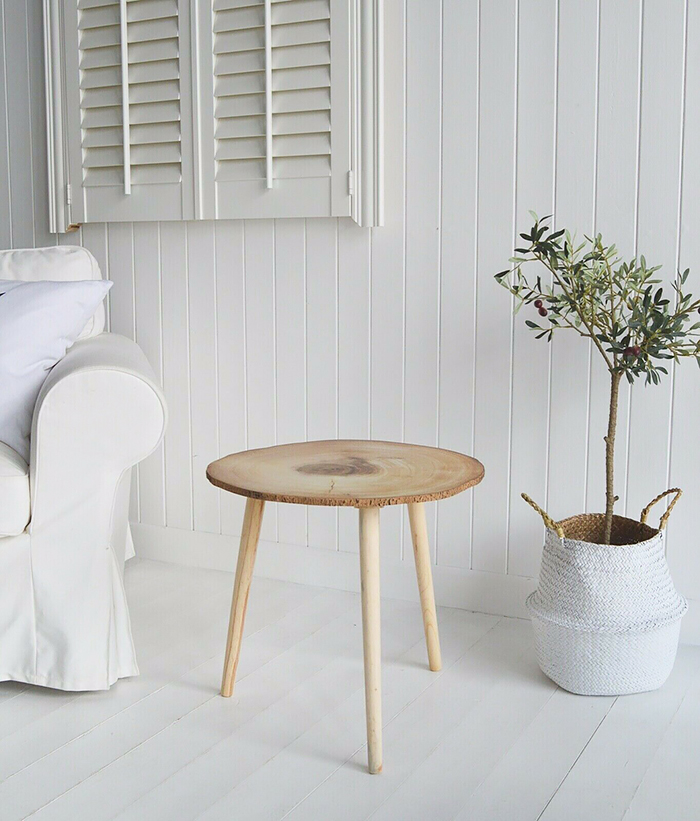 Hartford Nordic style tree trunk coffee, side or lamp table. A striking tripod table for the living room £28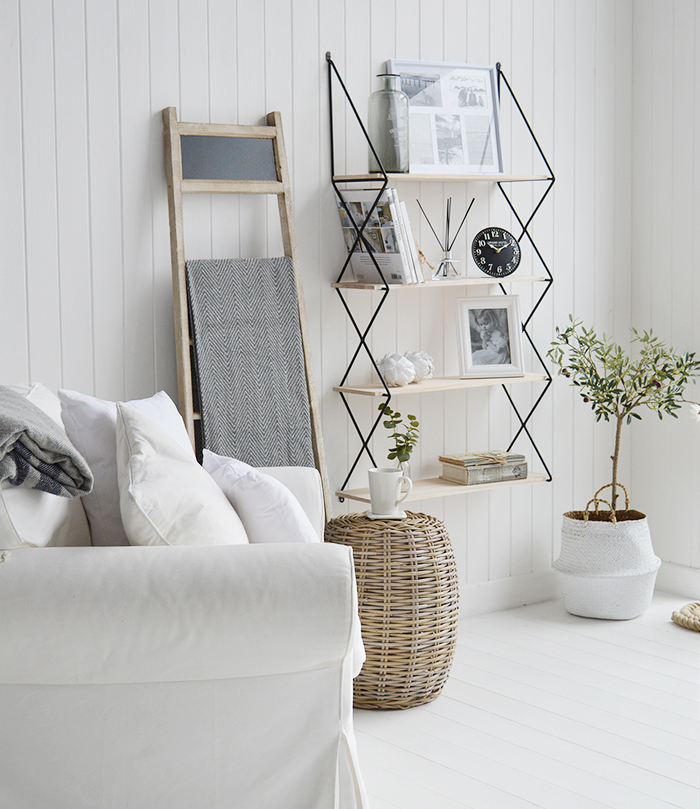 Our Bohemian Boston wall shelf £55 with the  Casco Bay table/ Stool £55, Dorchester blantket ladder £38 Grey Herringbone Balnket £17 and home accessories (Click on each linked item to find out more)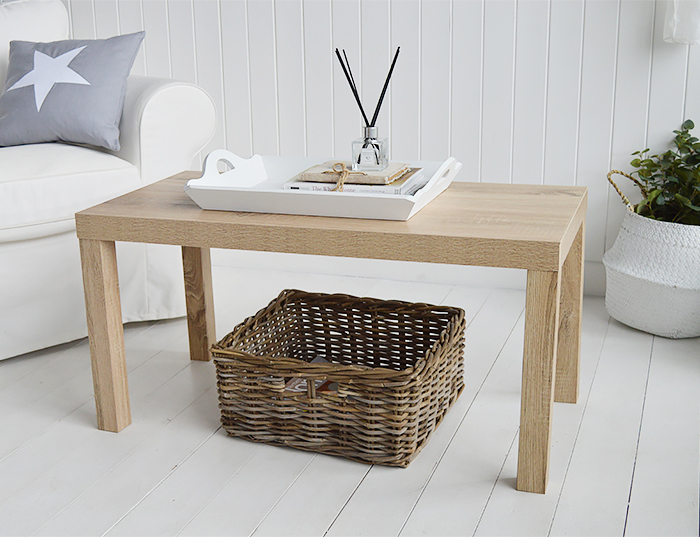 Woodstock Weathered Oak Effect Coffee Table £39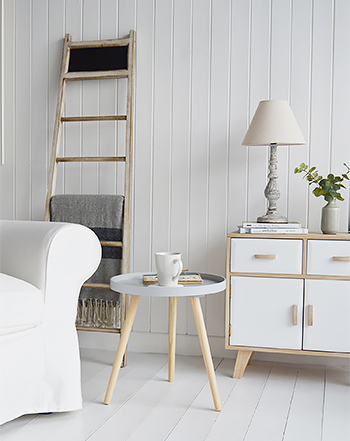 A little scandi style with our Portland Grey table £32, Dorchester ladder £38, Hamptons sideboard £82 and the La Maison table lamp.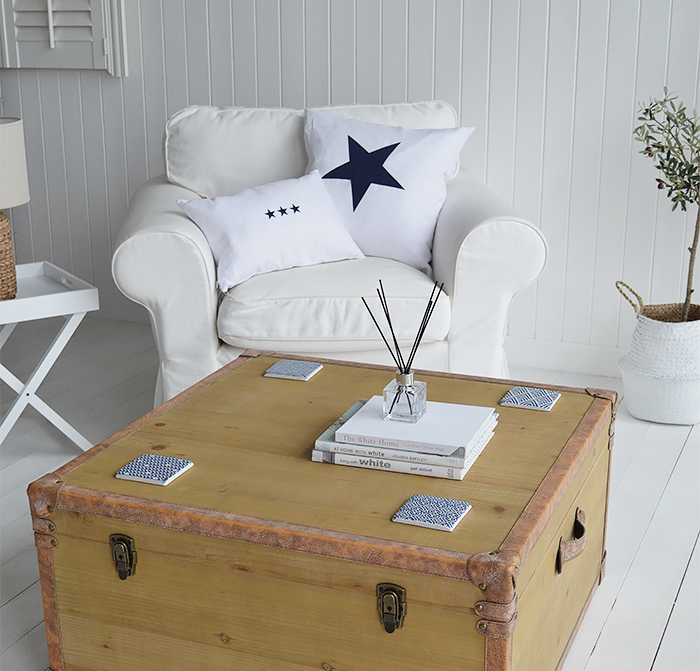 The Harvard is a striking large storage coffee table in an antiqued wood, aged faux leather bound on the edges with brass studs. £179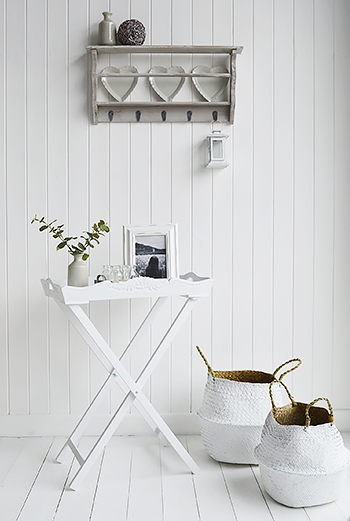 A simple butler tray £36 with Kingston baskets £27... a perfect corner filler for white living room furniture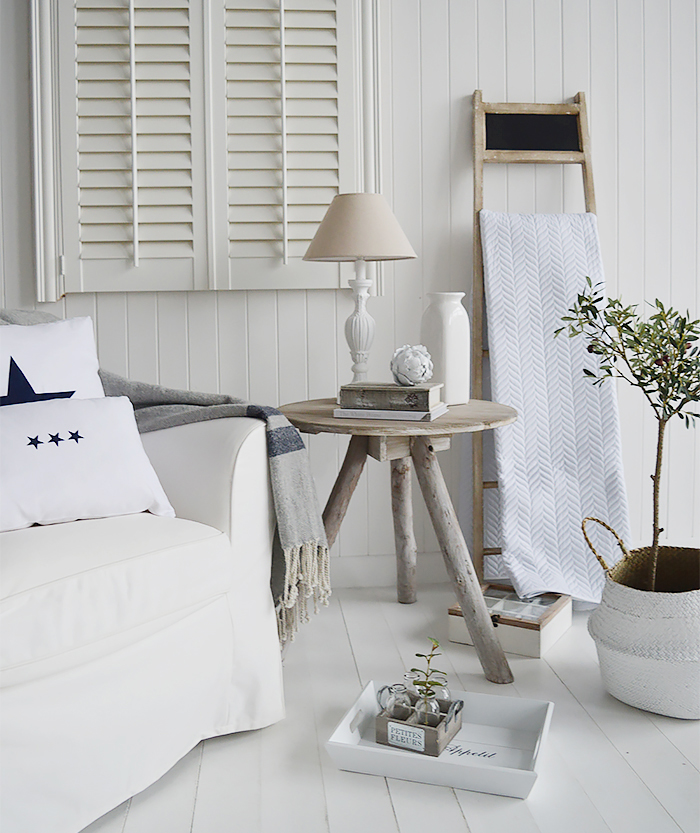 Driftwood grey lamp table for coastal inspired living room furniture and interior £79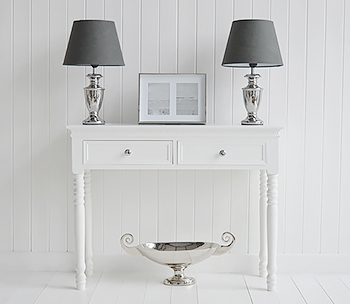 The White New England console table £169 with elegant Kensington table lamps at £32 each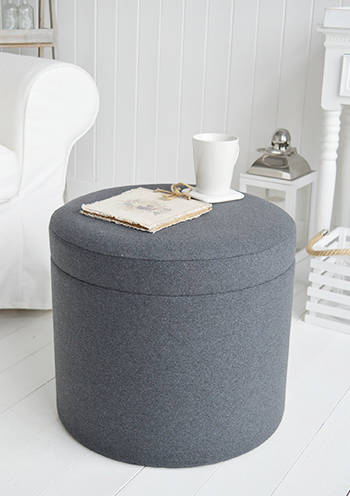 Westhampton grey foot stool which converts to a coffee table with the tray lid £85.. Extra seating and a coffee table in one!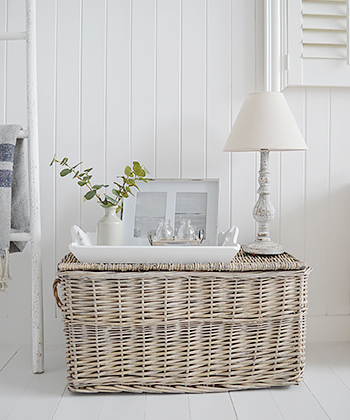 Grey set of storage baskets, can also double as a side lamp table £76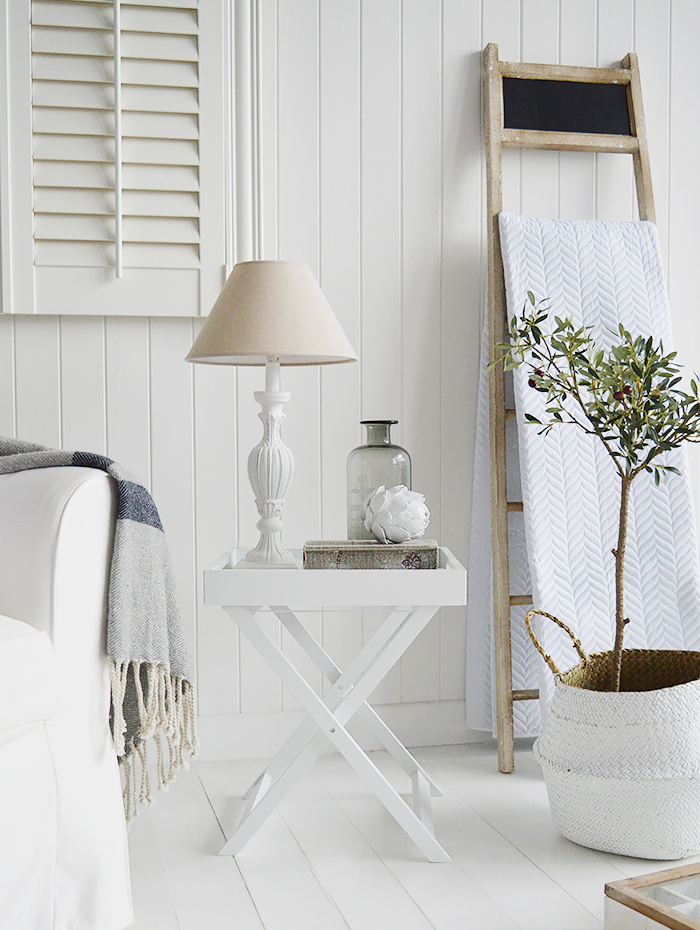 Connecticut white tray table £28 with our Dorchester blanket Ladder £38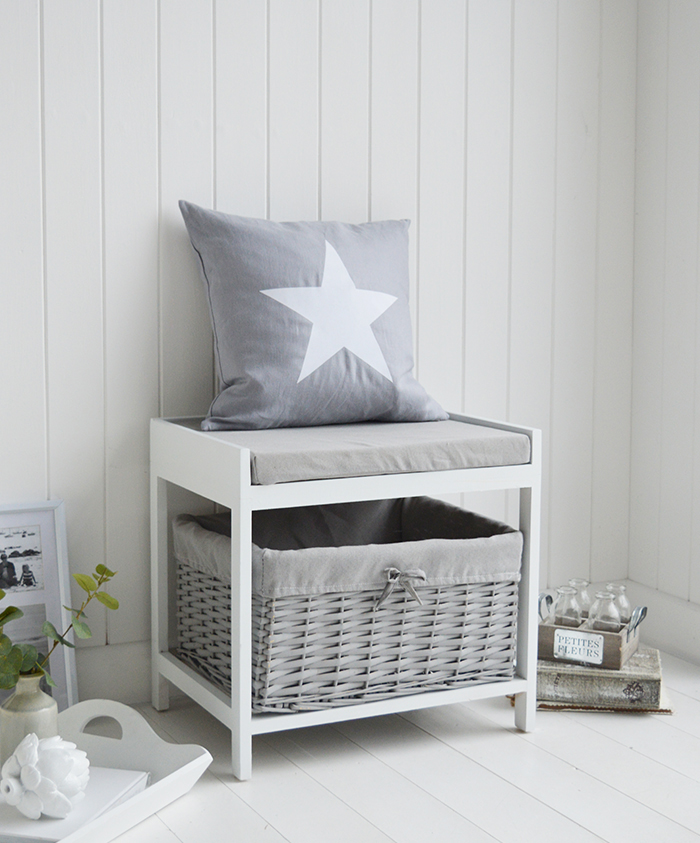 Plymouth small grey and white storage seat stool with a large basket and cushion £45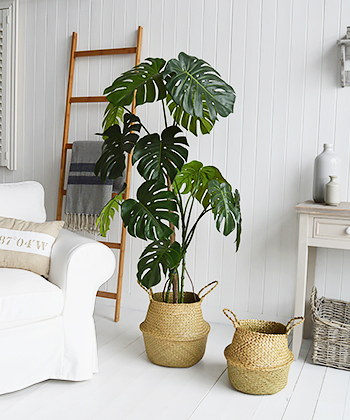 Just lovely, Hove baskets with large artificial plant and our Bamboo ladder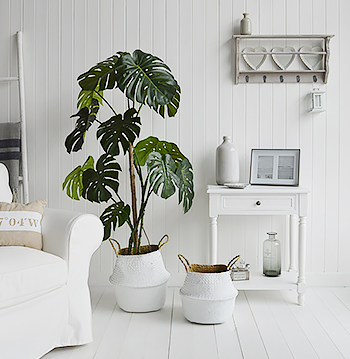 White and green living... Kingston baskets £27 with Cove Bay table £135 with a few of our home decor accessories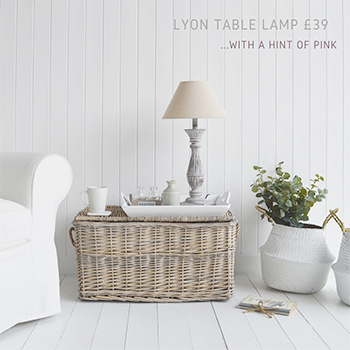 One of the baskets from the of grey lidded set £76 used as a lamp table with our Lyon lamp £39 in hints of pink and grey alongside the Kingston baskets £27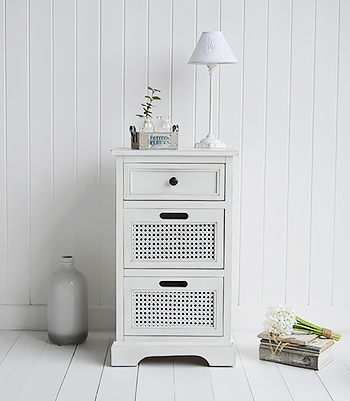 Colonial White lamp table with lots of storage £150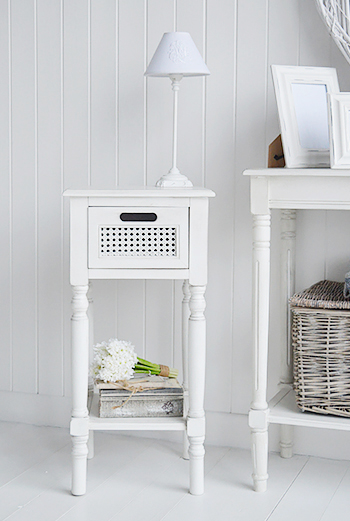 Small Colonial White lamp table £100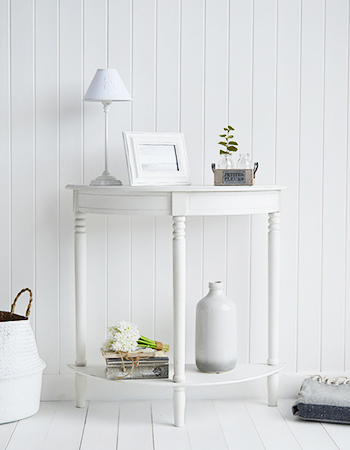 Colonial White Hal Moon narrow table £79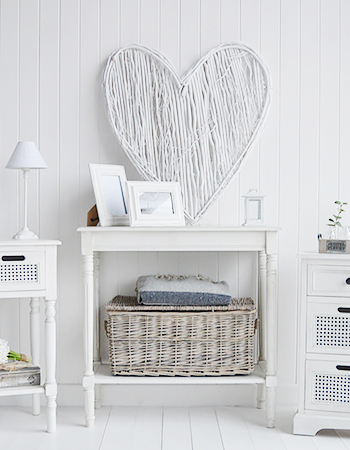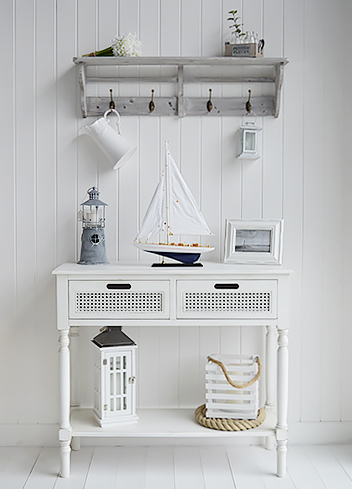 Colonial white console table with drawers in a beach home £165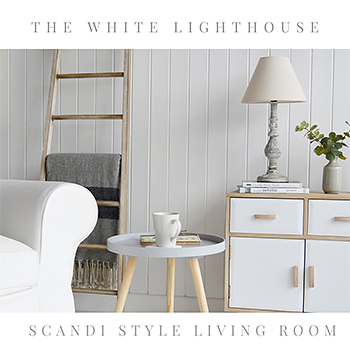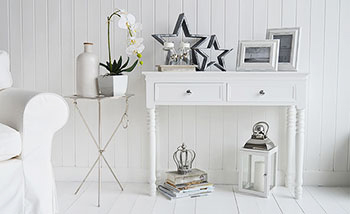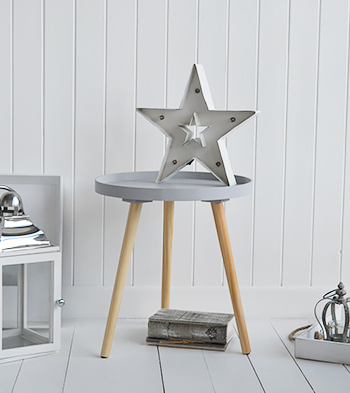 Portland grey small lamp or side table £32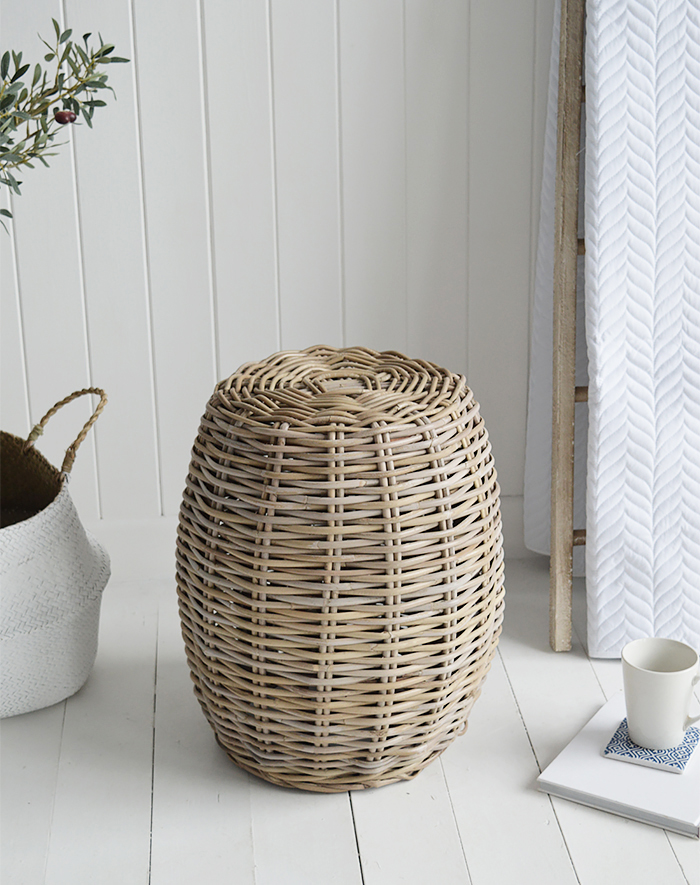 Casco Bay grey willow seat or stool £58