The White Lighthouse Furniture Real Homes
We love to see our furniture and decor in your home and greatly appreciate any photographs you send us


Featured Product...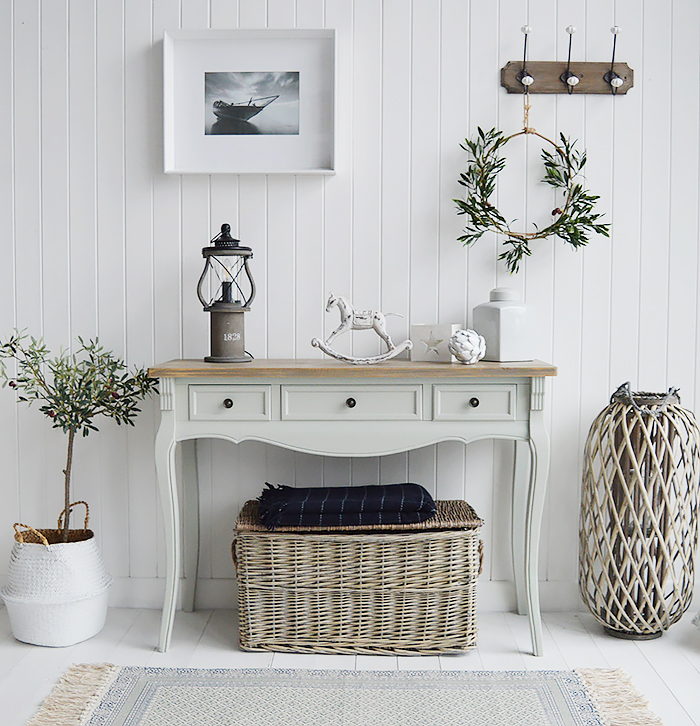 Oxford Grey Console Table £139 ...
Best Sellers...
______________________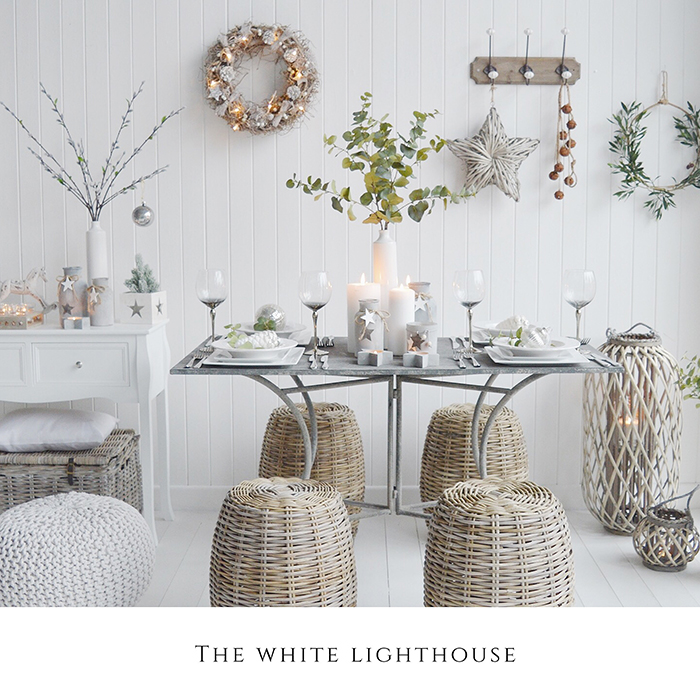 ______________________
White Furniture
The White Lighthouse offers an array of white furniture as for New England Country, City and Coastal homes for bedrooms, bathroom, hallways and living room furniture...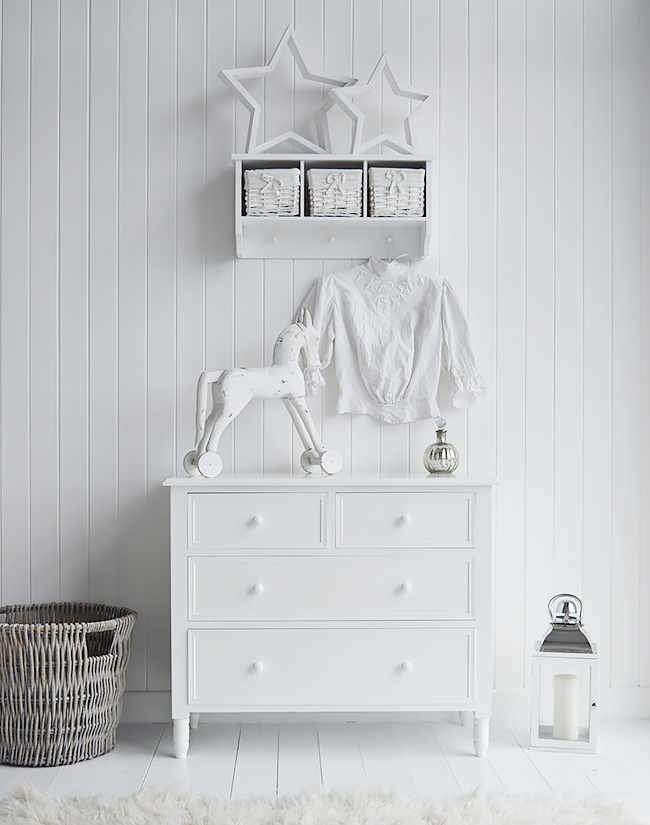 New England White Bedroom Furniture, our simple chest of drawers
White Bedroom Furniture
Such a classic and timeless choice, white bedroom furniture suits all styles of interiors for all ages. As tastes change in time you can add new accessories, bedding, soft furnishings and transform wall colours but white furniture in the bedroom will always endure the test of time. Our designers have put their years of knowledge in home interiors into our bedroom furniture collections of bedside tables and cabinets, chests of drawers, storage and dressing tables to offer what we know will make your bedroom beautiful. See our full range of bedroom furniture
_____________________________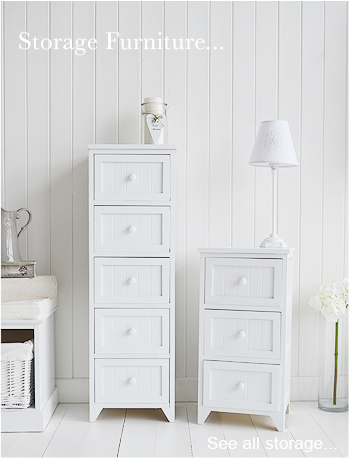 Hallway Furniture
As the entrance way to your home, your hall is where your guests are welcomed and that important first impression is immediately created and where you return to daily. Our designers know that hallways differ so much in shape and size from large dining entance halls to long narrow spaces and so have collected pieces of hallway furniture from around the world including hallway coat storage, shelves, coat racks, a white console table range, hallway storage, seats with cushions, to ensure your hall is tidy, clutter free and magnificent. See our full range of hallway furniture and tips and ideas on how to decorate halls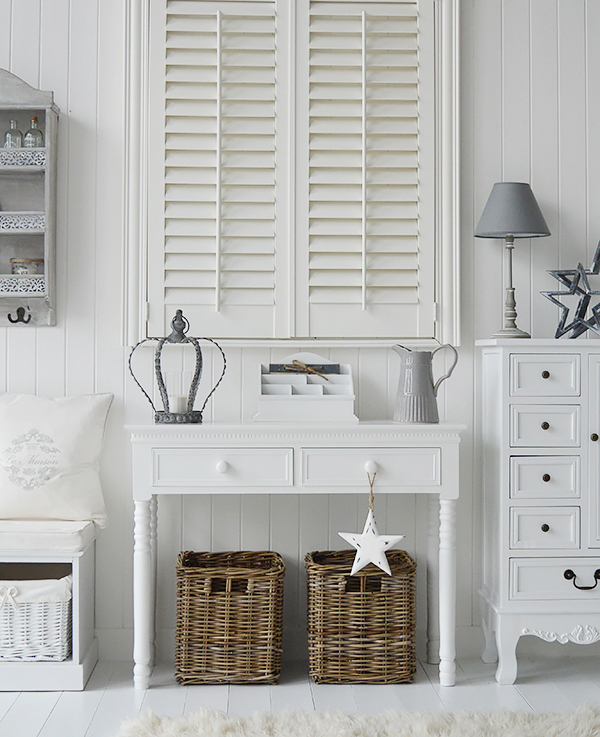 White Hallway Furniture, Our New England Console Table
Bathroom Furniture
With bathrooms being generally the smallest room in the house but with masses amount of usage, storage is essential. We have a large array of bathroom furniture and cabinets to fit even the smallest of spaces in white to reflect the light to give the impression of a larger space. With our love of the coast we have included a coastal collection to provide storage while creating that bright and airy feel. See all white bathroom furniture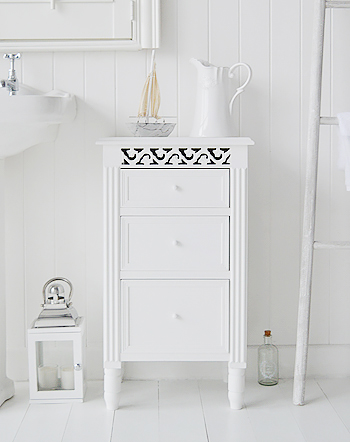 White Bathroom Cabinets and Storage
Living Room
In the room where you spend most of your awake time you want to make it a beautiful and relaxing space. Our collection of living room furniture including sideboards, lamp tables and coffee tables will help you to bring that loving feeling to your living area.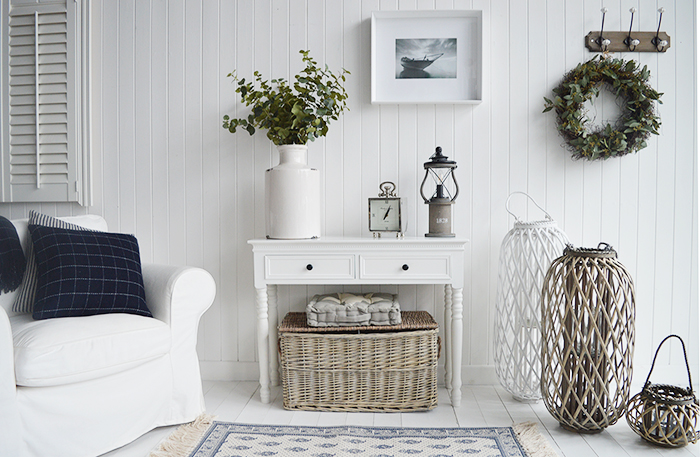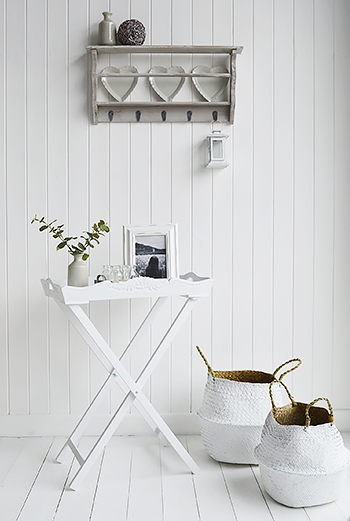 White Living Room Furniture, lamp tables, coffee tables and more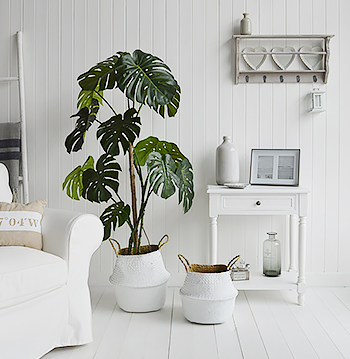 ___________________________
New Items...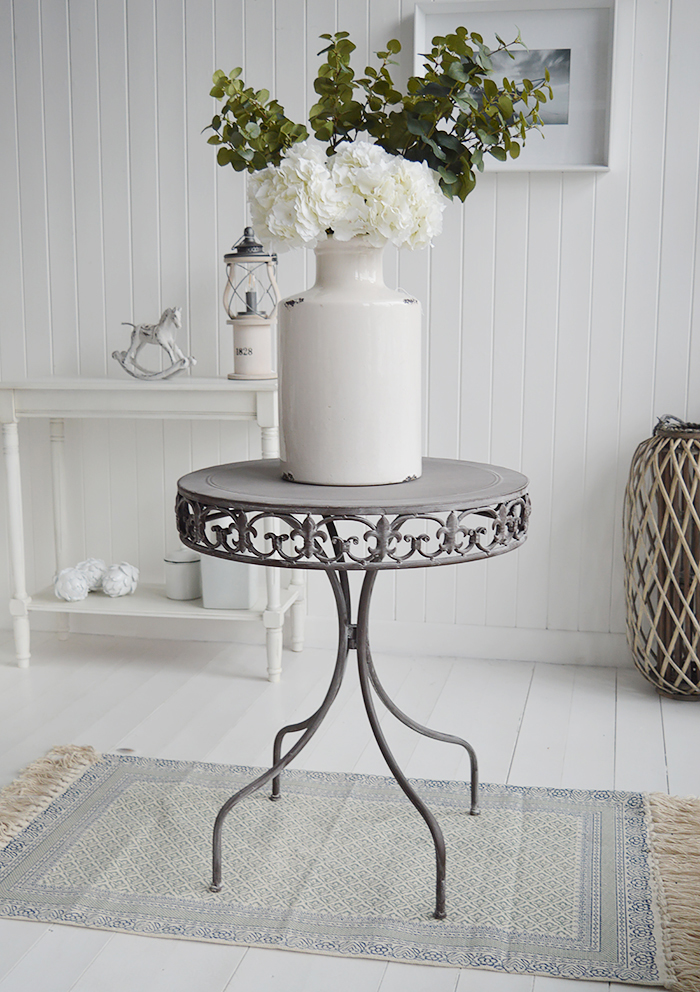 Winchester Grey Table £90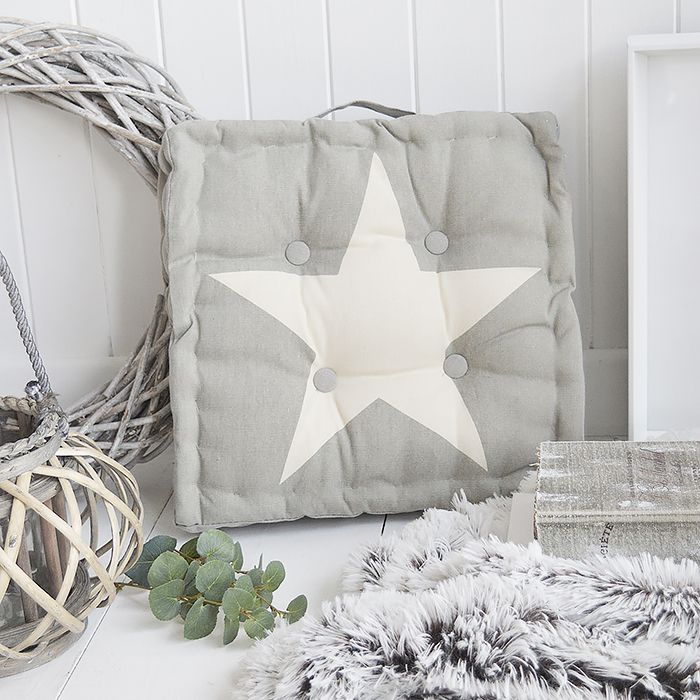 Grey Star Box Cushion £12.50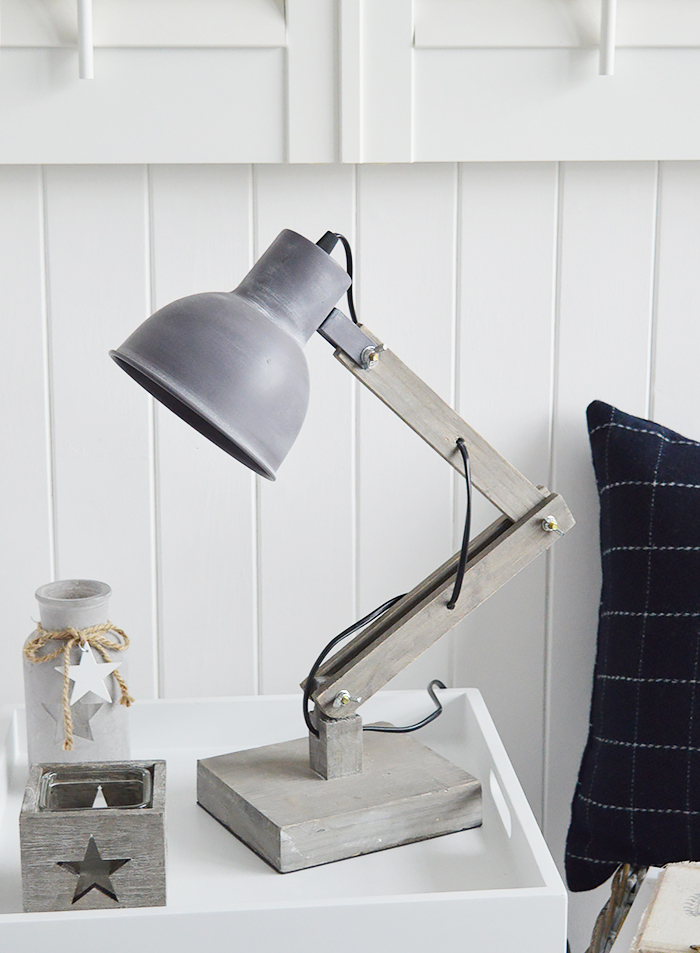 Brentwood Grey Angled Lamp £39.50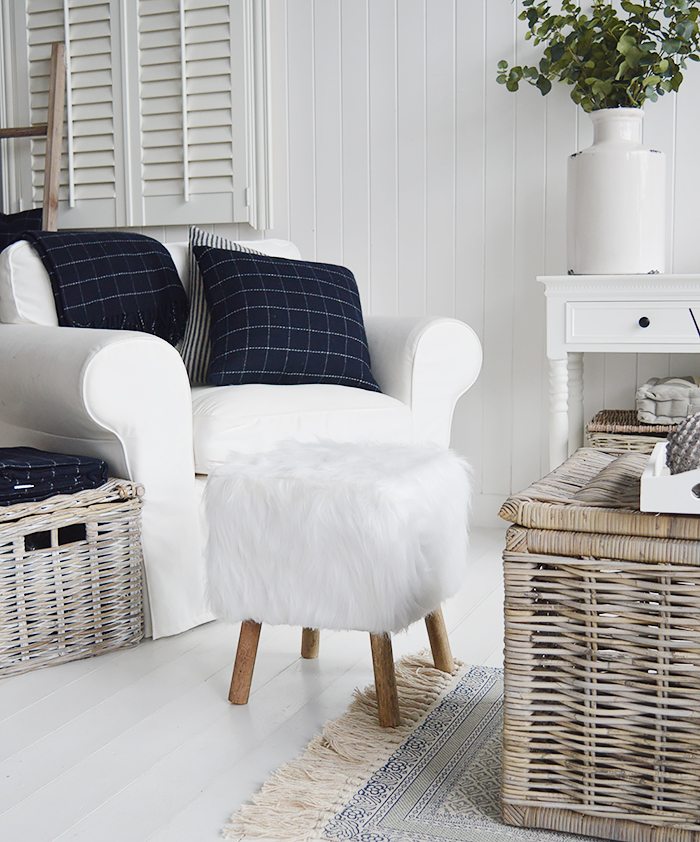 Woodstock foot stool £37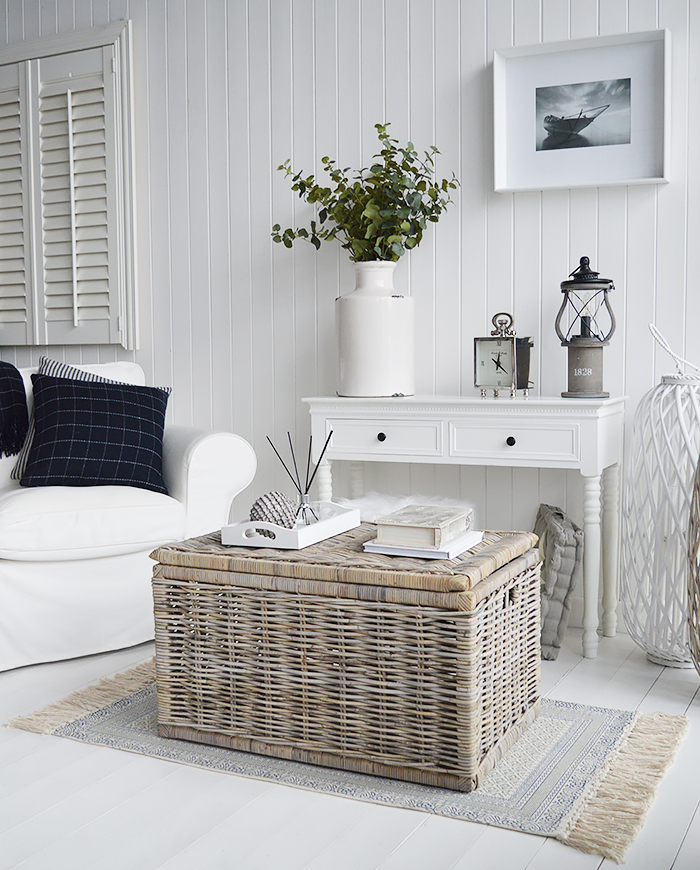 Seaside Coffee Table from £85
___________________________
Helpful Advice and Tips on Decorating your New England  Country or Coastal Styled home...
What is Coastal Style in Interior Design?  
Many of us dream of living by the sea but you don't have to be living by the coast to enjoy the pleasures of beach style. Take inspiration from the beauty of the coast and bring these ideas inside...
White furniture suits and complements all styles of homes from classic Georgian to Victorian, modern to mid century as well al all types of interior designs
Create a living space to suit you
Advice on designing a living room to suit your style.......
Beach Coastal Furniture
Create a beach style home..................
Advice on Choosing White Hall Tables
Some advice on choosing a hall table.......
Ideas for bedside tables
Help on choosing a bedside table...
Top 5 Tips for Coastal Home Decor
Tips on how to decorate your home in coastal style
20 Coastal Home Decor Ideas
Ideas on how to decorate your home in coastal style accessories and furniture
How to Decorate an Elegant Coastal Bedroom...
What is New England Style Furniture ? ...
Coastal Home Decor Accessories DIY
Tips on how to decorate your home in coastal style
New England furniture varies from the traditional white clapboard farmhouse with red barn aside, leaves falling in the autumn fall to the sleek minimalist styles of the beach front houses perched abreast the white sandy dunes, the white lighthouse in the distance looking out over the Atlantic.