The White Lighthouse Furniture and Home Decor
___________________
Welcome to The White Lighthouse where you can create a beautiful home in our laid back New England style for country, cottage, coastal and city homes in UK and Ireland

Free UK Delivery* for orders over £40
£2.95 for orders under £40

The White Lighthouse Furniture
At The White Lighthouse, since 2006, our team of interior designers have been bringing together a collection of New England and white furniture for every room in your home along with a wide range of home accessories including lamps, cushions, rugs, decorative pieces, wall art, candle holders, basket storage and much much more to allow you to simply create a beautiful relaxing home that you can't wait to get home to.
We pride ourselves in offering you beautiful but affordable style.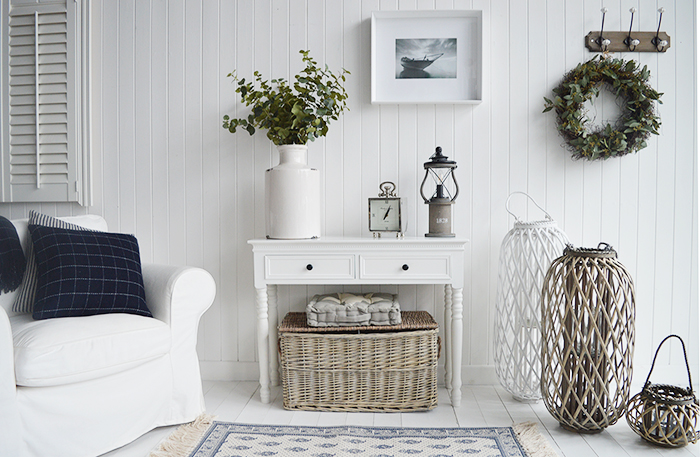 Our wide range of white furniture includes the popular New England white console table with drawers shown in the photograph above, available with a range of handles to ensure the table complements your style of home interior whether you live by the sea or in the country. The white table is perfect in a living room as a sofa table or in the hallway to give you an area to have a table lamp or display photographs.
__________________________
What is the New England Style of Interior Design and why do we love it so much?
New England style... the epitome of laid back living. New England style of interiors brings together such a wide range of concepts in interior design, all of them being the beautiful, relaxing, laid back home you can easily create. From a luxury mansion in Newport, Rhode Island, a cosy beach cottage on the Hamptons beaches to a winter wonderland country retreat in the New Hampshire mountsins, there is a styly of interior design to suit all rooms in your home.
With the contrast of the freezing snowy winters and warm long summers in the New England region make the style and decor perfect for homes throughout UK and Ireland.
We continuously strive to bring you a wide range of typical New England style home decor and furniture in the typical styleof wood, painted grey and white furniture for every room in your home.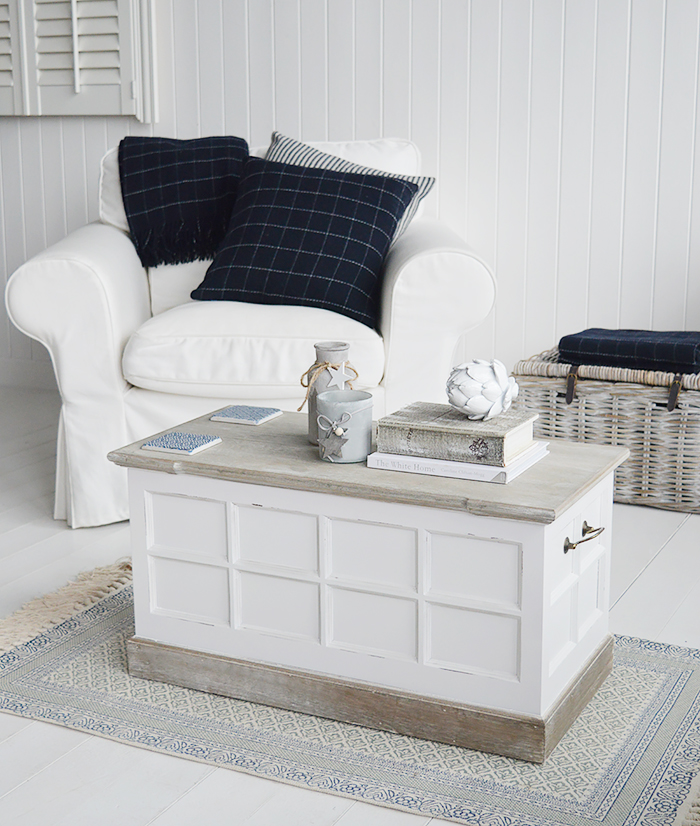 A typical example to show white furniture in the living room of a New England styled home. As you can see this complements all cottage, country, coastal and city homes 
__________________________
White Furniture 
A definite favourite of ours to complement all New England interiors... 
White furniture in your home is easily adapted to the changing fashions and excellent to maximise light in a room
Create a calming beautiful home... stunningly striking against darker walls, while serene and calm against neutral coloured walls... see all of our white furniture and how to decorate with white
White Bedroom Furniture
Such a classic and timeless choice, white bedroom furniture suits all styles of interiors for all ages. As tastes change in time you can add new accessories, bedding, soft furnishings and transform wall colours but white furniture in the bedroom will always endure the test of time. Our designers have put their years of knowledge in home interiors into our bedroom furniture collections of bedside tables and cabinets, chests of drawers, storage and dressing tables to offer what we know will make your bedroom beautiful. See our full range of bedroom furniture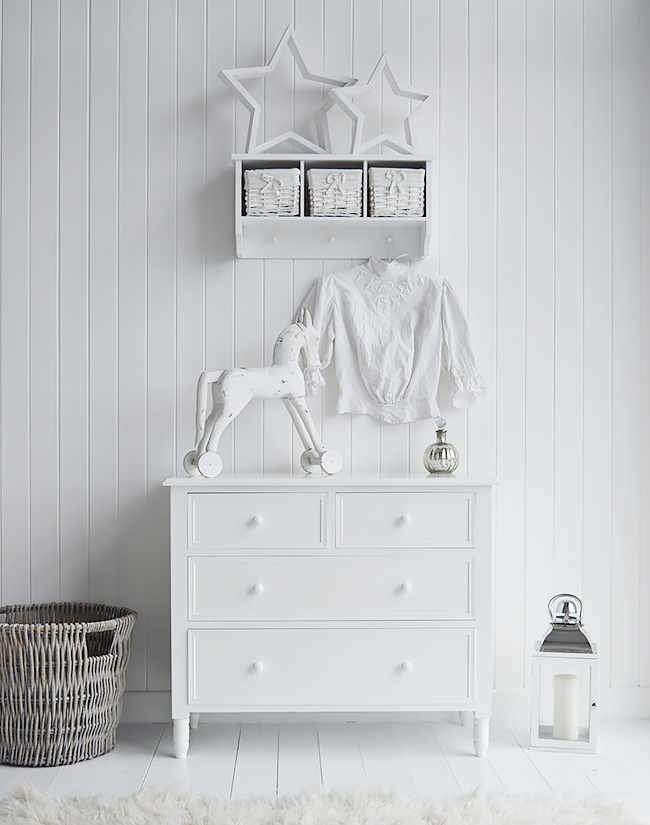 Hallway Furniture
As the entrance way to your home, your hall is where your guests are welcomed and that important first impression is immediately created and where you return to daily. Our designers know that hallways differ so much in shape and size from large dining entrance halls to long narrow spaces and so have collected pieces of hallway furniture from around the world incluging hallway coat storage, shelves, coat racks, a white console table range, hallway storage, seats with cushions, to ensure your hall is tidy, clutter free and magnificent. The New England style of hall furniture incorporates, you've guessed it... white furniture along with natural and neutral colours. See our full range of hallway furniture and tips and ideas on how to decorate hallways how to decorate halls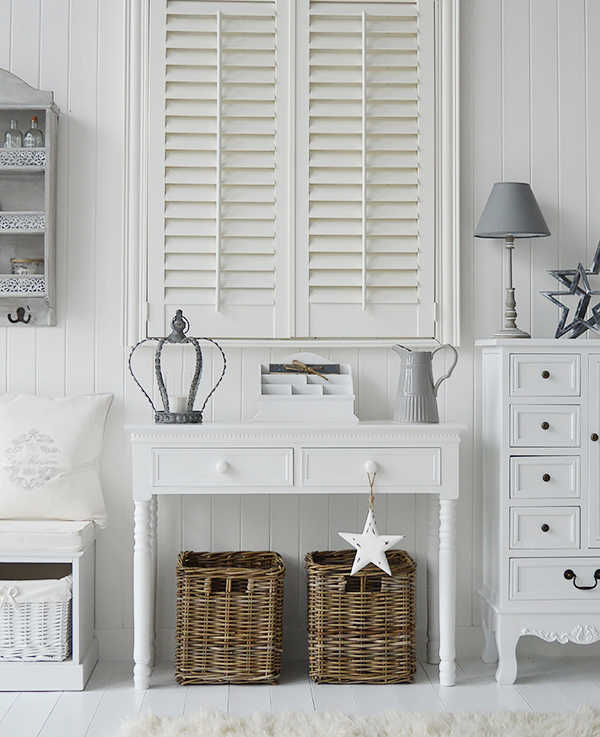 Bathroom Furniture
With bathrooms being generally the smallest room in the house but with masses amount of usage, storage is essential. We have a large array of bathroom furniture and cabinets to fit even the smallest of spaces in white to reflect the light to give the impression of a larger space. With our love of the coast we have included a coastal collection to provide storage while creating that bright and airy feel. See all white bathroom furniture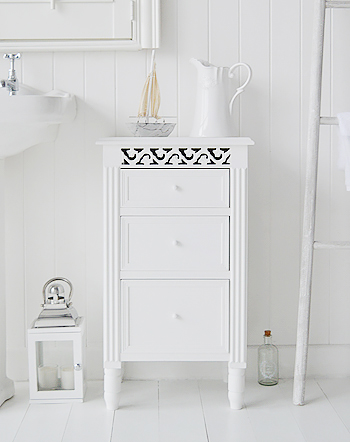 Living Room
In the room where you spend most of your awake time you want to make it a beautiful and relaxing space. Our collection of living room furniture including sideboards, lamp tables and coffee tables will help you to bring that loving feeling to your living area.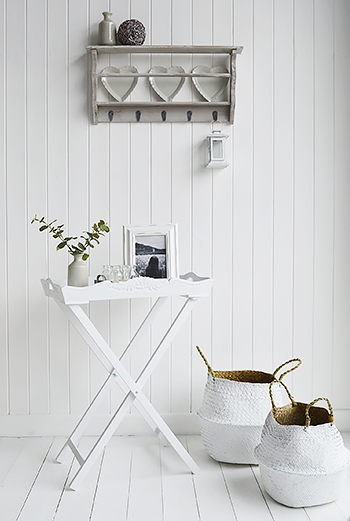 White Living Room Furniture, lamp tables, coffee tables and more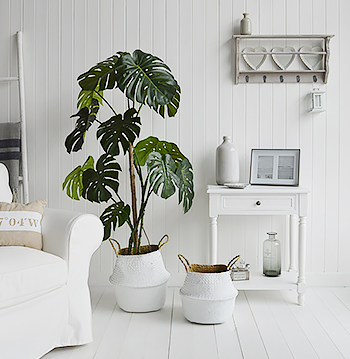 Get The New England Look...
Create a hint of New England living...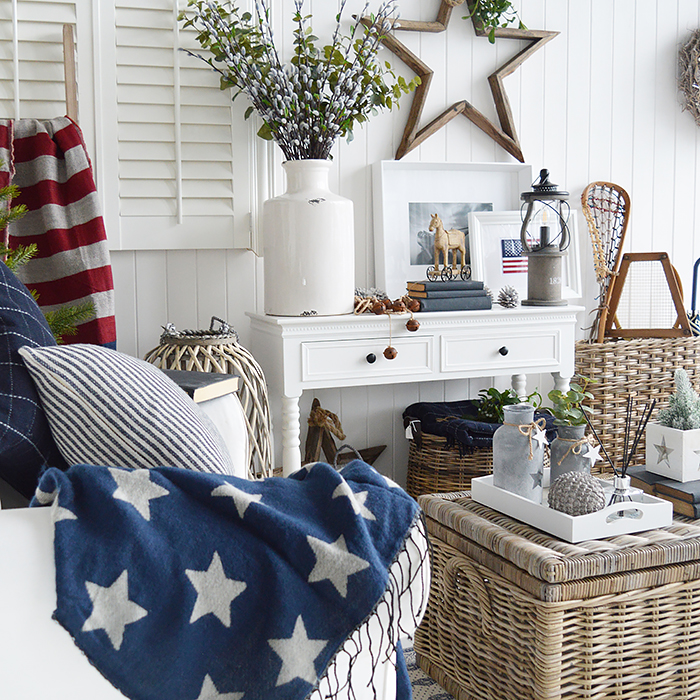 New England Country, Coastal and White Furniture
Create a beautiful home with our stunning and affordable ranges of New England, Coastal French, Scandi and white furniture for your hallway, bedroom, bathroom and living room