Hallway Furniture l Living Room l Bedroom Furniture l Bathroom l Accessories l Storage l New Items l  Be Inspired l Lifestyle
White Furniture
Please Note: The mobile website is no longer kept up to date with stock and new items. Please go to our full website at www.thewhitelighthousefurniture.co.uk for all items
Create a calming beautiful home... stunningly striking against darker walls, while serene and calm against neutral coloured walls.
The White Lighthouse offers an array of white furniture and home decor accessories in New England, Country and Coastal style. White furniture for gorgeous bedrooms, bathroom, hallways and living rooms.
A White Living Room
Sit back and relax... in a living room of white furniture that symbolises peace, calm... the colour of sanctuary.
Bethe

l Cove White Nest Tables £39

Vermont Small Trunk £89

Vermont Large Trunk £149

Connecticut White Tray Table £39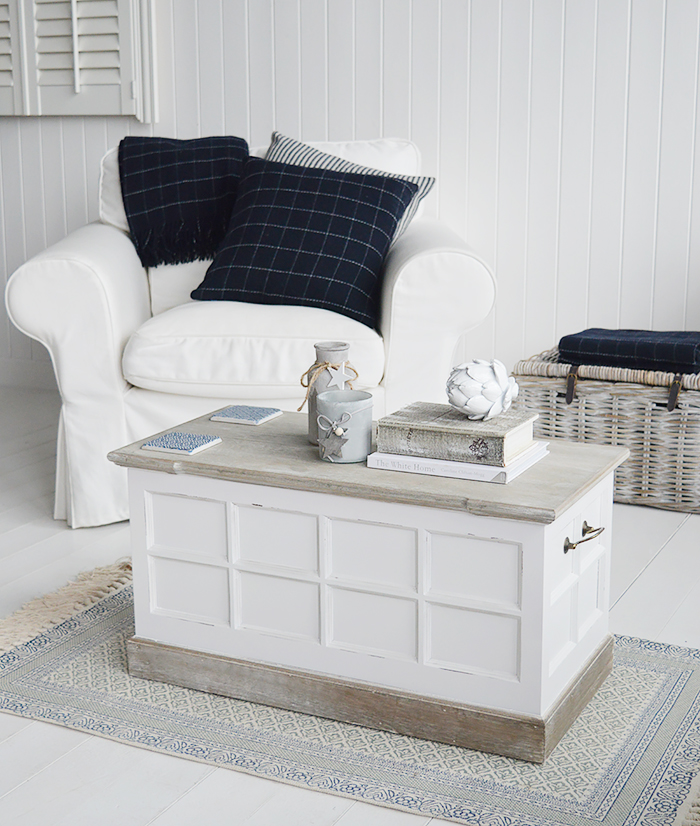 ___________________
A White Hallway
By adding white furniture to your hall gives a palce to set a lmap, arrange home decor to add interest to the hall. Keep clutter free with simple hall coat storage or create an extra living area with a hallway storage bench with a cushion

New England Hall Table with Knob Handles £169

 Colonial White Console Table £100

Colonial White Half Moon Table £79


New England White Hall Table £169

New England White Sideboard  £299

Vermont Large Trunk Bench £149


Plymouth Storage Bench £110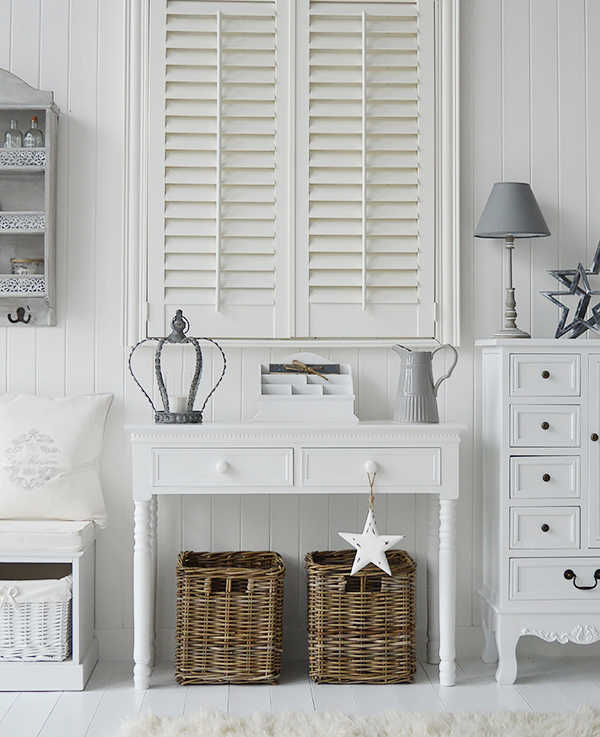 ___________________
A White Bathroom
White furniture in the littlest room in the house offers essential storage and creates an illusion of space with the reflection of even the little natural light that flows through
White Narrow Storage £49

Narrow Bar Harbor Cabinet £49

New Haven Cabinet £42

New Haven Cabinet £59

White Rose 2 Drawer £55

Rose Cabinet £75

Maine 3 Drawer Bathroom Unit £48

Maine Large Double Cupboard £89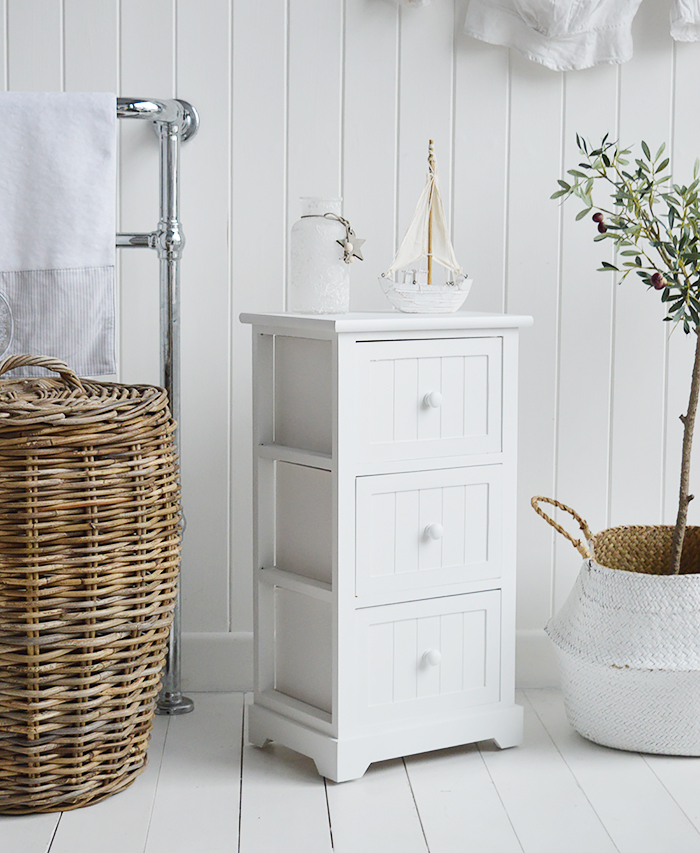 ___________________
A White Bedroom
Crisp white linens, flowing curtains with white bedroom furniture create a beautiful image of a bright peaceful bedroom. It is so simple to enjoy white living in the bedroom... dressing tables, white bedsides, chests of drawers ... important pieces of furniture in a bedroom
White Bedside Table £105

 

New England Chest of Drawers  £299

Rose White Three Drawer Cabinet £75

New Haven 3 Drawer £59

White Tray Bedside Table £42

Rose Bedside Cabinet £55

Maine White Bedside Table £59

Maine White Bedside Table £48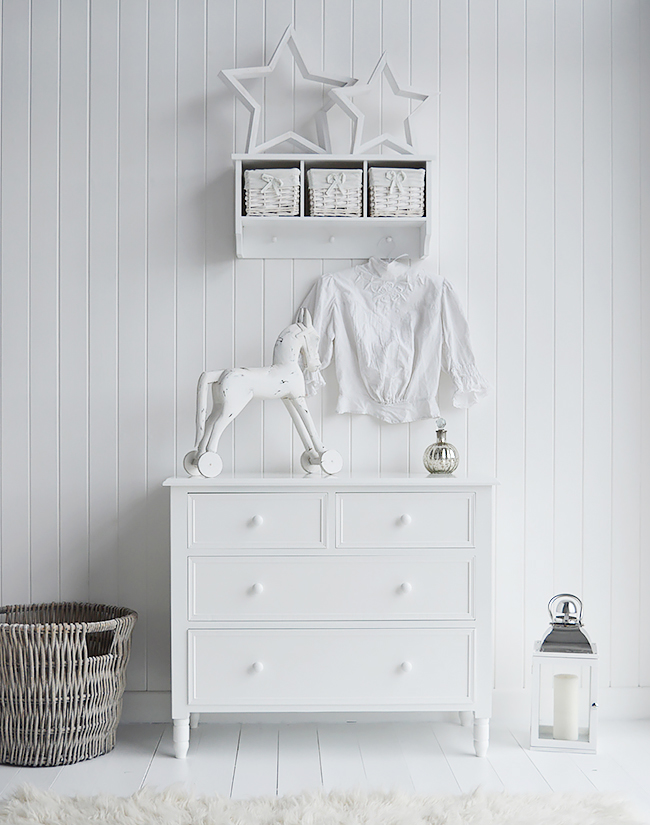 ___________________
White Cottage Furniture
A chocolate box white thatched cottage is immediately the picture perfect English Rose home.
Bar Harbor Narrow Small Bedside £35

Rose 3 Drawer Storage £75

Maine White Sideboard £89

New Haven 3 Drawer £59

White Tray Bedside Table £42

Rose Bedside Cabinet £55
___________________
New England White Furniture
White, the symbolic colour of the New England region of USA... beach huts, sand, farmhouses, rocky shores
Maine 4 Drawer
£55

New England Chest of Drawers  £299

White Dressing Table  £169

New Haven 3 Drawer £59

Maine White Bedside Table £59

Maine White Bedside Table £48

 
 

___________________
White Furniture
Suits so many interior styles...
White goes with any other colour. So it seems obvious now why The White Lighthouse offers a full range of clean crisp white furniture. The White Lighthouse has focused on white furniture such as white dressing tables and white writing desks since its creation in 2005.
White furniture suits all styles of homes. At The White Lighthouse, we offer white home furniture for classic Georgian and Victorian, beach and country homes.
White furniture in your home is easily adapted to the changing fashions and excellent to maximise light in a room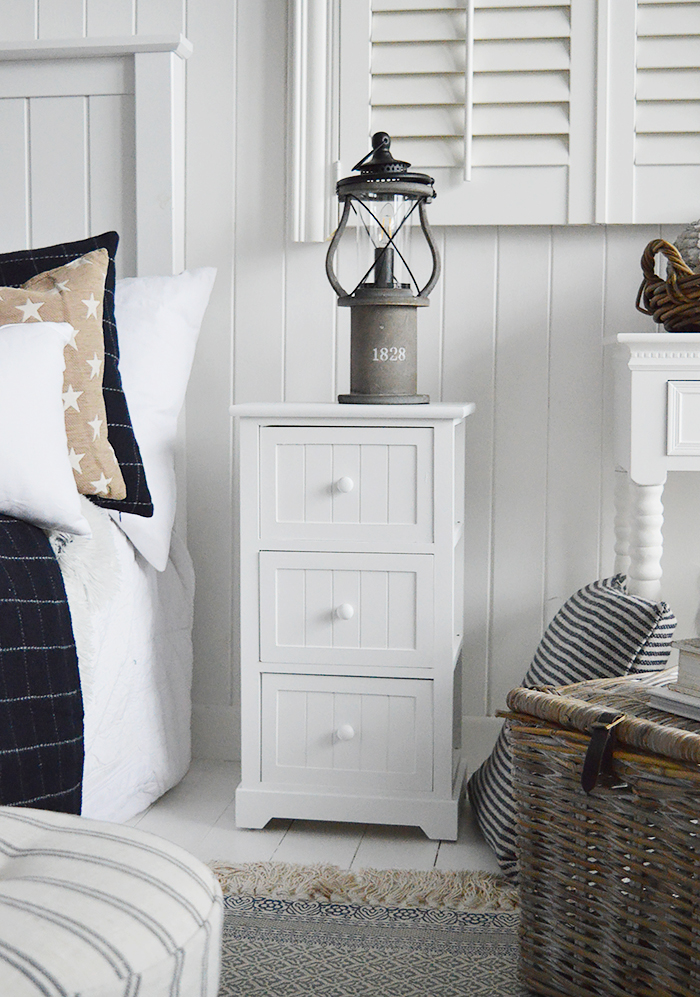 ___________________
Why Choose White Furniture
A question that we come across both in the showroom and through emails rather often..
1. It is timeless
2. Complements all styles of interior design
3. Easy to keep clean. simpy, clean regularly as you do the rest of your furniture with a slighthly damp cloth. 
4. Makes the room look large by reflecting the light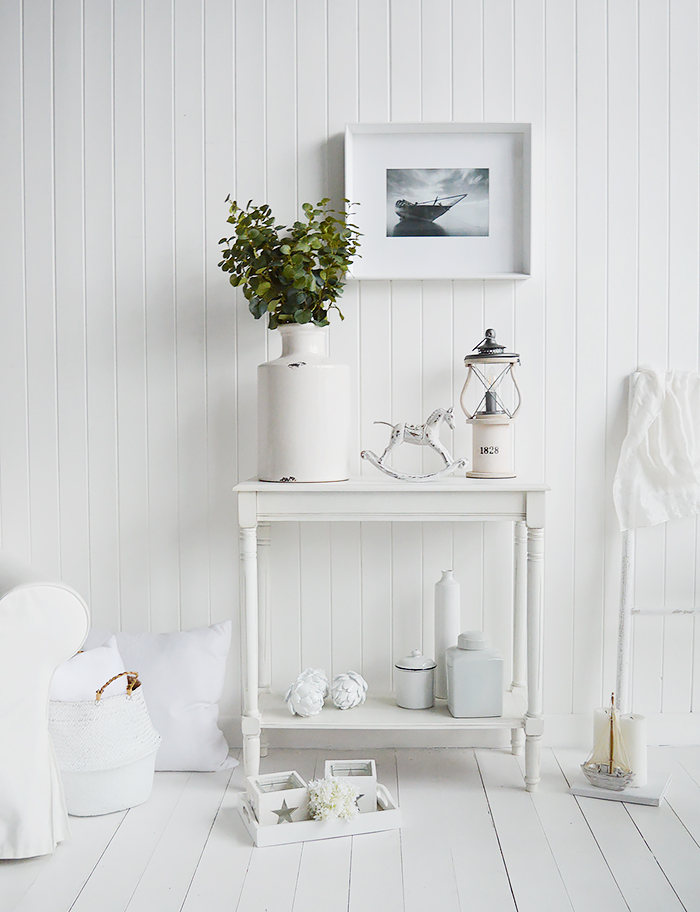 ___________________
What styles of homes does white furniture complement?
This is simple to answer... all styles including
Traditional
Contemporary
Farmhouse
French
Coastal
Scandi
Shabby Chis
Bohemian
New England
___________________
How to Decorate with White Furniture
As we previously mentioned white furniture complements so many styles of interior design, not just our favouritre New England!
Our pieces are absolutely striking against a dark wall and calm and relaxing, blending seemlessly with white, grey and neutral walls. You may think white walls will give a cold feel, this is not the case, you can add texture and warmth with cushions throws, and blankets with different shades of off white.
The colours from Farrow and Ball are our favourite, you can see these at www.farrow-ball.com
A current on trend colour that particularly looks fantastic against white furniture is Railings, a dark blue black colour. The dark colours of the walls unite the furniture and accessories to make the room look sophisticated yet relaxing.
Some examples of interiors styles that complement the white
Monochrome Interiors - Black and white... mix black accessories including lamps, photo frames for a dramatic look.
Traditional - Think grand country houses with opulent colours on the wall contrasting against decorative cornicing
___________________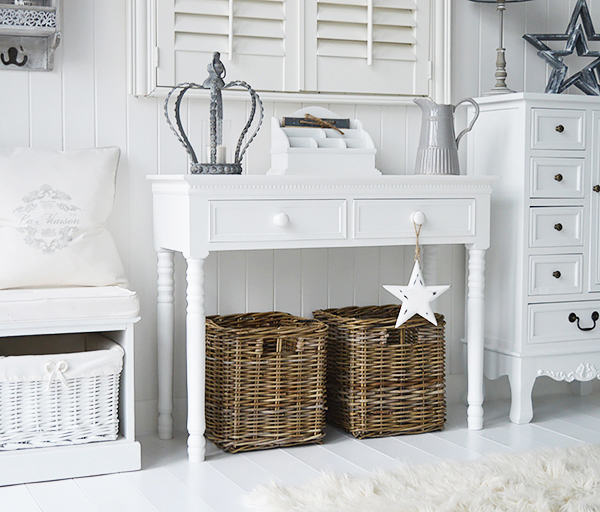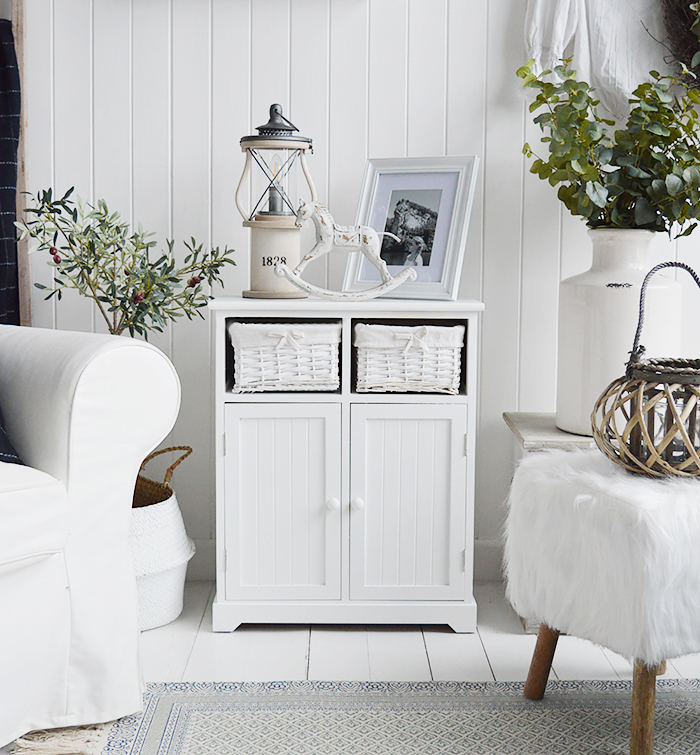 If you have any questions regarding decorating your home please do not hesitate to email info@thewhitelighthousefurniture.co.uk
________________________
Information

 

Find us on

Popular Searches