Hallway Furniture l Living Room l Bedroom Furniture l Bathroom l Accessories l Storage l New Items l  Be Inspired l Lifestyle
Please Note: The mobile website is no longer kept up to date with stock and new items. Please go to our full website at www.thewhitelighthousefurniture.co.uk for all items
Hallway New England and White Console Table
The White Lighthouse offers a range of New England style and white console tables with drawers, small, large, narrow... all in our characterisitc New England style for coastal, country and city homes
White Console Tables
New England White Console Table with White Round Handles £169

New England White Console Table with antique brass handles £169

New England White  Console Table with Silver  Handles 

£169

Maine White Sideboard £89

Colonial White Half Moon Table with bottom shelf £79

New England White Console Table £169

Colonial White Console Table with shelf £100

 

Colonial White Console Table with Drawers  £125

Grey Console Tables

Plymouth Grey Console Table £99

Plymouth Grey Half Moon Console Table £99

Winchester Grey Large Round Table £90

Newport French Grey Console Table £149

Newport French Grey Console Table £149

Driftwood Rustic Tripod Table £85

Newport Narrow Hall Table £79

Brittany Grey Console Table £189

 

Oxford Grey Console Table £139

 

The Colonial white console table with a shelf, shown here in a white interior. This table is made specifically for smaller narrow hallways or living rooms where you have the space to accomodate a large lamp or sofa table. A laid back colonial style of furniture for a light and airy interior. Finished in a slightly distressed antique white paint, The British Colonial range creates a sophisticated space with a touch of formality for white bedroom, living room and hallway furniture.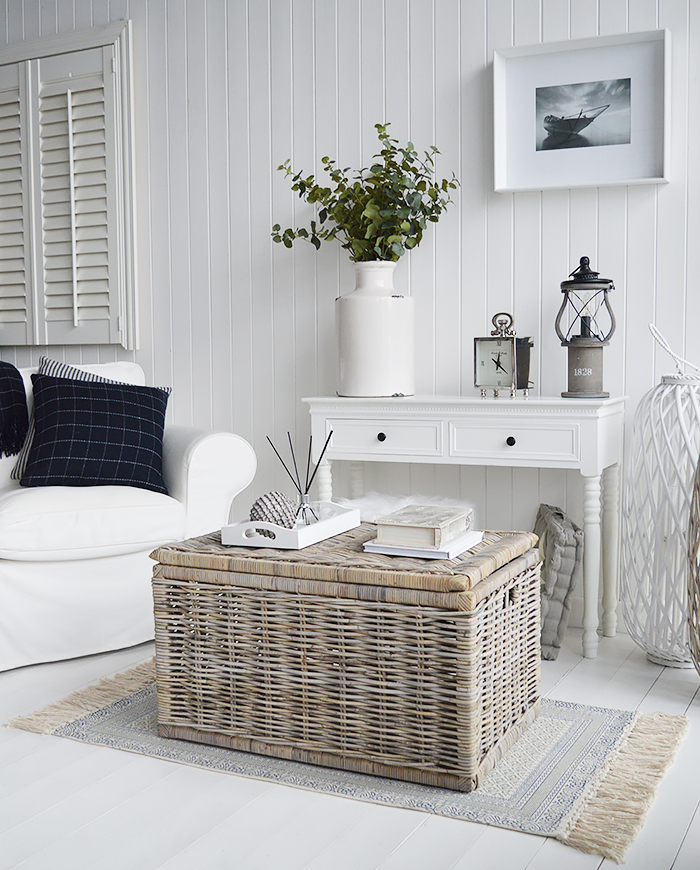 New England and White  Console Tables
Console tables, most often found as hall furniture pieces, provide style and functionality, they add storage and extra surface for lamps and flowers giving you a warm welcome as you enter your home. In the living room as a sofa table, thay offer a palce to set a drink. They can be used to divide areas within a living room and to add height for interest and a centre piece to your room.
The White Lighthouse offers a white console table range with drawers, small, large narrow... all in our characterisitc New England style for coastal, country and city homes range of hallway furniture
A main deciding reason for choosing a console or hall table is the size of your hallway, you should select as large as is feasible. For small hallways you may be best considering a small console table such as a lamp table, but whatever your choice make sure the table offers some additional storage such as drawers for everyday bits and pieces including coins, pens, keys that create general disorder. Position a basket under the console for storage of shoes or bags. A white console table will reflect light and invade the whole space giving the impression of a larger area. A hallway table will also provide display space for lamps, photos and your favourite home decor pieces. For greater organisation on your table we love our keys and coins boxes as well as our letter racks.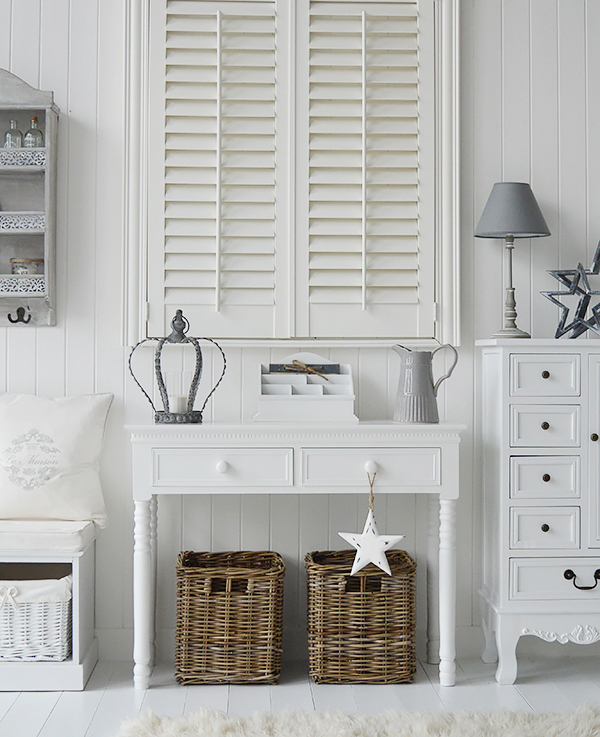 A white console or hallway table with two drawers for essential storage and white porcelain knob handles. A very simple but elegant pure white table for hall or living room interiors. The New England Range is a crisp matt white range of furniture for a classic look to any room. As perfectly suitable for coastal interiors as it is for Victorian or country homes. The New England table with brighten and beautify all all rooms. The console table comprises of turned pine legs finished with several layers of white satin paint.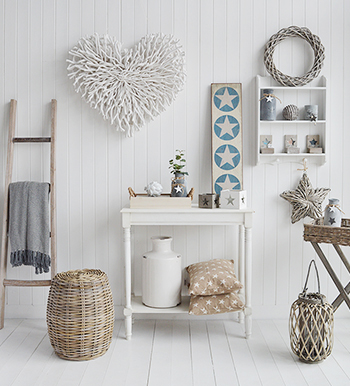 The White Colonial console table with a shelf £100. Shown here in a typical New England interior with plenty of texture for interest and warmth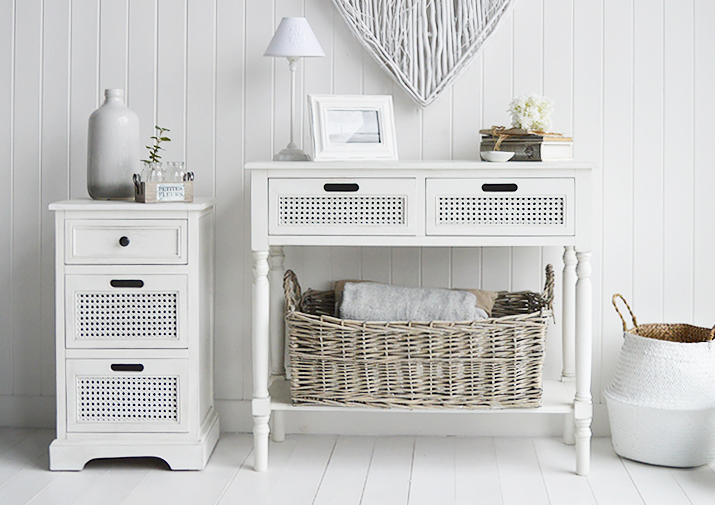 The Colonial White console table with two drawers and a shelf . A laid back colonial style of furniture for a light and airy interior. Finished in a aged white paint with woven rattan drawer fronts and a slight distressing, The British Colonial range creates a sophisticated space with a touch of formality for living room and hallways..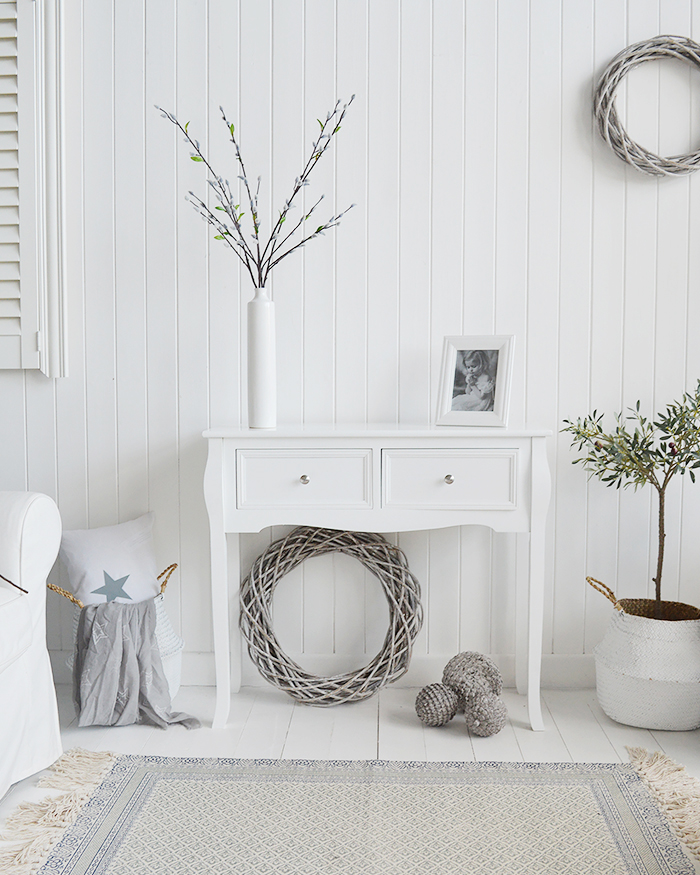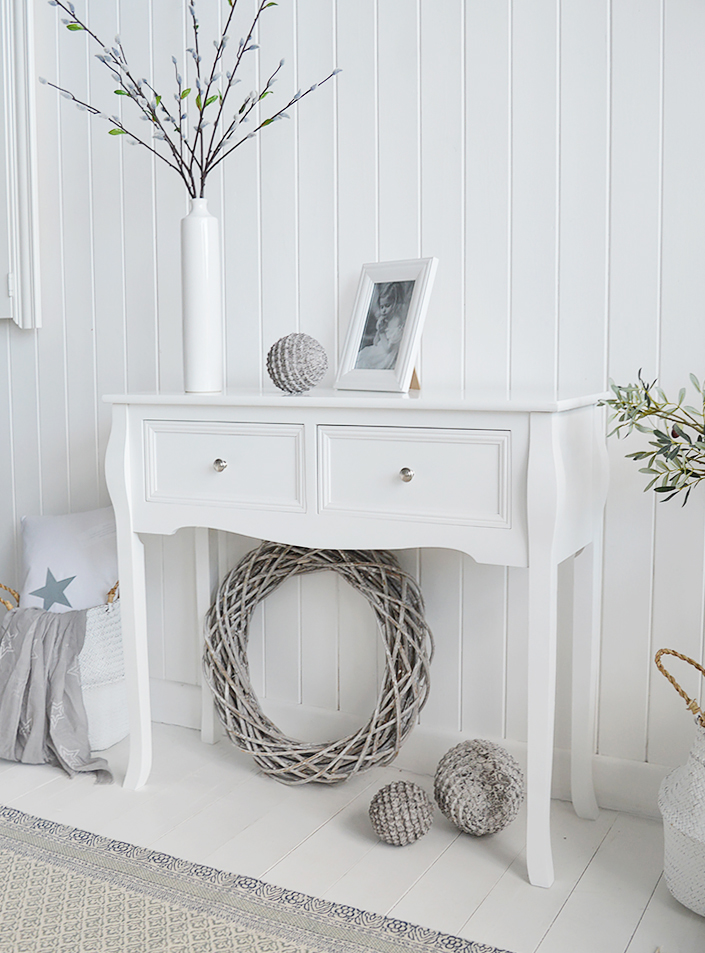 Famlouth white console table with drawers ( currently out of stock)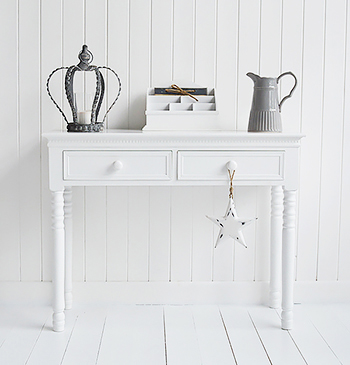 Our New England white console table with two drawers and white handles
An all white hallway, the ideal style when designing a coastal interior. Clean, bright and fresh for a fabulous hall or living room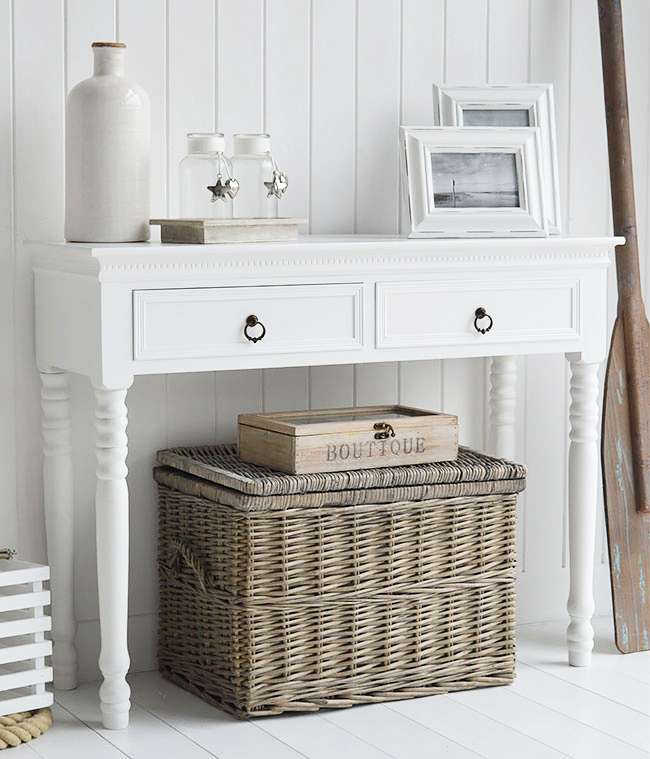 The New England white console table with extra basket storage underneath
The New England hallway table for a country style home. Adding a lot of home decor accessories gives it a more cosy feel making it ideal for those cottage homes.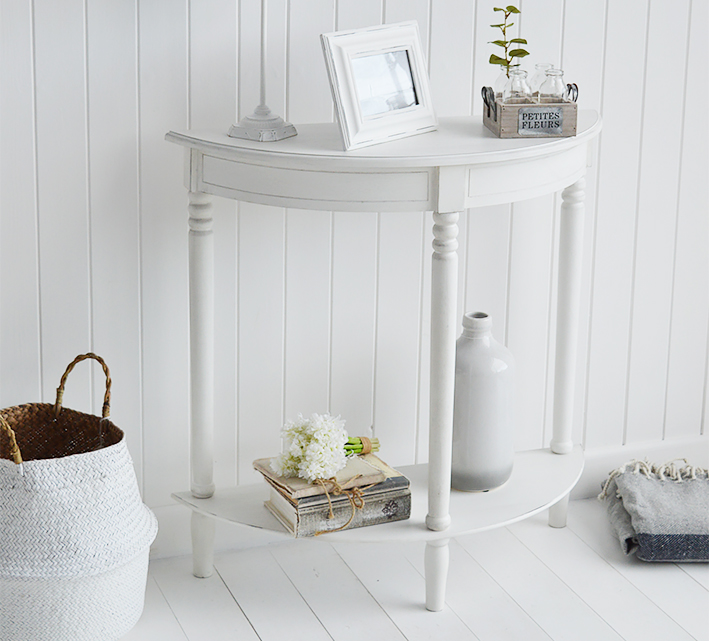 The half moon white Colonial half moon table for smaller halls
A console table in the shape of a half moon is a great idea when space is at a premium in your hallway or living room. The shape of table does not protrude into the space of the room as much as a more regular rectangle table making it a very popular choice.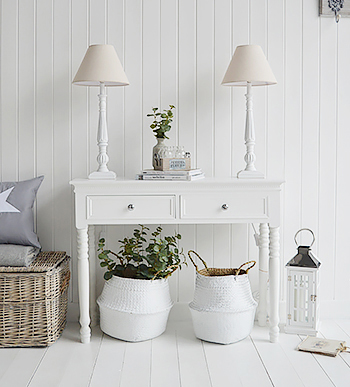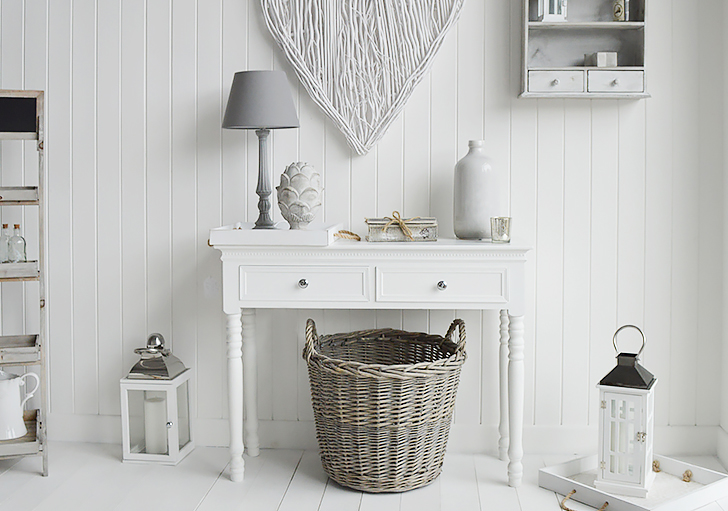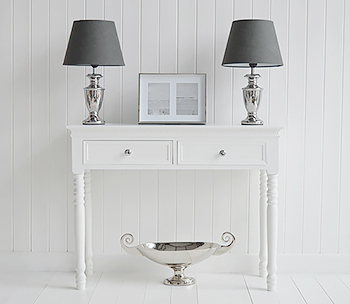 The New England white console table, styled with symmetrical tall white lamps to create a centre piece for a dramtic look in your hallway.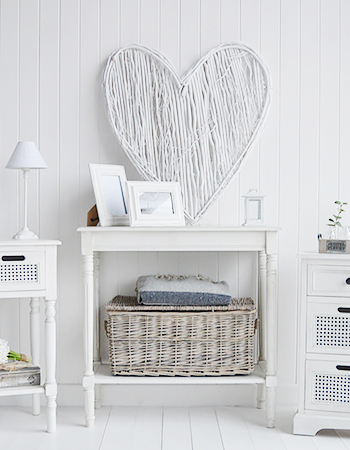 Such a simple design but so elegant for all styles of hallways £100
______________________
How to Style a Console Table
After the labour of love that has gone into deciding and purchasing your console table, hallway or sofa table, either for the hall or your living room, it is important that it is styled in a way to suit your room interior and function as need it to. Whether you want it to be a centre piece in your room or it to blend quietly in, how you decorate it will determine this see more
______________________
New England Hallway Tables 
We favour the laid back New England style of interior design for your entry way or hallway. With the vast size of the New England region, spreading from the coast to the country this consists of many styles together including country, coastal, cottage and modern...  see more
______________________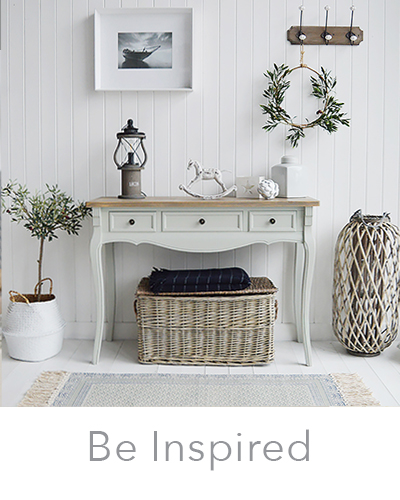 ______________________
For some help on decorating your hall see our articles on Hallways
Coastal and Beach Hallway Furniture
Ideas for decorating hallways in Coastal and Beach Homes..
New England Hallway Furniture
Ideas on decorating your hall in typical New England style
Style Your Console Table 
Ideas on how to style your console table
_____________________
If you have any questions about our white console tables products, please do not hesitiate to ask at info@thewhitelighthousefurniture.co.uk
______________________

________________________
The White Lighthouse
Online furniture & accessories shop for the home...
New England l Coastal l White Furniture