Hallway Furniture l Living Room l Bedroom l Bathroom l Accessories l Storage l New Items l Be Inspired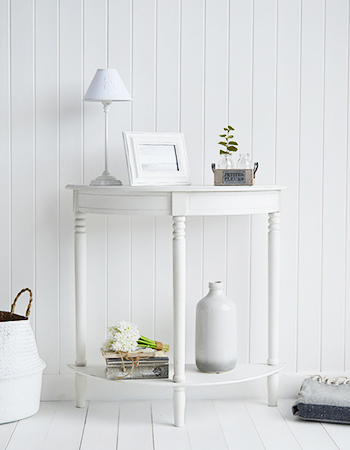 British Colonial White Half Moon Console Table
The Colonial White half moon console table with a shelf
A laid back colonial style of furniture for a light and airy interior. Finished in a slightly distressed antique white paint, The British Colonial range creates a sophisticated space with a touch of formality.
Specifications
Height: 80cm
Width: 80cm
Depth: 30cm
 
Material: Wood
Top Fully Assembled, requires legs to be simply attached.
£79 - Pre Order for delivery in July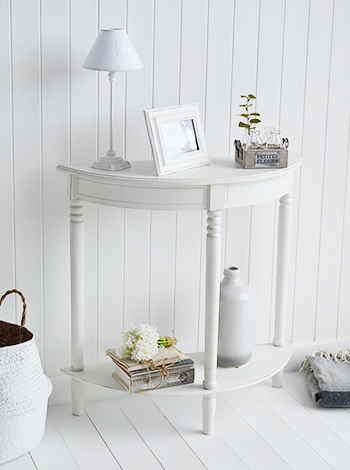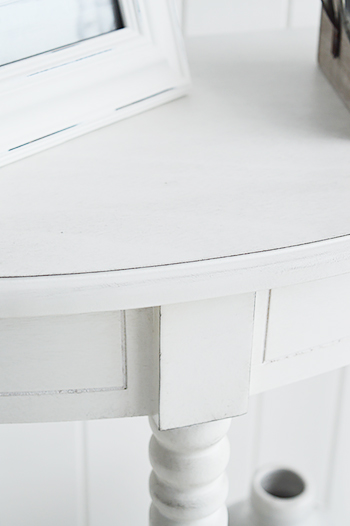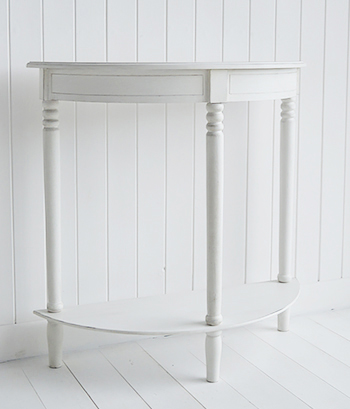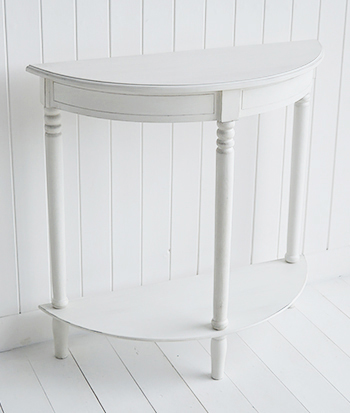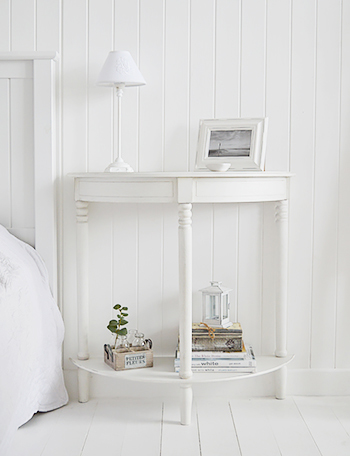 White Half Moon Console Table
A console table in the shape of a half moon is a great idea when space is at a premium in your hallway or living room. The shape of table does not protrude into the space of the room as much as a more regular rectangle table making it a very popular choice.
The table is a centre piece to the room allowing you to create a master piece of decor using home decor accessories, lamps or photographs.
This particular white console table has a shelf to allow you to display pieces or you can use it for storage. Here you can see we have added white and grey home decor accessoires to give an illusion of space but still looks stunning
You can see form this photographs above, that although the table top does not give as much of an area for display you are still able to show treasured and beautiful items.
White furniture is shown here against a white panelled wall for a traditional New England look, but a white table complements all styles of interior design
________________________
Related Products
White Console Tables
New England White Console Table with White Round Handles £169

New England White Console Table with antique brass handles £169

New England White  Console Table with Silver  Handles 

£169

Colonial White Half Moon Table with shelf £79

Colonial White Console Tablewith shelf £100

Colonial White Console Table with Drawers  £125

New England White Console Table £169
 

Grey Console Tables

Plymouth Grey Console Table £99

Plymouth Grey Half Moon Console Table £99

Winchester Grey Large Round Table £90

Newport French Grey Console Table £149

Newport French Grey Console Table £149

Driftwood Rustic Tripod Table £85

Newport Narrow Hall Table £79

Brittany Grey Console Table £189

 

Oxford Grey Console Table £139

 
The White Lighthouse
Specialises in New England style furniture and home decor for country, coastal and city homes
Online furniture & accessories shop for the home...
New England l Coastal l White Furniture
Shop online for furniture with delivery to UK at our online store website: www.thewhitelighthousefurniture.co.uk
Hallway l Living Room l Bedroom l Bathroom l Accessories l Storage l New Items l Be Inspired