Get the look...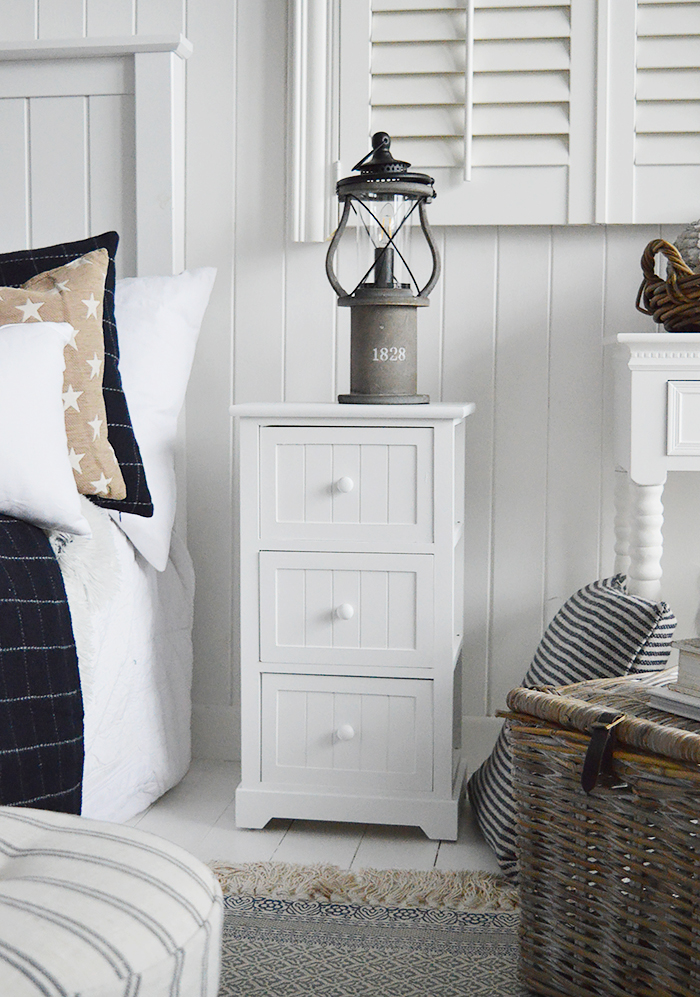 Maine white bedside table, £48, our Maine range of white bedroom furniture offer the perfect storage solution in any bedroom interior. Simple, afforable, and looks stunning! Available in different sizes to ensure you find the storage solution for your bedroom.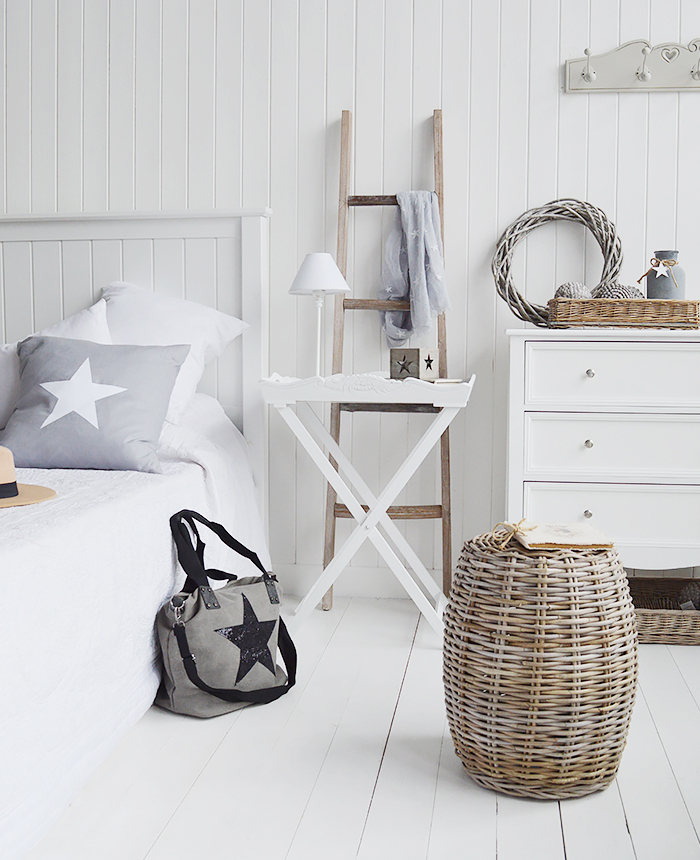 Such a calming bedroom in our favourite white and greys, with plenty of texture for warmth and cosiness. Perfect for both country and coastal styled bedrooms.
Get The Look
Willow Stool £58
Driftwood Blanket Ladder £55
Bag £19
Folding Tray Bedside Table £36
Accessories from £4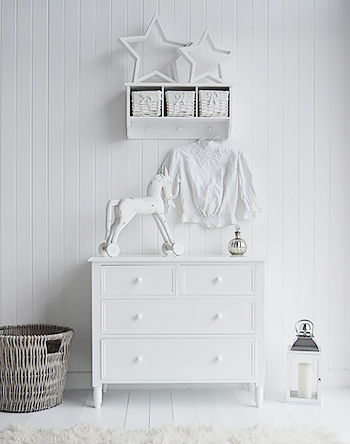 The epitome of relaxed living, our New England white chest of drawers, with simple straight lines in pure white, these chests will endure the test of time.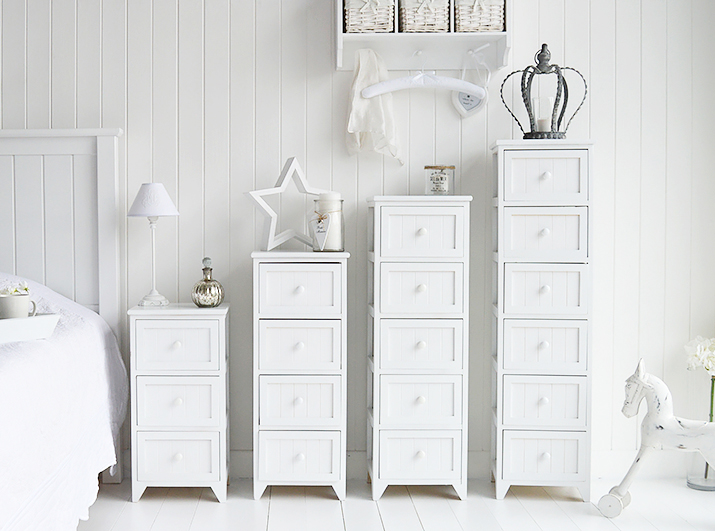 Our beautiful range of white bedroom storage furniture for affordable storage from anything from items of clothing to toiletries from £48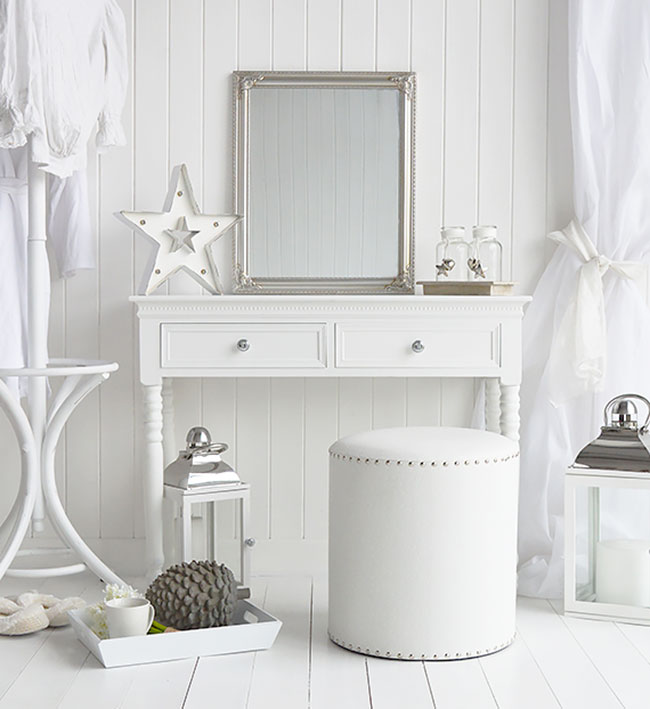 The New England dressing table, available with different handles for different styles. Here the table is dressed with silver handles for the luxurious Hamptons style of New England Interiors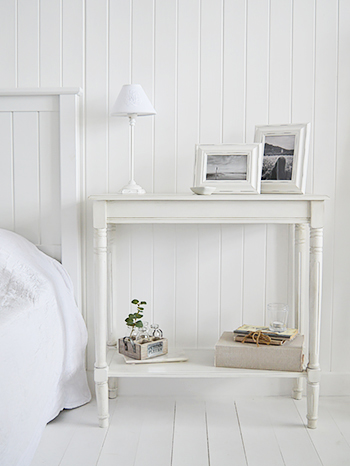 If you are you lucky enough to have a large bedroom, then the Colonial is a great choice for a bedside. The under shelf can be used for display or storage with the large table top provides a mass of space for a bedside lamp

The Maine bedside cabinet, £59, great storage with a cupboard and drawer, again in our favourite laid back style of living.
___________________
Why choose white bedroom furniture...
Whatever your style or colour of bedroom, white furniture will complement your bedroom interior. Whether you have dark, white, neutral, pink or blue bedroom walls, white furniture is a perfect choice to stay with you through the years ... See The White Lighthouse Ideas on Decorating with White Bedroom Furniture
An all white bedroom? ... A white bedroom is the epitomy of camlmess and serentiy.  White furniture looks warming and inviting.
Tips for decorating a pure white bedroom: Choose a focal point such as a large headboard, fireplace or window seat to create a bedroom that is luxurious, definitely not cold and uninviting. Adding texture is another great way to add warmth, knitted cushions, mohair throws are just a couple of ideas. An all white bedroom is such a lovely, bright and airy style and one of our personal favourites at The White Lighthouse
_____________________
Help and Advice:  Bedroom Furniture
How to Create a New England Style Bedroom
Some advice on how to create your very own typical New England style bedroom.
Scandinavian Look..
Create the popular scandinavian look in your bedroom by using various pieces of furniture
For your bedroom or dressing room
Consider adding a dressing table to your room, it offers a place to call your own..
Choosing narrow bedside tables....
Only got a small space, find out how you can still get a bedside table to fit to complete your bedroom
Pure White Bedroom
Tips and advice on how to decorate and furnish a pure white bedroom..............
________________________
The White Lighthouse
Online furniture & accessories shop for the home...
New England l Coastal l White Furniture