Hallway l Living Room l Bedroom l Bathroom l Accessories l Storage l New Items l Be Inspired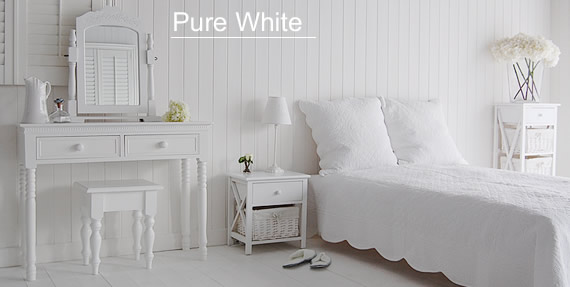 The White Lighthouse Bedroom Furniture
White bedroom furniture is a classic choice for every style of room. A pure white bedroom, so calm in its purity and simplicity. It has become such a popular option over the years as a timeless addition to all bedrooms that will last for years. Even as your tastes evolve over time, changing accessories and soft furnishings will ensure your bedroom will change with you. Choosing white furniture for childrens bedrooms is an excellent choice for exactly this reason.
Waken up refreshed every day in your pure white bedroom, ready to start the day with a bang. An all white bedroom creates such a refreshing bright and breezy feeling to waken up to daily to revitalize your body and start the day on a high.
This bedroom has been decorated with The New England dressing table with ceramic knob handles, complemented by white bedroom storage from The New Haven furniture range. 
See The White Lighthouse Ideas on Decorating with White Bedroom Furniture
The White Lighthouse White Bedroom Furniture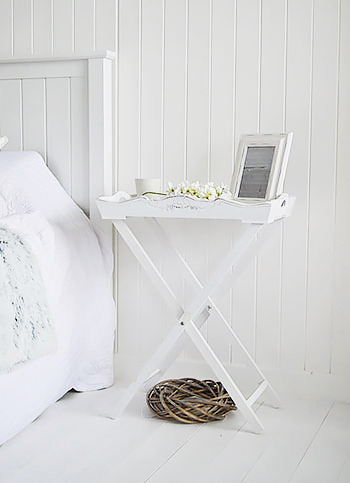 A simple idea for a white bedroom is this butler tray table as a bedside. It is a versatile table that can be folded away if need be and looks so pretty in a white room.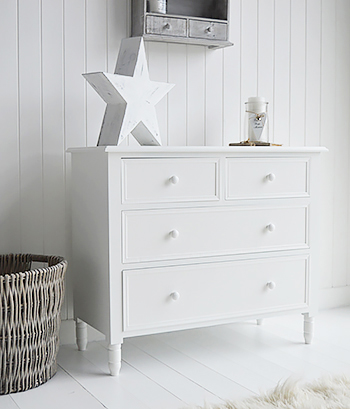 The New England white chest of drawers with straight lines is designed to suit any style of bedroom. The simplicity is its elegance and provides lots of storage.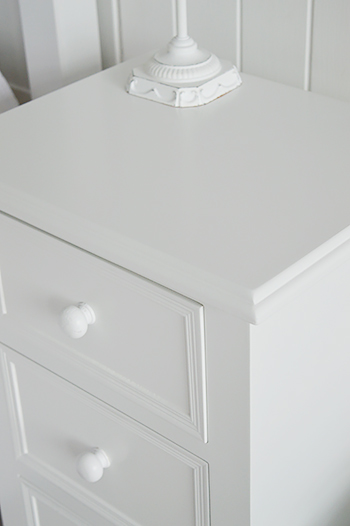 White bedsides are a necessity for any bedroom, these New England simple bedsides are perfect to complement any style of bedroom from Scandi to traditional french. Add accessories and furnishings to create your ideal white bedroom.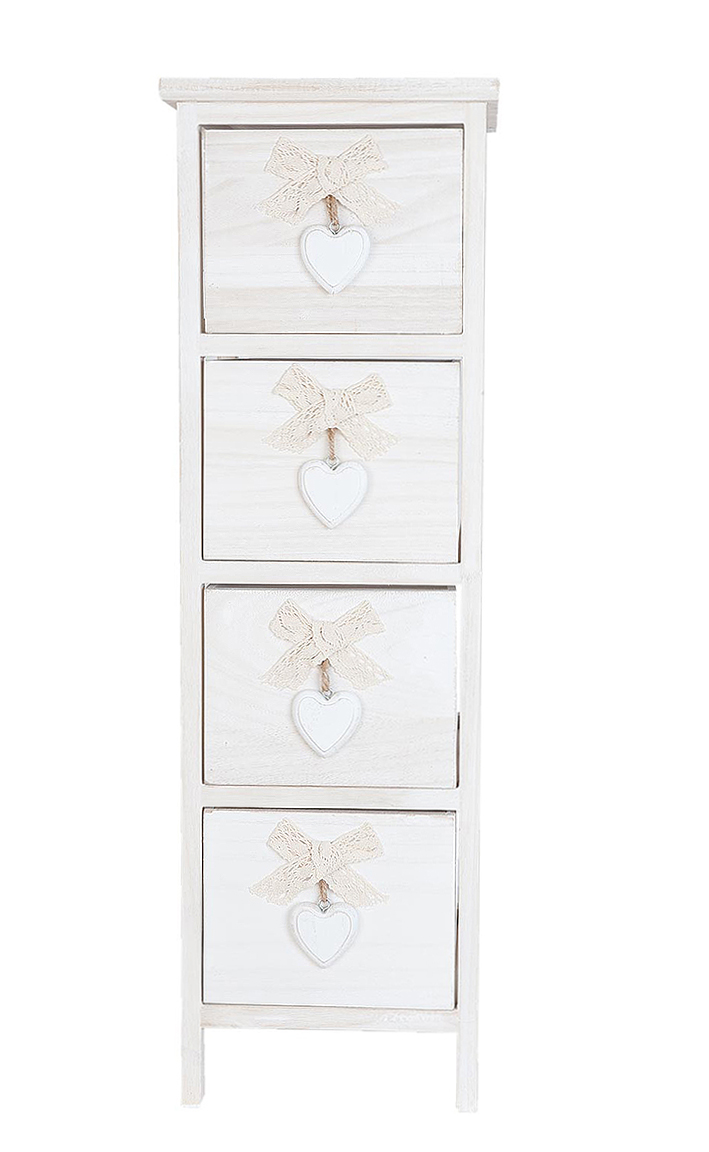 The Dorset narrow chaest of drawers give some extra added stroage for when space is tight. At only 25cm wide they will fit into any bedroom and give a plce to keep make up, toiletries and underwear.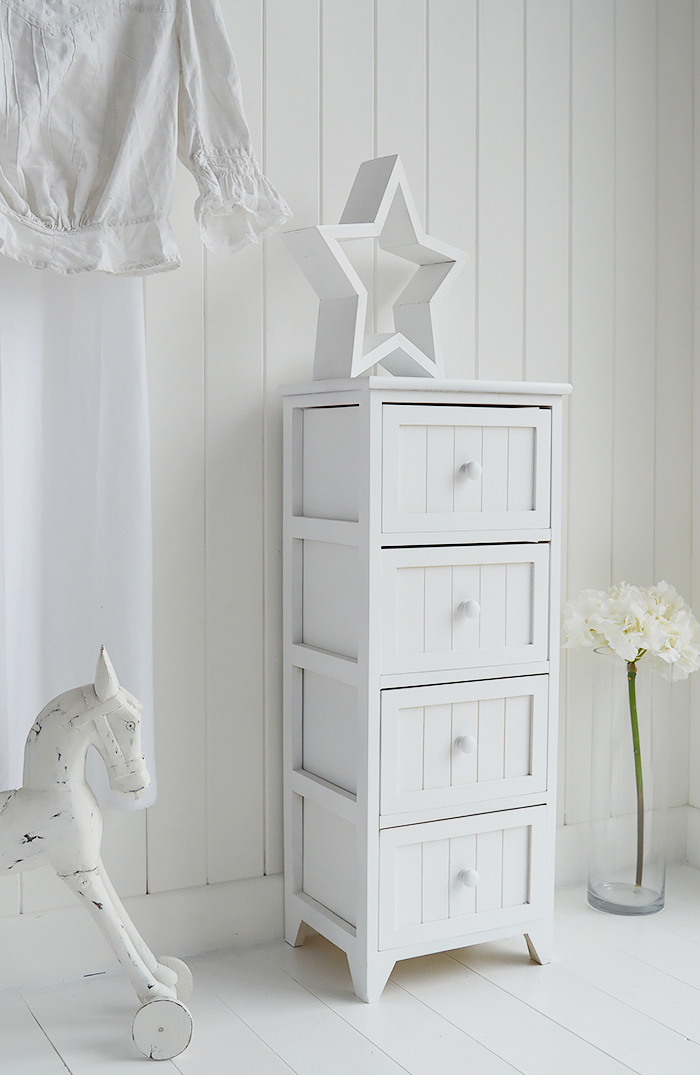 The Maine white storage furniture with larger drawers offers a greater amount of storage, theses come in three, four , five and six drawers and offer a great budget solution for white bedroom ideas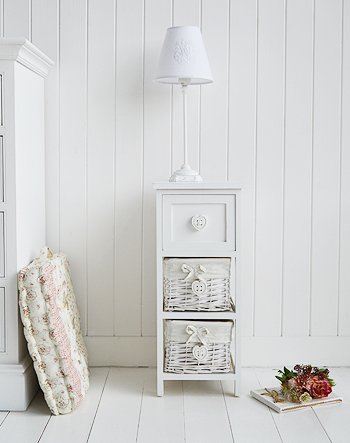 Narow bedroom storage, drawers for when there is only a small space left for storage in your room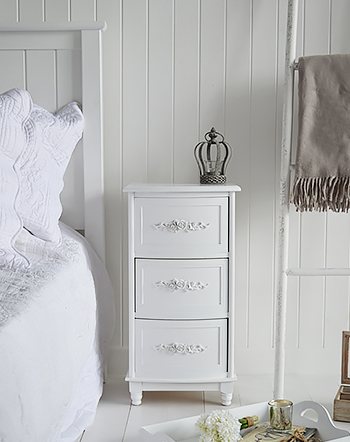 A pretty bedside ideal for cottages in a typical English floral style of country home, with three drawers gives great extra storage.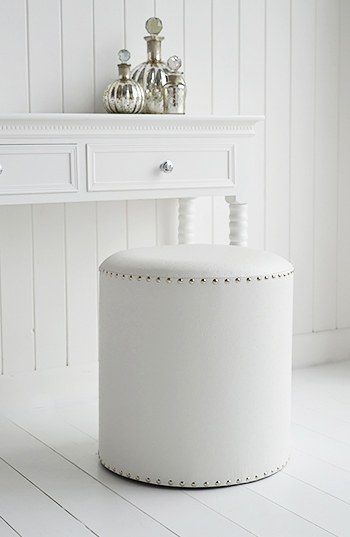 A stunning white and silver drssing table stool, complements all white dressing tables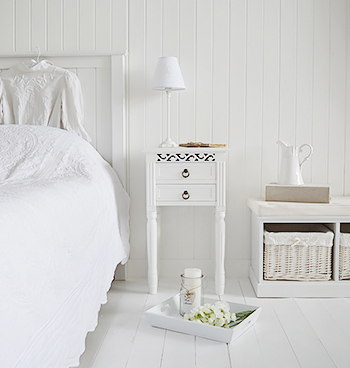 New England white bedside with two drawers in an all white bedroom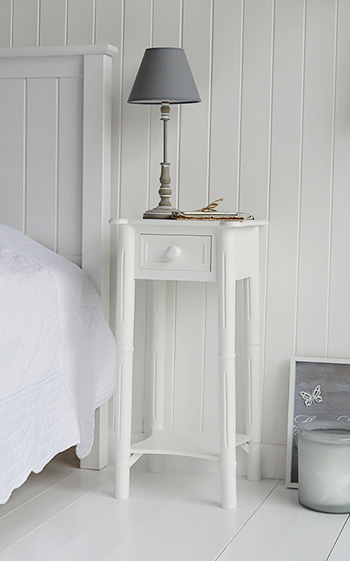 New England white bedside table, a tall narrow unit with one drawer and a shelf for simple design.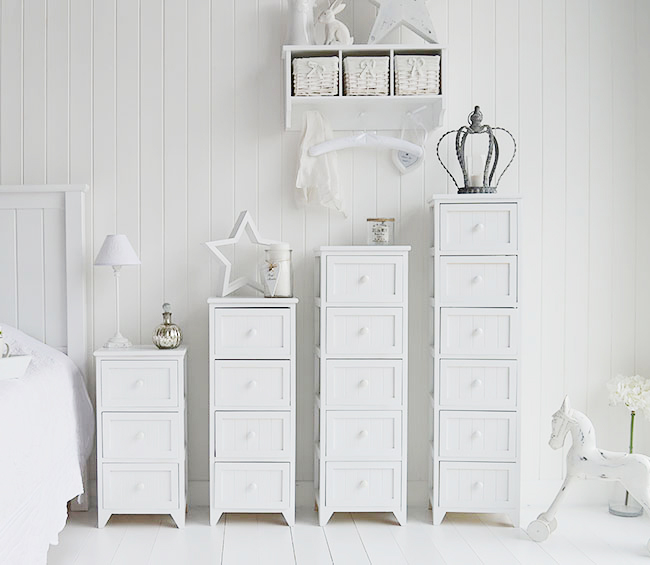 Our Maine range of white bedroom furniture available in a variety of sizes, a 3 drawer bedside table, a 4 and 5 drawer chest of drawers and a tall narrow 6 drawer unit.
________________________
Bedroom Furniture
Dressing Tables l Bedside Tables l Chest of Drawers l Bedroom Storage l Bedroom Seating 
________________________
The White Lighthouse
Furniture & accessories for the home...
Hallway l Living Room l Bedroom l Bathroom l Accessories l Storage l 
New Items l Be Inspired