Hallway l Living Room l Bedroom l Bathroom l Accessories l Storage l 
New Items l Be Inspired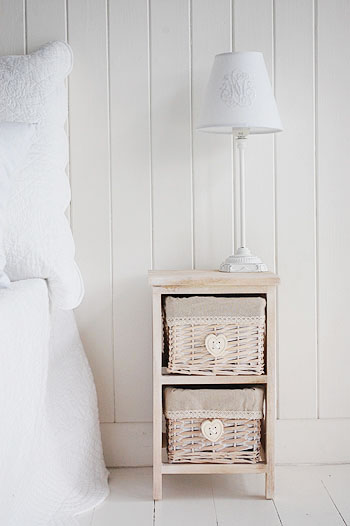 Small Narrow Sweetheart Natural Bedside Table
A small bedside table with two lace trimmed lined basket drawers. The hanging heart handles perfectly complement the cut out hearts on the side.
Perfect when space is at a premium in your bedroom, but you still want a table top for a lamp along with a lttle extra storage.
Finished in a natural wood.
Specifications
Height: 43cm
Width: 25cm
Depth:25cm
Basket: H:13cm, W:16cm, D:20cm
Material: Wood, Willow, Fabric
Fully Assembled
Price: £42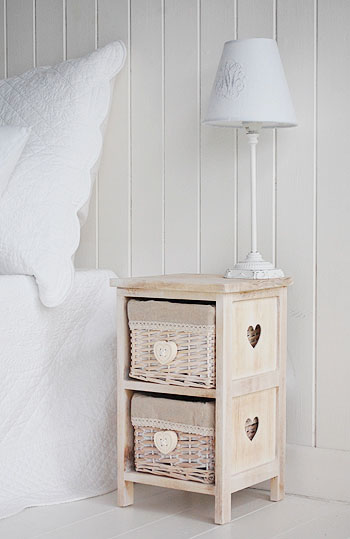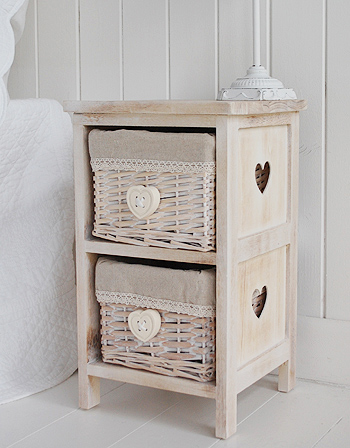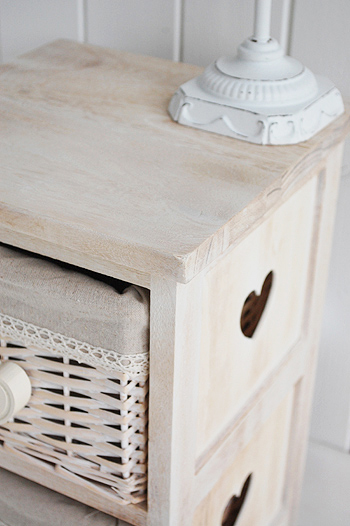 If you have any questions about our Narrow Sweetheart Bedside Table, please do not hesitate to ask us by emailing info@thewhitelighthousefurniture.co.uk
_______________________
Small Natural Heart Bedside Table
A small, compact narrow bedside table in a natural wood finish and three drawers, the heart bedside table is perfect for when space is tight in a small bedroom beside the bed.
Ideal in a girls bedroom, the colour will blend seemlessly with all styles of bedroom interiors and give the all important bedside storage. The three lined and trimmed basket drawers easily pull out and are great for storage of phones, cables and other bedside bits and bobs as well as underwear.
Either singly or as a pair at either side of the bed a small lamp on the narrow bedside tables will complete the look and make it feel like a real bedroom.
These are nicely designed by our team at The White Lighthouse to give you the storage you need in your bedroom even though there is little space
"Make your bedroom feel complete with bedsides either side"
The bedside table is delivered already assembled and can be put in place beside your bed immediately with no having to wait to build.
The cut out hearts and heart handles of this particular range make it such a cute little first bedside table as well as fitting perfectly into country cottage bedroom interior.
Available in either two or three drawer depending on height of the bed
________________________
White Bedroom Furniture
Dressing Tables l Bedside Tables l Chest of Drawers l Bedroom Storage l Bedroom Seating  l White Furniture l New England Furniture l Narrow Bedside Table
__________________
Narrow Bedside Tables
At The White Lighthouse we realise the importance of storage in all rooms of your home, even for the littliest of spaces. We have a range of narrow bedside tables from 25cm wide
Narrow Bar Harbor Small Bedside £35

Narrow Bar Harbor Bedside £49

White Cottage Narrow Bedside Table  £37

White Cottage Narrow Bedside Table  £37

White Cottage Tall Narrow £48

White Cottage Tall Narrow £48

Maine Narrow Cabinet £42

Cape Cod Narrow 3 Drawer £42

 
 

Natural Small Heart Narrow Bedside £42

Narrow Storage Table £49

 

White Narrow Storage Table £49

 

Heart Cottage Narrow 

Drawer Chest £65

Dorset Narrow 4 Drawer £59

 
The White Lighthouse
Furniture & accessories for the home...
Hallway l Living Room l Bedroom l Bathroom l Accessories l Storage l New Items l Be Inspired