Hallway l Living Room l Bedroom l Bathroom l Accessories l Storage l 
New Items l Be Inspired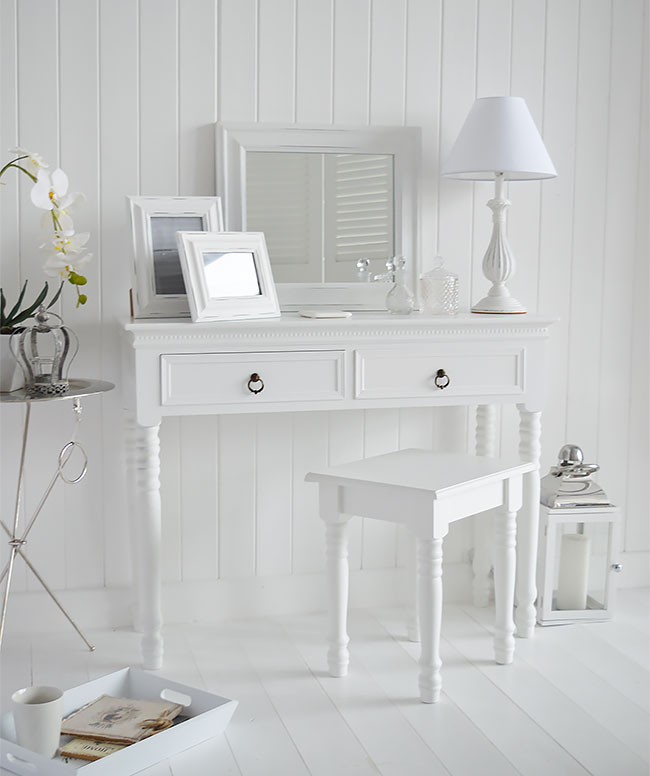 A white scandi style dressing table with two drawers and elegant antique brass handles. Our New England dresser provides essential storage for make up and toiletries to remove clutter from your bedroom while giving you your own space to sit down and relax. £169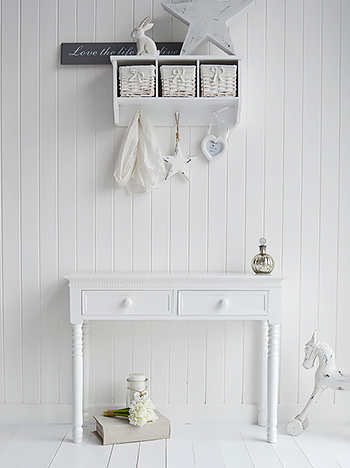 A dressing table is not just a luxury, but a necessity. At the White Lighthouse we feel it is essential for a girl to take time to herself, to appreciate herself, to sit down and relax, releasing the burdern of her day. To ensure you find a dresser to suit you and your bedroom we offer a range in varying sizes so you are sure to find one just for you.
Scandinavian Dressing Table
Add a touch of glamour to your bedroom with our Scandinavian dressing table and remove the general bedroom clutter of toiletries and make-up into the two drawers while providing yourself with the luxury space to prepare yourself for the day ahead.
In the classic Scandinavian style of simple design, straight lines and great functionality this slightly distressed vintage wooden dressing table will add plenty of scandi chic to your bedroom.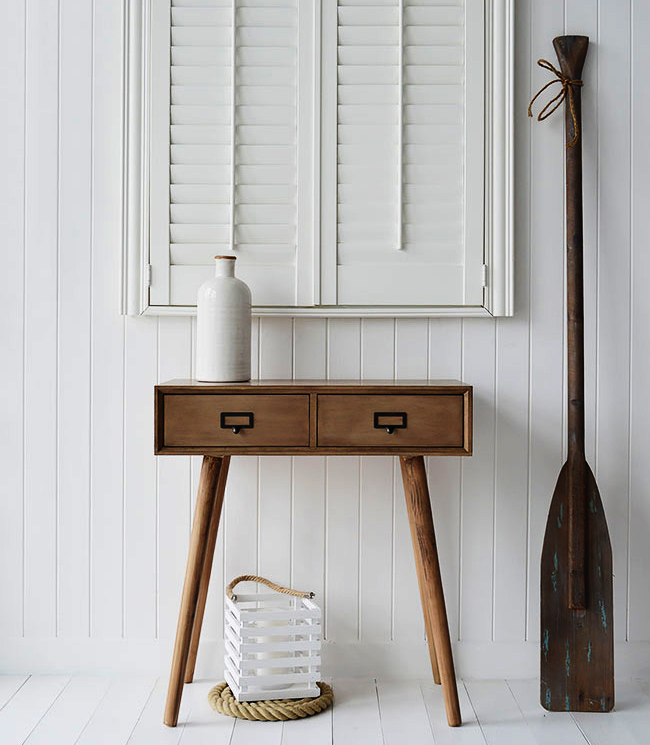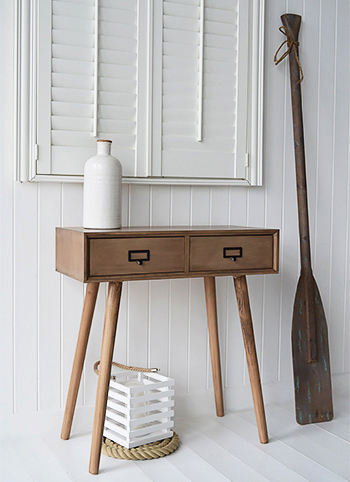 Scandinavian Dressing Table Details
Dressing table has two drawers with vintage style industrial type pull handles. Finished in a satin vintage wooden stain with screw in round legs
Rooms, Ideas, Tips
Simplicity and a natural finsh creates an inner bliss. Bringing us back to nature. The Scandi dressing table also complements our New England tones and can be incorporated with our white and grey tones of furniture to create a very calming and stylish yet simple interior space.
What is the delivery time?
The dressing table is generally dispatched within 2-3 days of ordering. On dispatch you will receive an email with your tracking number. From this you will be able to go on to the courier website for further delivery details. If you miss the delivery you will be able to go to the courier website and arrange an alternative day.
What is the table constructed from?
The dressing table is made from wood.
How do I care for my table?
A simple wipe down with a slightly damp cloth will keep it clean and fresh looking
Is there any assembly?
There is simple assembly required. Attach the legs by simply turning them to screw into the main body. The screw is already attached onto the leg, so is very simple. The main body of the table is completely assembled.
Is The Dressing Table suitable for adults and children?
Yes, this is a suitable table for both adults and children from approx 7. It is a perfect size to put a chair or stool under for adults and children with plenty of surface space even with a freestanding mirror.
If you have any questions about our Henley Table, please do not hesitate to ask us by emailing info@thewhitelighthousefurniture.co.uk