Hallway l Living Room l Bedroom l Bathroom l Accessories l Storage l 
New Items l Be Inspired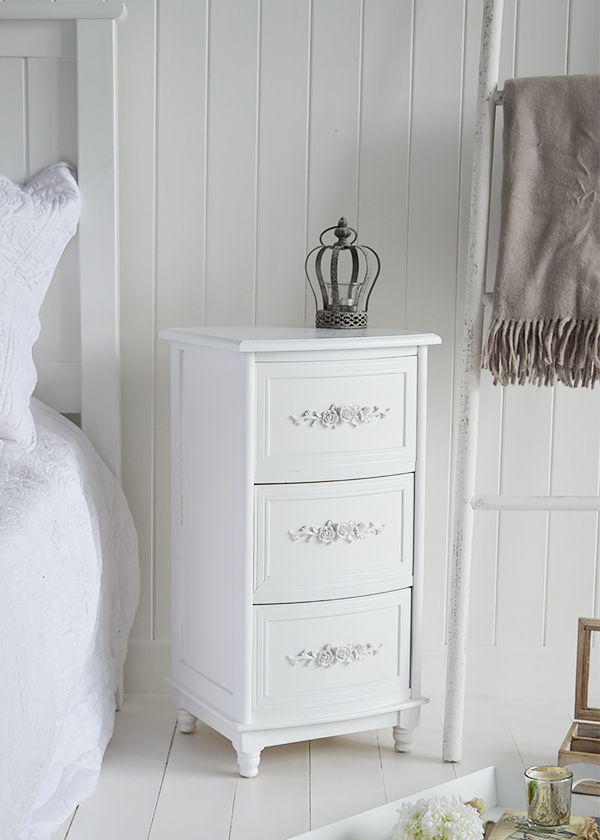 White Rose White Lamp Bedside Table
A painted white lamp table from The White Rose bedroom furniture range with a curved front.
This stunningly pretty cabinet has three curved drawers, each with a carved Rose pull handle for fabulous storage.
Ideal as a bedside table in the bedroom or lamp table in the living room and hall. Makes for beautiful storage in the bathroom.
Specifications
Height: 68cm
Width: 35cm
Depth:33cm
Drawer: Height: 15cm. Width: 27cm. Depth: 25cm
Material: Wood
Fully Assembled
Price: £75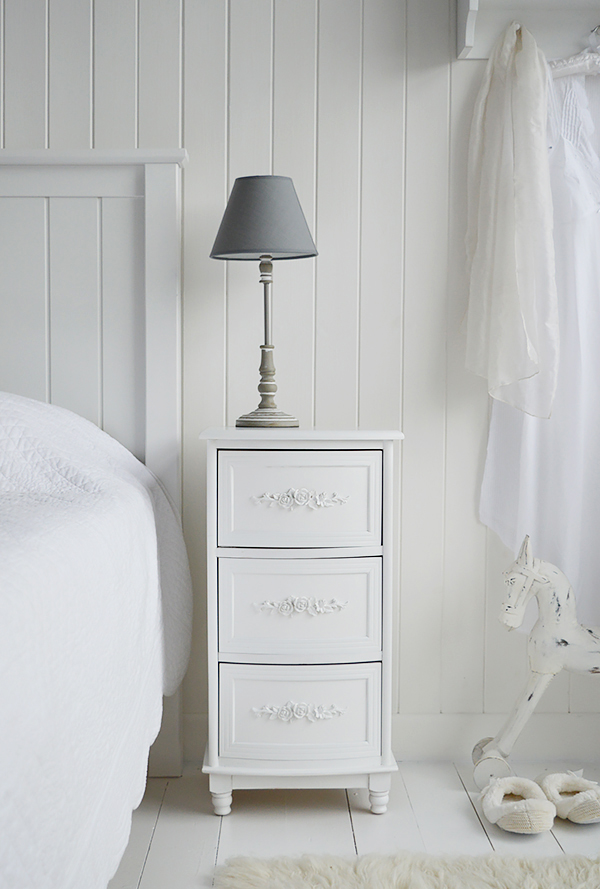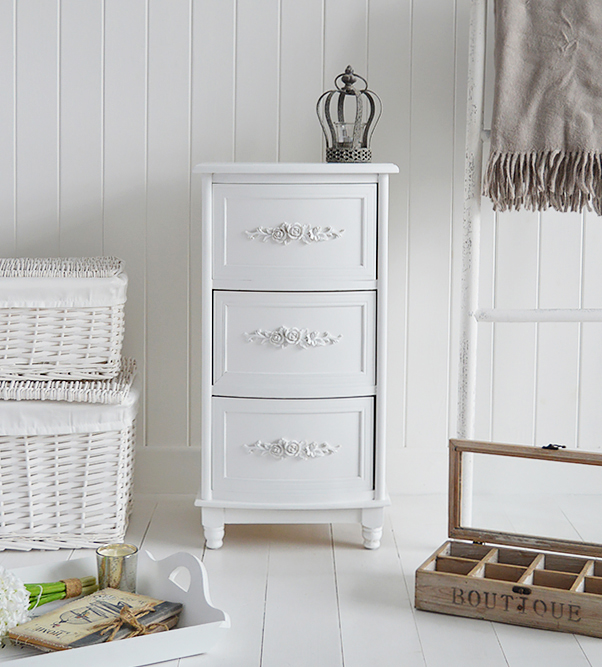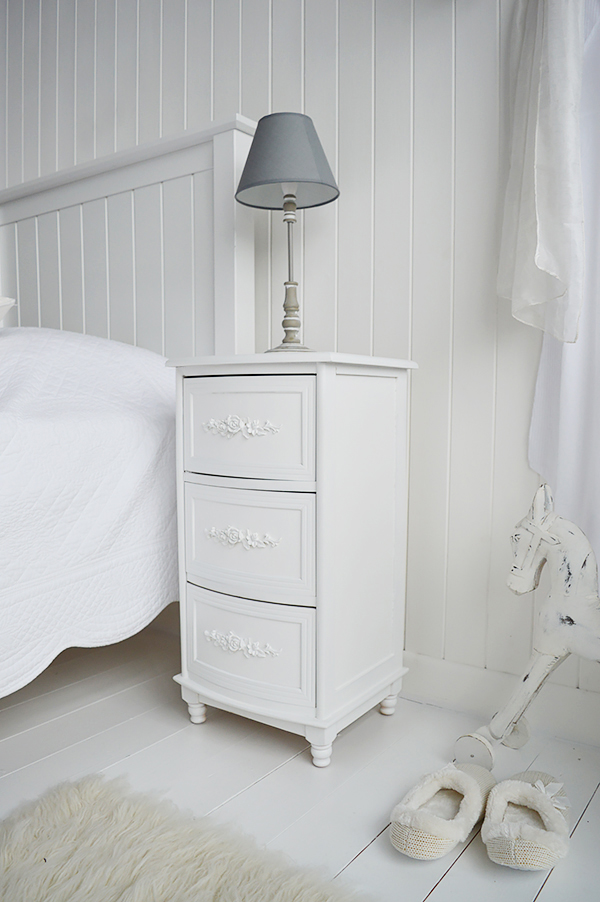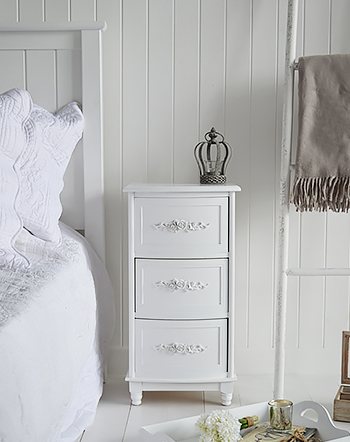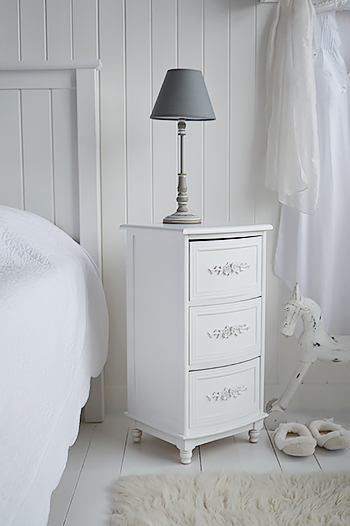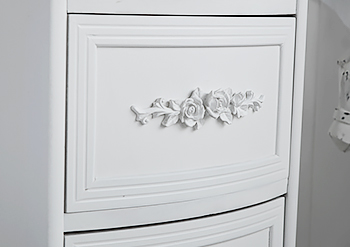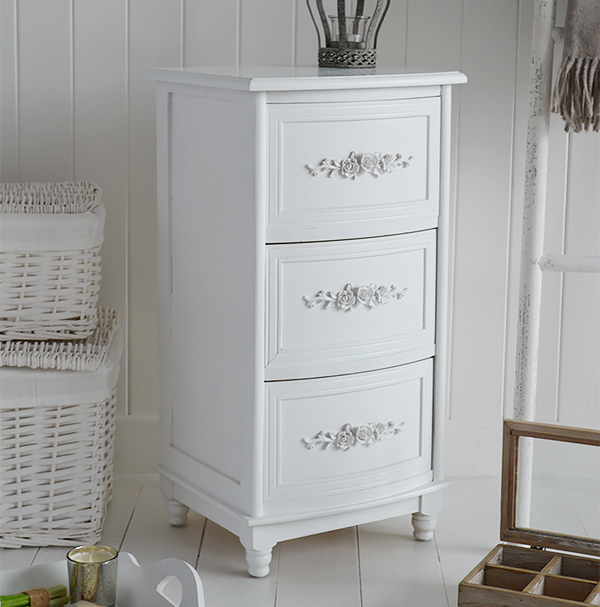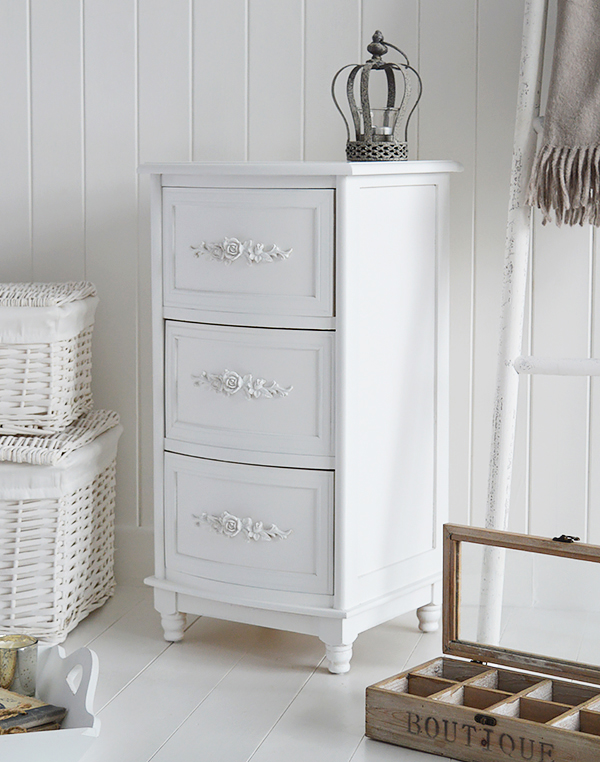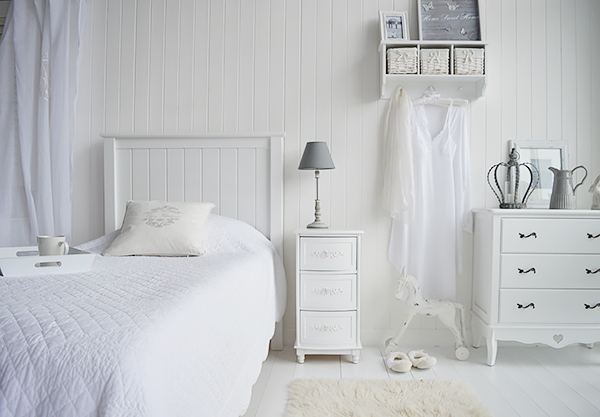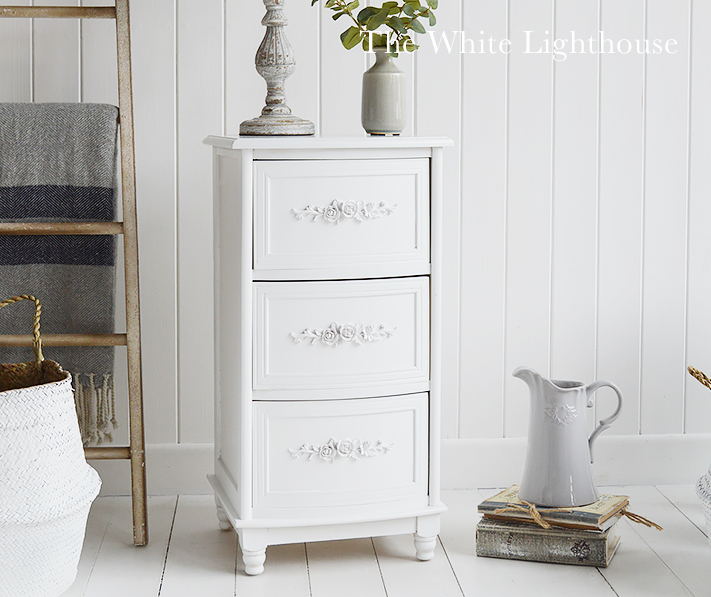 Rose White Bedside Table
Finished in a matt white paint featuring delicatively carved Rose white handles and an elegantly bowed front.
They are a really beautifully designed bedside table and will brighten any rooms, a very popular choice for pretty country cottage interiors and olde girls bedrooms. The style and design allows this particular bedside to grow with them.
As an affordable statement piece of furniture the white lamp tables will blend well with most colour schemes.
The three drawers easily glide in and out and will give ample storage for all your bedside requirements asd wee as giving drawers for items of clothing such as pyjamas and underwear.
With no assembly required the tables are delivered free and ready to put into place with no worry of having to build.
"A perfect mix of functionality and style"
If you have any questions about our Narrow Sweetheart Bedside Table, please do not hesitate to ask us by emailing info@thewhitelighthousefurniture.co.uk
________________________
White Bedroom Furniture
Dressing Tables l Bedside Tables l Chest of Drawers l Bedroom Storage l Bedroom Seating  l White Furniture l Narrow Bedside Table
______________________________
White Bedside Table £105

White Bedside Table £105

Dorset Narrow Bedside 

Table £49 Offer: Pair £89

Maine Bedside Table £52

White Bedside Table £105

White Bedside Table  £105

White Narrow Bedside Table £49

White Bedside Cabinet  £139

Maine White Bedside Cabinet £53

Portland Grey Bedside Table £32

New Haven White Bedside Table

 £42

New Haven White Bedside Table £59

White Tray Bedside Table £36

Plymouth Bedside Cabinets £59

Rose Bedside Cabinet £55

Henley Scandi Lamp Table £69

Narrow Bar Harbor Small Bedside £35

Bar Harbor Narrow  Bedside £49

Bar Harbor Bedside £55 ...OFFER Pair £85

Cornwall Grey Tray Bedside Table £33

Small Heart Narrow Bedside Table  £42

Sweetheart Narrow Bedside Table £49

Colonial White Bedside Table £150

Newbury Cream Cabinet £106

Colonial White Large Bedside Table £79

Rose White Three Drawer Cabinet £75

Grayswood Folding Table Was £46 Now £36

St Ives Grey Basket Storage £65

St Ives Grey Basket Storage £89

Newbury Cream Cabinet £77

 

Newbury Cream Cabinet £90

 
 
________________________
The White Lighthouse
Furniture & accessories for the home...
Hallway l Living Room l Bedroom l Bathroom l Accessories l Storage l New Items l Be Inspired