Hallway l Living Room l Bedroom l Bathroom l Accessories l Storage l 
New Items l Be Inspired
Please Note: The mobile website is no longer kept up to date with stock and new items. Please go to our full website at www.thewhitelighthousefurniture.co.uk for all items
Hallway Furniture
Create the finest first impression by warmly welcoming you and your guests to your orderly, uncluttered home with our range of entrance hallway furniture. Browse our extensive range of affordable and stylish narrow and small hallway furniture, console tables, coat stands, shelving, racks and hall storage for UK delivery
 

_____________________________

Some of Our Best Selling Hall Furniture Pieces

 
 
 
 

Cornwall Grey Tray Lamp Table £36

Rhode Island Grey Table / Desk £59

Plymouth Lamp Table  £59

Colonial White Half Moon Table £79

Provincetown White Wall Shelf Unit £35


Brittany Grey Console £189

Plymouth Grey Console Table £99

Driftwood Rustic Tripod Hall Table £79

Bridgeport Grey Lamp Table £99

Newport Narrow Hall Table £79

Newport French Grey Console Table £149

Newport French Grey Console Table £149


Colonial White Lamp Table £89


Plymouth Grey Half Moon Console Table £99

New England White Sideboard £299


Colonial White Lamp Table £150

Rose 3 Drawer Storage £75

New England White Sideboard  £299

 
 

______________________


Providence Bench £78 

Manhattan Bench £220

Vermont Large Hall Trunk £149

Vermont Small Trunk £89


Plymouth Storage Bench £110

Panama Vintage Shoe Storage Trunk £79


Newbury Cream  Storage Bench £165

Cape Cod Storage Hallway Bench £79

______________________

Marseille Shelf with Hooks £19

Wall Mounted Coat Stand £85

Richmond Long Coat Rack £35

Portsmouth Coat Rack £35

"COATS" Coat Rack £15

Grey Heart Coat Rack £15

Stamford Antique White Coat Stand £66

Stamford Soft Grey Coat Stand £66

Stamford Black Coat Stand £66

Beach House White Wall Shelf £19.50

Pawtucket Wall Shelf with Hooks £52.50

Metal Hooks £8

Norfolk Coat Rack £18

Belfast Coat Rack £12

Sanford Shelf with 8 Hooks £32

Copper Coat Stand £80
______________________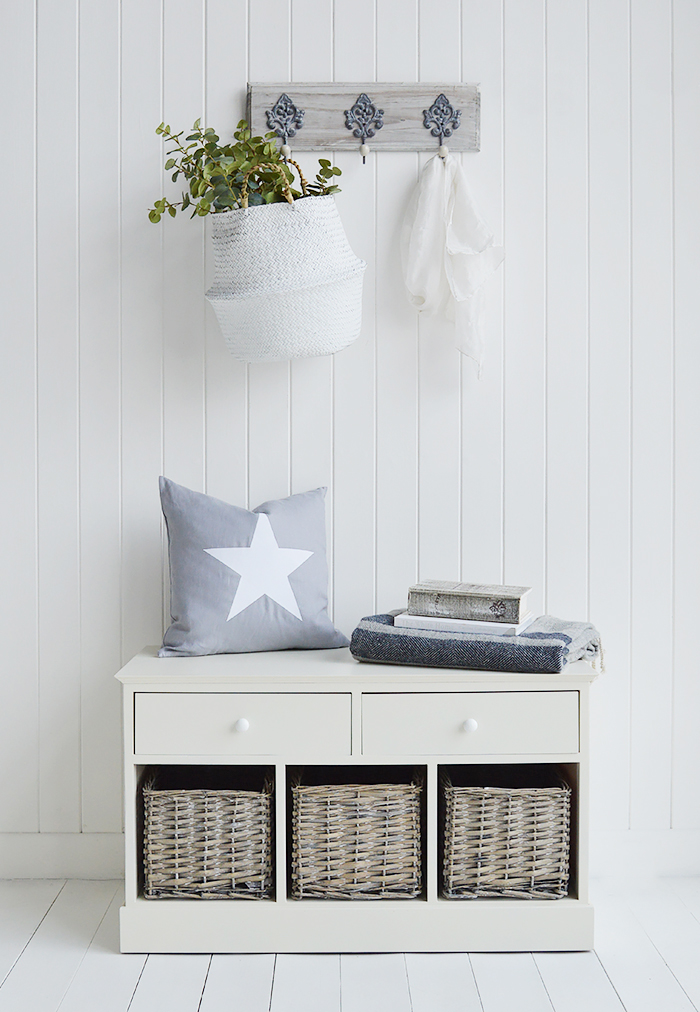 Newbury Cream Storage Seat
The Newbury cream storage bench seat with three long basket drawers and two large top drawers with white knob handles.
The Newbury cream bench with its clean straight lines and contrasting greyed hand woven baskets is a perfect match for every style of home interiors. From coastal to country, Scandinavian to Suburbian the bench seat will be a stunning and practical piece of furniture in your home.
The Newbury is a soft cream range of storage furniture, perfect for all rooms in the home.
Specifications
Height : 50cm
Width: 85cm
Depth: 42cm
Baskets: W:23cm H:20cm D:37cm
Drawers: W:38cm H:10cm D:38cm
Delivered Free Fully Assembled
Sorry, this bench is out of stock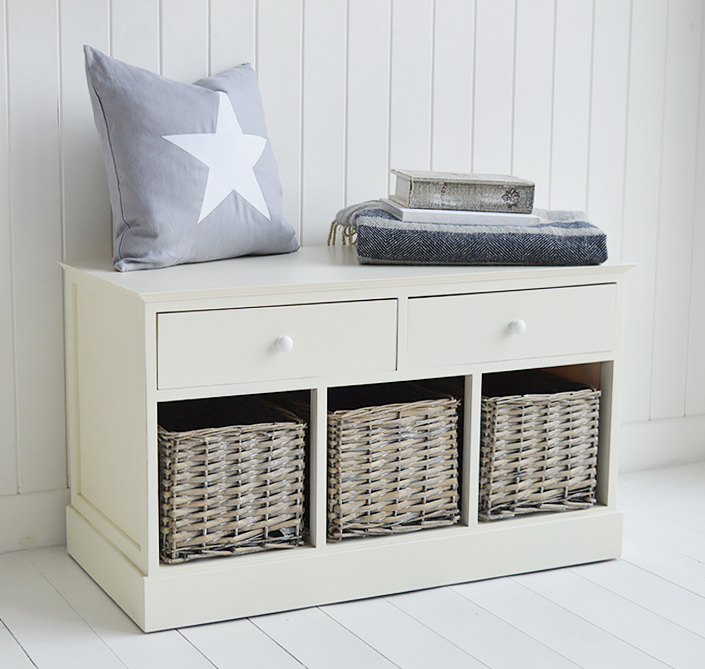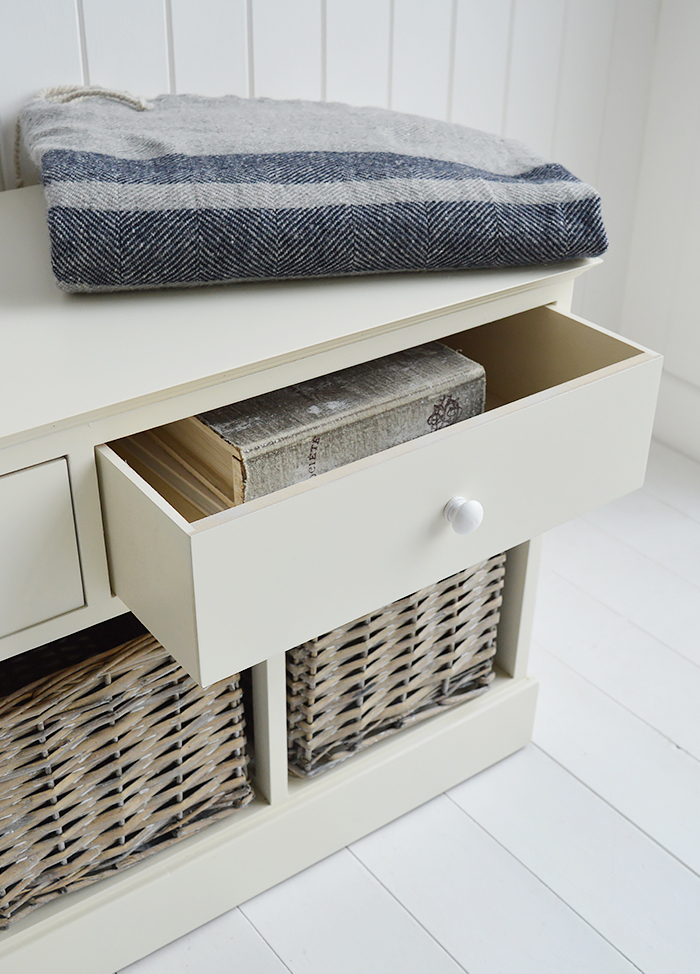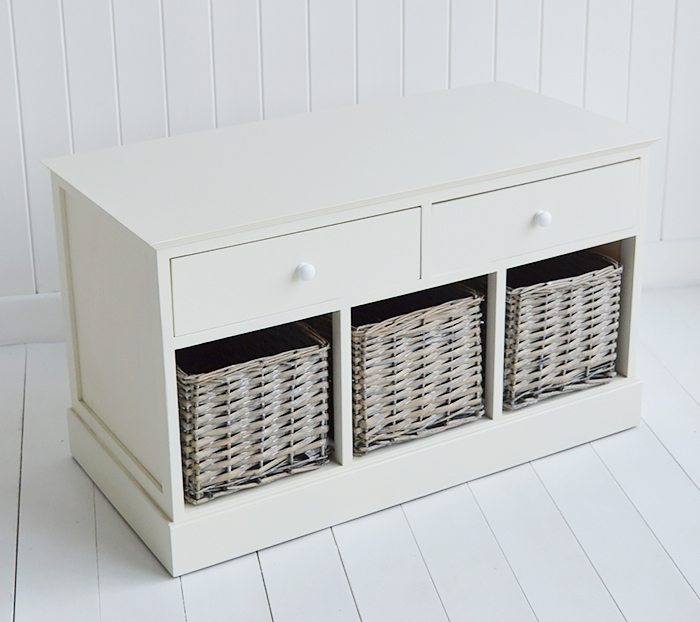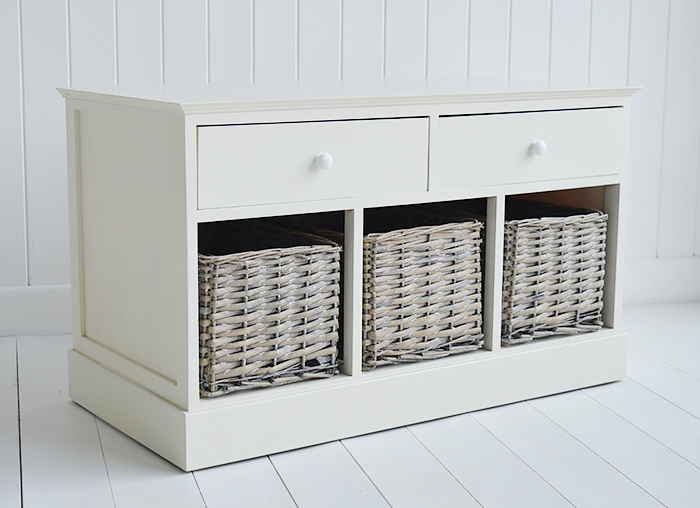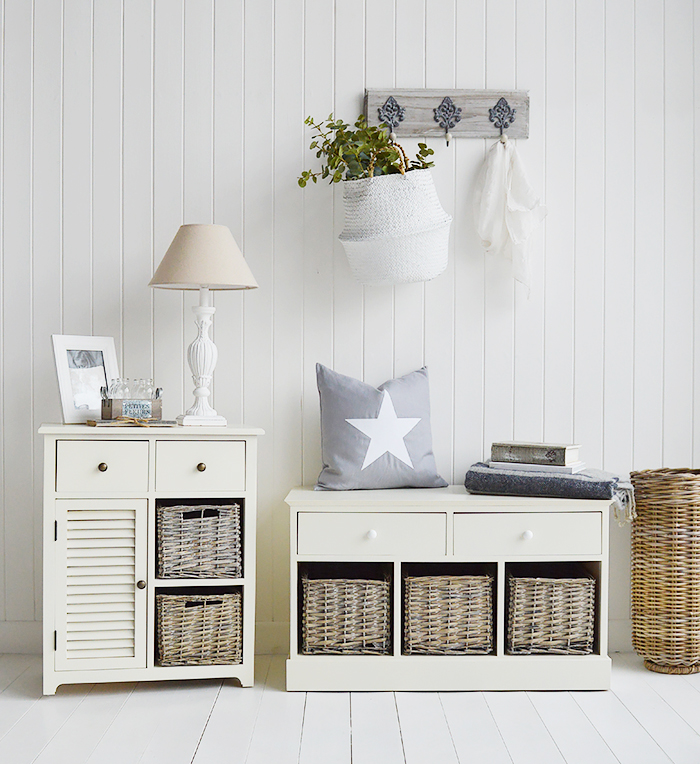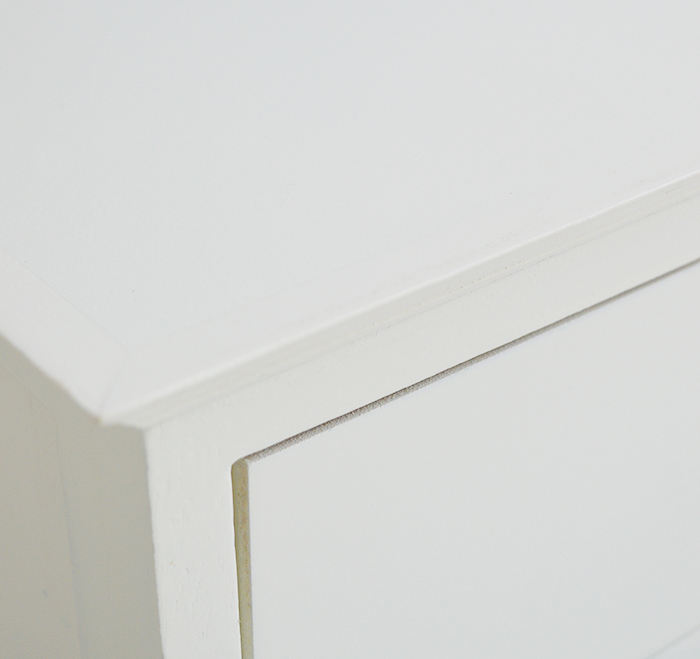 Rooms, Ideas and Tips
Hallway furniture: Use as a storage bench seat in your hall or entrance way, the three baskets are excellent to remove clutter form your hall. The top drawers offer plenty of storage for everyday clutter. Store hats and scarves and remove items from the floor
Tip: Add a coat rack above for a complete hallway solution.
Living Room Furniture: An ideal window seat in the living room, thefive drawersare great for toy storage.
Tip: Add cushions for some extra comfort to relax.
Bedroom Furniture: Great storage bench with 5 drawers for the end of the bed.
______________________________