Hallway Furniture l Living Room l Bedroom l Bathroom l Accessories l Storage l New Items l Be Inspired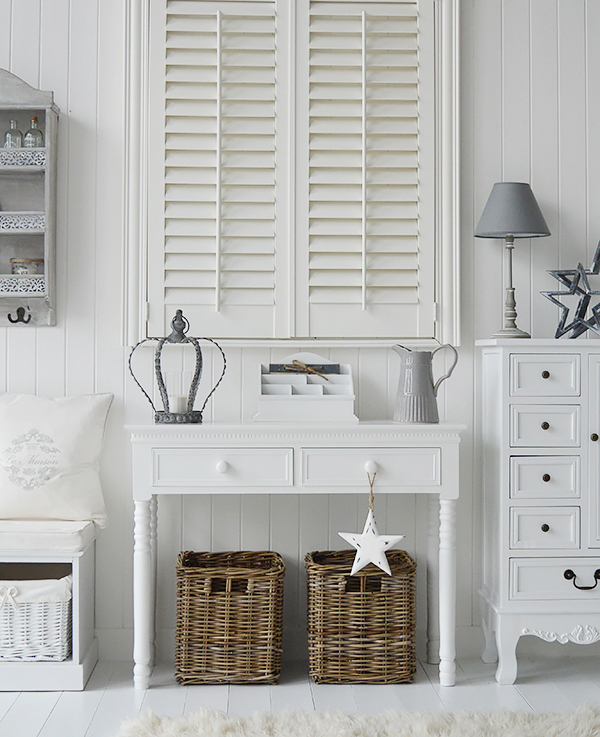 New England White Console Table
A narrow white console table for hall with two drawers for essential storage and white porcelain knob handles.
A very simple but elegant pure white table for hall or living room interiors.
The New England Range is a crisp matt white range of furniture for a classic look to any room. As perfectly suitable for coastal interiors as it is for Victorian or country homes. The New England table with brighten and beautify all all rooms.
The console table comprises of turned pine legs finished with several layers of white satin paint.
Specifications
Height: 72cm
Width: 95cm
Depth: 32.5cm
Drawer Size: W: 36.5cm, h: 9cm, L: 26cm
Material: MDF, Pine
Drawer Unit Fully Assembled, requires legs to be simply attached.
£169 - End April Delivery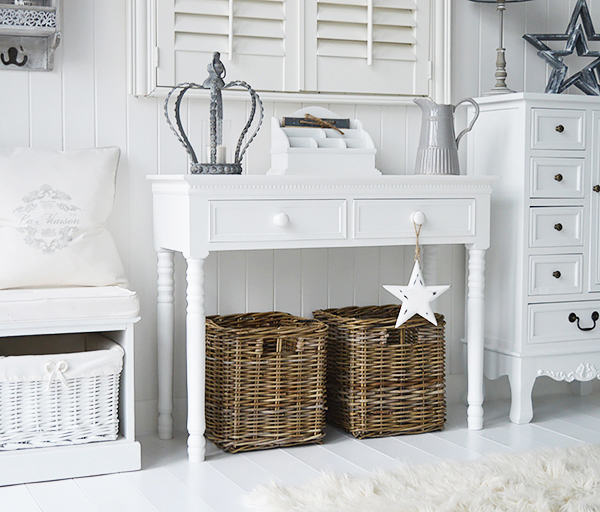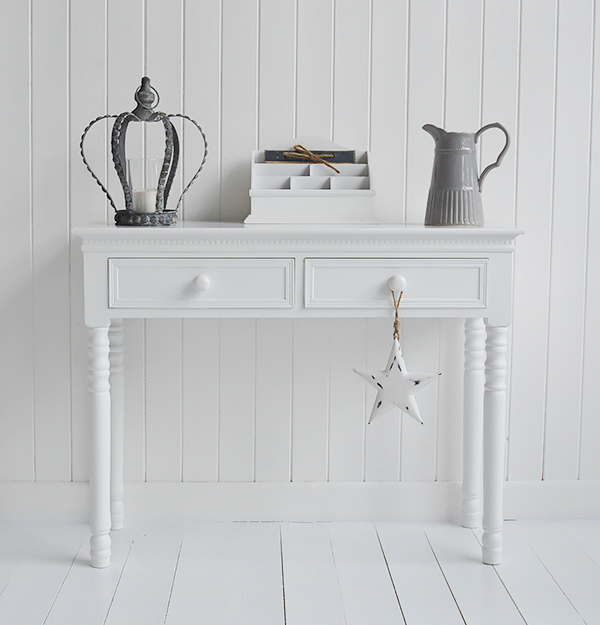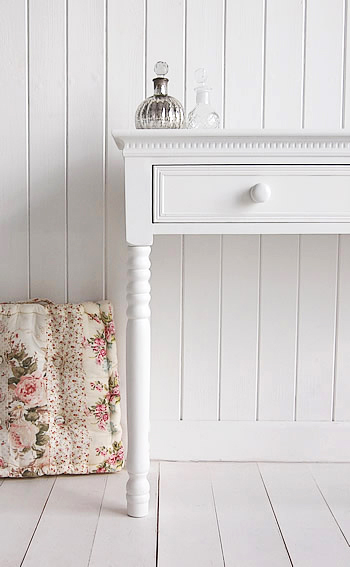 Rooms, Tips and Ideas
Hallway:  As a piece of hallway furniture The New England white cosnole table  offers a place to add a lamp for extra lighting to brighten a dark corner. a clock , photographs or flowers to welcome you and your guests. A mirror above will complete your hall, reflecting light and allow you to check yourself as you leave while also adding interest and niceness to what is usually an overlooked space.
The benefit of a white console table is that it will reflect light and make a smaller space look larger.
Tips: add a basket under the table for extra storage and to remove the clutter of shoes and bags
Living Room: A console table as a piece of living room furniture provides style as well as functionality. As a sofa table it offer a place to set drinks, maybe divide a room into separate areas and is a place to set photographs, flowers, lamps or a clock. Add height with a tall vase or flowers.
A basket underneath offers storage for cosy blankets, toys or magazines, keeping the room tidy as well as adding a little texture.
New England Style Interiors: Traditionally the typical New England style is all white, our table allows this to be the centre piece of your room. A perfect addition for a calming laid back room where you can easily add texture and interest with natural material with baskets, rugs and cushions. 
________________________
Related Products
White Console Tables
New England White Console Table with White Round Handles £169

New England White Console Table with antique brass handles £169

New England White  Console Table with Silver  Handles 

£169

Colonial White Half Moon Table with shelf £79

Colonial White Console Tablewith shelf £100

Colonial White Console Table with Drawers  £125

New England White Console Table £169
 

Grey Console Tables

Plymouth Grey Console Table £99

Plymouth Grey Half Moon Console Table £99

Winchester Grey Large Round Table £90

Newport French Grey Console Table £149

Newport French Grey Console Table £149

Driftwood Rustic Tripod Table £85

Newport Narrow Hall Table £79

Brittany Grey Console Table £189

 

Oxford Grey Console Table £139

 
_______________
White Furniture > Hallway Furniture > White Console Table > New England White Console Table
In Stock
Free Delivery
Product Review -

5 Stars

"Lovely table looks great in my hall." M. Walsh verified buyer Sutton-on-Trent

"Bought for my hallway painted in Farrow and Ball Lamp Room Grey, love the white against the grey" Lynne - verified buyer London

"Fits perfectly in my landing' verified Buyer Dublin
________________________
The White Lighthouse
Online furniture & accessories shop for the home...
New England l Coastal l White Furniture
Shop online for furniture with delivery to UK at our online store website: www.thewhitelighthousefurniture.co.uk
Hallway l Living Room l Bedroom l Bathroom l Accessories l Storage l New Items l Be Inspired