Hallway l Living Room l Bedroom l Bathroom l Accessories l Storage l New Items l Be Inspired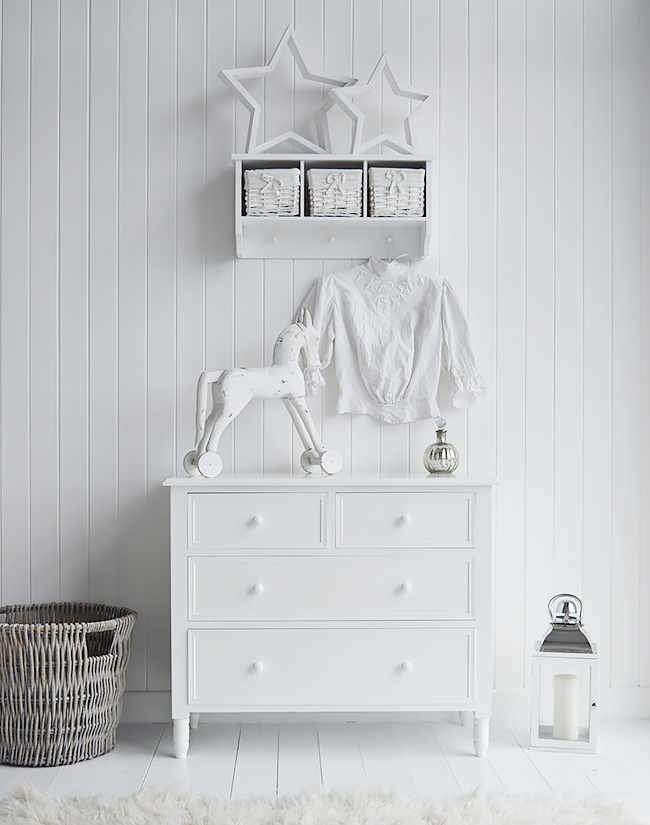 New England Simple White Chest of Drawers
The New England chest of white drawers with two different sized larger drawers and two smaller top drawers with white knob pull handles.
Our New England range of white furniture offers a simple, classic style for every room in your home.
Within our range of New England furniture range we have two variations in the chest of drawers to choose from with a set to suit your home. This set is very simple in design with straight lines throughout.
With the simple straight lines, this New England chest of drawers will fit perfectly in every interior style from a home on the coast to grand victorian houses in the suburbs with more traditional decor. The white chest makes for a superb choice for storage when decorating every room from bedrooms to bathrooms, living rooms and hallways.
The New England drawers are sturdy and robust, made from a strong wood composite and delivered to you fully assembled. The white satin paint allows you to easily wipe clean the surfaces.
Other pieces of white furniture are available to match these drawers including lamp tables in different styles, cabinets, cupboards and dressing tables.
Specifications
Height: 76cm
Width: 90cm
Depth:40cm
No Assembly Required
Price: £299
Delivery approx 10-12 working days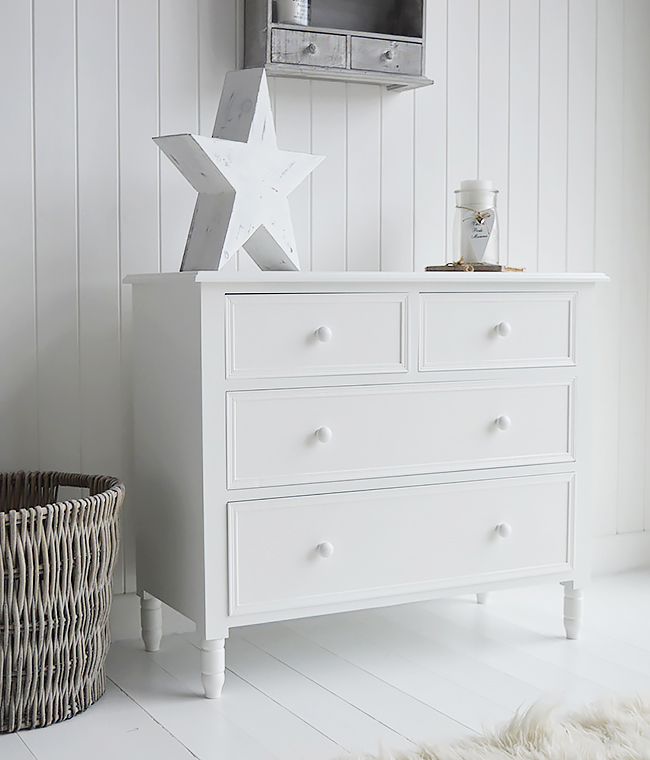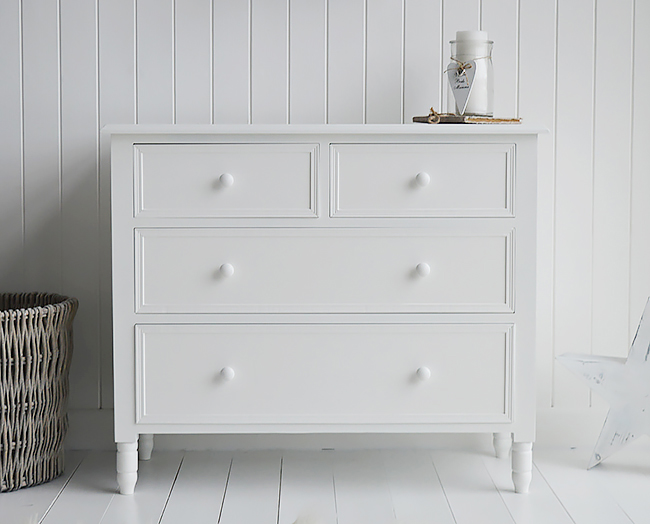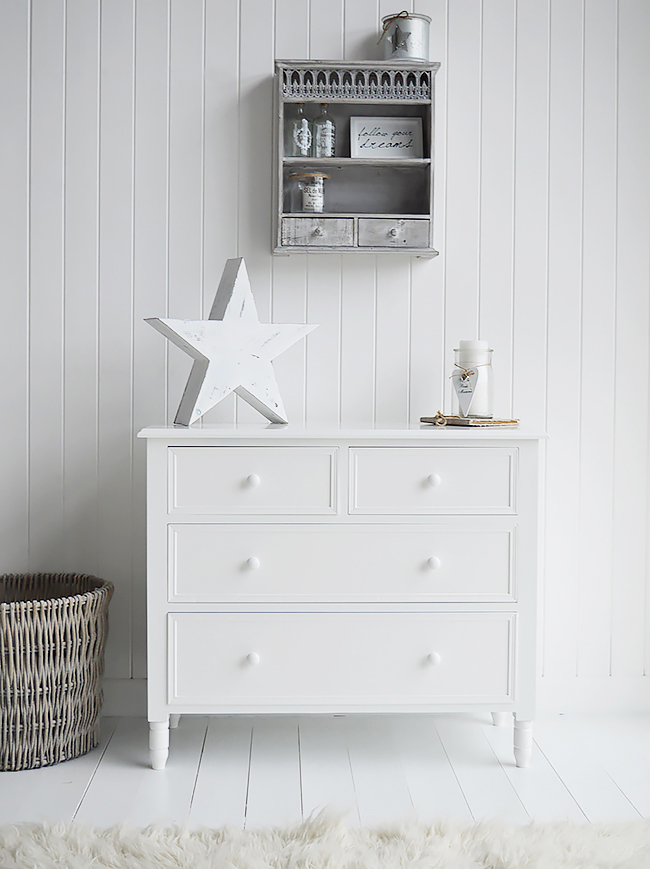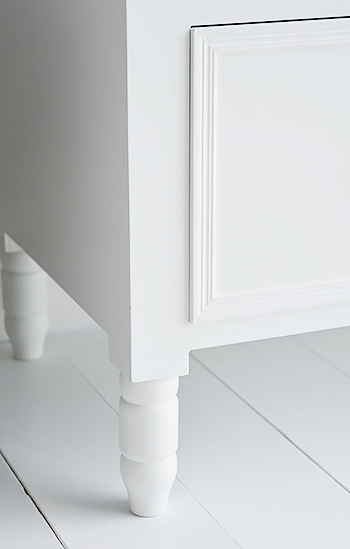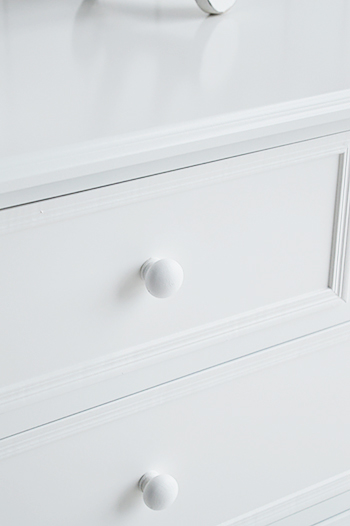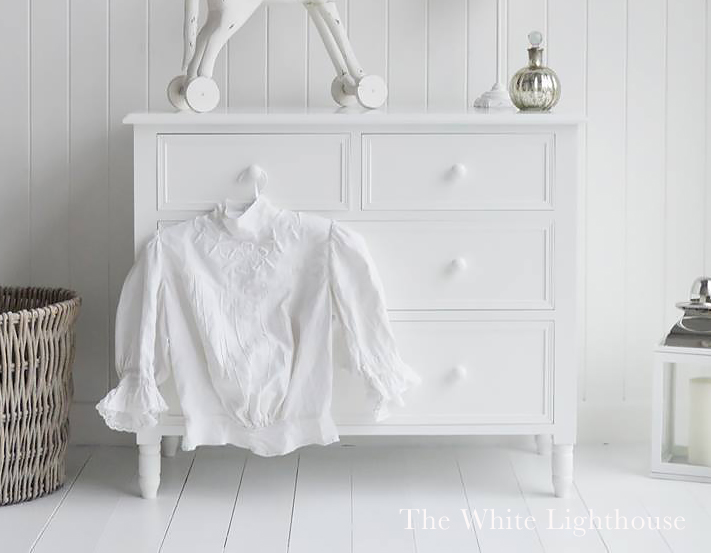 FAQ's
How long is delivery?
Generally delivery for the New England chest of drawers is within 8-12 working days from ordering. This is a general timescale and we do try to get it to you sooner. On dispatch we email you with your delivery details and delivery should be 2 working days after.
Do these drawers need built?
No the chest is delivered fully assembled and do not need built.
What is the finish?
The finish of the drawers is a bright white satin paint which can be esily wiped clean.
What is the chest made from?
The chest is very robust, made from a strong wood composite andpainted white.
What size are the drawers?
The two top drawers are smaller, perfect to separate underwear and socks. The middle drawer is larger, the full width, ideal for t-shirts. The bottom is a deeper drawer for jumpers
Would the chest of drawers suit my home?
The New England chest is a simple white set of drawers specifically designed to suit all rooms and styles of interiors. This chest is perfect for many differnent styles including coastal, New England, French and Scandinavian as well as being used in other rooms. A great idea if you have the space is a to place in a landing or hall to give extra storage, a living room as a sideboard or in your bathroom
If you have any questions about our New England Chest of Drawers, please do not hesitate to ask us by emailing info@thewhitelighthousefurniture.co.uk