Hallway l Living Room l Bedroom l Bathroom l Accessories l Storage l New Items l Be Inspired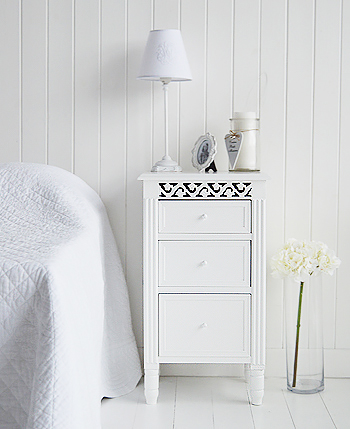 New England White Bedside Cabinet with Three Drawers
The New England white bedside cabinet with three drawers of different sizes and and an elegant cut out design.
The differing size drawers of this cabinet provide excellent bedside storage for toiletries, everday essentials and are large enough to store items of clothing
Specifications
Height: 71cm
Width: 40cm
Depth: 30cm
Top Drawer: , H: 7cm, D: 24cm, W:28cm
Middle Drawer: , H: 13cm, D: 24cm, W:28cm
Bottom Drawer: , H: 18cm, D: 24cm, W:28cm
Material: MDF
Delivered Free Fully Assembled
Price: £139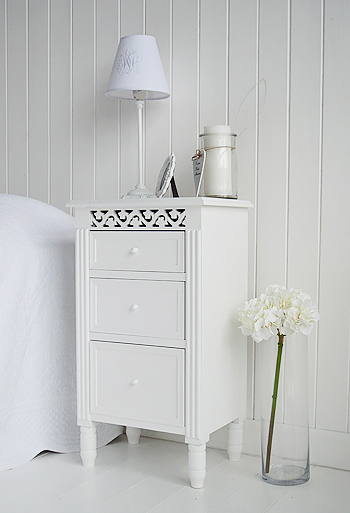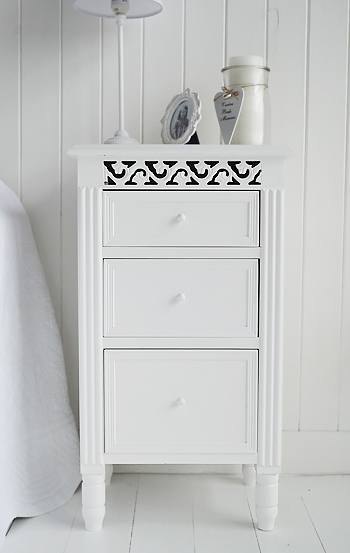 ________________________
At The White Lighthouse we have sourced and designed a wide range of gorgoeus but affordable white bedroom furniture to allow you easily to create a beautiful home.
We have endured to ensure our white furniture works elegantly with any colour and style of room. 
Absolutely striking against a dark wall and calm and relaxing, blending seemlessly with white, grey and neutral walls.
As one of our founding pieces from way back in 2003, if you have any questions about our New England White Bedside Table with three drawers, we will be sure to be able to answer so please do not hesitate to ask us by emailing info@thewhitelighthousefurniture.co.uk
______________________________
| | |
| --- | --- |
| | |
| Vermont Small Trunk Bedside £89 | White Bedside Table  £105 |
| | |
| Narrow Bar Harbor Small Bedside £35 | |
| | |
| | Bethel Cove White Bedside Tables £39 |
| Rose Bedside Cabinet £55 | Colonial White Bedside Table £89 |
| Bar Harbor Narrow Bedside Table £49 | Connecticut White Tray Table £39 |
| Colonial White Large Bedside Table £79 | Rose White Three Drawer Cabinet £75 |
| Maine White Bedside Table £59 | Maine White Bedside Table £48 |
______________________________