Hallway l Living Room l Bedroom l Bathroom l Accessories l Storage l 
New Items l Be Inspired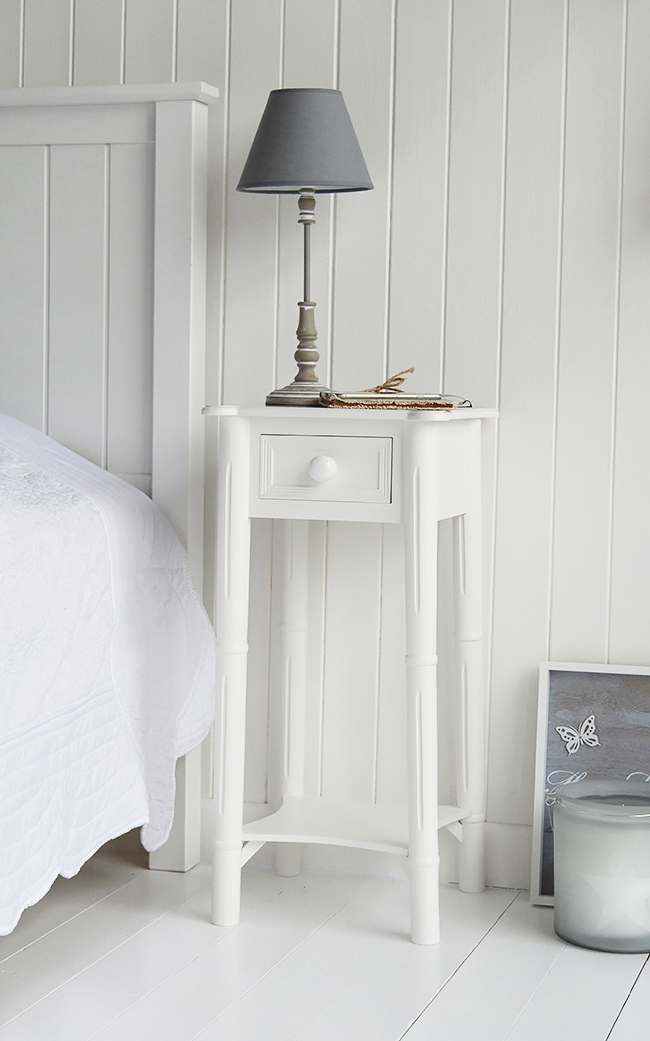 New England Tall White Bedside Table
A white bedside table with a single drawer with a bhunky white ceramic knob handle and a bottom shelf.
With its simplicity and elegance it will suit well in any home. The tall narrow table features rounded corners, engraved spindle legs and a bottom shelf to set books or a basket.
From The New England Range, it is finished in a white satin paint and can be complemented with other pieces from this range.
This is ideal as a bedside table in the bedroom or a lamp table in your living room or hallway
Specifications
Height: 71cm
Width: 35cm
Depth: 35cm
Material: MDF and Wood
Delivered Fully Assembled
Price: £105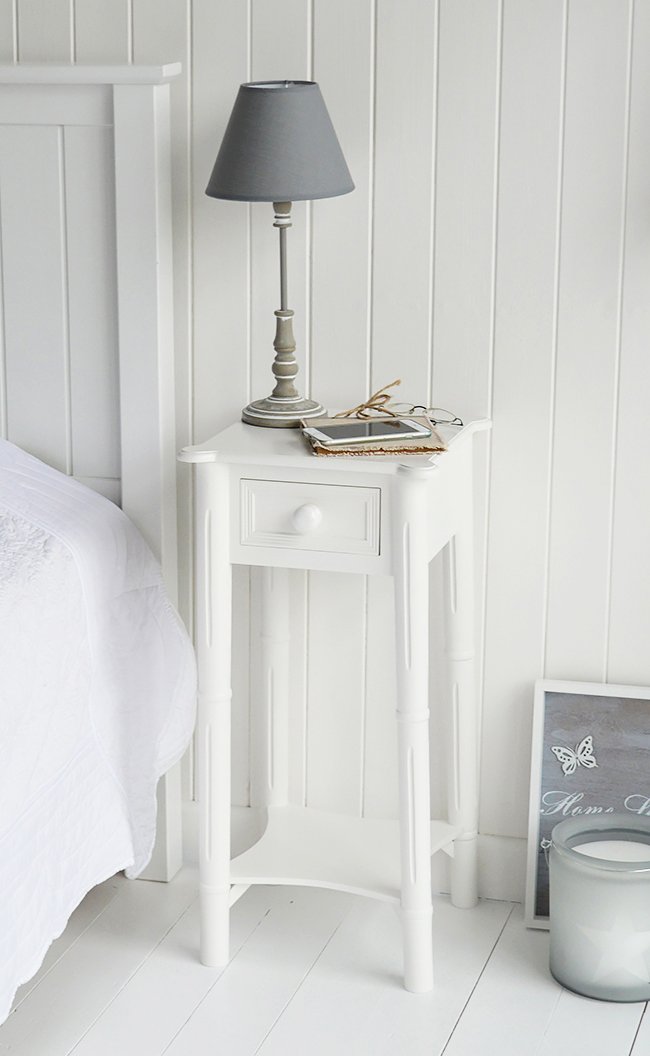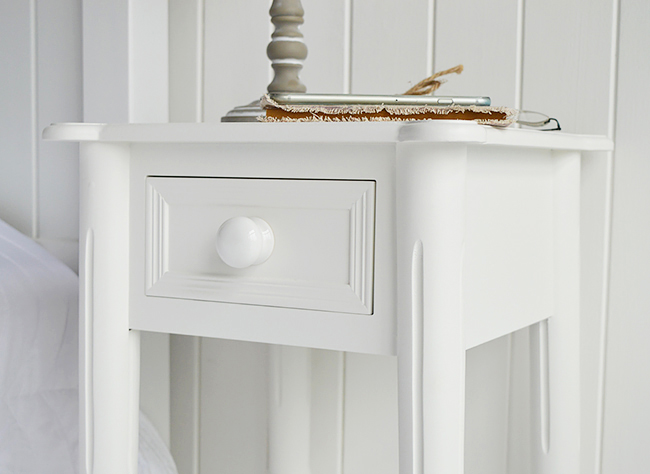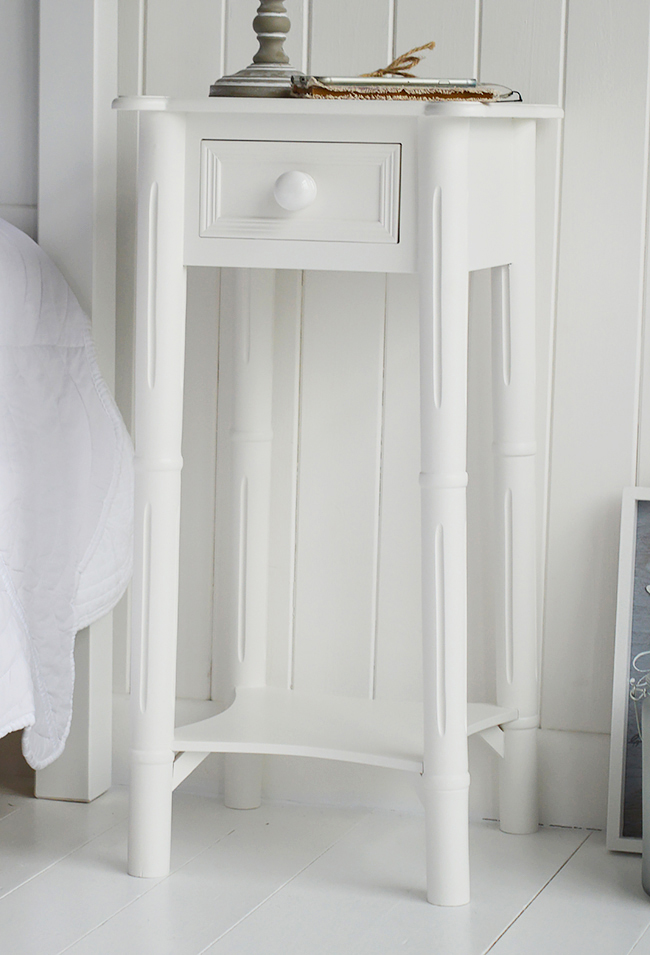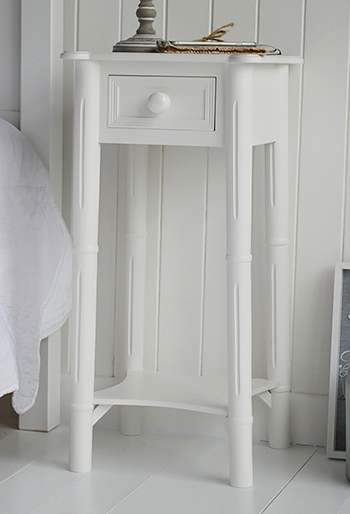 ________________________
At The White Lighthouse we have sourced and designed a wide range of gorgoeus but affordable white bedroom furniture to allow you easily to create a beautiful home.
We have endured to ensure our white furniture works elegantly with any colour and style of room. 
Absolutely striking against a dark wall and calm and relaxing, blending seemlessly with white, grey and neutral walls.
If you have any questions about our New England Tall Narrow White Bedside Table, please do not hesitate to ask us by emailing info@thewhitelighthousefurniture.co.uk
________________________
Bedroom Furniture
Dressing Tables l Narrow Bedside Table l Chest of Drawers l Bedroom Storage l Bedroom Seating  l White Furniture l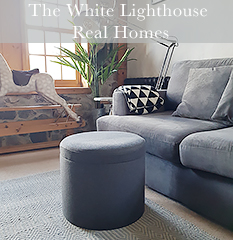 Desktop Images of New England White Bedside Table
______________________________
White Bedside Table £105

White Bedside Table £105

Dorset Narrow Bedside 

Table £49 Offer: Pair £89

Maine Bedside Table £52

White Bedside Table £105

White Bedside Table  £105

White Narrow Bedside Table £49

White Bedside Cabinet  £139

Maine White Bedside Cabinet £53

Portland Grey Bedside Table £32

New Haven White Bedside Table

 £42

New Haven White Bedside Table £59

White Tray Bedside Table £36

Plymouth Bedside Cabinets £59

Rose Bedside Cabinet £55

Henley Scandi Lamp Table £69

Narrow Bar Harbor Small Bedside £35

Bar Harbor Narrow  Bedside £49

Bar Harbor Bedside £55 ...OFFER Pair £85

Cornwall Grey Tray Bedside Table £33

Small Heart Narrow Bedside Table  £42

Sweetheart Narrow Bedside Table £49

Colonial White Bedside Table £150

Newbury Cream Cabinet £106

Colonial White Large Bedside Table £79

Rose White Three Drawer Cabinet £75

Grayswood Folding Table Was £46 Now £36

St Ives Grey Basket Storage £65

St Ives Grey Basket Storage £89

Newbury Cream Cabinet £77

 

Newbury Cream Cabinet £90

 
 
________________________
The White Lighthouse
Furniture & accessories for the home...
Hallway l Living Room l Bedroom l Bathroom l Accessories l Storage l New Items l Be Inspired