Hallway l Living Room l Bedroom l Bathroom l Accessories l Storage l New Items l Be Inspired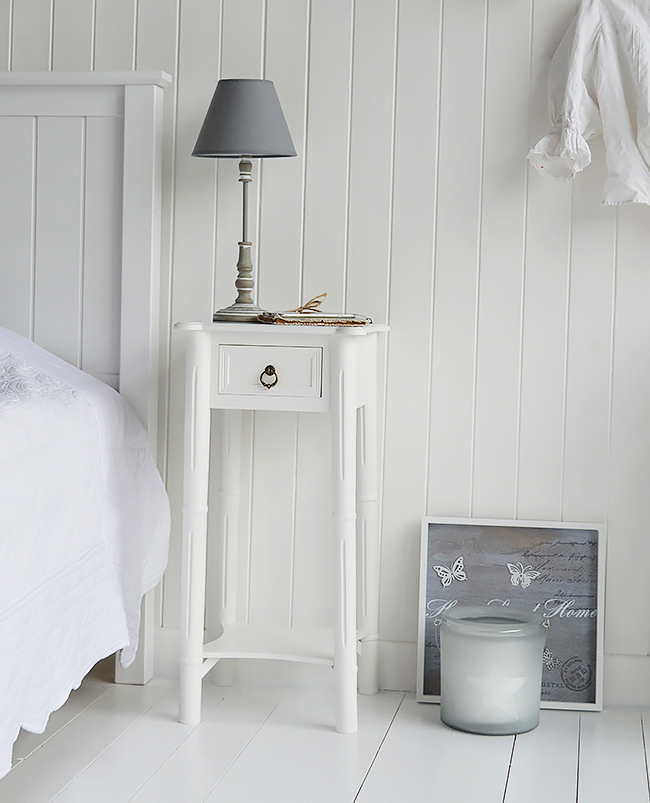 New England Tall White Bedside Table With Drawer and Shelf
A white bedside table with a single drawer with an antique brass drop pull handle and a bottom shelf.
With its simplicity and elegance it will suit well in any home. The tall narrow table features rounded corners, engraved spindle legs and a bottom shelf to set books or a basket.
From The New England Range, it is finished in a white satin paint and can be complemented with other pieces from this range.
Specifications
Height: 71cm
Width: 35cm
Depth: 35cm
Material: MDF and Wood
The table is delivered Fully Assembled
Price: £105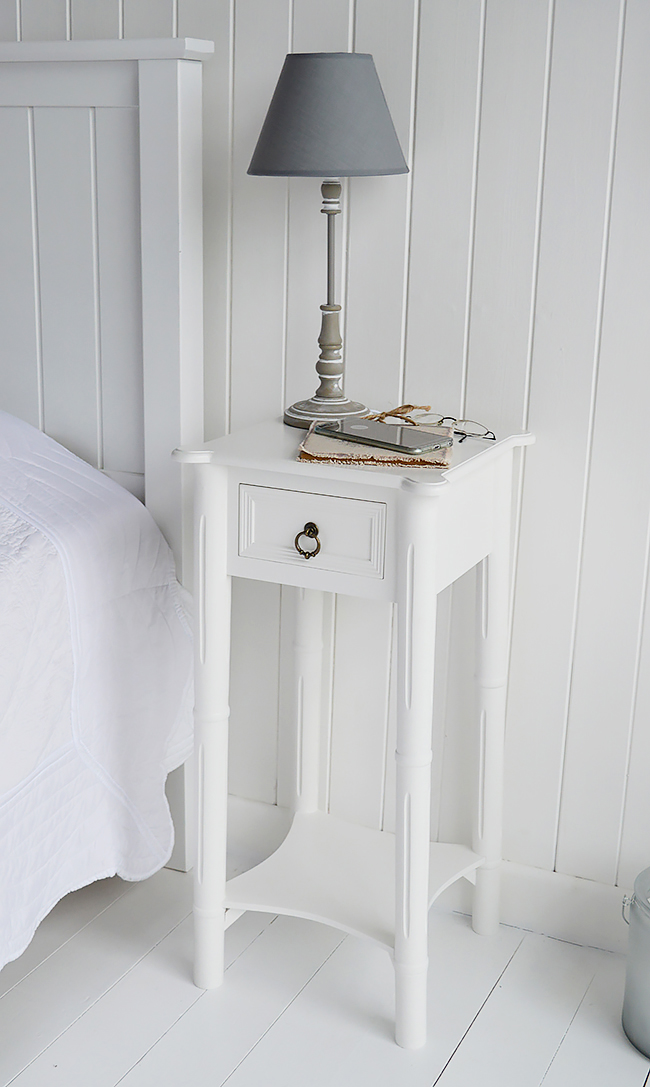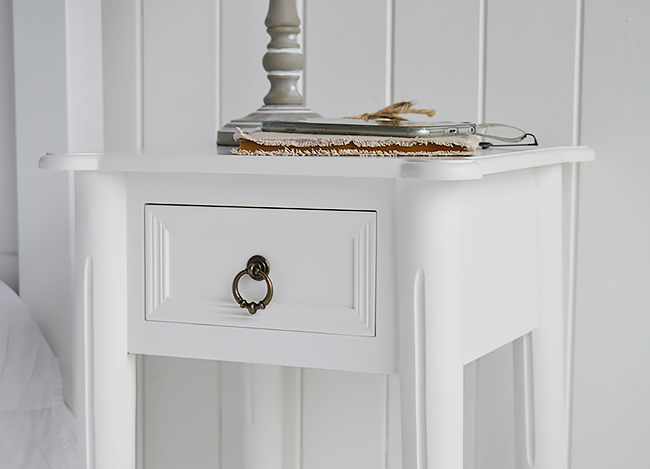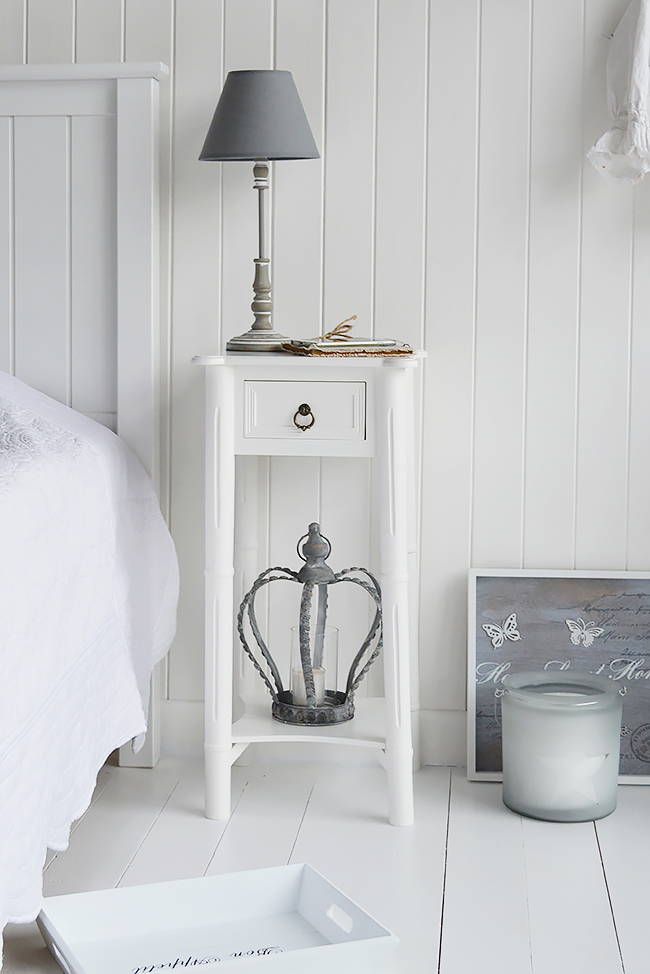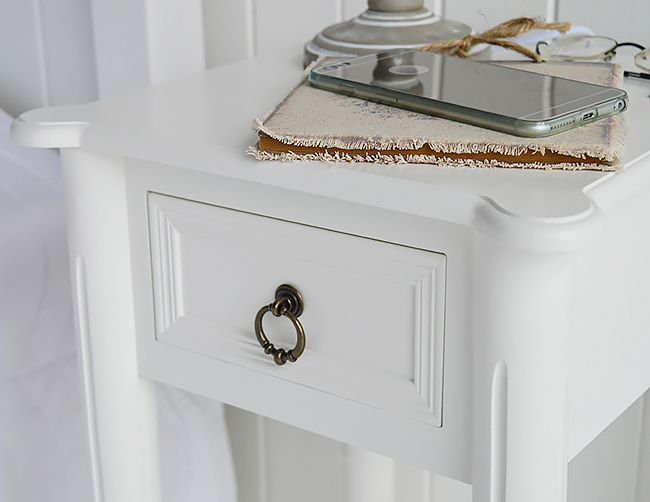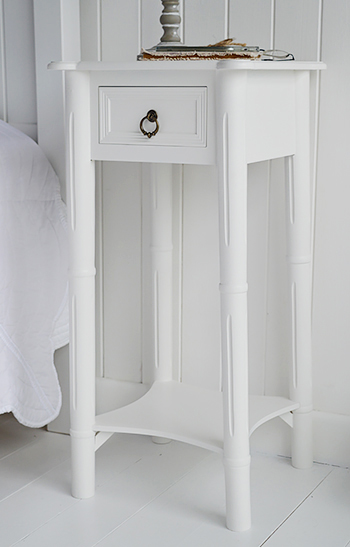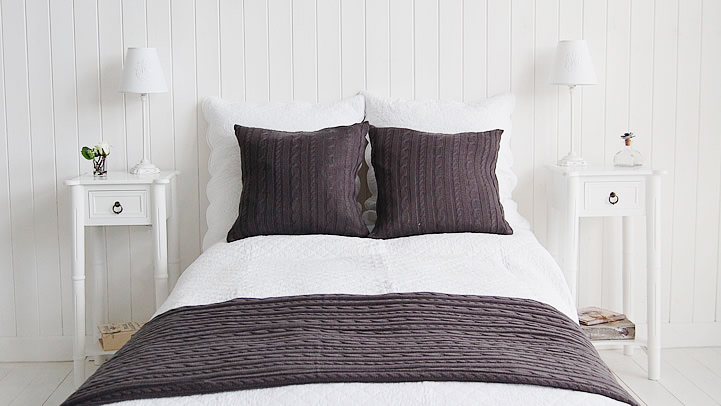 Room, Ideas and Decor
Bedroom: An ideal white bedside table to suit any style of bedroom interior, from traditional country cottage to coastal and for suburbian. The drawers makes great storage to keep essentails close at hand. The size of this table is perfect to fit into small spaces and the height is great to go alongside the taller beds.
Hallway / Living Room: A tall narrow lamp table to fit small spaces the height making it easy to reach.
Tip: Add your special piece of home decor under to make the table a focal point
________________________
At The White Lighthouse we have sourced and designed a wide range of gorgoeus but affordable white bedroom furniture to allow you easily to create a beautiful home.
We have endured to ensure our white furniture works elegantly with any colour and style of room. 
Absolutely striking against a dark wall and calm and relaxing, blending seemlessly with white, grey and neutral walls.
________________________
This is one of our longest serving bedside tables and has proven popular through the years due to its timeless design, so if you have any questions about our New England White Bedside Table, please do not hesitate to ask us by emailing info@thewhitelighthousefurniture.co.uk
______________________________
| | |
| --- | --- |
| | |
| Vermont Small Trunk Bedside £89 | White Bedside Table  £105 |
| | |
| Narrow Bar Harbor Small Bedside £35 | |
| | |
| | Bethel Cove White Bedside Tables £39 |
| Rose Bedside Cabinet £55 | Colonial White Bedside Table £89 |
| Bar Harbor Narrow Bedside Table £49 | Connecticut White Tray Table £39 |
| Colonial White Large Bedside Table £79 | Rose White Three Drawer Cabinet £75 |
| Maine White Bedside Table £59 | Maine White Bedside Table £48 |
______________________________