Hallway l Living Room l Bedroom l Bathroom l Accessories l Storage l New Items l Be Inspired
Kensington Silver Luggage Rack
A silver luggage shelf with four hooks for hanging in the style of a vintage luggage rail on a train.
As the name suggests The Kensington is a sophisticated, elegant silver couloured range of furniture, which lends a modern edge to a classic design
A lovely vintage style piece for your hall.
Specifications
Height: 9cm
Width: 79cm
Depth: 23cm
Material: Metal
Colour: Silver
Requires simple assembly
£35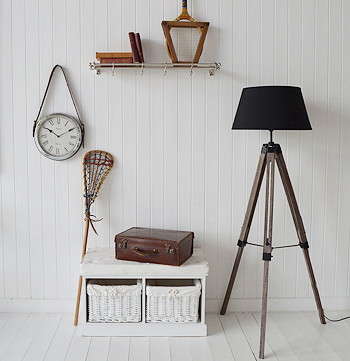 ________________________
Hallway Furniture 
Console Tables l Storage Seats and Benches l Coat Storage l Lamp Tables l Hallway Storage
________________________
The White Lighthouse
Furniture & accessories for the home...
Hallway l Living Room l Bedroom l Bathroom l Accessories l Storage l 
New Items l Be Inspired