The White Lighthouse Hall Furniture
Your hallway is the entrance to your home, welcoming you home every day, but it is a room often forgotten about. With the right design and furniture, hallways can be places to stop and rest becoming the centre of your home. Halls can add storage and extra living space and give your guests a great first impression to your home. View our hall furniture ideas page for furniture and decorating ideas
The hallway needs to be kept tidy and clutter free making storage furniture imperative. This is especially the case for narrow and slim halls. Our team at The White Lighthouse have designed many pieces of white furniture and small hallway furniture for organisation of shoes, coats, bags to heep your hall tidy and beautiful.
Some ideas for hall furniture are...
...Console Tables. The main deciding factor on choosing a console table is the size of your hallway. For small hallway furnitre you may be best considering a lamp table, but whatever your choice ensure the table offers some extra storage such as drawers for smaller items including coins, pens, keys that create general untidiness. Place a basket under the console for storage of shoes or bags. An idea is to purchase a white console table, this will reflect light and not take over the space as much giving the impression of a larger space. A console table will also provide display space for lamps, photos and your favourite home decor pieces. 
...Coat Racks and Stands. Coats create such a mess in the hallway, if they do not have a specific place they are thrown down or hung over the bannister. A simple coat rack with hooks or coat stand is a very simple solution. Give coats, hats, scarves and dog leads a plce to live without muchy effort. A coat stand will take more floor space, but coat hooks on the wall are just as good an alternative and much cheaper.
...Storage Benches. We know from general family life that bags and shoes are a major cause of irritation when trying to keep the hall tidy. A perfect solution for this is a storage bench or trunk if there is less space. There are many different options and styles to suit your decor.
See more ideas on decorating your hall...
___________________________
Furniture in Hallways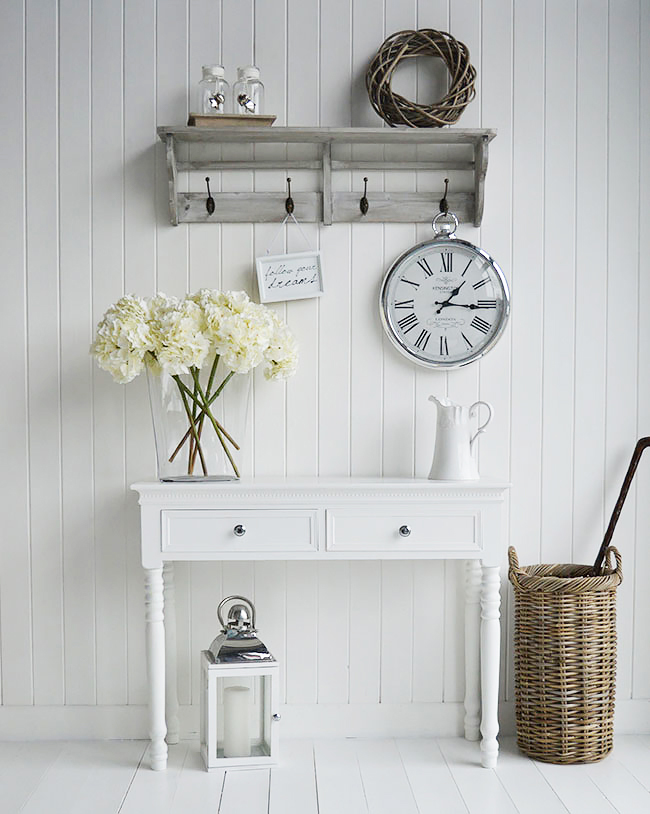 White Small Hallway Furniture
White furniture in a hall is perfect for smaller hallways, white creates an illusion of space reflecting the light throughout. We have featured here a white storage bench and small chest of white drawers to hide away daily clutter, a white console table for lamps and to display photos and home decor with a set of baskets under for shoes.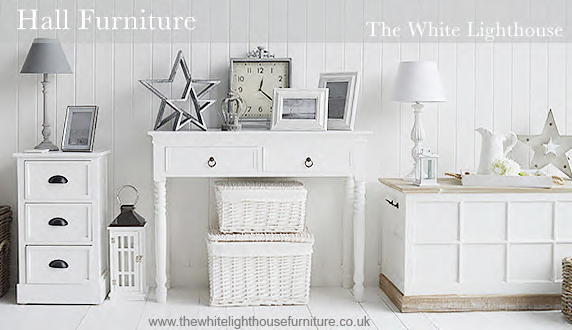 Helpful Advice and tips on decorating your hall
Coastal and Beach Hallway Furniture
Ideas for decorating hallways in Coastal and Beach Homes..
White Half Moon Console Tables
Don't take as much room but just as beautiful
Small Hallway Spaces...
Ideas on decorating a small hallway
London Hallway Calling 
How to furnish a hallway in London when space is at a premium...
Hall Table ......
Add elegance to your hall
New England Hallway Furniture
Ideas on decorating your hall in typical New England style
Style Your Console Table 
Ideas on how to style your console table
Do I Need a Console Table?
The answer is definitely yes, find out why..................
Create a Great First Impression
Hallway furniture is so important..............
Advice on White Hall Tables
Some advise on choosing a hall table.......
Hallway Decorating Ideas
Ideas on decorating your entranceway...