We offer many ideas on how to decorate and furnish hallways to give you the extra storage you are looking for.
Hall Furniture Ideas
Scandinavian Style
Give your hall a bright and airy feel by decorating in Scandi style with light hall furniture and white painted walls.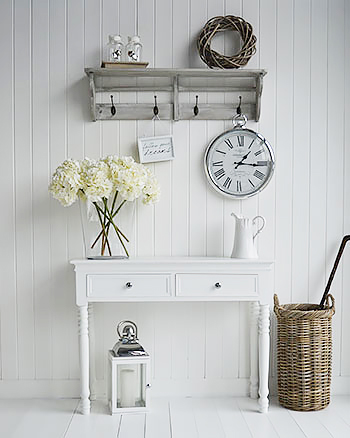 Our classic New England white console table with accessories and greyed washed coat hooks are all you ned for this simple style.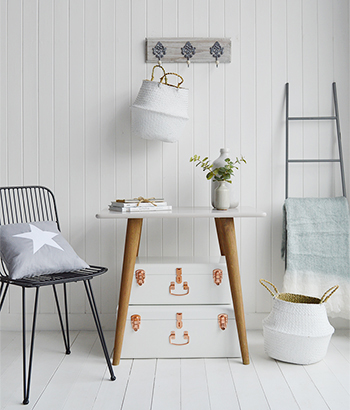 Just a few of our hallway pieces of furniture...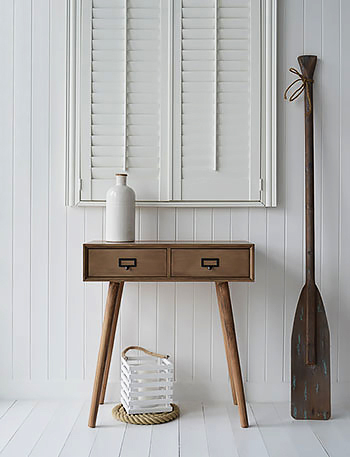 The Henley mid century style of console table is typical Scandi style with simple straight lines. Different accessories can further add to the style.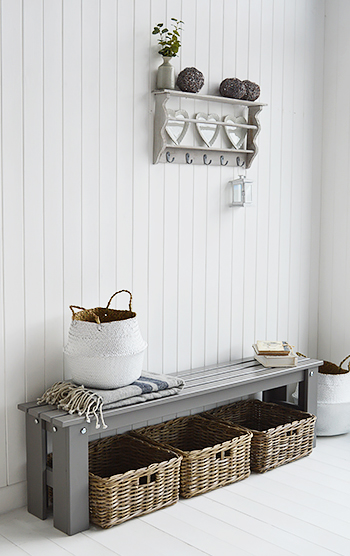 Striangt lines for simplicity in your hall with the Kittery Grey Bench at £65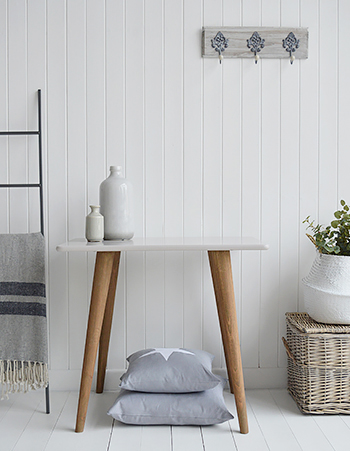 The Rhode Island grey table is a lovely addition to a white or grey hall in all styles of interiors.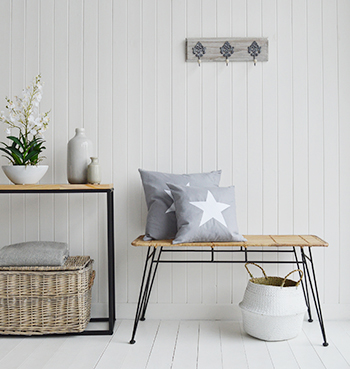 Providence bench £78, offer a place to store shoes and bags to tidy the hall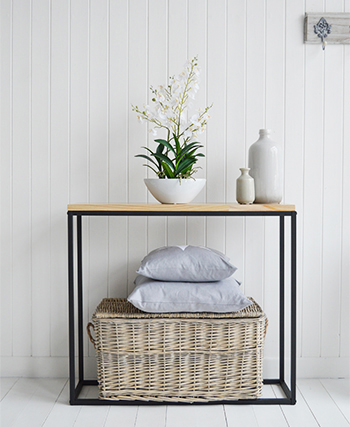 Brooklyn narrow console table £69 with baskets under and a few home decor pieces
..........................................................
Country Style
Create a great first impression with a country style hallway. A traditional style of hallway decor that incorporates painted furniture and plenty of storage.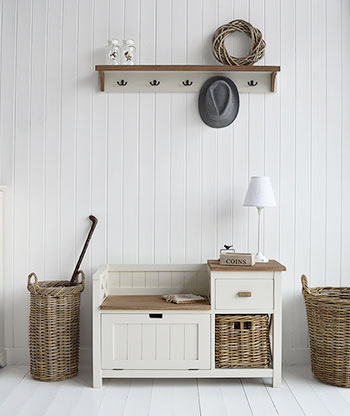 The cream painted Brunswick bench offers lots of storage with shoe cupboard, drawers, table and seat. Baskets are very typical of the coutry style and provide plenty of extra storage to tidy the general clutter assoiciated with country interiors.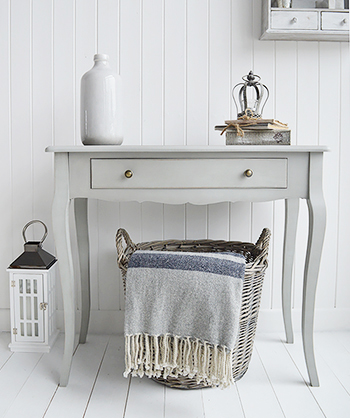 The New Hampshire is a lovely grey console table suitable for all hallways with the neutral colour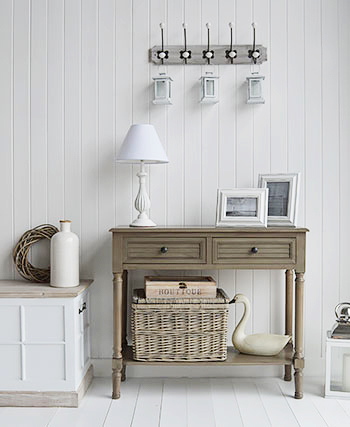 The Newport table in French Grey with a shelf and drawers perfectly complements country interiors
..........................................................
Coastal Style
Coastal style is a great idea for decoarting hallways. Bright and airy, it will warmly welcome you every time you enter your home. White walls and white painted furniture and floorboards typify this timeless style. Adding subtle nautical accessories add to the look.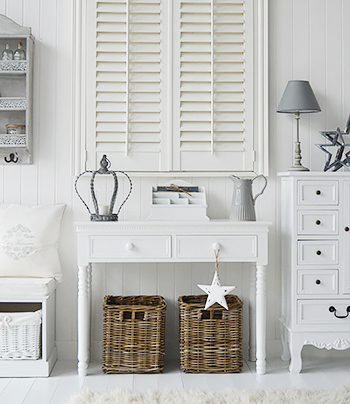 The Classic New England white console table with other pieces of white furniture give such an airy feeling. Baskets under the console give extra storage.
..........................................................
Shades of Grey
An ever increasing popular choice for homes is a grey and white hallway. The contrast between grey and white makes for a calming but sophisiticated look.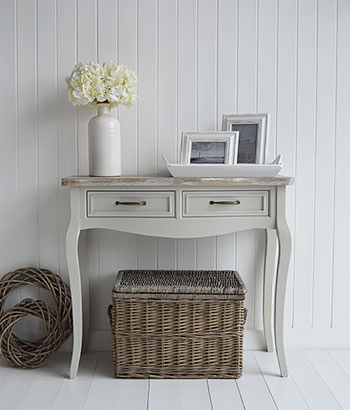 The light grey Brunswick range with the grey washed top is suitable for different styles of grey hallways including coastal, cottage, french and country.
..........................................................
French Style
The French style is warm and practical with rustic types of furniture giving a lived in loved chic to your hall
..........................................................
Ideas for Hall Furniture
Coat Stands
Coats creat such an untidy mess in the hallway, if they do not have a specific place they are thrown down or hung over the bannister. A simple coat rack with hooks or coat stand is a very simple solution.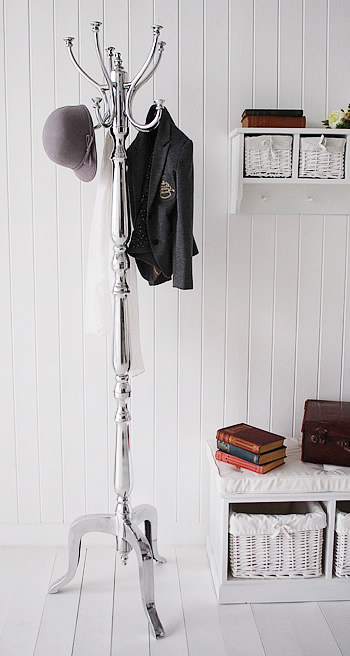 This Chrome coat stand is a fabulous centre piece of hall furniture which gives the elegant appeal you are looking for to create a fabulous first impression for your guests. As the name suggests The Kensington is a sophisticated, elegant aluminium range of furniture, which lends a modern edge to a classic design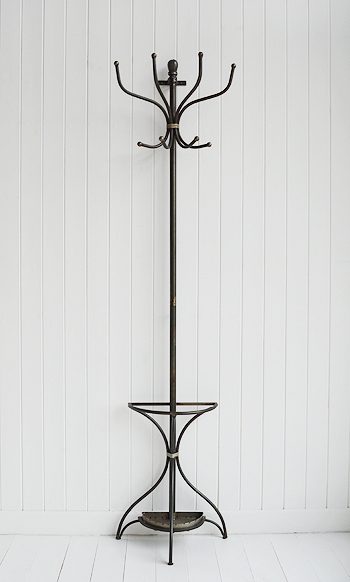 A wall mounted coat stand gives the same functionality but does not take as much floor space. Traditonal bentwood coat stand provides hanging space for coats and scarves. The integrated umbrella stand gives space for walking sticks, umbrellas and hockey sticks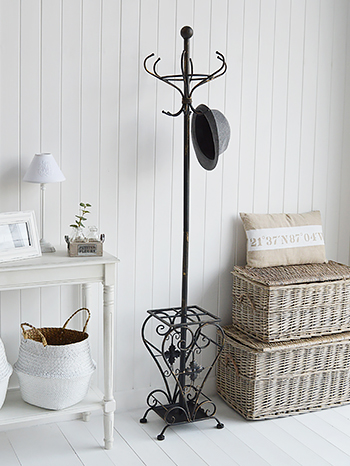 The Stamford coat and umbrella stand in antique black. An essential piece of hallway furniture, the Stamford metal coat rack and umbrella stand finished in distressed antique black provides the perfect hall storage solution. Also available in an aged white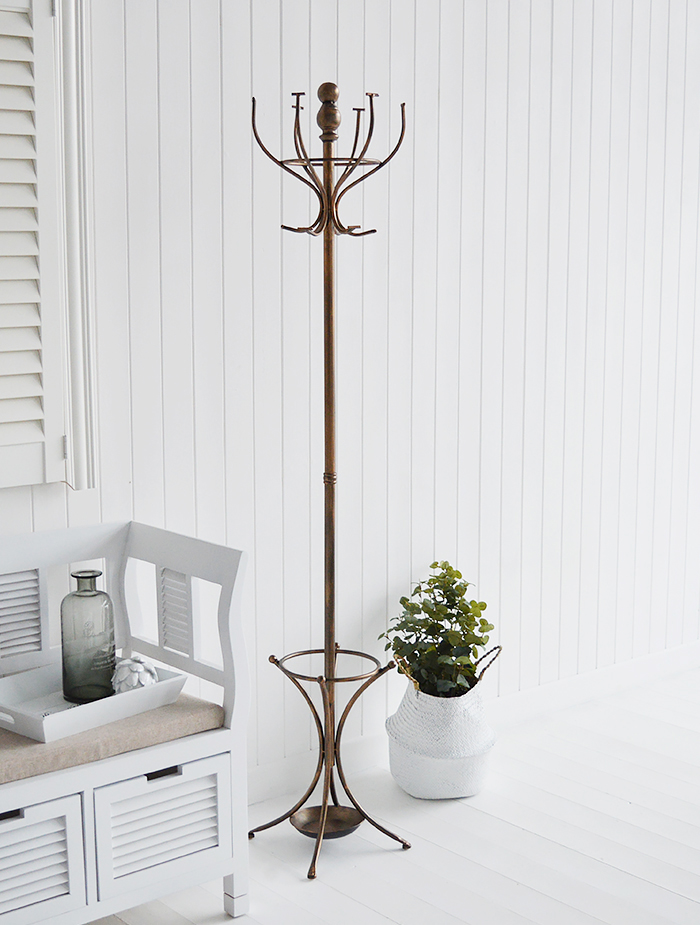 Traditional style of hat and coat stand in an aged copper finish £78
Coat Racks and Hooks
Coat racks and hooks are a perfect to tidy coats and scarves in smaller hallways.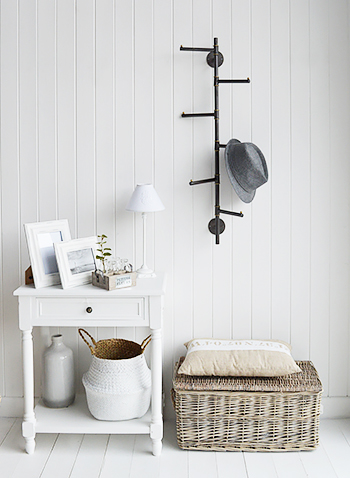 Portland wall rack for narrow spaces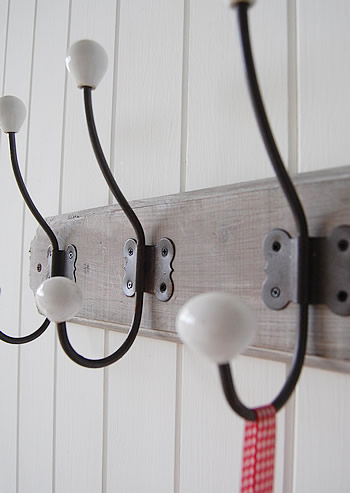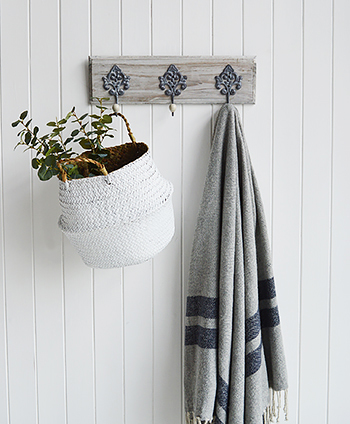 Parisian Grey Coat rack, other sizes and styles are available in this range and look great on both light and dark hall walls.
Console Tables
The main deciding factor on choosing a console table is the size of your hallway, you should go as large as possible. Ensure the table offers some extra storage such as drawers for smaller items including coins, pens, keys that create general untidiness. Place a basket under the console for storage of shoes or bags. An idea is to purchase a white console table, this will reflect light and not take over the space as much giving the impression of a larger space.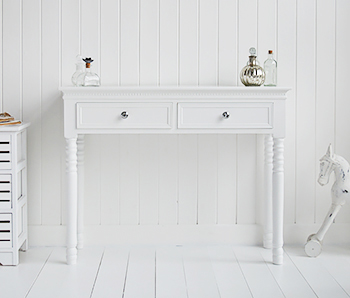 A white console table with two drawers and polished silver colour handles. A crisp white range of furniture for a sophisticated and classic look to any colour of hallway. The drawers provide plenty of essential storage for your everyday items. The silver handles of this table blend fabulously into a hotel boutique style of hall decor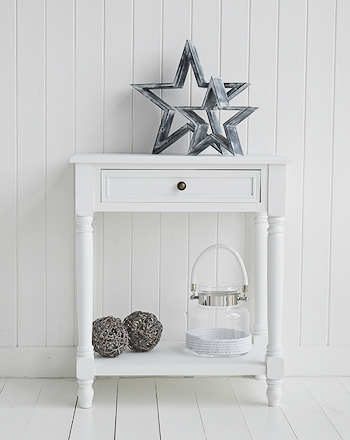 The Cove Bay white table with bottom shelf and drawer with antique brass pull knob. A rustic but refined range, finished in a distressed white paint giving the furniture a beach house look. Antique brass handles and turned legs give it a more refined feel. A perfect for small hallway furniture.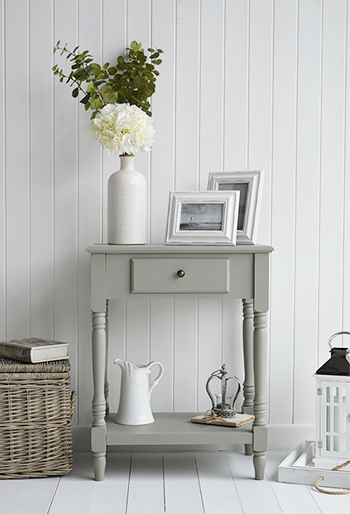 The Charleston grey table with bottom shelf and drawer with antique brass pull knob. This table is rustic but refined, finished in a distressed grey paint giving the furniture a classic french look. The antique brass handle and turned legs give it a refined feel.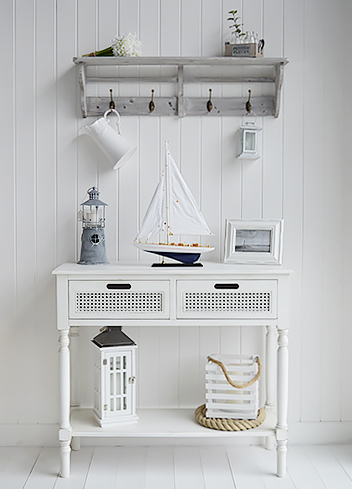 The Bridgeport half moon grey console table with a drawer. The Bridgeport range of furniture is a light grey range of furniture with a slight aged finish, elegant curved legs and edges, antique brass handles and a chunky washed rustic driftwood effect top. This half moon console table is ideal for smaller hallways.
The White Colonial console table with a shelf. A laid back colonial style of furniture for a light and airy interior. Finished in a slightly distressed antique white paint, The British Colonial range creates a sophisticated space with a touch of formality for white bedroom, living room and hallway furniture.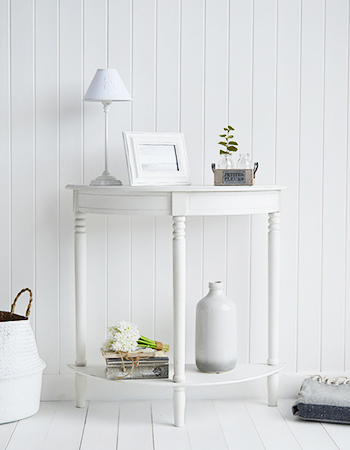 A range of white furniture for the hall, A laid back colonial style of furniture for a light and airy interior. Finished in a slightly distressed antique white paint, The British Colonial range creates a sophisticated space with a touch of formality.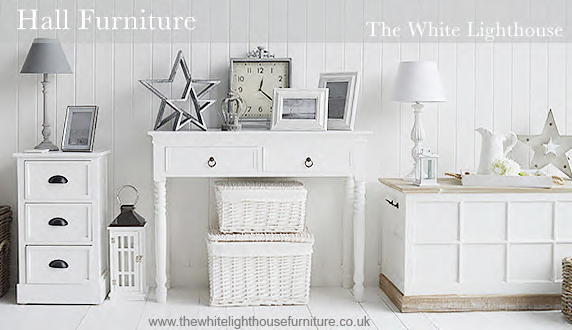 ..........................................................
Whether your hall is small or large you will find many different storage solutions, tables, elegant centre pieces or simply finishing touches within our range. 
Hallway furniture pieces add extra depth to your home by giving the addition of extra living space, storage and functionality.
A storage seat gives extra seating while providing much needed storage your family home requires. If space is at a premium, which is generally the case in most homes with no room for a coat stand, a rack with hooks offers an area to hang several jackets, coats and schoolbags.
Including a hall table lends an extra surface for a lamp, awarding extra light, and to display flowers or family photographs. With generally narrow hallways in most homes, a table presents a magificent focal point, not intruding on space and illuding a larger area.
We have included many photographs above to help with ideas on decorating and the furniture for your hall.
Article by Peter Jones l Designer at The White Lighthouse
Ideas on Decorating Different Styles of Hallway
Coastal and Beach Hallway Furniture
Ideas for decorating hallways in Coastal and Beach Homes..
White Half Moon Console Tables
Don't take as much room but just as beautiful
Small Hallway Spaces...
Ideas on decorating a small hallway
Coats and Clutter
A few ideas on how to remove clutter from the hall
London Hallway Calling 
How to furnish a hallway in London when space is at a premium...
Hall Table ......
Add elegance to your hall
New England Hallway Furniture
Ideas on decorating your hall in typical New England style
Style Your Console Table 
Ideas on how to style your console table
Lamp Tables....
A petit console table
Do I Need a Console Table?
The answer is definitely yes, find out why..................
Hallway Furniture
Keep Britian's hallways tidy.......
Create a Great First Impression
Hallway furniture is so important..............
Advice on White Hall Tables
Some advise on choosing a hall table.......
Hallway Decorating Ideas
Ideas on decorating your entranceway...