Hallway l Living Room l Bedroom l Bathroom l Accessories l Storage l New Items l Be Inspired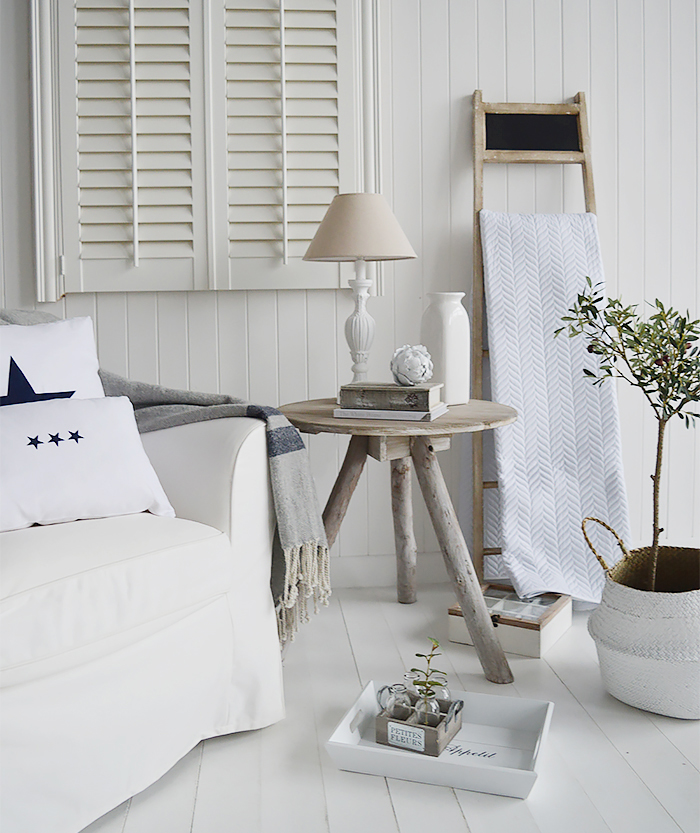 Driftwood Side Table
A rustic driftwood effect tripod side table
Finished in weathered grey effect wood.
A perfect side table for every room your home, bedroom, living, bathroom and hall. Ideal for  New England, country, scandinavian and coastal style interiors.
Specifications
Height: 61.5cm
Width: 60cm
Depth: 60cm
Materials: Wood
Simple assembly to attach legs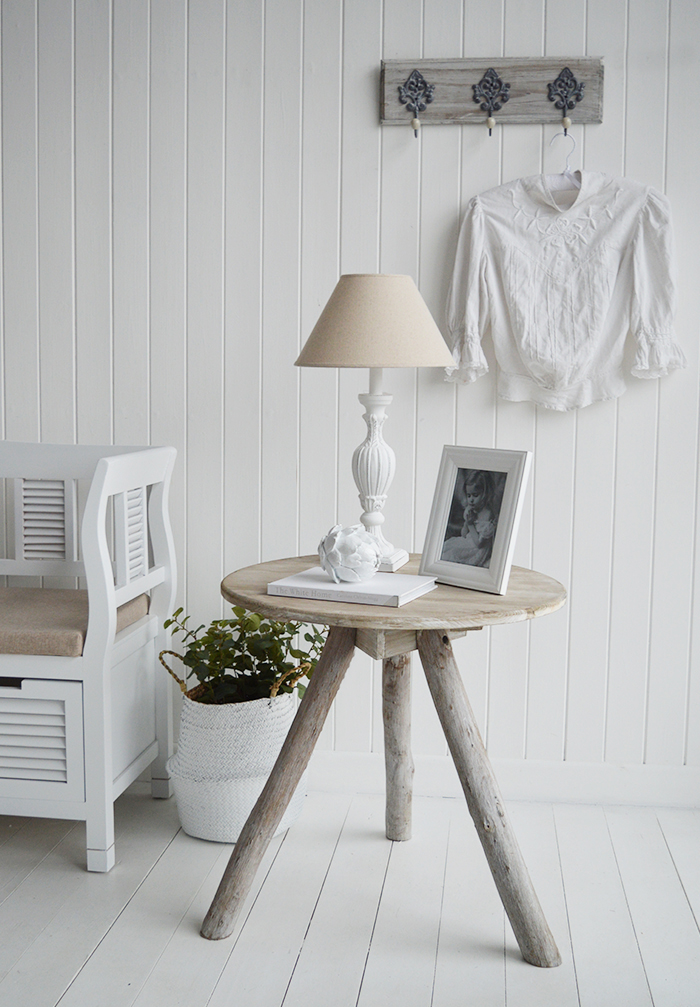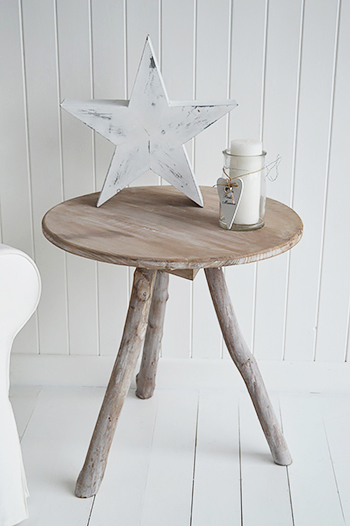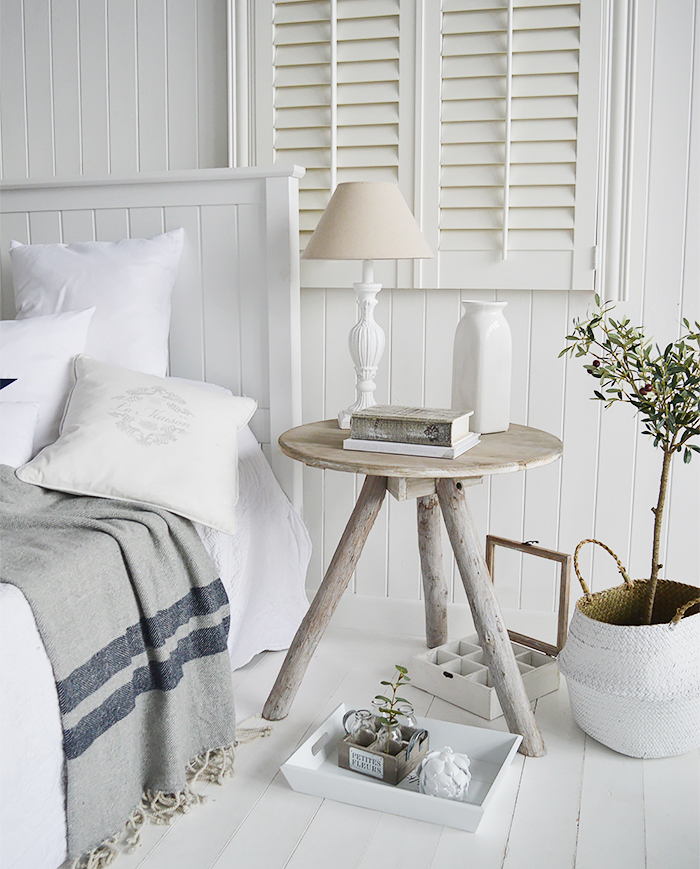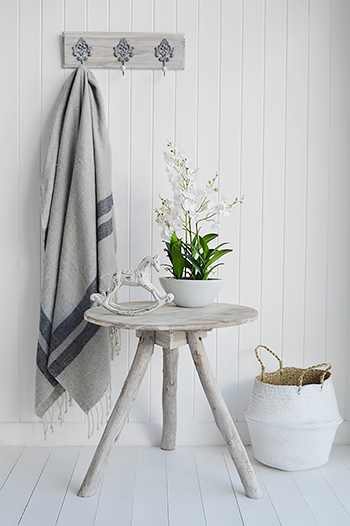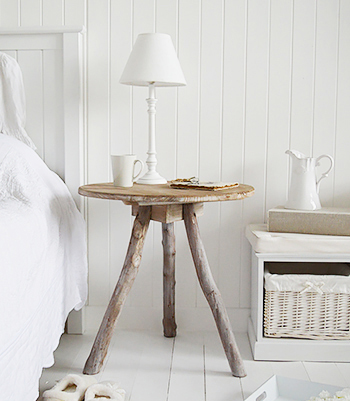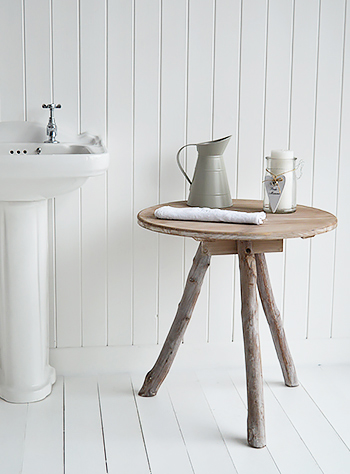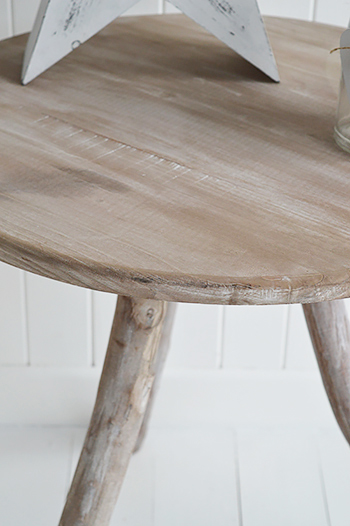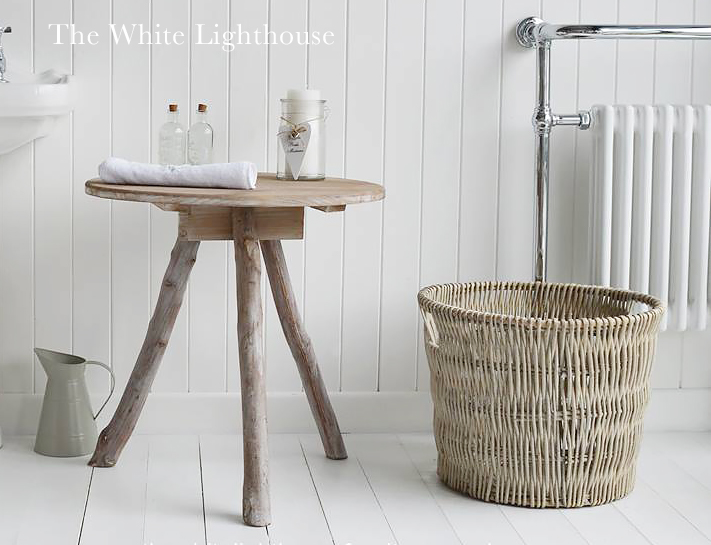 Rooms, Tips and Decor
Bedroom: Lovely bedside tables for a coastal bedroom, Place at the side of each bed with a vase of flowers and a lamp. Add some books of interest for a relaxing feel
Living Room: The large size driftwood effect side table allows you to add a large eye-catching lamp along with other decorative accents.
Bathroom: Use as a table beside the bath to keep everything close at hand and decorate to suit the interior.
Hall: Add a lamp to brighten up a dark corner and a vase of flowers to welcom both you and your guests. Special photographs give the personal touch to your home.
Decor: The Driftwood table is perfect in any home, taking inspiration from the beauty of weathered wood on the coast to wherever you live. 
The washed colour will keep your home feeling light and bright.
For a cool and calming look, match the table with plain linens and soft furnishings in pale colours . Naturally coloured floor coverings will finsh this serene look.
If you have any queries about our Driftwood Grey Table, please do not hesitate to ask us at info@thewhitelighthousefurniture.co.uk
_________________
_________________________
Hallway Furniture / Living Room > Lamp Tables > Coastal Furniture >  Driftwood Table
White Furniture > Bedroom Furniture > White Bedside Table > Coastal Beach Furniture > Driftwood Bedside Table
______________________________
White Bedside Table £105

White Bedside Table £105

White Bedside Table  £105

Maine Bedside Table £52

White Bedside Table £105

White Bedside Cabinet  £139

White Narrow Bedside Table £49

Portland Grey Bedside Table £32

 
 

New Haven White Bedside Table

 £42

New Haven White Bedside Table £59

White Tray Bedside Table £36

Plymouth Bedside Cabinets £59

Rose Bedside Cabinet £55

Colonial White Large Bedside Table £79

Narrow Bar Harbor Small Bedside £35

Bar Harbor Narrow  Bedside £49

Bar Harbor Bedside £55 ...OFFER Pair £85

Cornwall Grey Tray Bedside Table £33

Small Heart Narrow Bedside Table  £42

Sweetheart Narrow Bedside Table £49

Colonial White Bedside Table £150

Newbury Cream Cabinet £106

Rose White Three Drawer Cabinet £75

 
_____________________________
Related Console Tables
Console tables, most often found in as hallway furniture pieces, provide style and functionality, they add storage and extra surface for lamps and flowers giving you a warm welcome as you enter your home. See our full range of console tables
White Console Tables

New England White Console Table with White Round Handles £169

New England White Console Table with antique brass handles £169

New England White  Console Table with Silver  Handles 

£169

Colonial White Console Table with Drawers  £165

 
 

Colonial White Half Moon Table £79

Colonial White Console Table £100

 
 

Grey Console Tables

New Hampshire Grey Console Table £155

Rhode Island Grey Table / Desk £69

Plymouth Grey Console Table £99

Newport French Grey Console Table £150

Newport French Grey Console Table £150

Driftwood Rustic Tripod Table £79

Newport Narrow Hall Table £79

Brittany Grey Large Console Table £199
________________________
The White Lighthouse
Furniture & accessories for the home...
Hallway l Living Room l Bedroom l Bathroom l Accessories l Storage l New Items l Be Inspired