Hallway l Living Room l Bedroom l Bathroom l Accessories l Storage l New Items l Be Inspired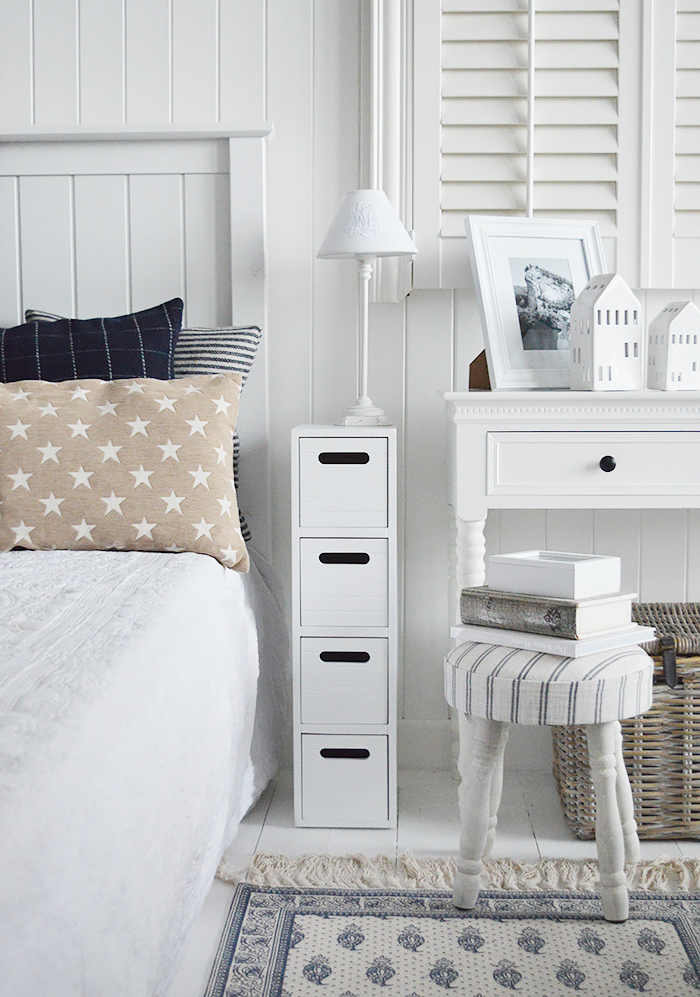 Dorset Very Narrow White Bedside Table
A very narrow slim white bedside table from the Dorset Range with four drawers
Ideal for when space is tight, At only 17cm for the max width, the Dorset slim range offers storage for narrow spaces, with four drawers.
"Perfect for max width of 20cm"
With a white satin painted finish, handless drawers, straight lines and New England style cladding on top, sides and drawers , this simple unit is perfect for any room in your home whether you are in the country, by the coast or in the city
Specifications
Height: 67cm
Width: 17cm
Depth: 24cm
Drawer: W: 14cm, D: 22cm, H; 14.5cm 
Material: MDF and Wood
Fully Assembled 
Currently out of stock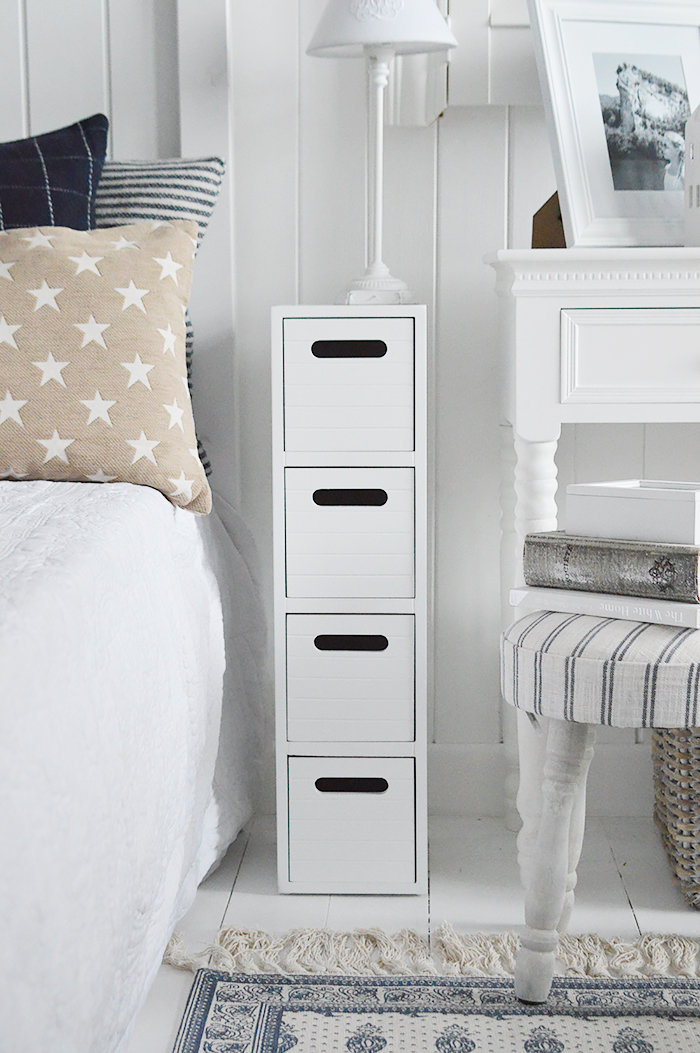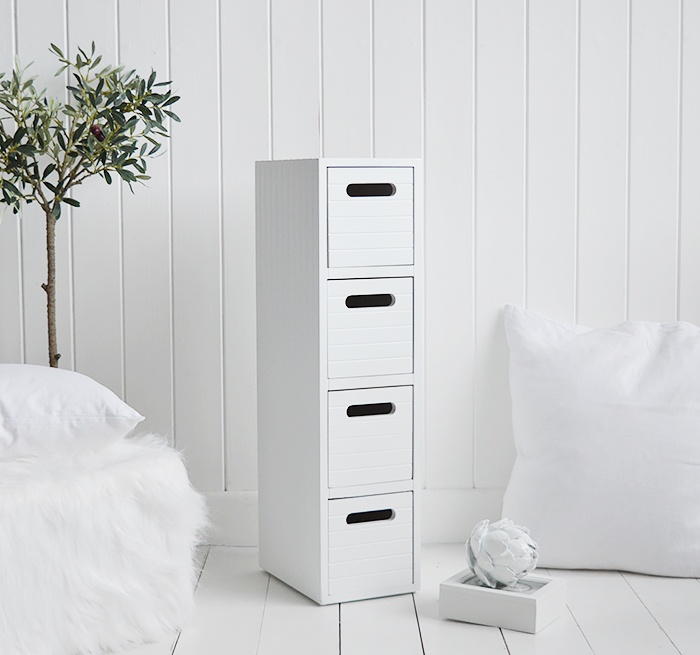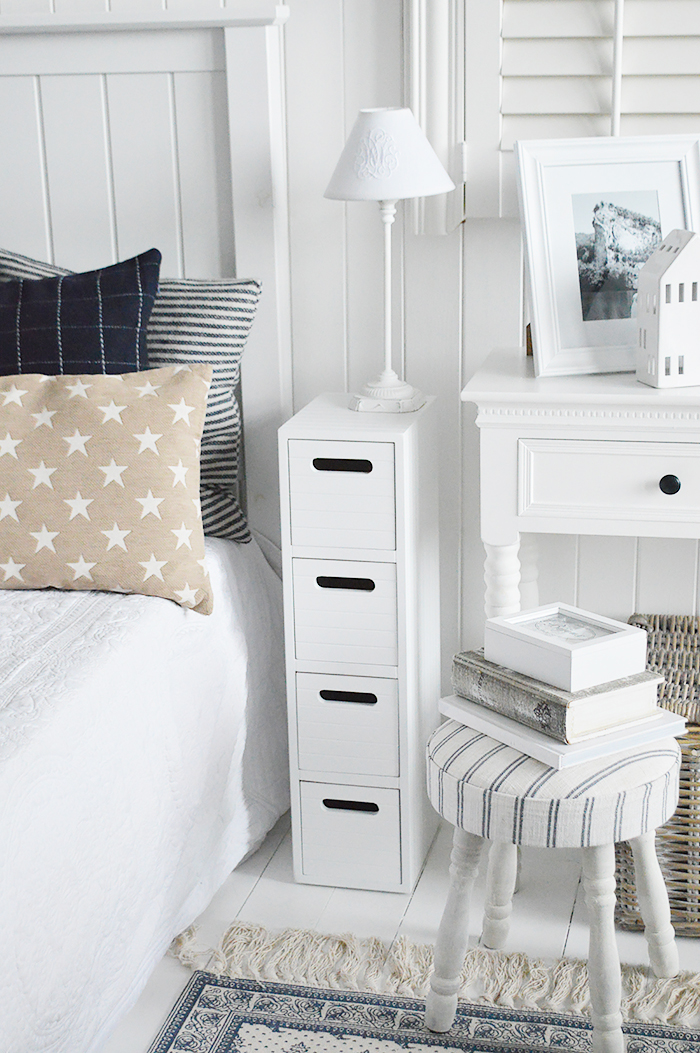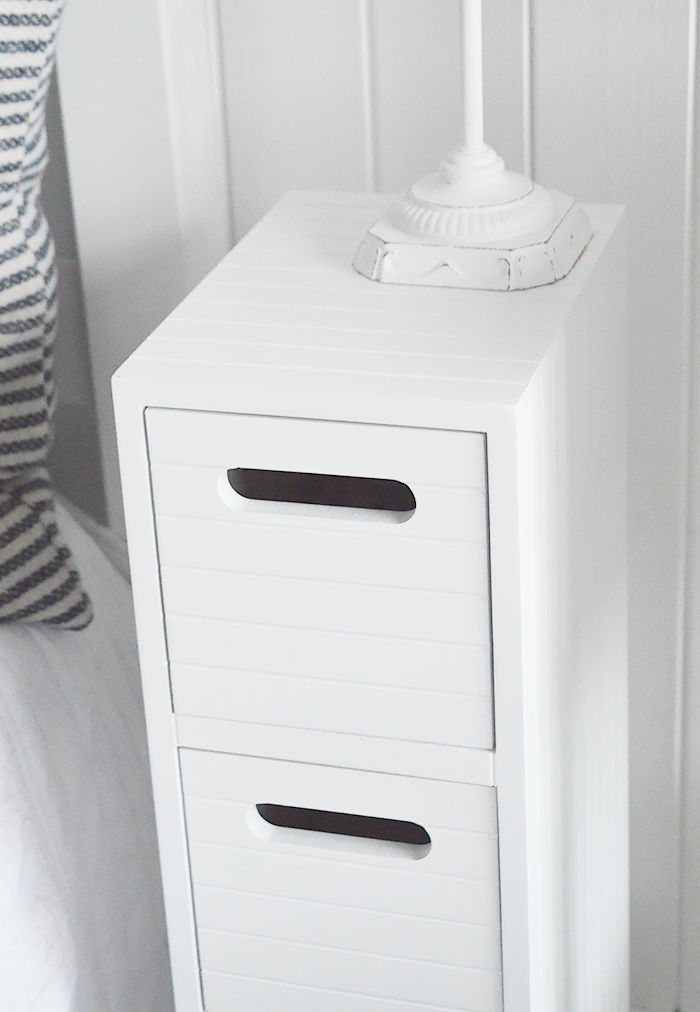 ________________
Other Narrow Bedside Tables ...
At The White Lighthouse we realise the importance of storage in all rooms of your home, even for the littliest of spaces. We have a range of slim pieces of furniture from 17cm wide
| | |
| --- | --- |
|   |   |
| Narrow Bar Harbor Small Bedside £35 | Narrow Bar Harbor Bedside £49 |

Heart Cottage Narrow 

Drawer Chest £65

Dorset Narrow White 3 Drawer £40

Natural Sweet Heart Narrow Bedside £42

Harvard Narrow White Table £22.50

Dorset Very Narrow Bedside Table £49

White Sweetheart Narrow Table £49

Harvard Small Grey  Table £22.50

 
________________________
Dorset Very Narrow Bedside Table
"Perfect for max width of 20cm"
A compact and functional white bedside table that has been specifically designed by our team to fit smaller bedrooms.
With the simple style of all straight lines and clapperboard syle drawer frontage, finished in a white satin paint, it offers an excellently designed very narrow bedside table. 
"A perfect mix of functionality and style"
The four drawers although small, are easy to pull open and offer storage for your bedtime essentails such as phone chargers, medicines, ear phones and other bits and bobs, as well as make up, and underwear.
In a small bedroom, if spaces is tight at the side of the bed, the Dorset, at only 17cm wide at the widest top part will surely fit in. Adding this white bedside table at either side of the bed will instantly make it feel like a bedroom. Place a small lamp on each side to frame the bed, adding interest as well as functionality to give your bedroom a more sophisticated feel.
"A bedside table at each side of the bed makes it feel like a real bedroom" 
The Dorset narrow bedside table is delivered fully assembled to put in your bedroom straight away!
______________________