White Console Tables
The White Lighthouse offers a range of white console tables in our characterisitc mixes of coastal, Scandi, Danish, French and Shabby Chic style furniture.
Console tables provide style and functionality, they add storage and extra surface for lamps and flowers giving you a warm welcome as you enter your home.
.A white console table will reflect light and invade the whole space giving the impression of a larger area. A console table will also provide display space for lamps, photos and your favourite home decor pieces. For greater organisation on your table we love our keys and coins boxes as well as our letter racks.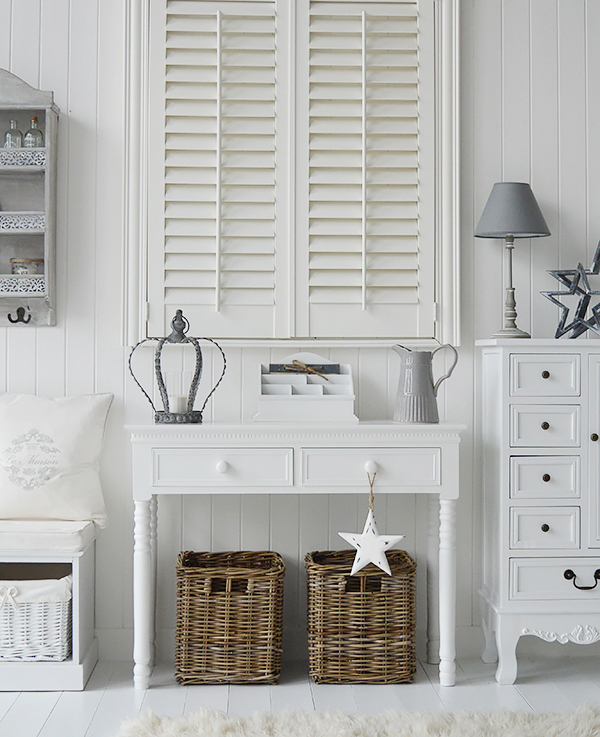 Our New England white console table with two drawers and white handles
An all white hallway, an ideal style when designing a coastal interior. Clean, bright and fresh for a fabulous hall or living room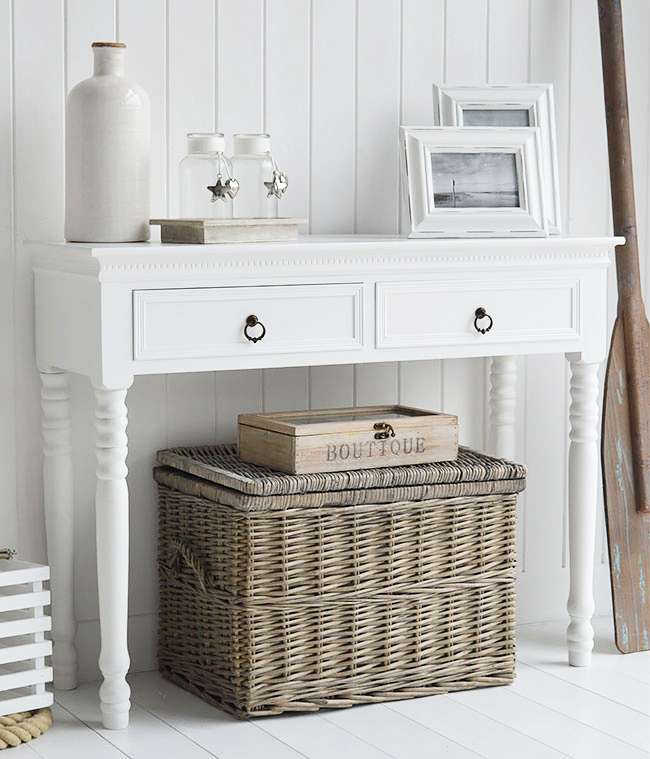 The New England white console table with extra basket storage underneath
The New England hallway table for a country style home. Adding a lot of home decor accessories gives it a more cosy feel making it ideal for those cottage homes.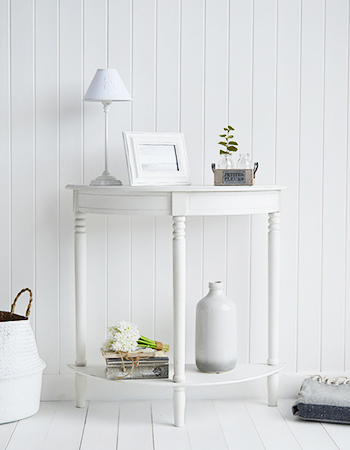 The half moon white Colonial half moon table for smaller halls
A console table in the shape of a half moon is a great idea when space is at a premium in your hallway or living room. The shape of table does not protrude into the space of the room as much as a more regular rectangle table making it a very popular choice.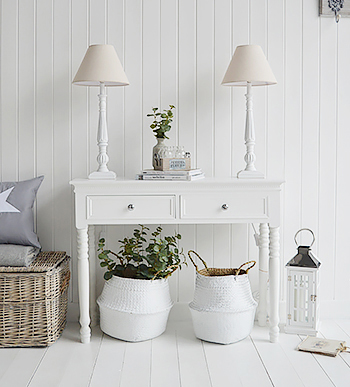 The New England white console table, styled with symmetrical tall white lamps to create a centre piece for a dramtic look in your hallway. For more advice on New England hall way furniture
______________________
For some help on decorating your hall see our articles on Hallways
Coastal and Beach Hallway Furniture
Ideas for decorating hallways in Coastal and Beach Homes..
White Half Moon Console Tables
Don't take as much room but just as beautiful
Small Hallway Spaces...
Ideas on decorating a small hallway
London Hallway Calling 
How to furnish a hallway in London when space is at a premium...
Hall Table ......
Add elegance to your hall
New England Hallway Furniture
Ideas on decorating your hall in typical New England style
Style Your Console Table 
Ideas on how to style your console table
Lamp Tables....
A petit console table
Do I Need a Console Table?
The answer is definitely yes, find out why..................
Create a Great First Impression
Hallway furniture is so important..............
Advice on White Hall Tables
Some advise on choosing a hall table.......
_____________________
If you have any questions about our console tables products, please do not hesitiate to ask at info@thewhitelighthousefurniture.co.uk
______________________
Hallway Furniture > Console Tables