Hallway l Living Room l Bedroom l Bathroom l Accessories l Storage l New Items l Be Inspired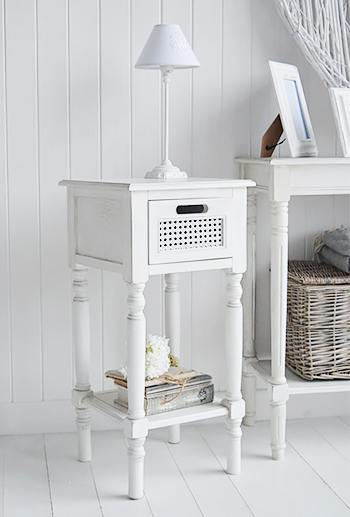 British Colonial White Lamp Table
The Colonial white lamp table with a drawer, shelf and elegant turned legs.
A laid back colonial style of furniture for a light and airy interior. Finished in a aged white paint with woven rattan drawer fronts and a slight distressing, The British Colonial range creates a sophisticated space with a touch of formality for white bedroom, living room and hallway furniture.
Specifications
Height: 75.5cm
Width: 36cm
Depth: 36cm
Drawer: W: 24cm, D: 24cm, H: 14.5cm
Material: Wood
Drawer Unit Fully Assembled. Requires Legs to be attached
Price £89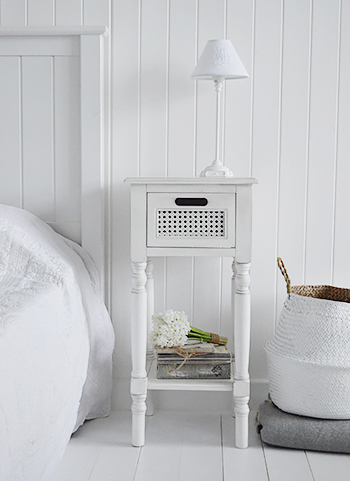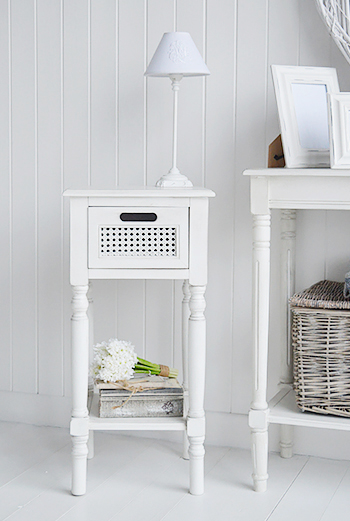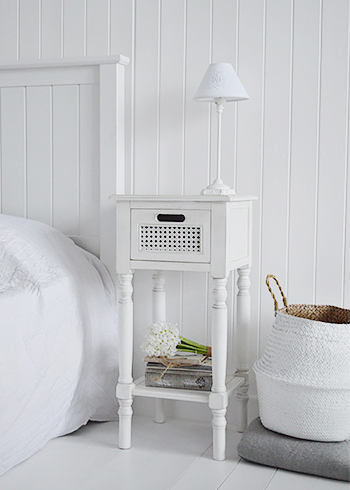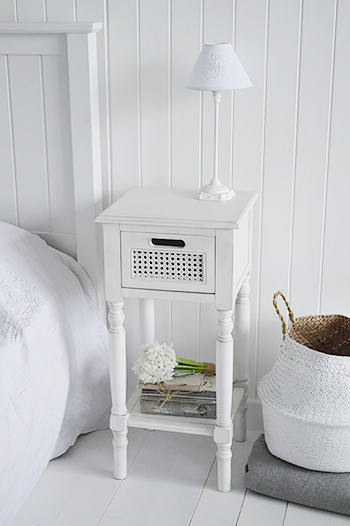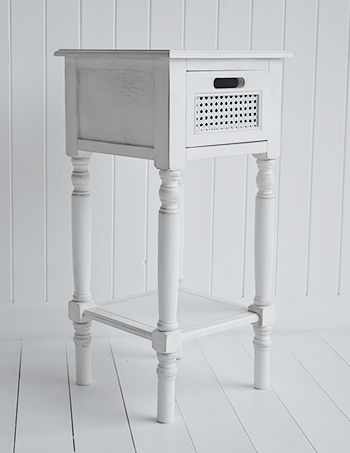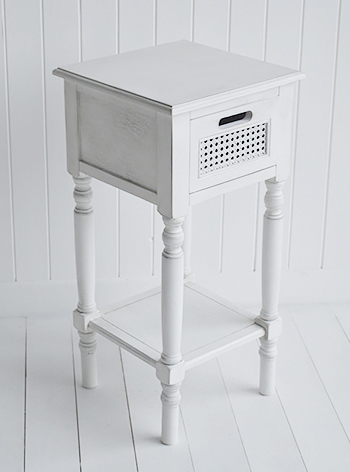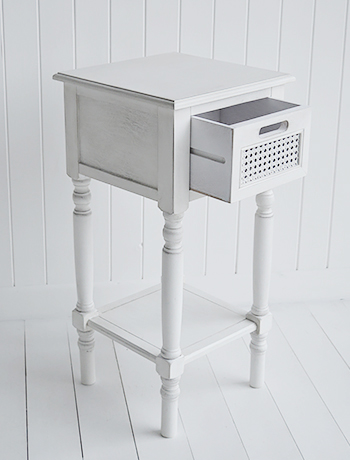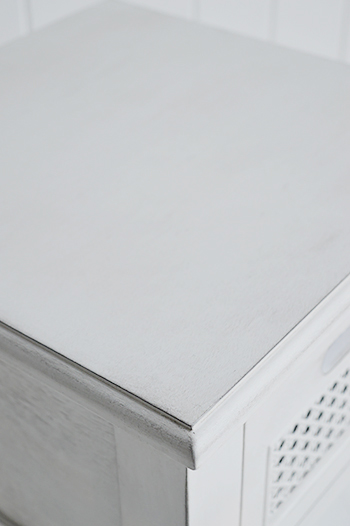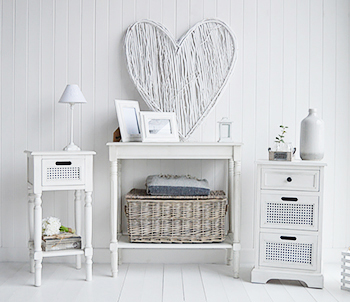 Small Hallway Furniture / Living Room > Lamp Tables > Colonial White Lamp Table with a drawer and shelf. In the hallway, the Colonial lamp table offers plently of storage for everday essentials, keys, wallets and letters making it an ideal but very beautiful piece of furniture in all styles of homes. We offer many lamps that look fabulous on the table to brighten up a darker corner. Add your personal decor display pieces or books to create more of your style
White Furniture > White Bedroom Furniture > White Bedside Table > Colonial White Bedside Table with Shelf and a Drawer. In the bedroom, this very sturdy piece of furniture will last for years and offers storage for toiletries and make up and a shelf to display your favourite pieces.The Colonial bedside with its slightly aged looking finish will complement white bedrooms in all our favourite styles of furniture and home interiors.
______________________________
| | |
| --- | --- |
| | |
| Vermont Small Trunk Bedside £89 | White Bedside Table  £105 |
| | |
| Narrow Bar Harbor Small Bedside £35 | |
| | |
| | Bethel Cove White Bedside Tables £39 |
| Rose Bedside Cabinet £55 | Colonial White Bedside Table £89 |
| Bar Harbor Narrow Bedside Table £49 | Connecticut White Tray Table £39 |
| Colonial White Large Bedside Table £79 | Rose White Three Drawer Cabinet £75 |
| Maine White Bedside Table £59 | Maine White Bedside Table £48 |
______________________________
http://www.thewhitelighthousefurniture.co.uk/hallway-furniture/colonial-furniture-white-lamp-table-shelf-l.htmvDesktop images of Colonial White Lamp Table