Hallway Furniture l Living Room l Bedroom Furniture l Bathroom l Accessories l Storage l New Items l  Be Inspired l Lifestyle


Create a Beautiful Beach Style Home with Coastal Furniture and Home Decor from The White Lighthouse....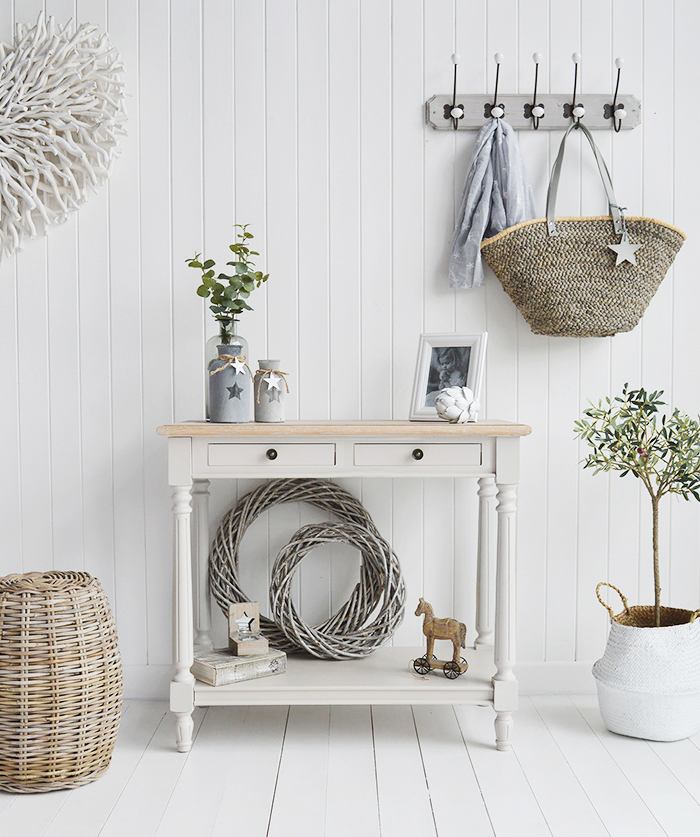 Brittany console table, £145, Casco Bay Stool, £58, accessories from £4
Here at The White Lighthouse we offer a large range of gorgeous coastal furniture and home decor accessories to create your own special haven by the sea! Many of us dream of living by the sea but you don't have to be living on the coast to enjoy the pleasures of a fantastic beach style home. Our designers have brought together a mix of traditional coastal furniture along with pieces that are just a little bit different.
Here we showcase our range of Coastal Fruniture and home decor as well as give tips and advice on how to get the perfectly styled coastal home.
Newport French Grey Console Table £149

Plymouth Storage Cabinets £59

Driftwood Blanket Ladder £55

Colonial White Bedside Table £89

White New & Silver England Table £169

Rhode Island Grey Table / Desk £59

 


Grey Lexington Floor Lamp £79


Driftwood Heart Wall Decor £16

Provincetown White Wall Shelf  £35


Pawtucket Wooden Display Shelf £59.50

Plymouth Grey Narrow Console Table £99

Casco Bay Willow Stool / Table £55

White Dressing Table Ceramic Handles £169

New England White Bedside Table  £105

White Bedside Table £105

White Bedside Cabinet  £139

Vermont Small Trunk £89

New England Chest of Drawers  £299

New England White Chest of Drawers  £299

Portland Grey Table £29.50

 Blanket Ladder £38

Colonial White Half Moon Table £79

Driftwood Bedside Table £85

Dorchester Blanket Ladder £38

Pawtucket Wall Shelf with Hooks £52.50

Newport Narrow Hall Table £79

Colonial White Large Bedside Table £83

White Tray Bedside Table £42

New Haven 3 Drawer £59

Kingston Set of Baskets £27

Large White Twig Heart £48

 
 

Brittany Grey Console Table £189

New Hampton Pink Star Cushions £19


Boston Bohemian Book Shelf £55

Rope Ladder £18

Plymouth Storage Bench £110

​

Harvard Grey Table £49

Windsor Set of 2 Grey Baskets £76

Tall Grey Willow Lantern 

 £35

Heart Cottage Narrow Drawer Chest £65

Large Grey Willow Heart £48

Cornwall Grey Tray Table £36

Large White Willow Heart Wall Decor £53

Connecticut White Tray Table £39

Heart Cottage Cabinet £65

Kittery Small Grey Trunk £36

Maine 5 Drawer £60

Long Island Foot Stool £29.50

Peabody Small Stool £27

 Large Stars Sign £22

 

 Canterbury Wooden Tray £13.50

Nantucket Milking Stool £19

Richmond Long Coat Rack £35

Bethe

l Cove White Nest Tables / Coffee Table  £39

Pink Portland Table

£29.50

Cambridge Pink & Gold Table £35

Colonial White Console Table £125
The Beach style interior design is instantly recognisable......
It is simple to create a hint of beachside living with our range of coastal furniture. With pieces in the colours of the sea, white and grey, along with natural materials including willow and driftwoods tou can enjoy the coast all year round.
Get the look...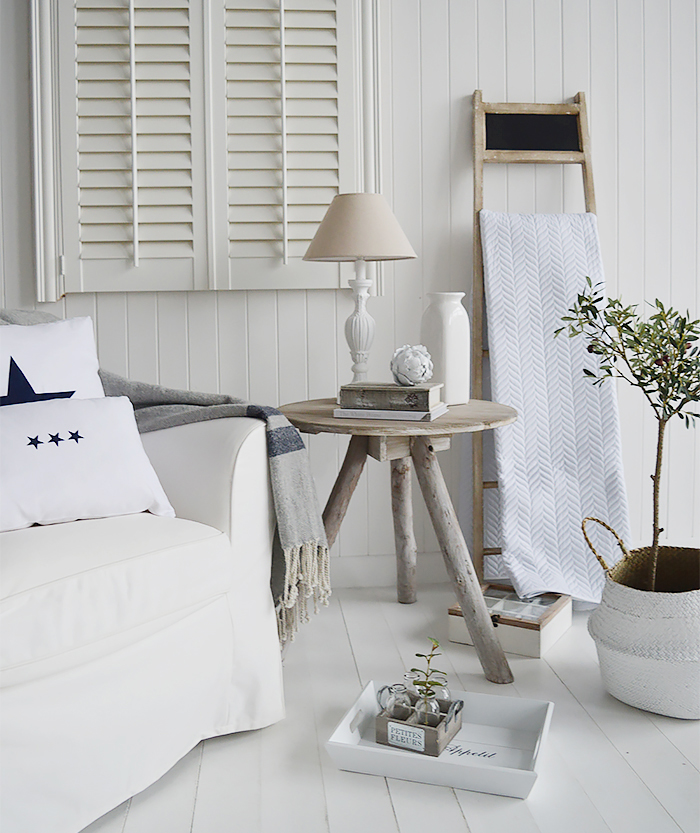 Get the Coastal look... Driftwood round table, with Dorchester blanket ladder, New Hamptons Cushions, artificial Olive tree and coastal home accessories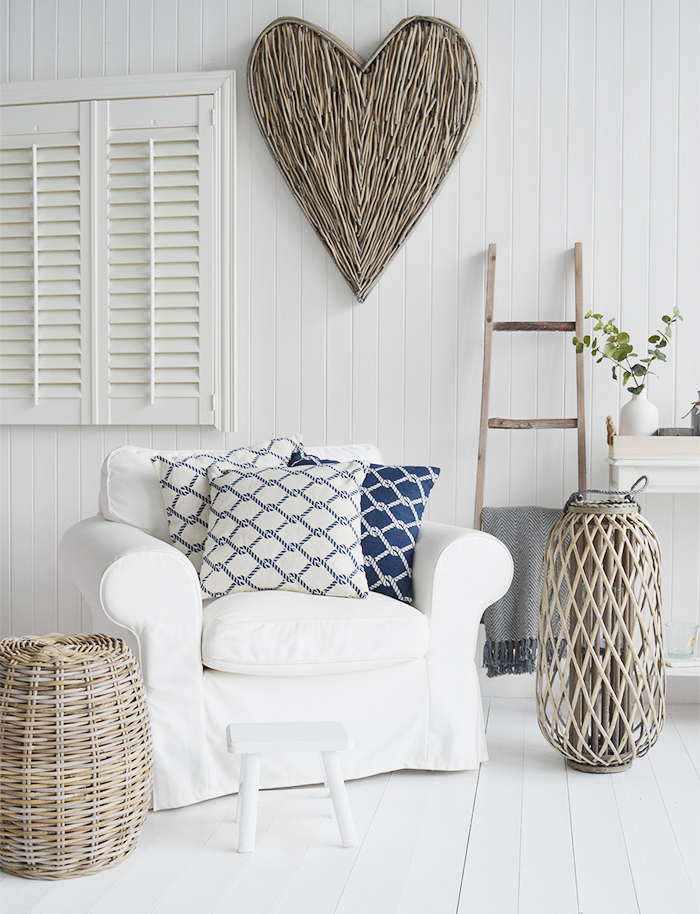 What is Coastal Furniture?
Furniture in a coastal home should be mixed and matched in different styles and textures to bring about the relaxed informal look synonymous of coastal living. Mix painted white and grey furniture with naturall willow and driftwood pieces.
Coastal furniture is a stunning look where the possibilities are endless... quick suggestions to complete the style are white bedsides in the bedroom, a white storage seat with plump cushions in the hallway and driftwood coloured pieces throughout. Beach and coastal furniture generally has a rustic finish to give the relaxed beach feel. On your walk along the beach collect pebbles in different shades and sizes and gather together in glass vase. Keep a look out for interesting pieces of driftwood on your travels and use as a display piece. Tongue and groove on walls, either horizontally or vertically gives the beach hut or New England Cladding effect.
See our range of coastal furniture for the Hallway, Living Room, Bedroom, Bathroom and Coastal Home Decor Accessories
Tips on how to create a beach house style and coastal home...
1 Allow Plenty of Light into your room - Adding white furniture to your room will instantly increase the amount of light reflected through the room creating an illusion of a great and airy space
2. Make it relaxed - Keep the furniture finishes laid back and homely, keep the room comfortable
3 Keep it subtle - do not go overboard on the beach or coastal theme, this will appear tacky. Subtle pieces like signs or small beach themed accessories such as a small yacht, pieces of rope, or coastal home style lantern will be enough
4 Pale colours in soft furnishings- Pale colours int he curtains and cushions will seem to increase the amount of space... Using the traditional colours of the coast - blues, greys and shades of white in your interior design and furniture choice, you can easily create this dreamy, caming interior style of home.
Even within the coastal interior designs there are so many options and styles - scandi, chic, bohemian and industrial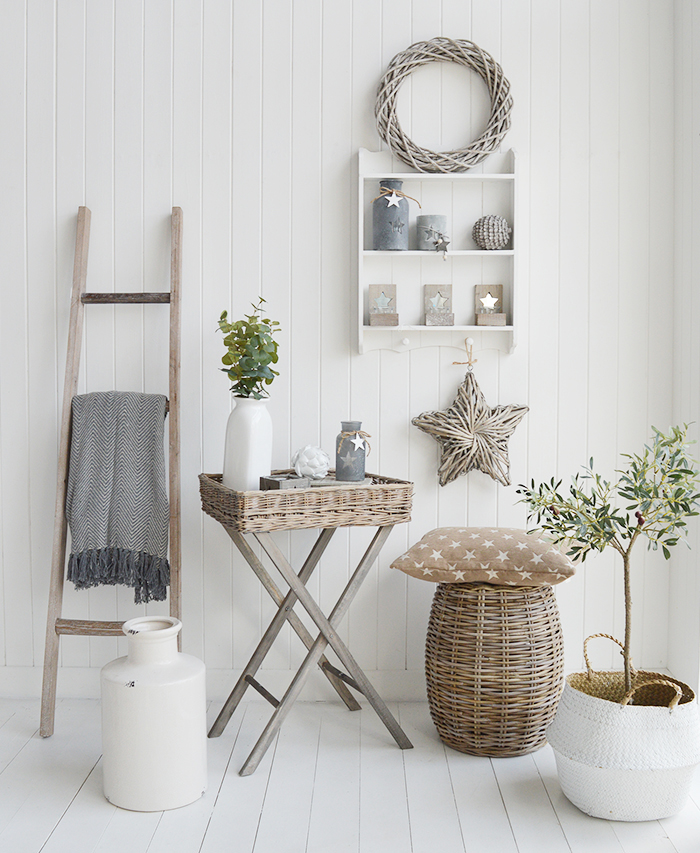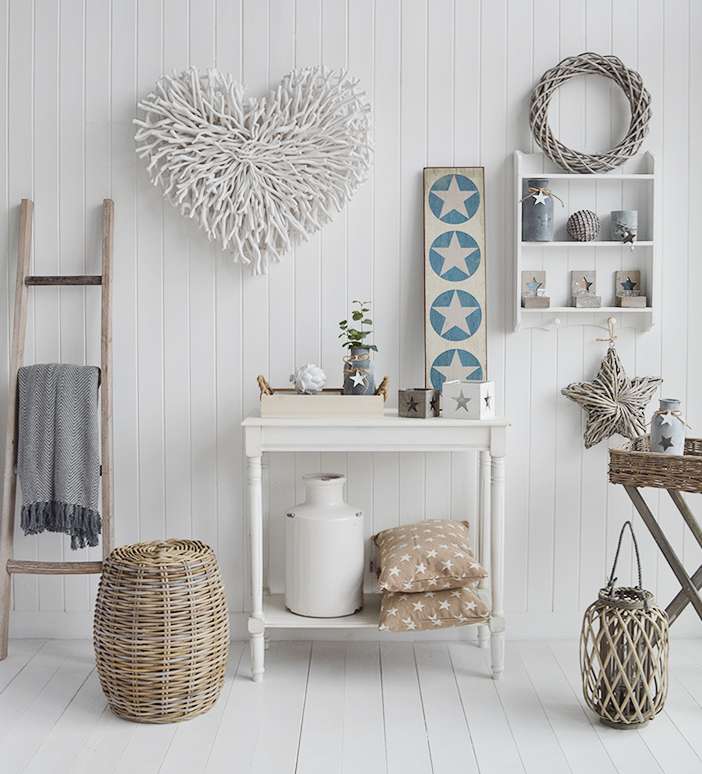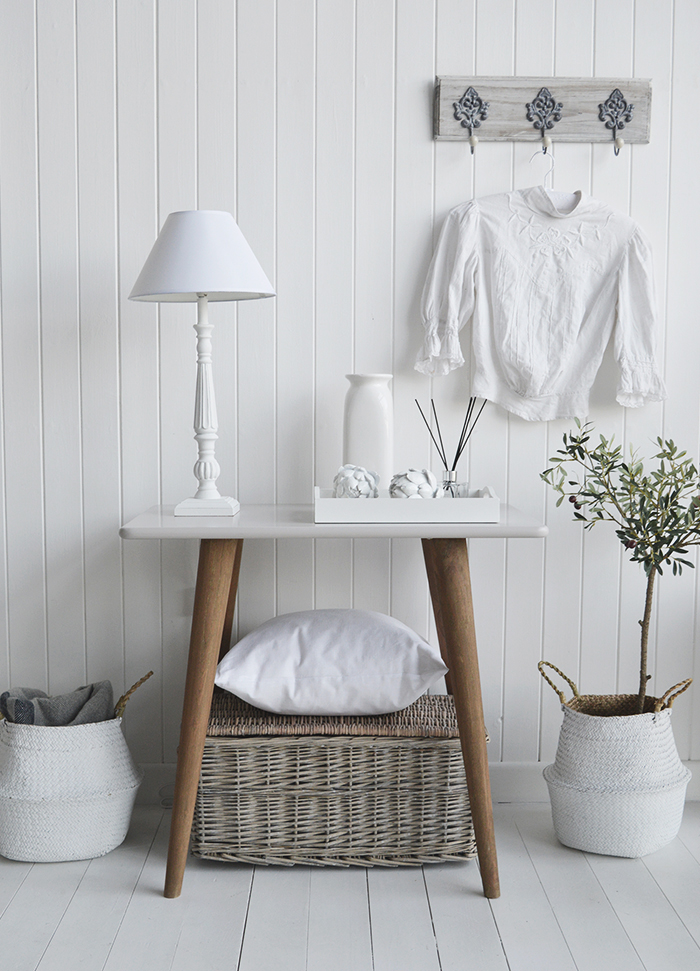 Take inspiration from the colours of the ocean as well as textures of driftwood and natural products...
"Capture the realxed and carefree spirit of a coastal home"
________________________
Articles on Coastal Decor and Furnishing
Top 5 Tips for Coastal Home Decor
Tips on how to decorate your home in coastal style
20 Coastal Home Decor Ideas
Ideas on how to decorate your home in coastal style
How to Decorate an Elegant Coastal Bedroom...
Coastal Home Decor Accessories DIY
Tips on how to decorate your home in coastal style
You are visiting The White Lighthouse as you are looking for the best, stylish and most affordable options in coastal furniture delivered to UK.
Our designers believe they have brought together an extensive range to suit spaces and areas in beach homes by the sea.
All our pieces are designed to suit and perfectly complement beautiful stylish beach homes in New England, Coastal, French and Scandi interiors
Coastal Hallway Furniture l Living Room l Beach Style Bedroom Furniture l Nautical Bathroom l coastal home accessories
________________________
The White Lighthouse
Online furniture & accessories shop for the home...