Hallway Furniture l Living Room l Bedroom Furniture l Bathroom l Accessories l Storage l New Items l Be Inspired l Lifestyle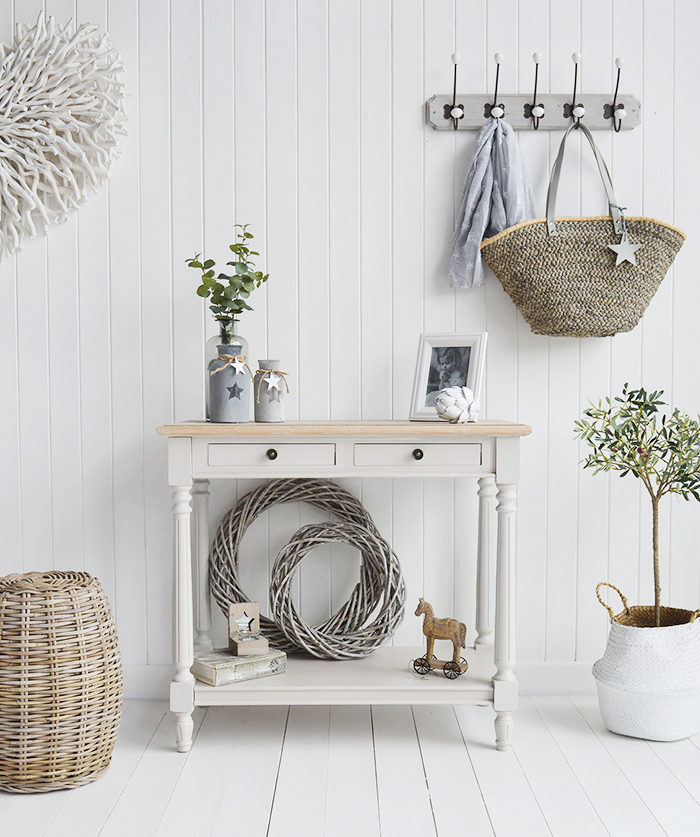 Brittany Grey Console Table
The Brittany grey console or hallway table with a shelf and two drawers.
The Brittany grey is an absolutely stunning range of light grey furniture with carved chunky legs complementing the elegant washed wood parquet style table top.
Ideal in all rooms in your home. A perfect table in cottage, country, coastal, french or New England style homes
What makes this table different and superior to many others is the detail involved in the beautiful table top. Pieces of wood in a washed white finish are brought together in a lovely design to give the table its uniqueness.
Most definitely a timeless piece of furniture you will love for years to come.
Specifications
Height: 79cm
Width: 108cm
Depth: 48cm
Material: Wood
Easy Assembly to attach legs and shelf
Sorry, sold out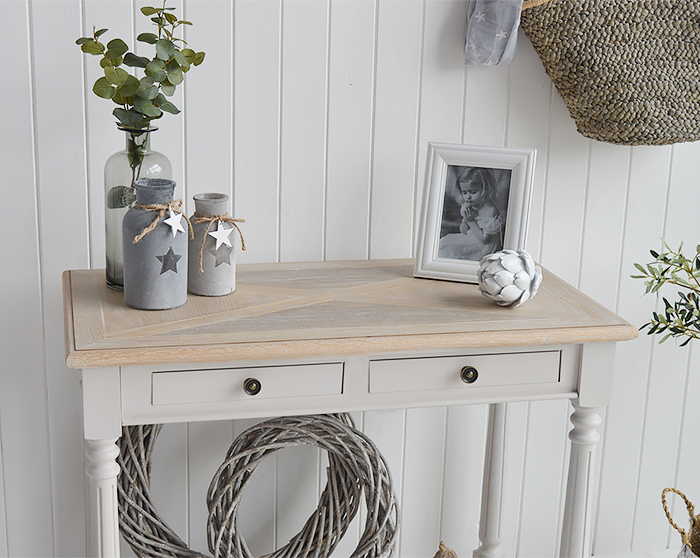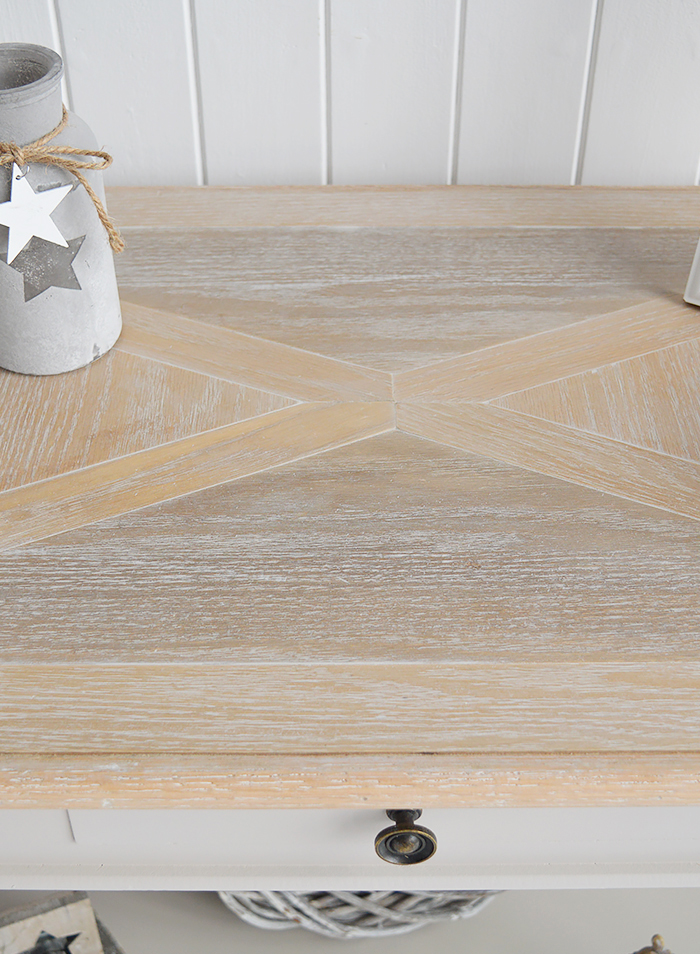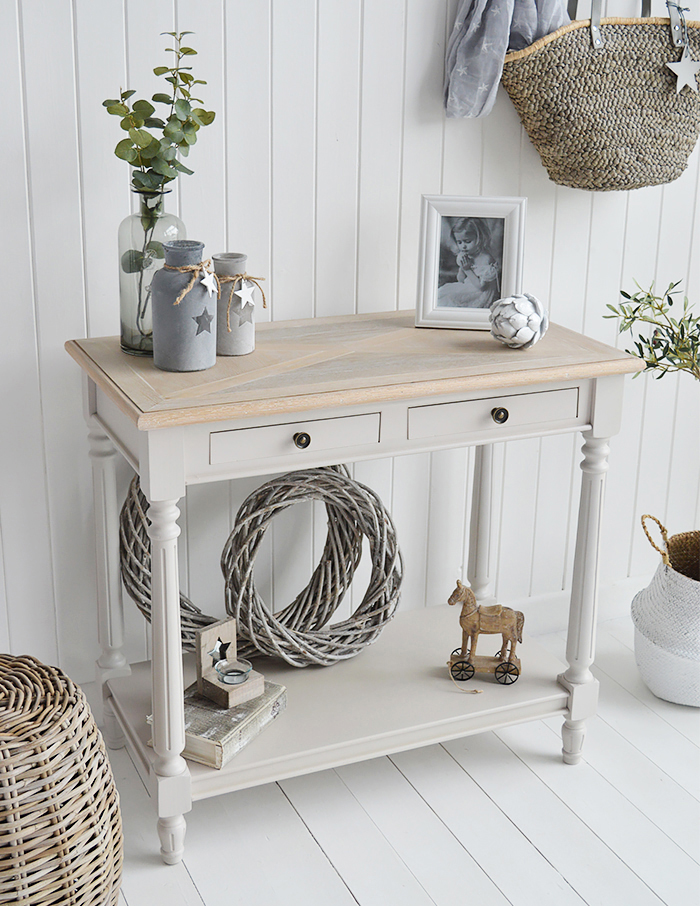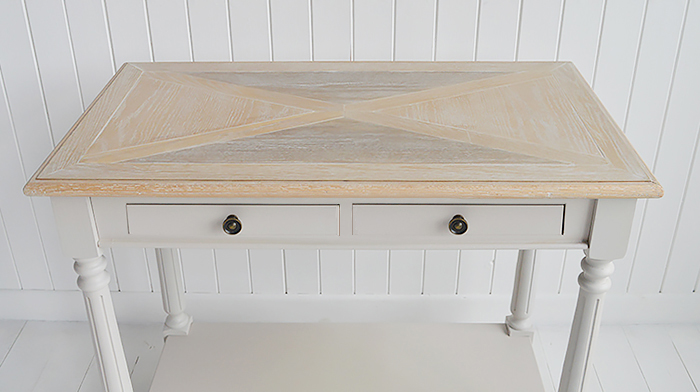 ____________________
Get the look...
_____________________________
Console tables, most often found in as hallway furniture pieces, provide style and functionality, they add storage and extra surface for lamps and flowers giving you a warm welcome as you enter your home. See our full range of console tables
_________________
________________________
Related Products
White Console Tables
New England White Console Table with White Round Handles £169

New England White Console Table with antique brass handles £169

New England White  Console Table with Silver  Handles 

£169

Colonial White Half Moon Table with shelf £79

Colonial White Console Tablewith shelf £100

Colonial White Console Table with Drawers  £125

New England White Console Table £169
 

Grey Console Tables

Plymouth Grey Console Table £99

Plymouth Grey Half Moon Console Table £99

Winchester Grey Large Round Table £90

Newport French Grey Console Table £149

Newport French Grey Console Table £149

Driftwood Rustic Tripod Table £85

Newport Narrow Hall Table £79

Brittany Grey Console Table £189

 

Oxford Grey Console Table £139

 
_______________
The White Lighthouse
Online furniture & accessories shop for the home...
New England l Coastal l White Furniture
Shop online for furniture with delivery to UK at our online store website: www.thewhitelighthousefurniture.co.uk
If you have any queries about our Furniture, please do not hesitate to ask us at info@thewhitelighthousefurniture.co.uk