Hallway Furniture l Living Room l Bedroom Furniture l Bathroom l Accessories l Storage l New Items l Be Inspired l Lifestyle
Bedroom Storage Furniture
We offer a wide variety of bedroom storage furniture in all sizes and styles. From storage seats, tools to chests of drawers and blanket boxes, all delivered to UK for all bedroom interiors
 
 
 

| | |
| --- | --- |
| New England Chest of Drawers  £299 | New England Chest of Drawers  £299 |

Colonial White Bedside Table £150

Heart Cottage Narrow 

Drawer Chest £65

 
 
 

Newbury Cream Storage Bench £165

Heart Cottage 4 Drawer Chest £65

Vermont Small Trunk £89

Vermont Large Trunk £155

Rose 3 Drawer Storage £100

 

Maine 4 Drawer
£55

Maine 5 Drawer Furniture £60

Maine 6 Drawer Furniture  £70

Rose 3 Drawer Storage £75

New Haven White Storage Cabinet £75

Cape Cod Storage Cabinet £73

New Haven 3 Drawer £59

Panama Vintage Trunk Bedside Table £79

White Bedside Cabinet  £139

Plymouth Storage Bench £110

Cape Cod Storage Bench £79

Silver Valet Stand £89

Plymouth Cabinet £59

St Ives Grey Basket Storage £65

Rose White Three Drawer Cabinet £75

Manhattan Bedside Table £160

Newbury Cream Cabinet £106

White Cottage Narrow Bedside Table  £37

White Cottage Narrow Bedside Table  £37

White Cottage Tall Narrow £48

Dorset Narrow 4 Drawer £59

Heart Cottage Cabinet £65
Some Ideas for bedroom storage to suit your size and bedroom style...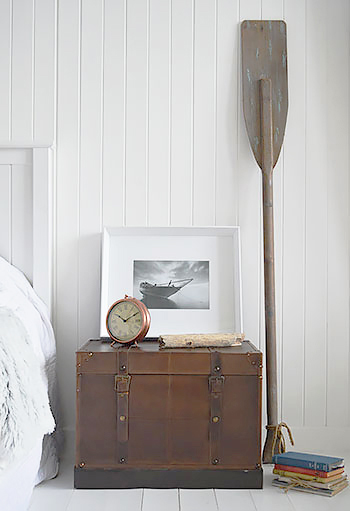 The Panama is an old world travelleing style trunk with antique brass studs, handles and catches. The sturdy trunk is made from wood covered with faux leather and offers plently of extra storage for your bedroom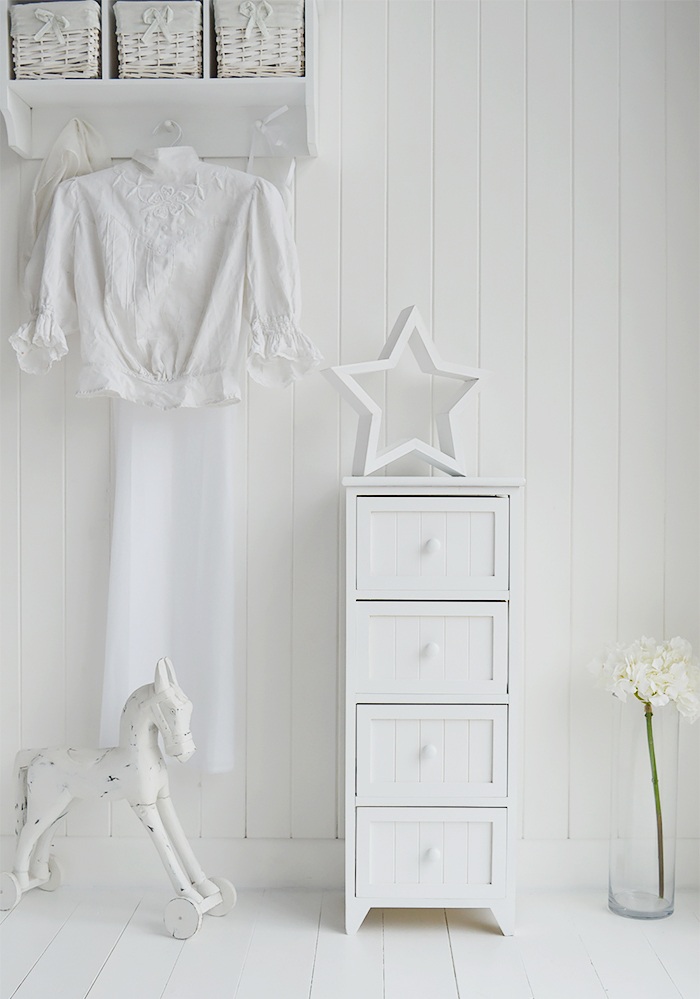 A white four drawer slim chest of drawers from The Maine Range of white bedroom furniture. A simple, classic style chest of drawers designed to fit into small spaces and create great storage for all bedrooms.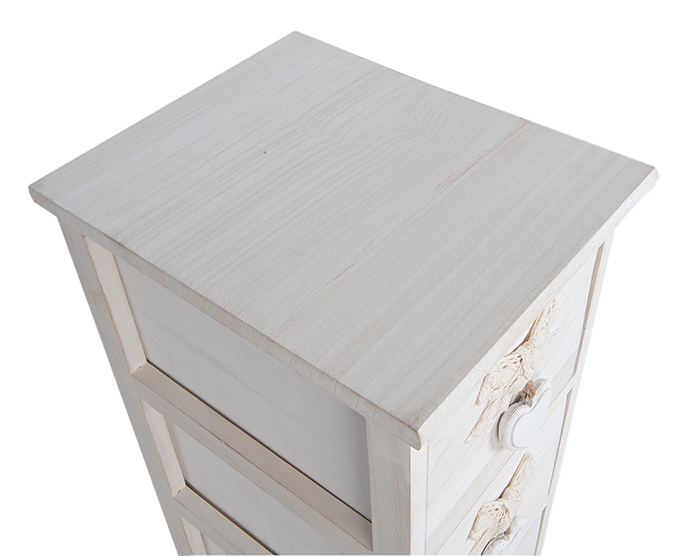 A compact and functional tall white bedside table that has been specifically designed by The White Lighthouse team to fit smaller bedrooms.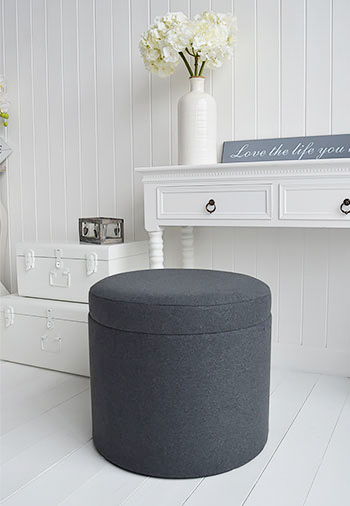 The grey Westhampton storage dressing table stool in soft and luxurious thick felt.
The seat lifts off to provide an excellent amount of storage and can be used as a side table as the lid doubles up as a tray with handles.
The Plymouth is a charming white storage bench . The three top dawers with star wooden handles offer storage for smaller items such as hats, gloves and scarves, while the three larger bottom drawers with a star cut out provide greater amounts of storage.
Help and Advice from our Design Team -  Bedroom Storage
Bedside Tables are a necessity
Why a bedside table...
Scandinavian Look..
Create the popular scandinavian look in your bedroom.
How to Create a New England Style Bedroom
Some advice on how to create your very own beach style bedroom.
Choosing narrow bedside tables....
Having difficulty finding a narrow bedside table
The Luxury of a Dressing Table
Sit down and relax at a dressing table...............
Ideas for bedside tables
Help on choosing a bedside table...
Tips and Advice on decorating and furnishing a Pure White Bedroom
____________________
The White Lighthouse
Online furniture & accessories shop for the home...
New England l Coastal l White Furniture
Find us on

Popular Searches