Hallway l Living Room l Bedroom l Bathroom l Accessories l Storage l New Items l Be Inspired
How to Choose A White Hall Table
At The White Lighthouse we think a white hall table is an essential piece of furniture in your hallway which is why we offer many different options to buy... as a place to display white flowers, photos, and a lamp to add decor and interest to you hallway.
When you enter your home, a place to set your keys and the post that has arrived that day.
The size of the table greatly depends on how much room you have in your hall as you do not want an oversized piece of furniture that you have to squeeze past or are always knocking into with schoolbags or as you bring your laundry upstairs. If you have a small hall, a lamp table is probably the best option.
Examples of White Hallway Tables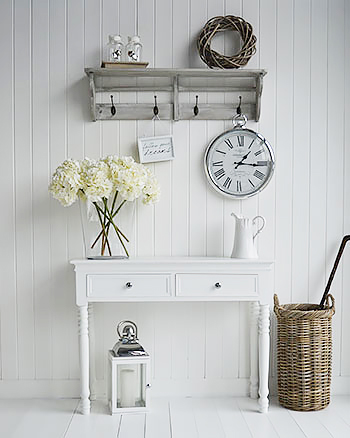 Preferably you will want a hall table with some drawers for the storage of pens, notepaper, keys letters and coins. Baskets under the table are perfect to for children to throw their shoes into as they come into the house instead of leaving on the floor!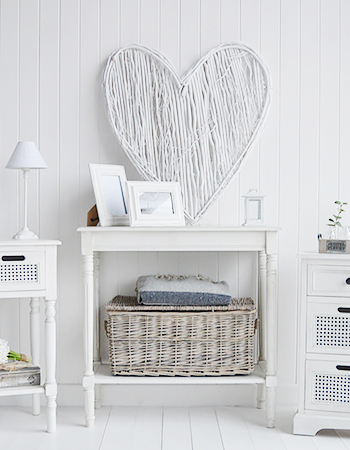 A laid back colonial style of furniture for a light and airy interior. Finished in a slightly distressed antique white paint, The British Colonial white console table with a shelf range creates a sophisticated space with a touch of formality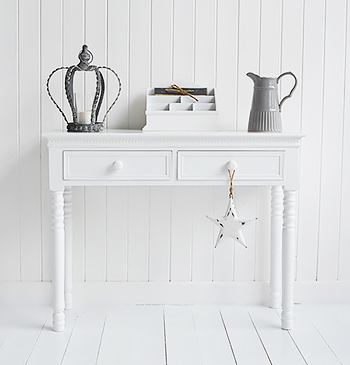 A very simple but elegant pure white table for hall or living room interiors. The New England Range is a crisp matt white range of furniture for a classic look to any room. As perfectly suitable for coastal interiors as it is for Victorian or country homes.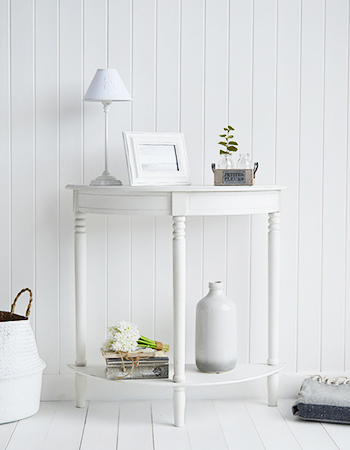 The Colonial White half moon hallway table with a shelf, a perfect stylish and affordable option for smaller hallway and entry way spaces.
Why Choose White...
A white hall table will lighthen your hallway, does not matter what colour your walls are, a white table will alway complement any colour... white on white for a coastal New England look, or a dark wall with a white table for a clubhouse feel. For any home style, coastal, New England, country, cottage, French, suburban, a white hall table will match in perfectly.
Add some artificial white Hydrangea to great you and your guests on arrival, and they will last for years. A very cost effective way to have flowers all year round.
Add a clock or a mirror abouve the hall table for a quick check before you leave
Depending on the rest of your hallway, add some interes with hemoe accessories. Here we have added a few silver pieces with the white to complement the handles for a luxurious feel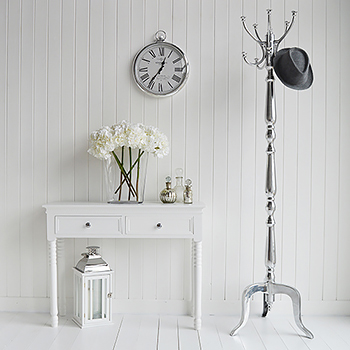 New England White Hallway Console Table with Drawers
By adding a coat stand in your hall you will not need much more furniture to complete.
Butler Table for Small Hallway Table Ideas
A simple tray table is enough if you just want to add a lamp to your hall.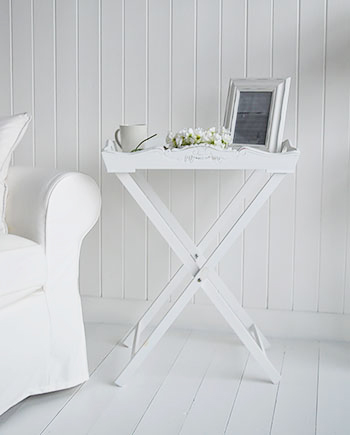 Chest of Drawers for Large Entry Ways Ideas
A chest of drawers is a great idea for a hallway console table asit gives massive amounts of the extra storage needed.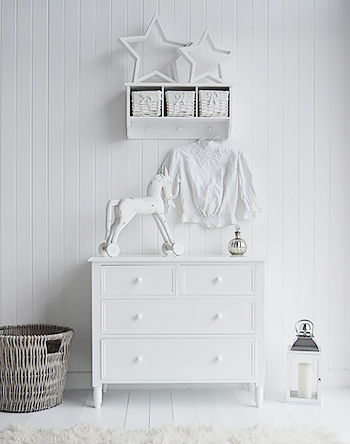 New England White Chest of Drawers for greater amounts of storage.
Written by Charlotte Simpson l Furniture Designer
__________________
Ideas on Decorating Different Styles of Hallway
Coastal and Beach Hallway Furniture
Ideas for decorating hallways in Coastal and Beach Homes..
New England Hallway Furniture
Ideas on decorating your hall in typical New England style
Style Your Console Table 
Ideas on how to style your console table
Advice on White Hall Tables
Some advise on choosing a hall table.......
Hallway Decorating Ideas
Ideas on decorating your entranceway...
________________________
Hallway Furniture 
Console Tables l Storage Seats and Benches l Coat Storage l Lamp Tables l Hallway Storage
________________________