Hallway l Living Room l Bedroom l Bathroom l Accessories l Storage l New Items l Be Inspired
White Furniture.
White is the Feng shui colour of purity, cleanliness, and innocence and is suitable for use in any area of the house. In Yoga white is the colour of Completion, Ultimate Wisdom and Assimilation of all Life Lessons.
White furniture complements all colours and styles of interiors. So it seems obvious now why The White Lighthouse offers a full range of clean crisp white furniture. The White Lighthouse has focused on white furniture such as white dressing tables and white writing desks since its creation in 2005.
White furniture suits and complements all styles of homes from classic Georgian to Victorian, modern to mid century as well al all types of interior designs. 
White furniture in your home is easily adapted to the changing fashions and excellent to maximise light in a room.
Use different shades and textures to create different environments. Add colour to your room with accessories and textiles to create the style you want with endless possibilities. Bright blue and red with white furniture will give you a nautical theme white silver will add elegance. The options are endless.
A White Home is crisp clean airy and timeless...
White Furniture in the Hallway
The hall as the entranceway to your home is usally quite dark with only small windows allowin glittle light from the door. White furniture will brighten up the space at the same time making it larger. Choose from lamp tables, hallway tables and other storage items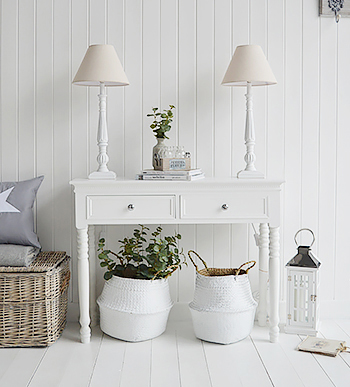 The New England white console table decorated with white lamps and white baskets under for added storage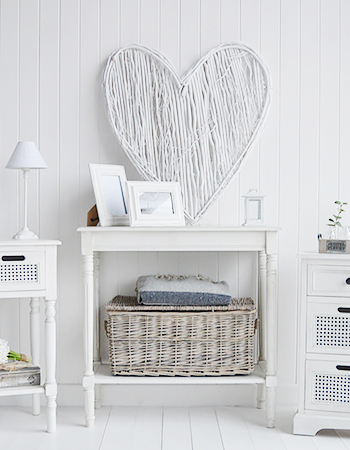 A small white console table giving for smaller hallways, provides an area to place a lamp and add interes to you hall
A white storage bench for the hall, somewhere to hide the clitter and mess from everyday living.
White Bedroom Furniture
White furniture in the bedroom is indeed a timeless classic and is suitable for all ages from 0-100. Chests of drawers, bedside tables and dressing tables the obvious choise in the bedroom but add extra storage with other pieces...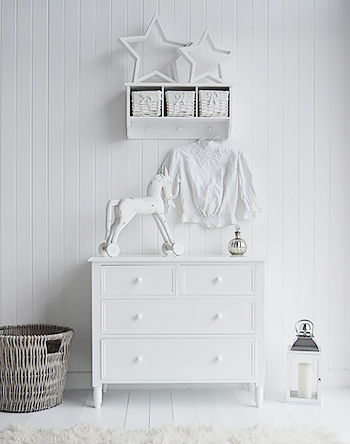 A white chest of drawers will suit all white bedrooms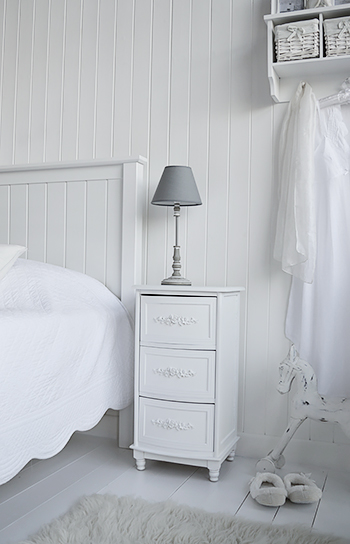 A white bedside table to complement the white bedroom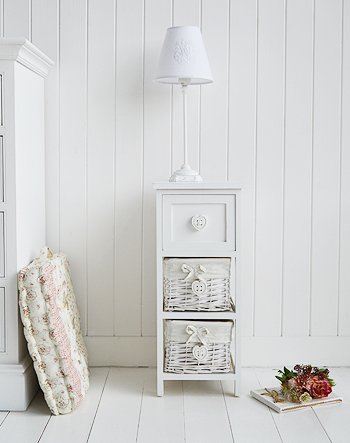 Extra storage for toiletries with bedroom storage pieces
Article written by Charlotte Simpson l Interior Designer at The White Lighthouse
________________________
White Furniture
Coastal Furniture l New England Furniture 
________________________
The White Lighthouse
Furniture & accessories for the home...
Hallway l Living Room l Bedroom l Bathroom l Accessories l Storage l 
New Items l Be Inspired
..............................................................................
Other Interior Design Articles 
What is Coastal Style in Interior Design? 
White Painted Floorboards
Achieve a bright airy space.............
Beach Furniture
Create a beach style home..................
Storage Trunk 
Attractive storage throughout the home..........
New England - Not a style but a lifestyle!
What is the New England Style...................
The White Lighthouse Classic Style
The White Lighthouse classic style incorporating New England, Coastal, Cottage, Beach and French styles of interior design ..........
White furniture is right! 
Why is white furniture rigth for you...............
Pure White Bedroom
Tips and advice on how to decorate and furnish a pure white bedroom..............
How to Decorate an Elegant Coastal Bedroom...