Hallway l Living Room l Bedroom l Bathroom l Accessories l Storage l New Items l Be Inspired
What is Coastal Interior Design?
Think child hood memories, long lazy days on the beach, catching crabs, splashing in the sea, the sun always shining.
This is the basis of coastal interior design - bringing the outside in. Creating a light, bright, breezy interior in the hallmark coastal colours of the coast - pale blues, greys and whites.
These coastal colours spread light which is the single most important element of coastal design.
Natural materials such as wood, willow and some rope bring in warmth and texture to coastal style interiors. A natural willow side table next to white furniture is perfect.
The worn bleached look of driftwood adds to the authenticity of the coastal theme. Some simple furniture pieces, small chests or mirrors with a driftwood effect complete the look.
White washed floor boards ans wall cladding epitomise the clapboard look of a beach house. Try this in the bedroom while adding a touch of organic materials as floor coverings, a natural jute rug is cheap and effective.
Keep the room clutter free, rarely do you see a beach home cluttered and full, feel free by keeping the bric a brac out of site.
Coastal bedroom furniture includes wooden pieces along with painted pieces in coast colours inlcuding accessories in organic materials.
Top Tips for Coastal Interior Design
Use soft , washy beach colours of paint on the walls.
Use bright white paint on trims to get a real clean beach feel.
Oversized silver hurricane lanterns are great as accent.
Most important - make the most of the natural light.
See all Coastal Furniture from The White Lighthouse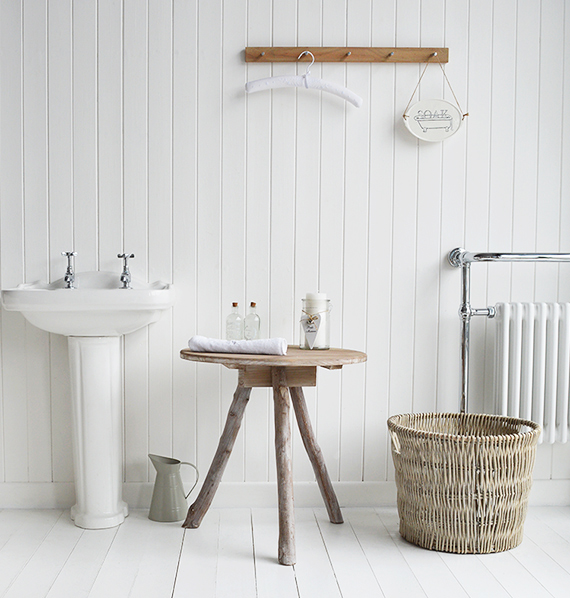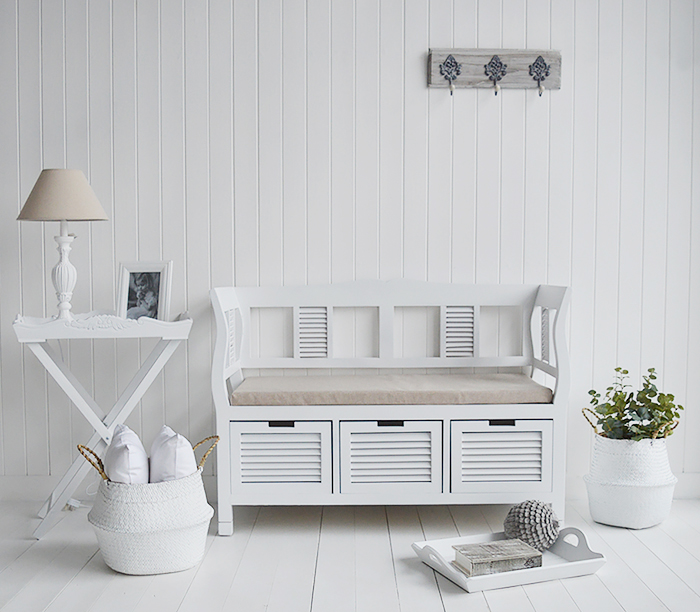 A white hall storage bench seat with cushion offers functionality with style as well as a relaxing place to sit.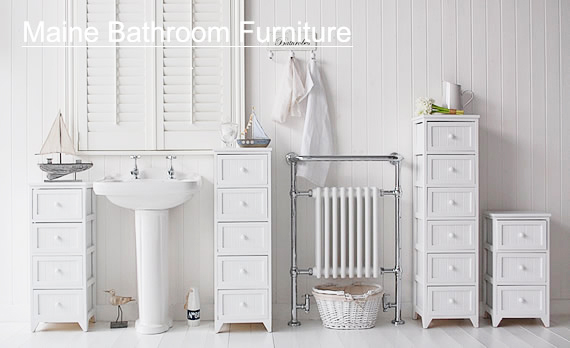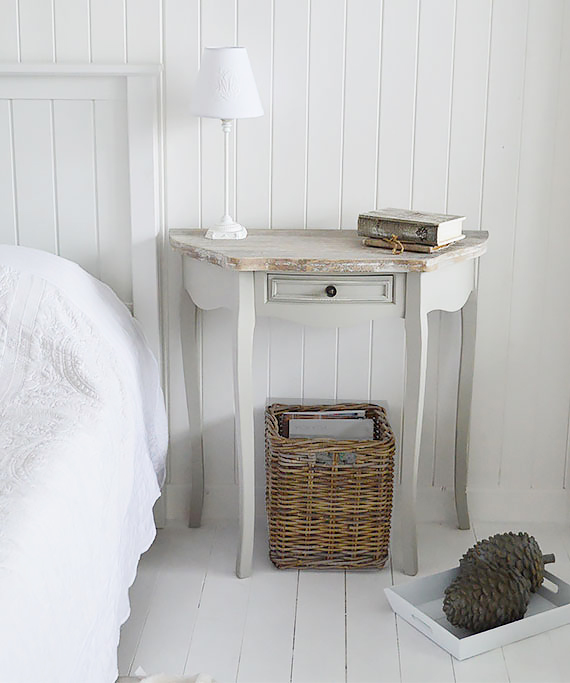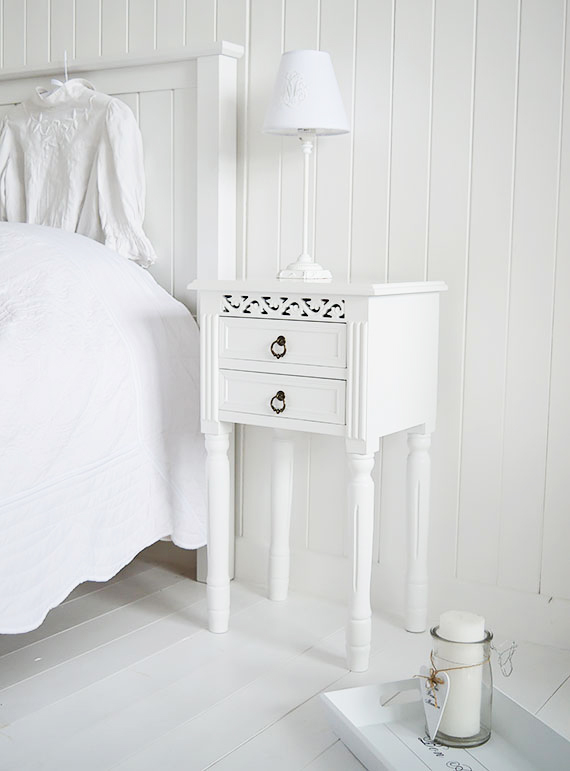 White furniture in the bedroom is a classic design, a white bedside table is definitely a must!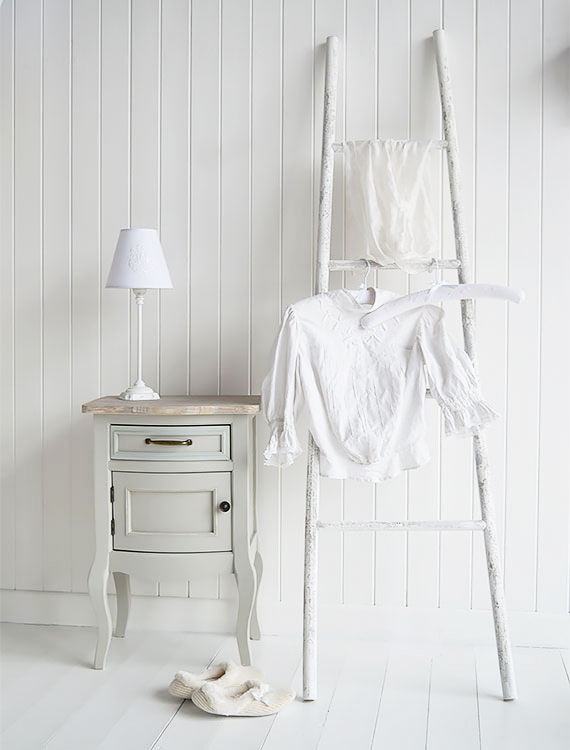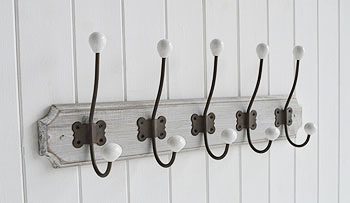 In a grey driftwood finish the Parisian hooks offer simple, stylish and very affordable hallway coat storage to keep the entrance way clutter free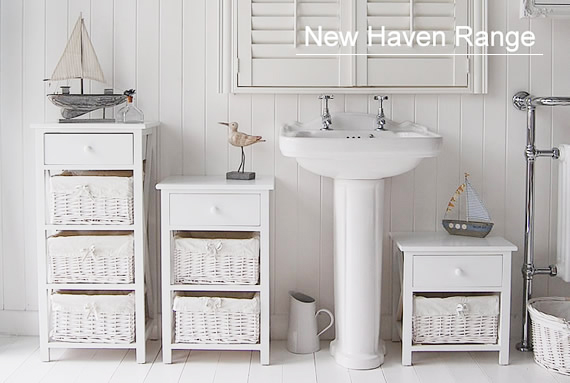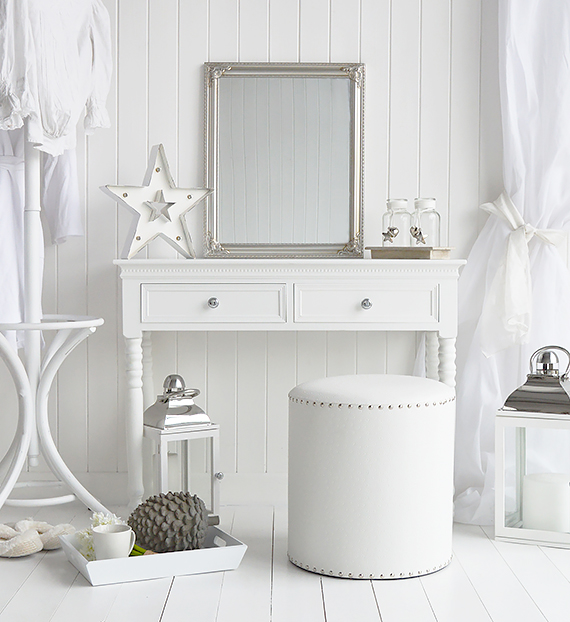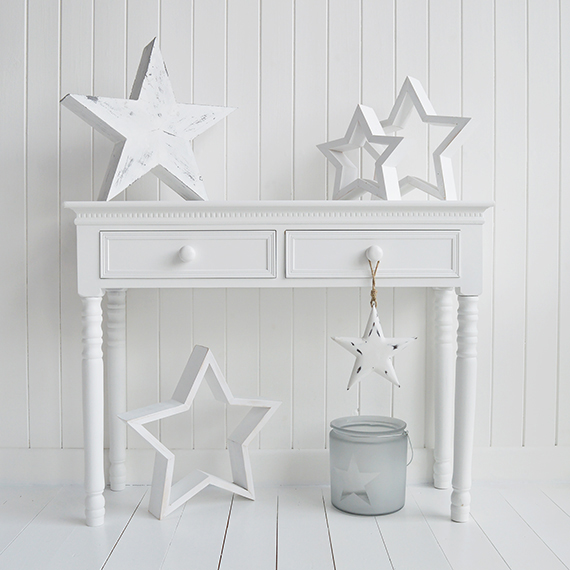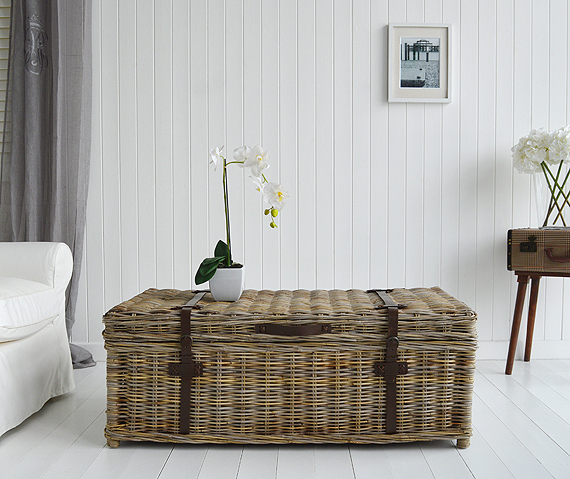 The Seaside chest makes a perfect coffee table constructied in a natural product is perfect for  coastal living rooms and offers a large amount of storage space 
Article by Leah Matthews l Interior Designer at The White Lighthouse
________________________
________________________
White Furniture
Coastal Furniture l New England Furniture l   Nautical Home Decor l Coastal Bathroom Cabinets
________________________
Other Interior Design Articles 
What is Coastal Style in Interior Design? 
White Painted Floorboards
Achieve a bright airy space.............
Beach Furniture
Create a beach style home..................
Storage Trunk 
Attractive storage throughout the home..........
New England - Not a style but a lifestyle!
What is the New England Style...................
The White Lighthouse Classic Style
The White Lighthouse classic style incorporating New England, Coastal, Cottage, Beach and French styles of interior design ..........
White furniture is right! 
Why is white furniture rigth for you...............
Top 5 Tips for Coastal Home Decor
Tips on how to decorate your home in coastal style
20 Coastal Home Decor Ideas
Ideas on how to decorate your home in coastal style