Hallway l Living Room l Bedroom l Bathroom l Accessories l Storage l New Items l Be Inspired
Looking for a Narrow Bedside Table ?
After speaking with our customers over the years we have found many have little space in their bedroom but desperately want a bedside table to put a lamp on, or a glass of water.
This is why we have sourced many narrow bedside tables with a width of 25cm in different colours and styles to ensure you will find one that will suit your bedroom style while adding to the beauty.
At The White Lighthouse we specialise in offering furntiure and home accessories that fall into our own unique style, we bring together beautiful pieces from white New England, beach, coastal, cottage and scandi interior styles.
__________________
Narrow Bedside Tables
At The White Lighthouse we realise the importance of storage in all rooms of your home, even for the littliest of spaces. We have a range of narrow bedside tables from 25cm wide
Narrow Bar Harbor Small Bedside £35

Narrow Bar Harbor Bedside £49

White Narrow Storage Table £49

 

Dorset Narrow Bedside £40

Natural Small Heart Narrow Bedside £42

 
The White Lighthouse Narrow Bedside Tables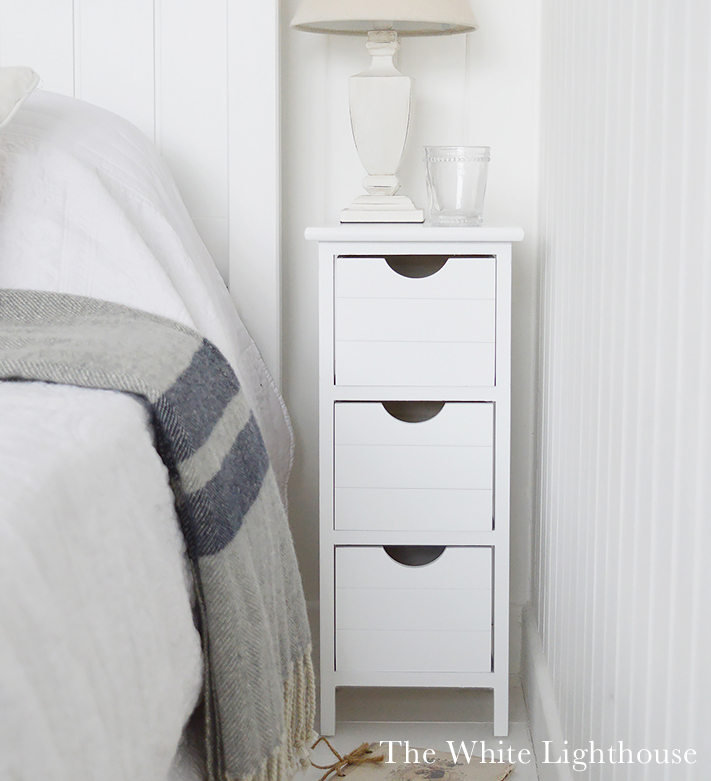 The Dorset narrow bedside table is only 21cm wide, fits into a narrow space beside the bed and designed specifically for this reason.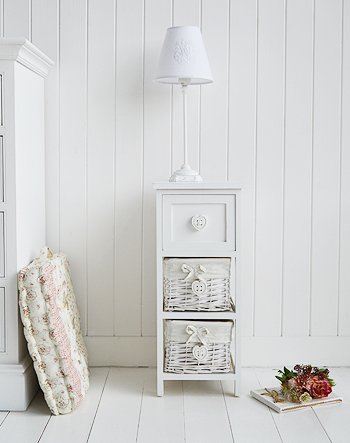 A 25 cm narrow white bedside table for a cottage home or for childrens bedroom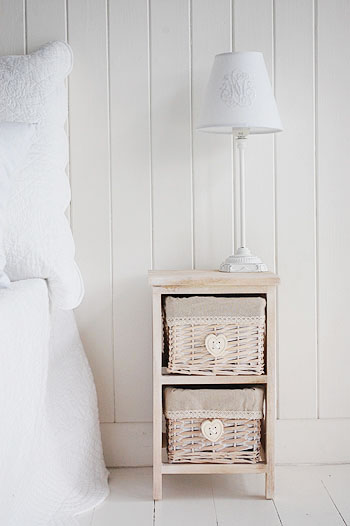 A low bedside table with two drawers 25cm wide. The heart handles and colour of this narrow bedside table with baskets make it a perfect choice for country, cottage, shabby chic or french style interiors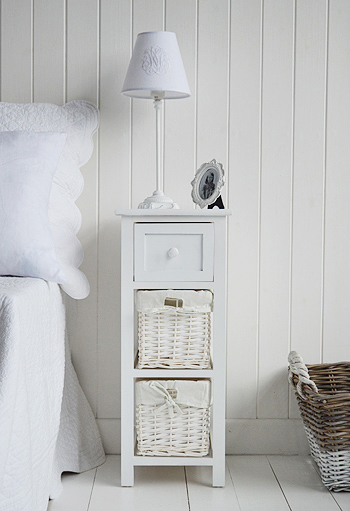 The Bar Harbor is a slightly wider white bedside table at 33cm wide with three drawers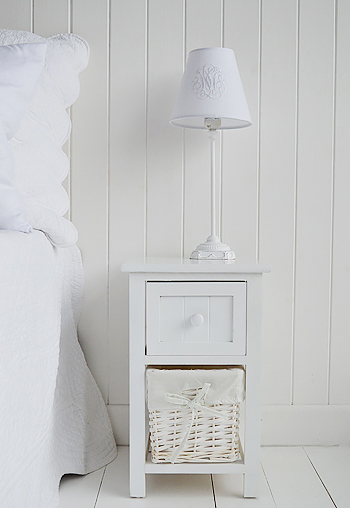 The Bar Harbor is a slightly wider white bedside table at 33cm wide with two drawers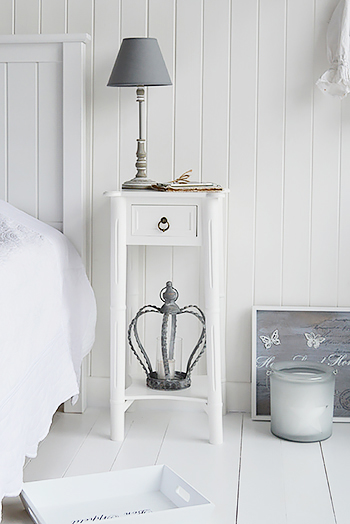 The classic New England white bedside table with drawer is 35 cm including the wide lip at the top.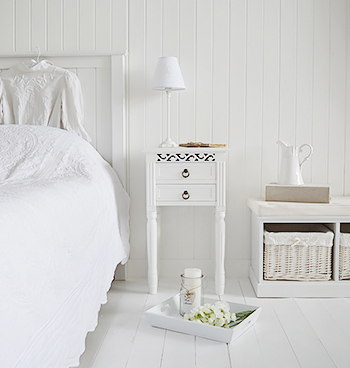 This is a wider table again with a width of 40 cm, the New England makes a great bedside table with two good sized drawers.
The White Lighthouse REAL HOMES...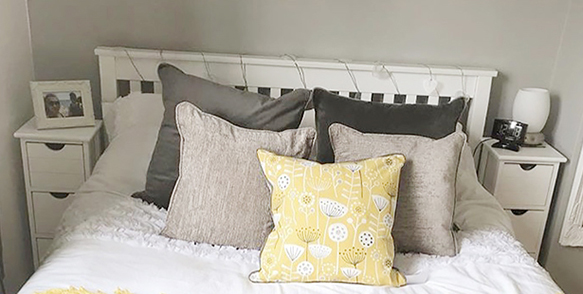 " I have sent some of my Instagram pictures of my bedroom featuring your bedside tables on your story. I have attached a couple of pictures below with them in! They fit perfectly in the narrow space- I love them! @mylittlehouseinkent
Thank you and best wishes, Ellie"
The Dorset are narrow bedside table only 25cm wide, they are available in 3 and 4 drawers and fit into even the slimest of spaces.
White Furniture > Bedside Tables 
_________________________
Written by Charlotte Simpson l Interior Designer at The White Lighthouse. 
________________________
Bedroom Furniture
Dressing Tables l Bedside Tables l Chest of Drawers l Bedroom Storage l Bedroom Seating 
________________________
The White Lighthouse
Furniture & accessories for the home...
Hallway l Living Room l Bedroom l Bathroom l Accessories l Storage l 
New Items l Be Inspired
..............................................................................
Other Bedroom News and Advice
How to Decorate an Elegant Coastal Bedroom...
Scandinavian Look..
Create the popular scandinavian look in your bedroom.
How to Create a New England Style Bedroom
Some advice on how to create your very own beach style bedroom. See all New England bedside cabinets
Pure White Bedroom
Tips and advice on how to decorate and furnish a pure white bedroom..............