Hallway l Living Room l Bedroom l Bathroom l Accessories l Storage l New Items l Be Inspired
Coats and Clutter
What Hallway furniture do we need most in the UK?
We all know the stereotypical British day, starts off windy, then rainy hopefully sunny and who knows there will probably be a bit of snow in there too. So how does this affect our Hallway?
It is simply not enough to have one type of coat, personally I have a light rain jacket, a warmer rain jacket, a winter coat, which is still being worn in late April, and a summer jacket and thats just me. Then there are the hats, scarves, gloves and umbrellas so where to put them all? ...
The Answer
Coat hooks and storage benches! They are not only a great look but they are essential to bring serenity to your hallyway. The White Lighthouse has many colours, styles and sizes of benches, hooks and baskets.
Depending on your hall you may want a floor standing hat and coat stand, this is a great option  for hallway coat storage and really works in large wide hallways in old Victorian and Georgian houses.
If your hallway is a little smaller or has a console table then simple coat hooks are just as practicle and can transform a wall, 3 hook or 5 depending on the size of your household and even better add hooks with a shelf too so you can dress it to your style.
The addition of a hallway storage bench with a cushion for keeping those hats and scarves or even just to sit to put on your shoes or wellies is a very welcome addition. The Hallyway can be the most chaotic area of your home but doesn't need much to transform into a beautifull and practicle focal piece.
The hallway is your home interiors first impression to the world.
See all currently in stock Hall Furniture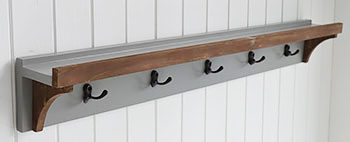 The Brunswick shelf with hooks gives plenty of hanging space and a shelf to create your own display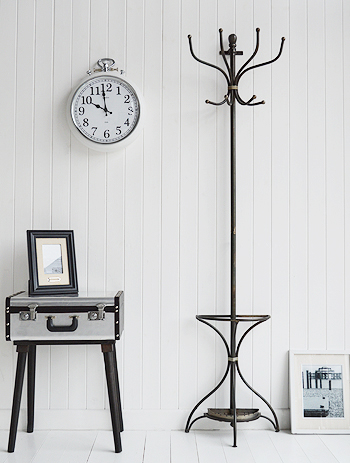 A coat stand that attaches to the wall with a place to store umbrellas, hockey and walking sticks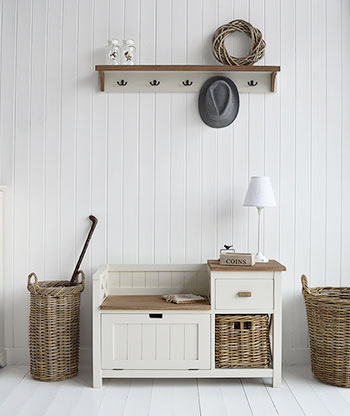 Brunswick Hall Furniture - A storage seat with baskets and has matching shelve to put above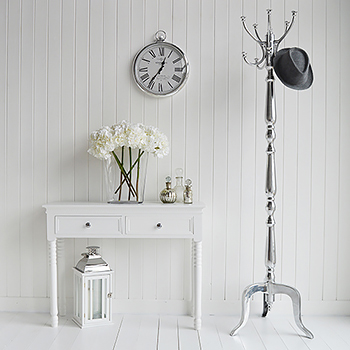 Wow!! A stunning way to grab your visitors attention when they enter into your home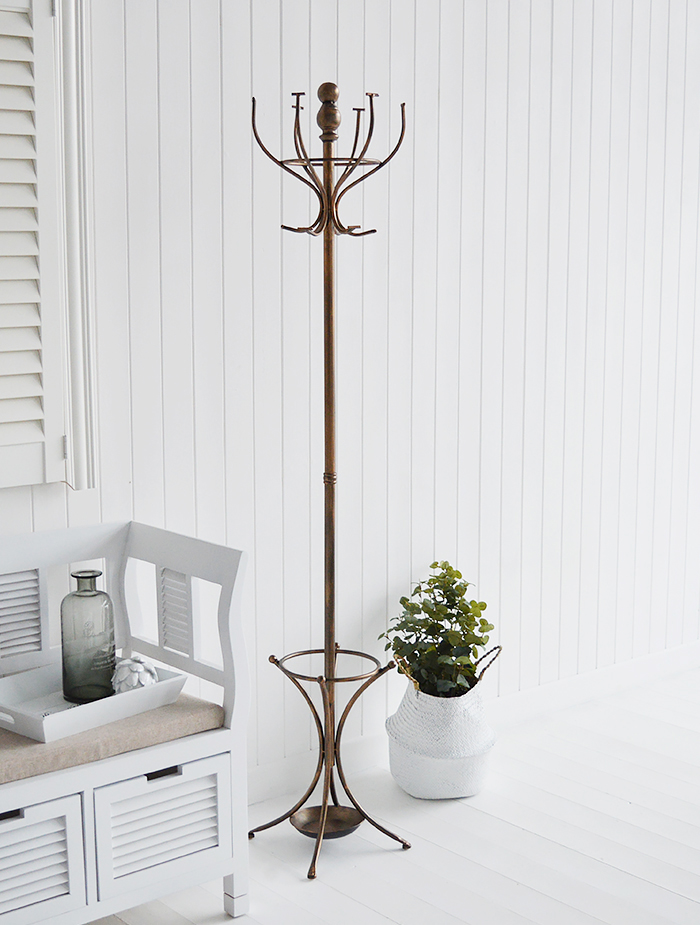 Traditional style of hat and coat stand in an aged copper finish £78
_________________________
Written by Peter Jones l Interior Designer Funkpopart
________________________
See all Hallway furnishing and decor ideas
Ideas on Decorating Different Styles of Hallway
Coastal and Beach Hallway Furniture
Ideas for decorating hallways in Coastal and Beach Homes..
New England Hallway Furniture
Ideas on decorating your hall in typical New England style
Style Your Console Table 
Ideas on how to style your console table
Advice on White Hall Tables
Some advise on choosing a hall table.......
Hallway Decorating Ideas
Ideas on decorating your entranceway...
________________________
Hallway Furniture 
Console Tables l Storage Seats and Benches l Coat Storage l Lamp Tables l Hallway Storage
________________________