Hallway l Living Room l Bedroom l Bathroom l Accessories l Storage l New Items l Be Inspired
Coastal and Beach Style Hallway Furniture
Ideas on How to Decorate your Hall with Coastal and Beach Hallway Furniture
If you are lucky enough to live by the sea or close to a beach wou will want to bring the coastal style into your home.
With the hallway being the entrance to your home you will want to ensure your family and friendes are thoroughly welcomed to the luxury you have of living near the coast with beach house and coastal style furniture.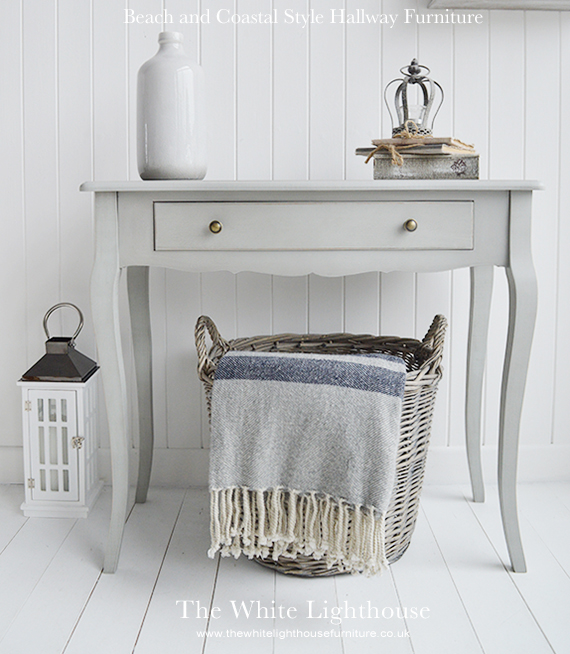 Using the traditional colours of the coast - blues, greys and shades of white in your interior design and furniture choice, you can easily create this dreamy, caming interior style of home.
The typical look of coastal hallway furniture is white, grey, white washed or weathered. Driftwood coloured and natural products are great materiral to use and create the relaxed coastal charm.
A hall console or lamp table in driftwood finish is a perfect choice with a naturally aged finished coat rack on the wall above is a basic start to your coastally inspired hall.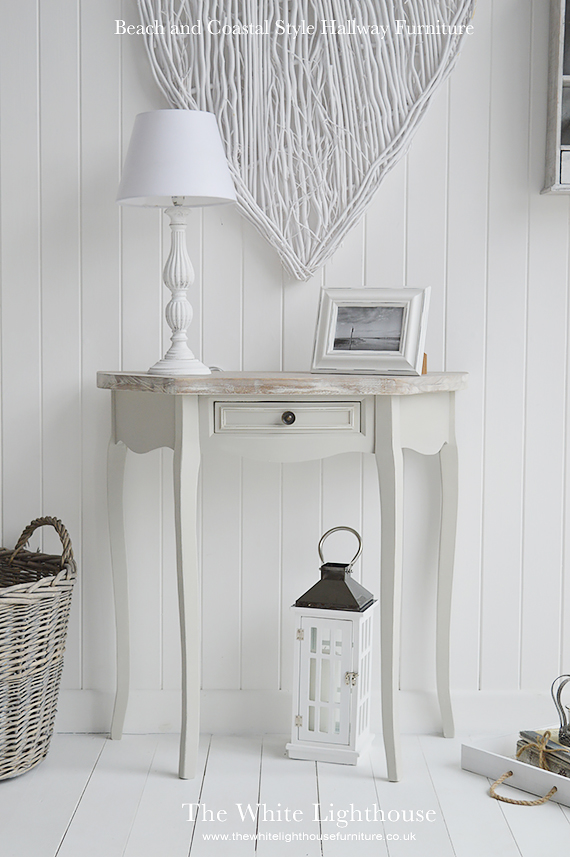 Natural basket storage for shoes, bags, hats and scarves keeps the hall cluter free and tidt to add to the feeling of space.
Mix weathered furniture with white and grey lamp tables, hallway storage pieces and add a contrasting or similarily coloured table lamp to brighten a corner. Arrange coastal accessories casually to relax the style and blend seemlessly into your home.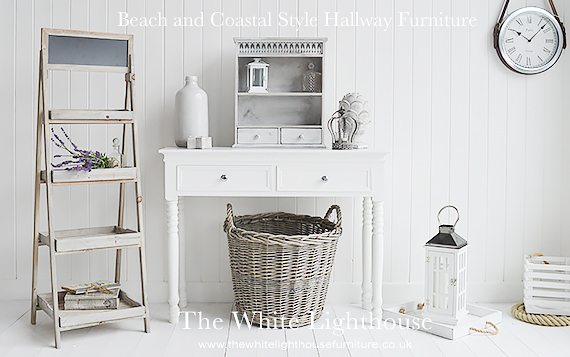 Even within the coastal interior designs there are so many options and styles - scandi, chic, bohemian and industrial
At The White Lighthouse, we expecially love the New England style of hallway furniture, from chic Hamptons to Bohemian Boston, Portland industrial to Bar Harbor simple... see more on New England styles of hall furniture.
Top Five Points for Decorating Coastal Hallways
1. Keep bright and airy with light furniture in colours of the coast - greys, white and and natural finishes
2. Ensure the hall is kept clutter free with plenty of storage, stylish hallway coat storage is essential!
3. Add subtle coastal accessories such as driftwood, birds and shells.
4. Don't overcrowd, if you are tight of space used smaller pieces of hallway furniture
5. Brighten up darker corners with a coastal style table lamp
See all Coastal Furniture from The White Lighthouse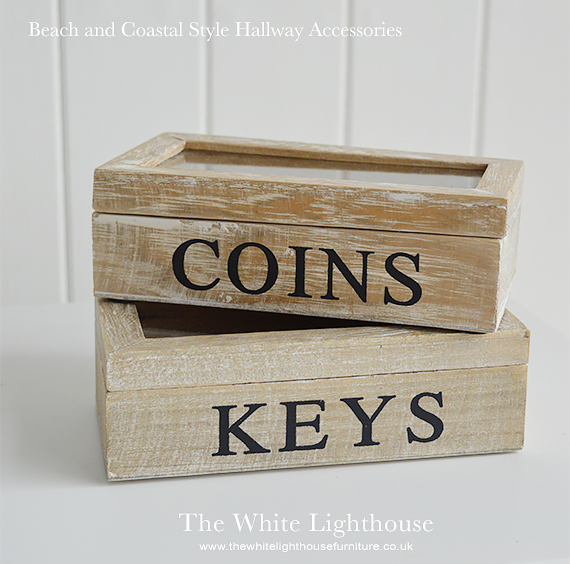 _________________________
Written by Ian Peters l Interior Designer at The White Lighthouse. 
Ideas on Decorating Different Styles of Hallway
Coastal and Beach Hallway Furniture
Ideas for decorating hallways in Coastal and Beach Homes..
White Half Moon Console Tables
Don't take as much room but just as beautiful
Small Hallway Spaces...
Ideas on decorating your hall with small hallway
Coats and Clutter
A few ideas on how to remove clutter from the hall
London Hallway Calling 
How to furnish a hallway in London when space is at a premium...
Hall Table ......
Add elegance to your hall with a white hall table
New England Hallway Furniture
Ideas on decorating your hall in typical New England style
Style Your Console Table 
Ideas on how to style your console table
Lamp Tables....
A petit console table
Do I Need a Console Table?
The answer is definitely yes, find out why..................
Hallway Furniture
Keep Britian's hallways tidy.......
Create a Great First Impression
Hallway furniture is so important..............
Advice on White Hall Tables
Some advice on choosing a hall table.......
Hallway Decorating Ideas
Ideas on decorating your entranceway...
How to Decorate an Elegant Coastal Bedroom...
Coastal Home Decor Accessories DIY
Tips on how to decorate your home in coastal style
________________________
Hallway Furniture 
Console Tables l Storage Seats and Benches l Coat Storage l Lamp Tables l Hallway Storage
________________________