Please Note: The mobile website is no longer kept up to date with stock and new items. Please go to our full website at www.thewhitelighthousefurniture.co.uk for all items
Get the look.. Hallway Furniture, Decorating Ideas and Tips
Create the finest first impression by warmly welcoming you and your guests to your orderly, uncluttered home with our range of entrance hallway furniture. We have included some recent photos of our hall furniture available for UK delivery. To see everything for plently of hallway decorating ideas, visit our Hallway Furniture page here
Be Inspired by The White Lighthouse for Hallway Furniture Decorating Ideas...
____________________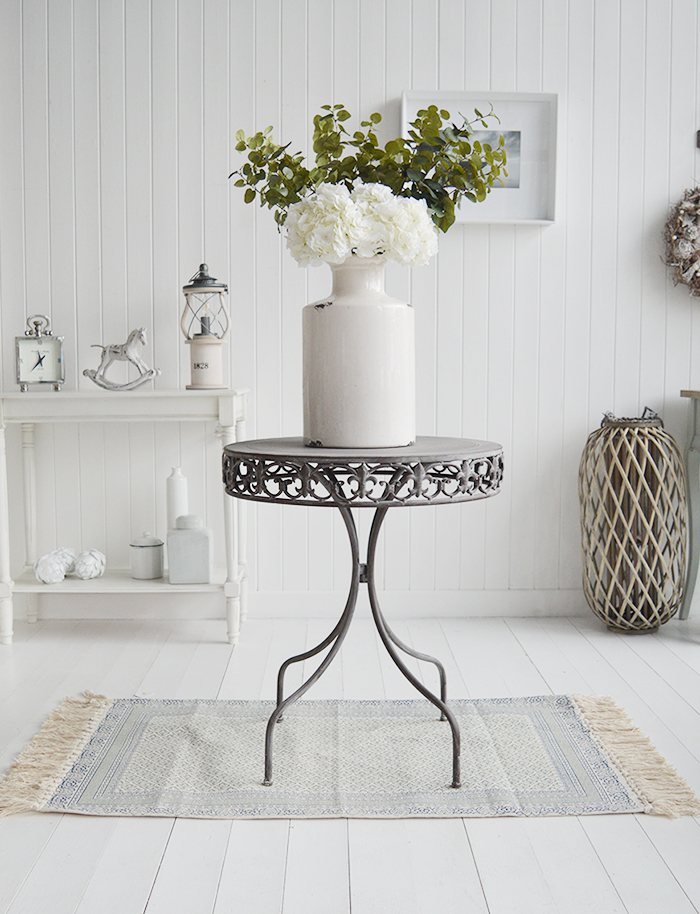 In an aged style The Winchester grey round table £90 with its ornate decorative edging and large diameter make it a perfect addition to a grand entry way with a welcoming bunch of flowers as well as in the the living room as a opulent accent table.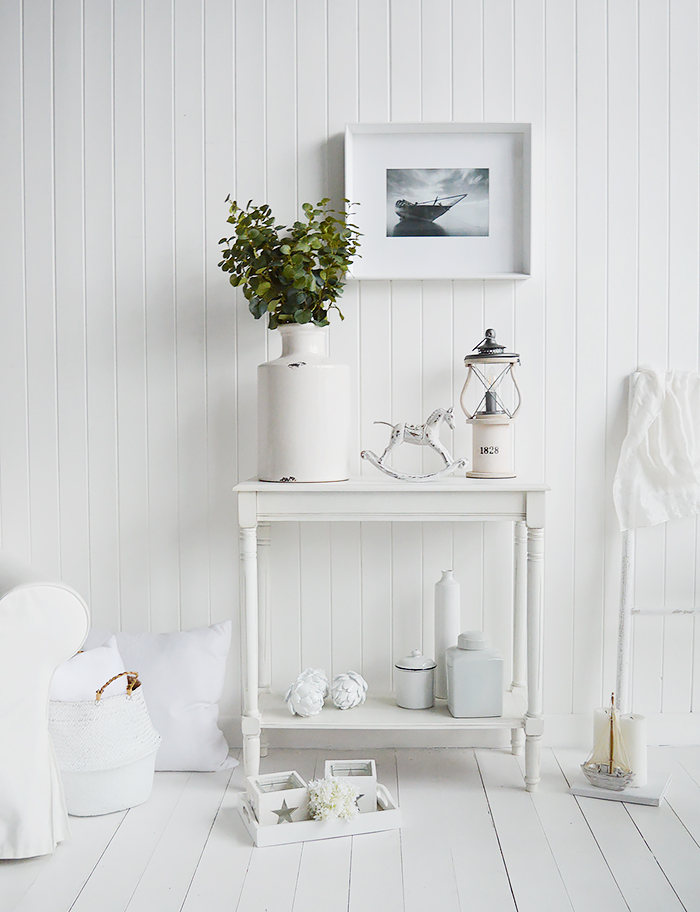 Peaceful and calming, a white hallway with our Colonial console table £100 and white home accessories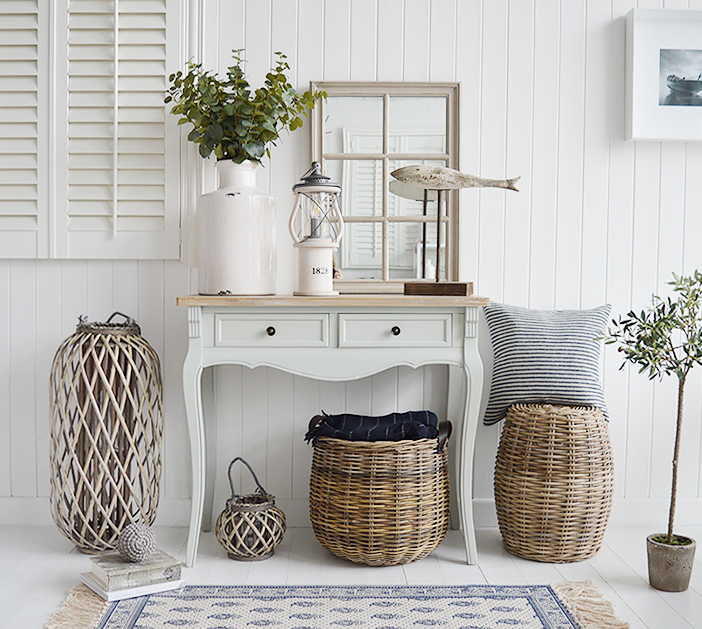 The Oxford grey console table £119 in a sophisticated but slightly coastal Hamptons style of interior design.
_______________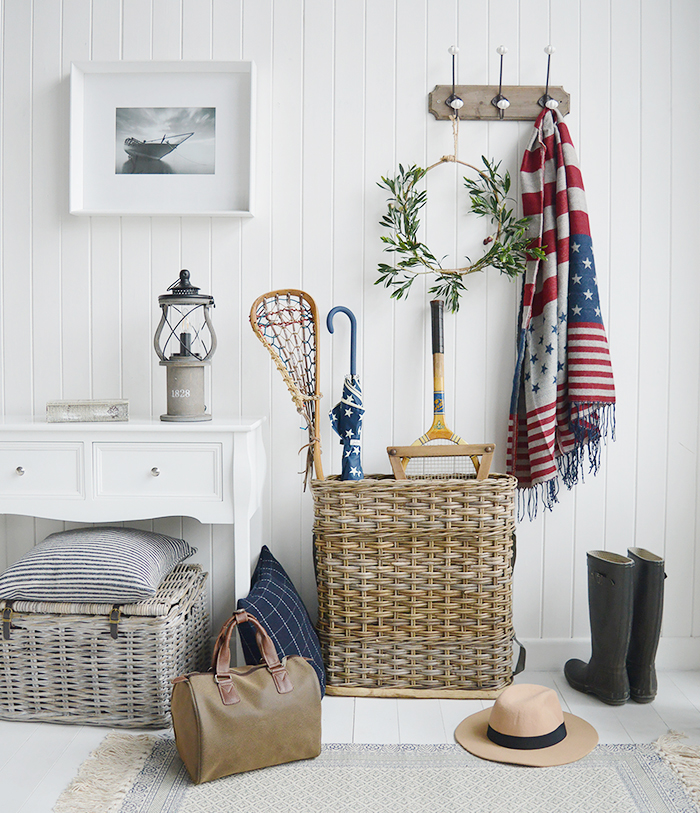 A New England hallway with our Harrow grey washed basket £62.50 with our new Hampshire cushions and Falmouth white console table £115, Casco Bay Umbrella Stand £49
_______________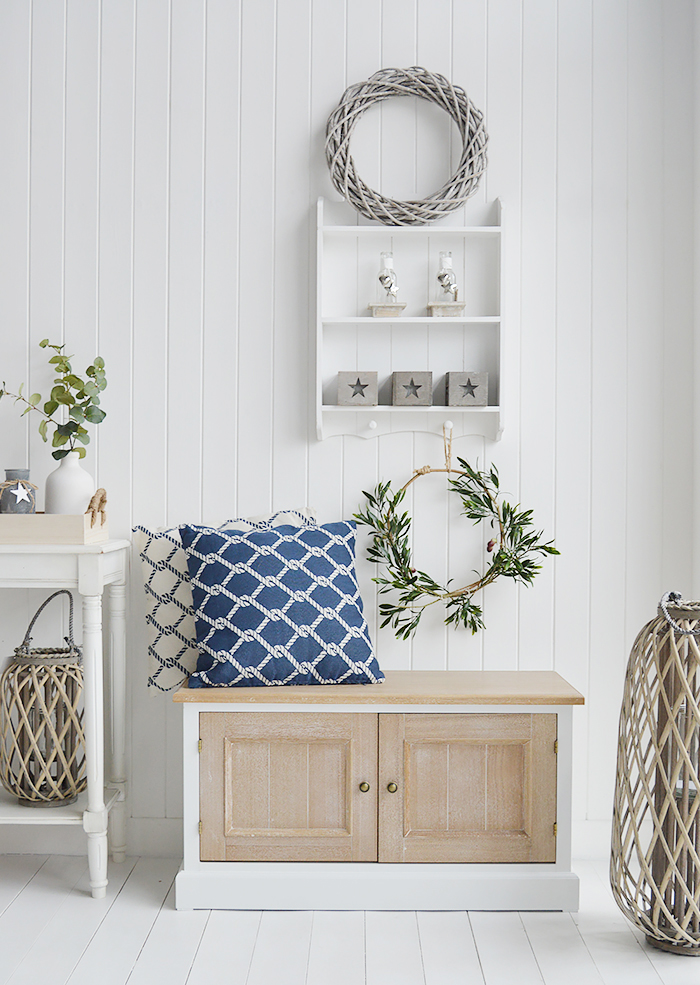 The Canterbury storage bench, £185, with a large double cupboard in a white frame and washed wood top and doors.
Like its namesake, The Canterbury, a town in New Hampshire famous for its Shaker village, the furniture is designed in Shaker style with simple straight lines, panelled doors, great functionality and excellent quality.
_________________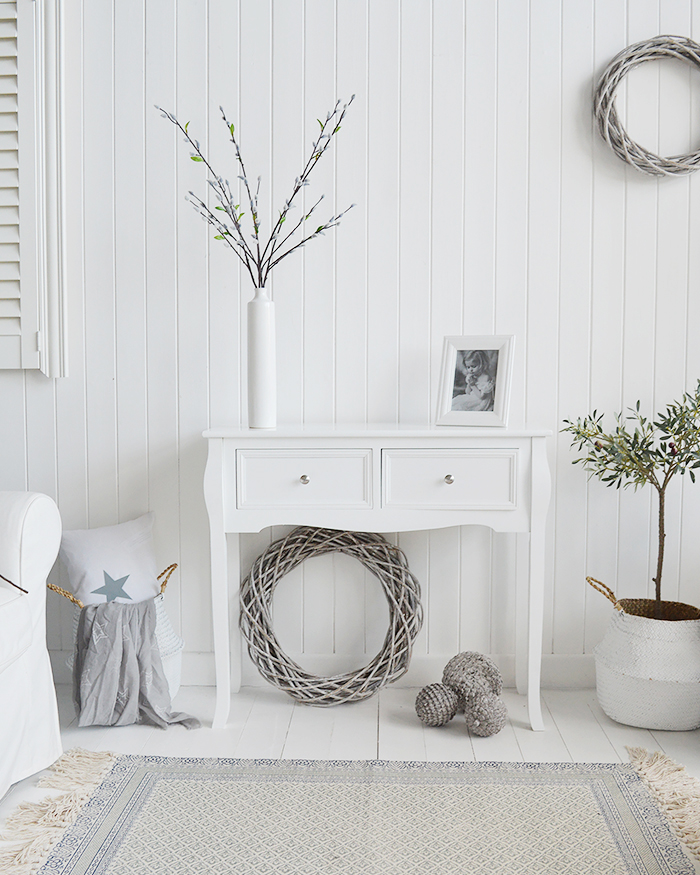 The Falmouth white console table to perfect for narrow hallways £115
_________________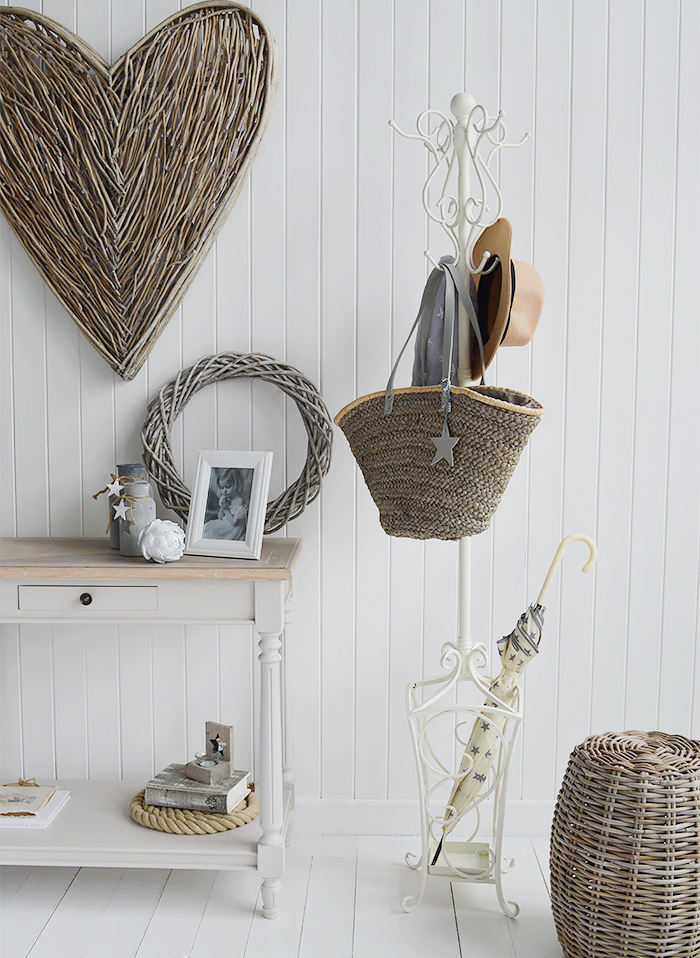 Our Stamford coat stands are available in antique white, grey and black £66
____________________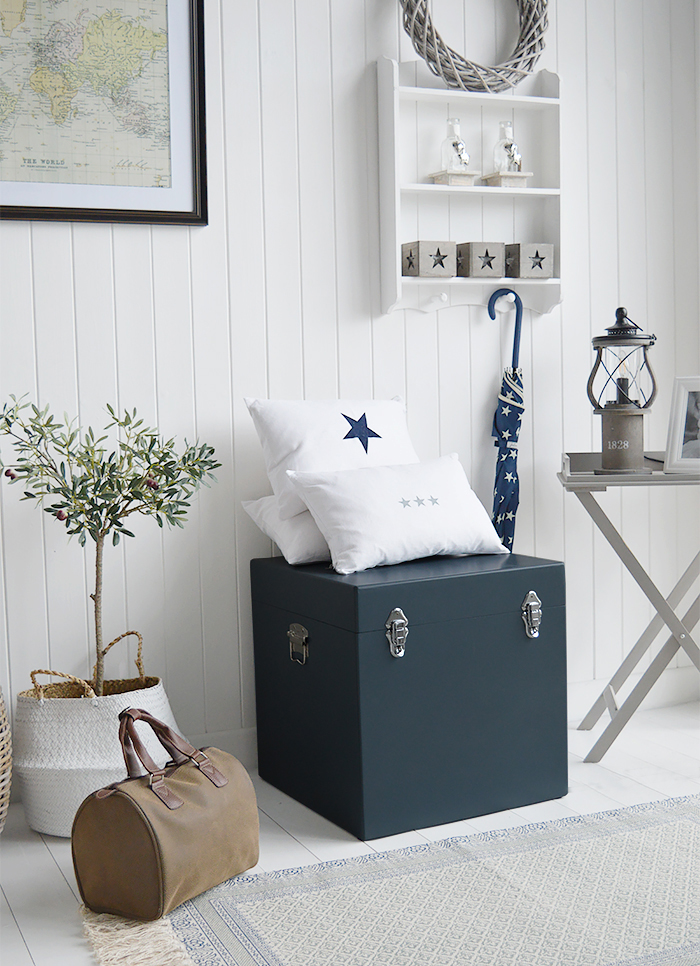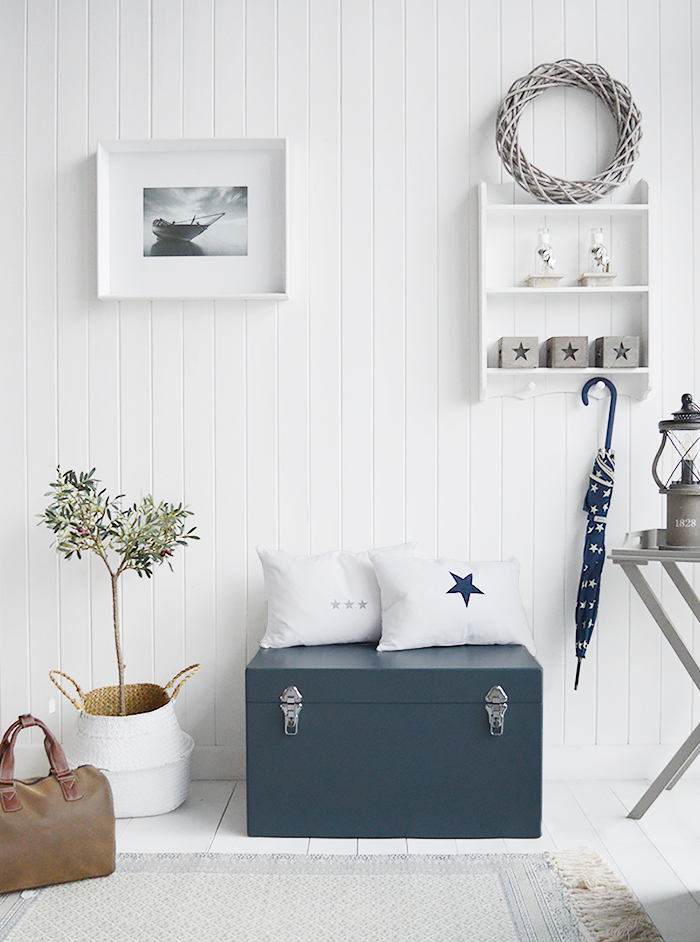 Our Newbury trunks as a hallway storage seat £79 
____________________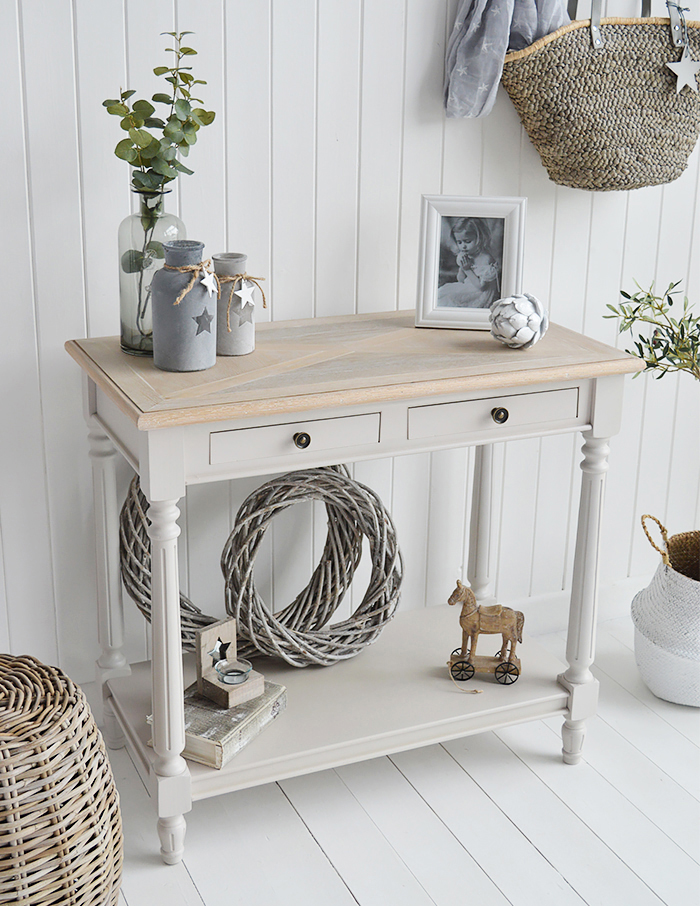 The Brittany grey hall console table £145 with parquet style wood top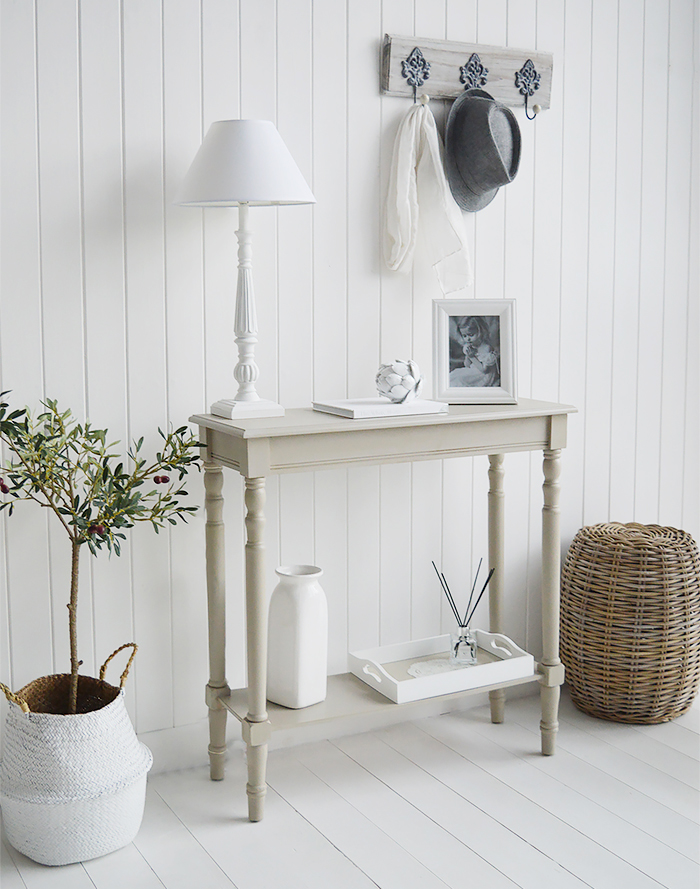 Plymouth narrow grey console table with a shelf for small hallway furniture £99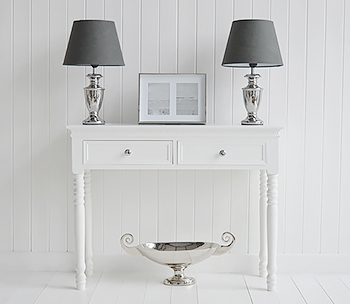 The White New England console table £169 with elegant Kensington table lamps at £32 each. Stunning White Furniture for your hall. Adding two lamps for symmetry will give your hall a striking look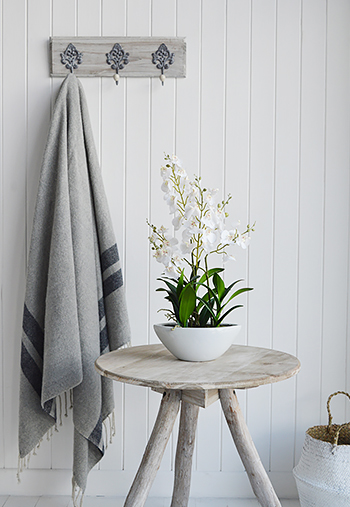 Driftwood table £79 with our gorgeous arrangement of white Orchids £46
The Plymouth is a charming white storage bench. The three top dawers with star wooden handles offer storage for smaller items such as hats, gloves and scarves, while the three larger bottom drawers with a star cut out provide greater amounts of storage. £159
The Plymouth is a charming rustic white and grey wooden cabinet with four drawers. £82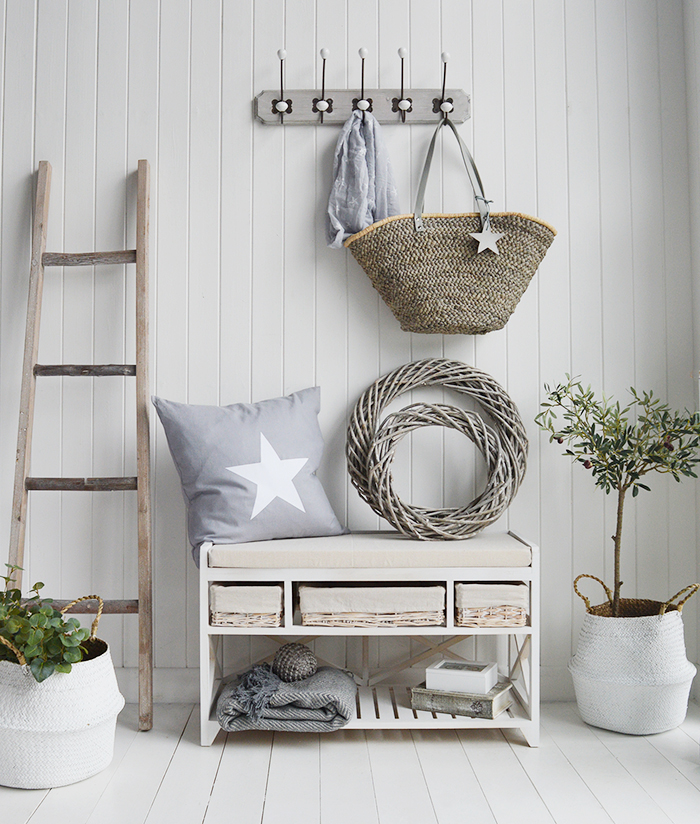 The Cape Cod storage bench with shelf for shoe storage, three baskets and a padded natural coloured cushion £79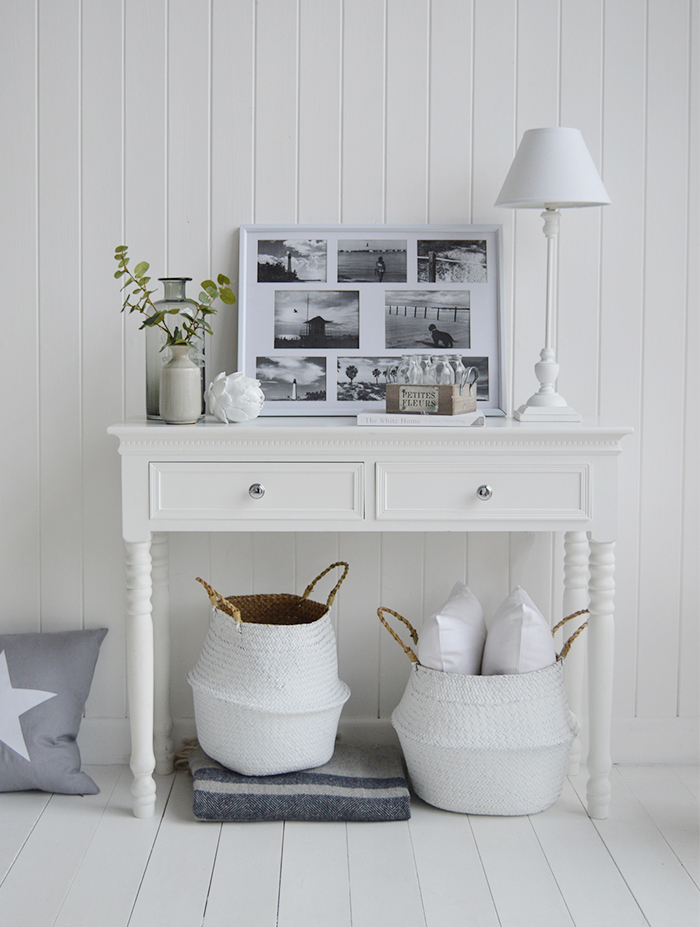 Style your New England white console table with photo frames, white lamps and home decor pieces, shown with baskets underneath for extra hall storage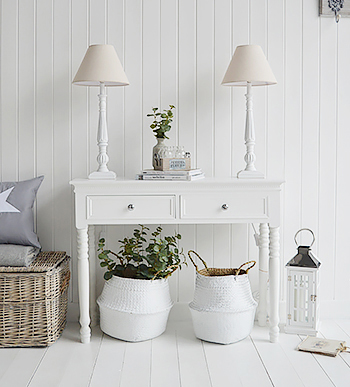 New England hallway table with large white table lamps for a beautiful centre piece to your hall
Just a few of our hallway pieces of furniture...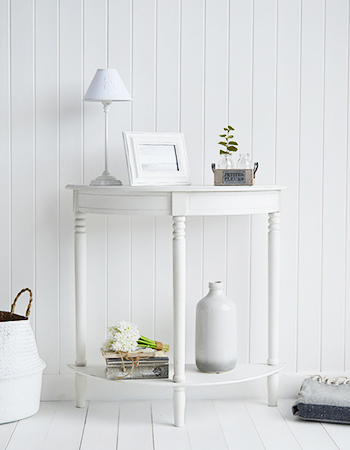 Colonial White Half Moon Hall Table £79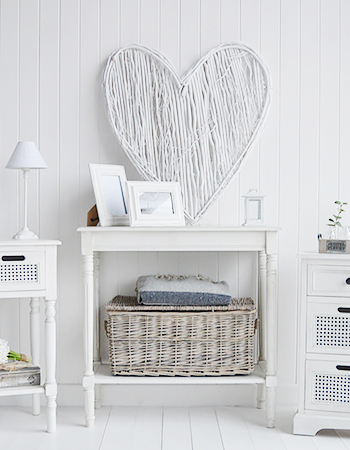 Colonial White Hall Console Table £100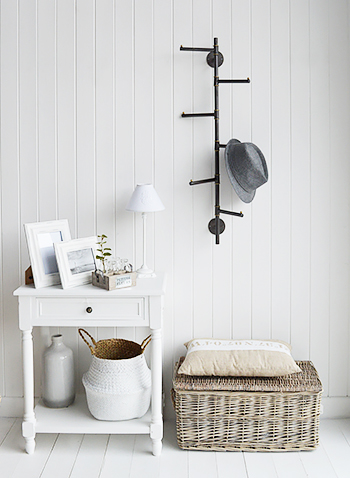 Portsmouth Vertical Coat Rack £35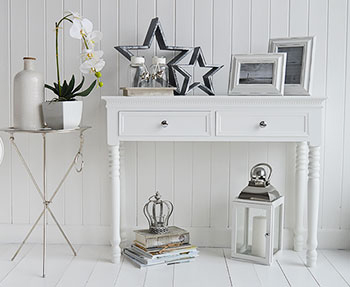 Decorate your hall in silver and white. Kensington silver tray table £49, New England Console £169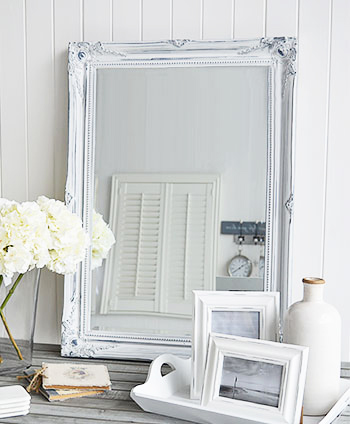 Versailles Wall Mirror £55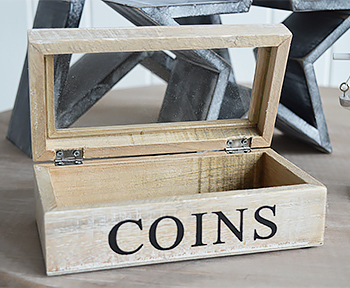 Coins Storage Box to Organise console table £7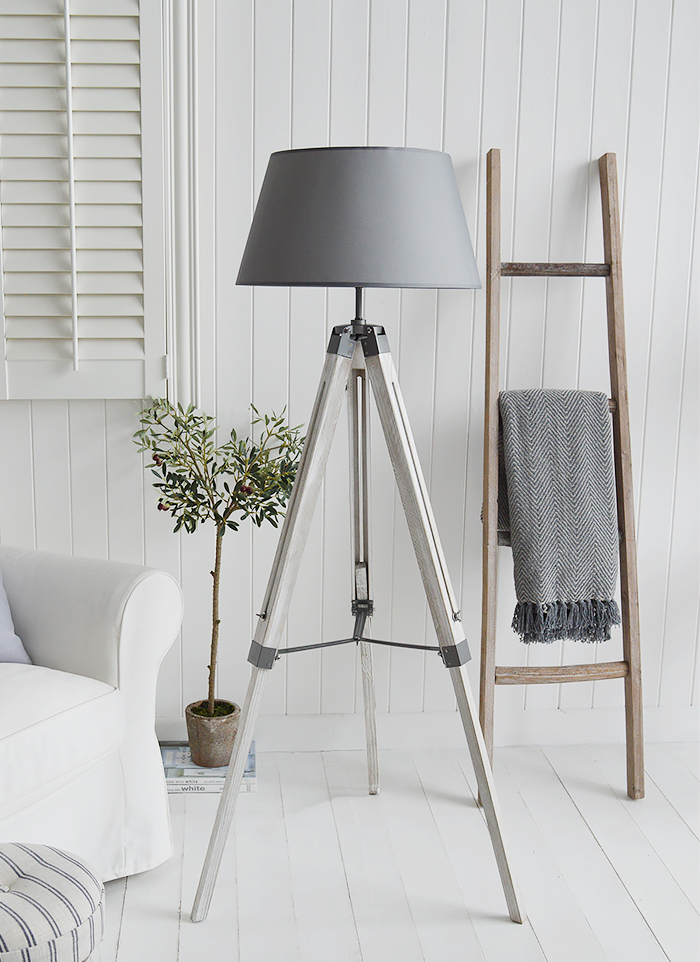 Lexington grey floor lamp £79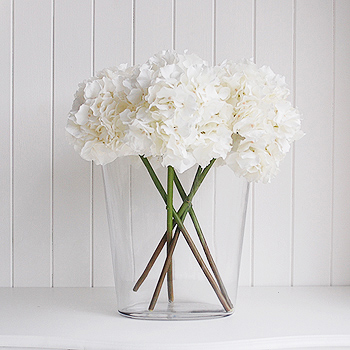 Realisitic silk white Hydrangeas, a much cheaper alternative to real flowers.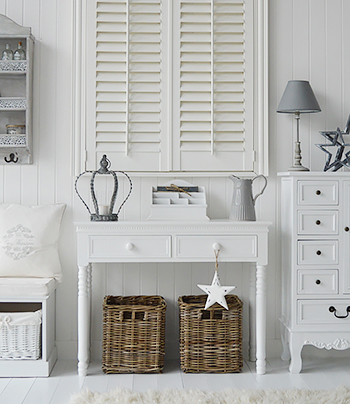 A white hallway with all white furniture. New England white console table with drawers £169
Manhattan large vintage storage trunk for hallway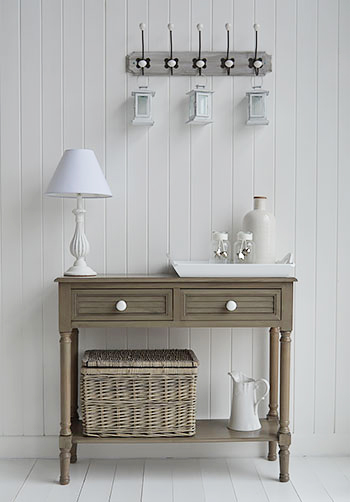 Newport french grey console table £149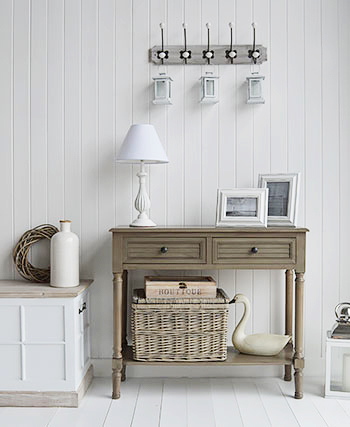 Newport french grey console table for traditional cottage interiors £149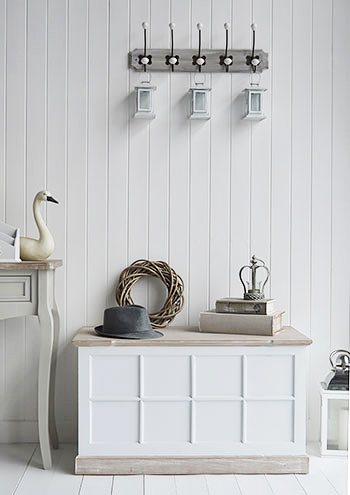 Vermont Large Storage Trunk £150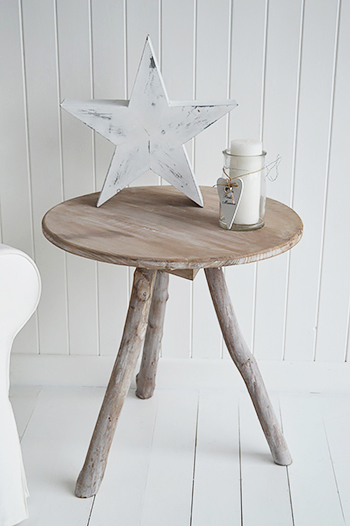 Rustic Driftwood Tripod Table £79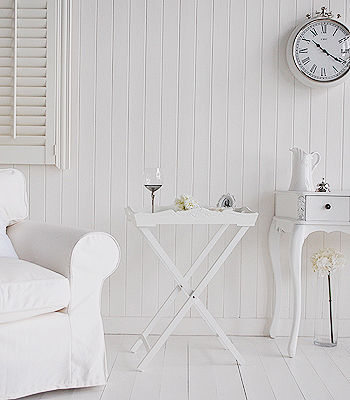 White Tray Table for small console table £42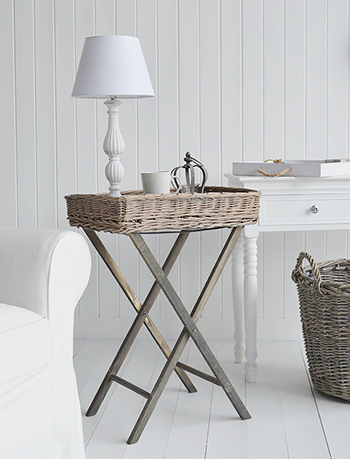 Cornwall Grey Folding Tray Table £36
_______________________
Hallway Furniture and Storage Solutions
The hall, as the entry way to you home gives the vital first impressions as it the first place people see as they come to your front door.
______________________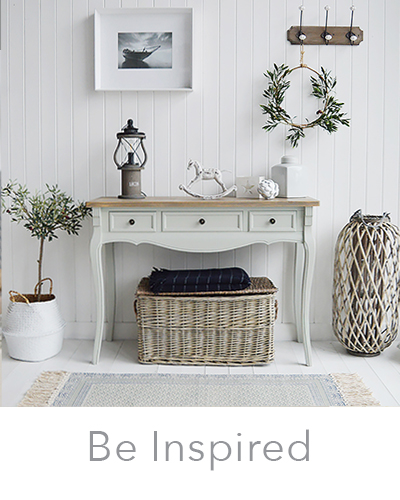 ______________________
The main and so important hallway decorating advice is to keep it tidy and clutter free,,, no bags, shoes or coats lying messily arround.
Storage is the key to this, and it doesn't take much effort or money, a simple coat rack and shelf will suffice if yout have a small hallway, decorate the shelf with family photos, opt for a console table or lamp table to give some interest if you have the room. The extra storage in the drawers is a place to put keys, letters, wallets and coins again keeping the clutter of everyday life at a minimal. 
Baskets or storage benches are perfect to put shoes, add a basket under a console table for the children to put their shoes as they come in... this is a major step in keeping yout hall tidy!
We offer a wide range of hall furniture and storagesolutions that look stylish and importantly are affordable. Create a beautiful home easily with The White Lighthouse to help.
Hallway Decor Articles for Help and Advice
Coastal and Beach Hallway Furniture
Ideas for decorating hallways in Coastal and Beach Homes..
New England Hallway Furniture
Ideas on decorating your hall in typical New England style
Style Your Console Table 
Ideas on how to style your console table
Advice on White Hall Tables
Some advice on choosing a hall table.......
Hallway Decorating Ideas
Ideas on decorating your entranceway...
If you have any questions about our coat storage products, please do not hesitiate to ask at info@thewhitelighthousefurniture.co.uk

 Follow The White Lighthouse on Instagram to see more 
________________________
The White Lighthouse
Online furniture & accessories shop for the home...
New England l Coastal l White Furniture